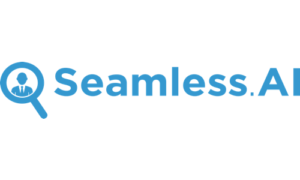 Seamless.AI is both an app and an accompanying Chrome extension that helps you to both search for talent to find contact information and organizes your lists.
The tool has many of the same functions as other comparable tools: searching for companies and people based on location, industry, title, etc. However, Seamless.AI sets itself apart in that it prides itself on being more than just a glorified LinkedIn search. Yes, it searches and finds you contact information from LinkedIn. However, the tool searches over 150 million companies, 250, 000 news sites, a billion social profiles, and more. This can allow you to find the contact you may not when using other sourcing tools.
The tool gives you a variety of options when it comes to searching through, sorting, and saving this large amount of information.
When searching for Companies, Seamless.AI simply outlines the industry, size of the company, and location, and provides links to each company's website and social sites.
In a search for People, it conveniently displays the title and company and provides an easy and fast way to reveal contact information. Revealing contact information using a credit, of which you are given a number for free.
AI also includes the unique "Research" button, which can find additional information on people.
Once you have found people you think are a good fit, you can easily add them to your contacts and sort them into lists. If you would like to take a list and export it for use outside Seamless.AI, the tool provides a few different options.
You can export the Raw data, which provides an excel-style document with all the information Seamless.AI has found on the selected contacts. This format is a bit messy, and may be redundant, but gives you all the information you may need in the future.
You can also choose to export Clean data. This provides you with a neater list, that simply provides the information you are most likely to need, such as contact information and social links.
Overall, Seamless.AI is a very versatile and powerful tool, and definitely worth checking out. ~ Noel Cocca
Look inside with Dean Da Costa:
---
Authors
Recruit Smarter
Weekly news and industry insights delivered straight to your inbox.