As recruitment becomes more technology-driven, recruiters can end up spending a significant chunk of their time collecting, monitoring, analyzing and reporting data. Recruitment is challenging as it is. Add to that the dimension of data analysis and things can quickly spiral out of control. For recruiters looking to get more value from their data and make smarter hiring decisions, recruitment dashboards are the solution. Dashboards allow you to keep a close tab on your key performance indicators (KPIs) and measure the overall impact of your recruitment strategy on the business.
What is a Recruitment Dashboard?
A recruitment dashboard is a collection of metrics, key performance indicators (KPI), and reports that provide you an overview of the recruitment funnel and process. It isn't a motley crew of unrelated reports. Recruitment dashboards are built in a way to answer most crucial recruitment questions visually, offering instant insights for future recruitment decisions.
In this article, we'll look at how you can create the perfect recruiting dashboard tailored to your unique needs.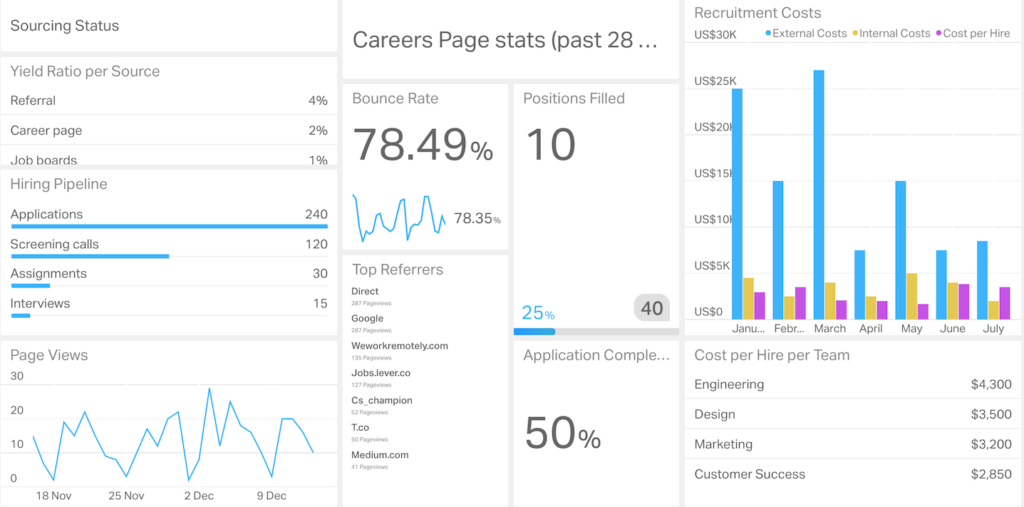 3 Maxims to Design the Perfect Recruiting Dashboard
When starting out with dashboarding, stick to basics:
1. Less Is More
With the sheer amount of metrics and reports available in recruitment analytics software, it is tempting to include as much data as possible. But to generate actionable insights, choose your data sets wisely. Less is more. It sounds counterintuitive, but the dashboard should be a means to an end, not an end in itself.
If a metric/report doesn't bring any value to the table, don't include it in the dashboard.
2. Design for Insights
The purpose of dashboards is to provide actionable insights on the go. A flurry of data or tables is less likely to be helpful. Visual elements such as charts and graphs to make it easy to draw insights. Ensure that the dashboard is primed to help you make better decisions.
3. Make It Easy to Understand
Great design flows. It emphasizes both – the appearance and utility. The dashboard should answer the questions in a sequence. Straightforward navigation delivers Aha! moments throughout the experience because it is built to aid comprehension. Don't make the user navigate back and forth to thread multiple pieces of information together. Remember the famous Leonardo Da Vinci quote, "Simplicity is the ultimate sophistication."
5 Steps to Creating a Recruitment Dashboard
Different organizations have different recruitment needs; therefore, every dashboard will have some overlapping features and a few industry-specific metrics. In this section, we look at how you can create a recruiting dashboard for your organization in five steps.
Step 1: Decide on the Utility of the Dashboard
There will be a vast difference between the information needed by a manager and an executive. Therefore, it is necessary to be clear on the utility of the recruitment dashboard. Generally, dashboards are divided into three categories:
Operational: Operational dashboards are useful to provide information for time-sensitive issues. These dashboards may provide information such as the status of the talent pipeline, open positions, job applications received during a week, upcoming deadlines, etc.
Analytical: These dashboards help you draw insights from your data. Analytical dashboards help you identify trends and draw comparisons. For example, a pie chart showing the top sources of recruitment or a bar graph depicting candidate experience to help you find out underlying trends
Hybrid: You can use elements of both – operational and analytical dashboards to create a composite/hybrid dashboard
Step 2: Ask the Right Questions
Analytics dashboards are personalized depending on the individual or team requirements. The customized dashboard you create should answer questions that are relevant to you or your team. Pick only those questions that matter to you.
We have compiled a set of questions to help you get started:
How long does it take to recruit new talent?

How many candidates does a recruiter need to interview to hire an employee?

How much does it cost to hire a new employee across different departments?

What are the best websites and platforms to hire new talent? OR What percentage of new hires come from a particular platform?

How many employees leave within a year?

How is the candidate experience throughout the hiring process?

How many candidates accept/reject the offer?

How many candidates apply for a particular job role?

What are the current open positions?

How many employees are hired by a recruiter/team during a particular period?
So, from the questions above, you can see that some questions tilt more towards operational, while others towards the analytical dashboard.
Step 3: Identify the Relevant Metrics for Each Question
In this step, identify the metrics that answer your questions. You would also need to find out pertinent data points to calculate the metrics.
Let's pick a few questions from the list above and see how to do it: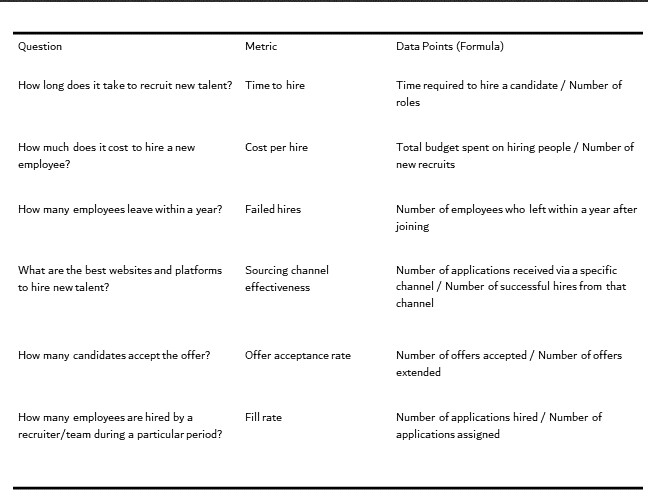 Step 4: Integrate Data Sources
Now, it's unlikely that all your HR data is stored in one place. There are different applications for each function within HR. For instance, you'll find employee satisfaction data in the employee engagement application or survey tool. For that, you may have to extract key data from the net promoter survey (NPS).
Here is an overarching list of applications an organization may have for its HR function. Make yours as well:
Recruitment: Talent discovery platforms, job boards, applicant tracking system (ATS), training and assessment, onboarding
Learning and Development: Learning experience platform (LXP), learning management system (LMS)
Workforce Management: Attendance tracking, employee engagement, project management
Performance Management: Talent management, feedback, appraisal
Compensation and Benefits: Payroll, compensation management
Some tools from the HR-tech stack might not integrate with your analytics tool. In such cases, you need to export data in a format (such as spreadsheet files – CSV, XLSX, XLS, ODS) that is compatible with the analytics tool.
Step 5: Compose Your Recruitment Dashboard
Once you have the data compiled, it's time to create the dashboard. Every dashboard tool offers a set of data representation charts.
Keep the following considerations in mind while designing the dashboard:
Visualize the data: We are visual creatures. Aesthetics are important, but they shouldn't precede comprehension. Use the right chart format to represent data. For example, you can use a pie chart to show the gender ratio or a bar or line chart to show trends
Decide the Layout: Compartmentalize the data/charts in grids to bring consistency. People follow the F-shaped pattern while reading the content. Keep the summary at the top to show a snapshot of the data. The layout should use the concept of drill down. Each point of information should build on its preceding data point. Keep in mind the axioms we saw earlier in the article
Go Easy With Real-time Data: Real-time data can be distracting and anxiety-inducing, therefore, you can update your dashboard on an hourly basis, but be sparing when including real-time data on a recruitment dashboard.
Tools You Can Use To Create a Recruiting Dashboard
There are three categories of tools you can choose from to create a recruitment dashboard. Let's take a quick look at each:
1. Spreadsheet Programs
Most spreadsheet software such as Microsoft Excel, LibreOffice Calc, or Google Sheets come with data visualization capabilities. You can either download free/premium off-the-shelf dashboard templates or go about designing your own. You need to populate the sheet with data to view its visual representation in the dashboard.
2. HR Software
Cloud-based HR applications like ATS, attendance tracking, employee engagement tools, etc. come with an analytics feature that allow you to build nifty dashboards using available data. A major shortcoming with these applications is, you won't be able to get a comprehensive overview of the recruitment process unless the software offers integrations with other tools in your stack.
3. Business Dashboard Software
Business dashboard tools are perhaps the most powerful in this category. Software such as Smartsheet, Klipfolio, Zoho Analytics, Tableau, and Datapine can help you analyze heaps of data by integrating multiple data sources. However, some of these applications can be quite expensive and require an expert to set them up for you. Also, operationalizing these tools come with a steep learning curve.
3 Best Practices for Better Dashboard Design
Keep in mind the following tips for designing a recruitment dashboard primed for comprehension:
1. Choose the Right Chart Type
You'll find plenty of options when choosing a chart type to represent data, and it can get confusing. Here is a simple guide to help you choose the right chart type:
Uncover relationships in the data: Scatter chart, bubble chart, network diagram
Compare different elements/values or identify trends: Column chart, bar chart, line chart
View composition of a data point: Pie chart, heatmap, area chart, stacked column chart
Distribution of data: Bell curve, scatter chart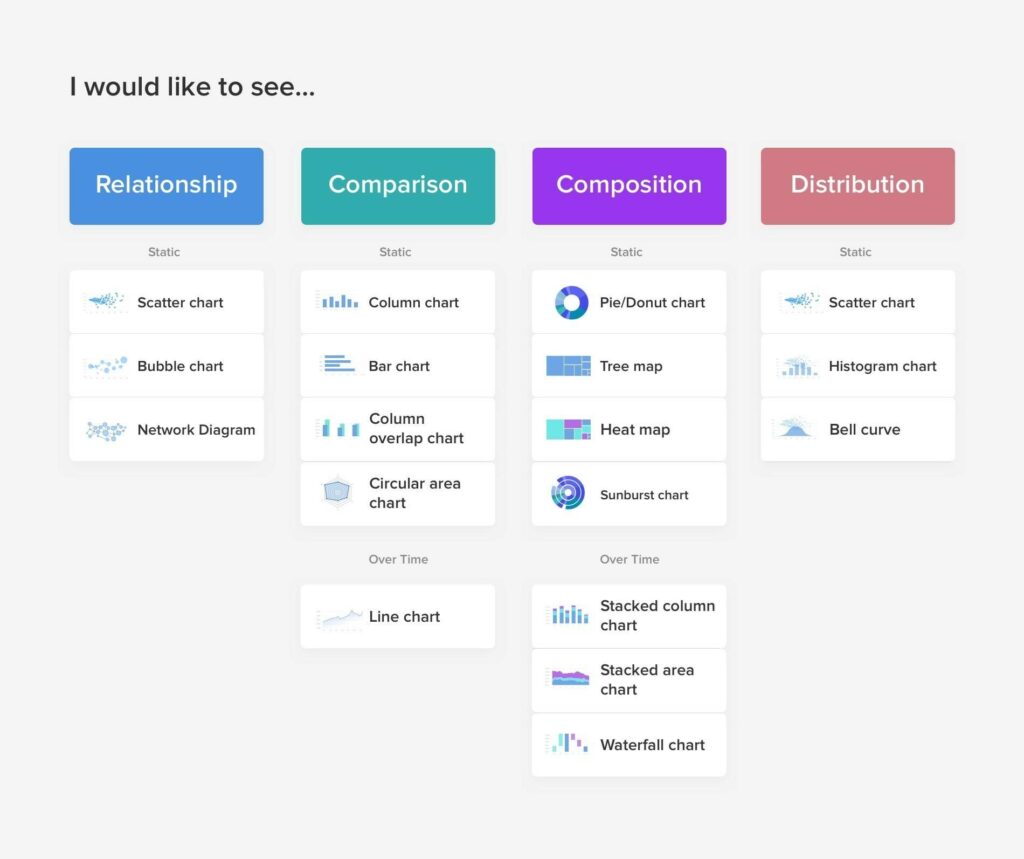 2. Maintain Consistency
Here are three areas where you need to maintain consistency:
Follow a uniform nomenclature, data, and font formatting

Keep the layout symmetrical. Place the widgets in a way that'll balance the grid. Follow a hierarchy while placing the widgets

 Data alignment in tables should be uniform throughout all widgets
3. Use Fewer Colors
Stick to three or four colors to visualize data. While most tools have in-built color palettes, if you are designing a custom color palette, keep in mind the color theory to know how to use analogous, monochromatic, complementary, shades, tints, and tones of the chosen color. There are online color palette generators that can help you with a color palette for various colors.
Finally, know how to use contrast to highlight inconsistencies, trends, or outliers in the data.
3 Best Practices for Effective Data Management
The success of data-driven recruitment lies in the accuracy and quality of data. Follow these three data management practices to ensure that the dashboard provides an accurate picture:
1. Simplify Data Access
Data should be readily accessible to the concerned team members. Each team member should have a separate login/access to the relevant HR tools and data sources. Considering the data security issue, set up hierarchical data access rights. For instance, only executivescan have admin rights, while the mid-level management will have fewer rights.
2. Address Data Redundancies
The growing volume and avenues of data imply that the same data will be available across different applications and sources. Duplicate data will give you an inaccurate picture and introduce errors in your recruitment dashboard. To minimize this, decide the data points you want to include and their respective sources while designing the dashboard. If you find one data point having multiple sources, choose the source that provides multiple data points. The aim is to rely on fewer data channels to avoid confusion.
3. Prioritize Data Quality
The data needs to be updated periodically to get accurate insights. Sometimes, you may have to import data into the visualization tool manually. In such cases, make sure to export the latest instance of the data from the source.
3 Examples of Recruitment Dashboards
To help you get started with designing a recruitment dashboard that works for you, here are a few examples:
1. Recruitment Dashboard – Overview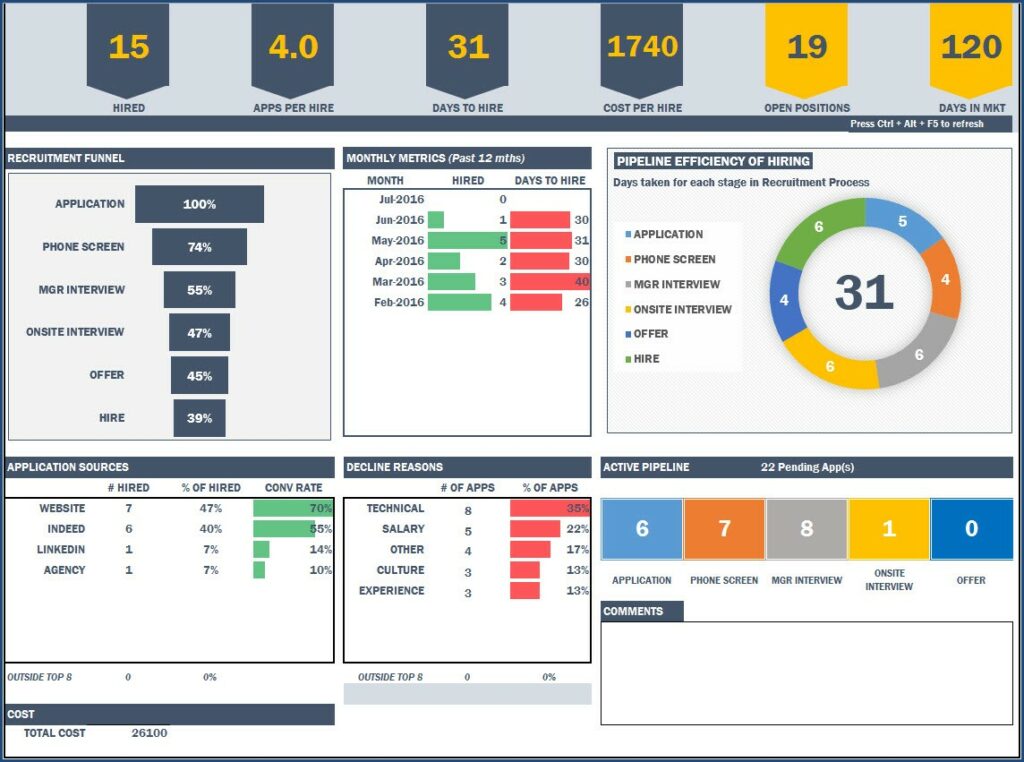 The template above provides a macro perspective of recruitment activity. The top row provides a summary of key recruitment metrics. The rest of the widgets drill down into each part of the recruitment funnel and its sources.
2. Candidate Summary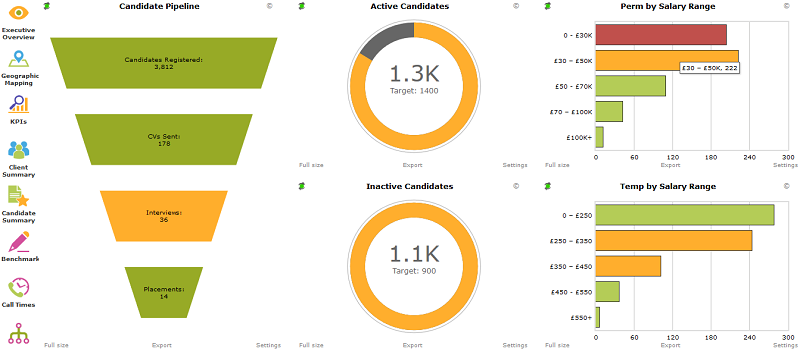 A candidate summary dashboard provides you with an in-depth view of the talent pipeline. You can see how many candidates have passed through each stage of the funnel. Along with the pipeline, the dashboard also shows the number of active and passive candidates in the pipeline, along with the salary range.
3. Job Board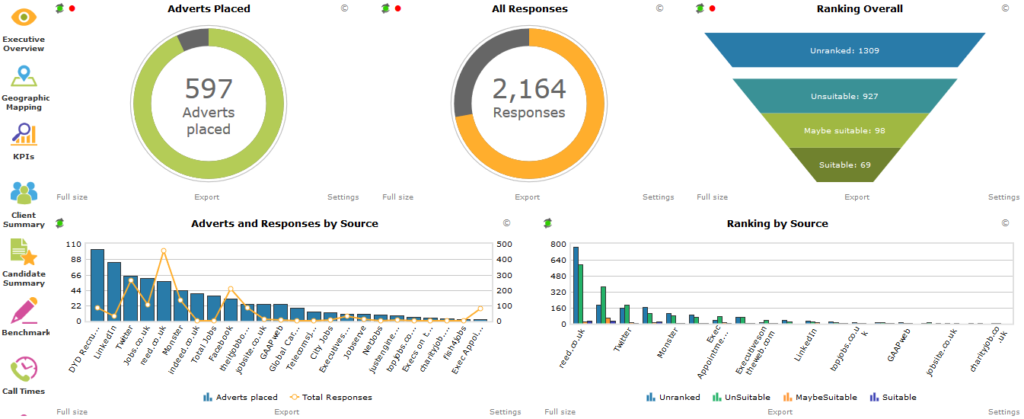 Closing Words
The first step of data-driven recruitment is knowing how to use data to your advantage, and the first step to it is setting up a recruiting dashboard. As said earlier, you can find plenty of dashboard examples online that you can download to get started.
But if you are new to analytics and have very specific/niche requirements, then creating a recruitment dashboard could pose a challenge. It helps to involve an analytics expert to set it up for you because their methodical approach will help you design and optimize the dashboard.
In the end, brainstorm and experiment with multiple dashboard ideas on the side to see which one works for you.
If you have any questions about creating a recruitment dashboard, ask away in the comments below!
---
Authors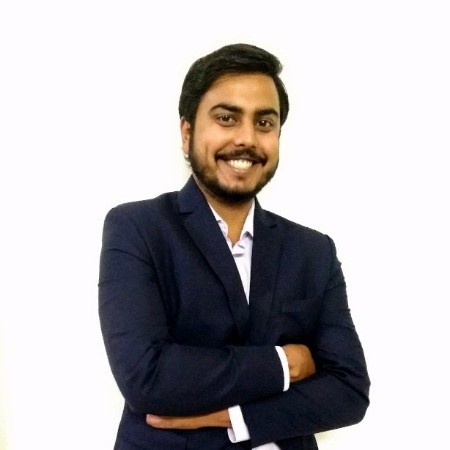 Sushman is a contributing editor at RecruitingDaily.com and writes about how organizations can succeed with recruiting technology. With a background in B2B tech publishing and events, Sushman strives to make dry, technical copy engaging. When not writing, Sushman enjoys craft beer and motorcycling holidays.
Recruit Smarter
Weekly news and industry insights delivered straight to your inbox.