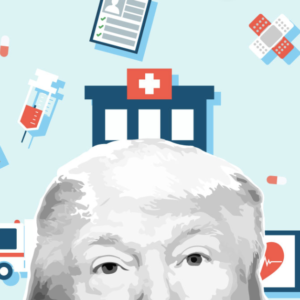 It was reportedly Ted Kennedy's greatest regret and it proved to be Hillary Clinton's first banana peel on the national stage. President Donald J. Trump and House Speaker Paul Ryan appear to be the next victims.
With a body count like that, you can hardly blame the healthcare industry, let alone Americans on the street, for looking at the prospect of reform with bewilderment and alarm.
In the meantime, the healthcare industry has to find a way to conduct its business and plan for the future.
With contentious policy debates hanging over it, healthcare employers may delay certain investments and other business decisions, but there's no question that the industry will continue to grow.
All the hurly-burly in Washington, D.C. cannot change the country's demographic trends, and whatever the future may bring, it appears likely that some key elements of the Affordable Care Act (ACA) will be preserved.
Healthcare Hiring on the Way Up.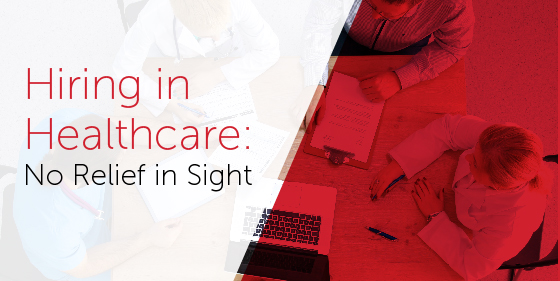 However the debate evolves, and however the Trump administration approaches implementing the ACA, two elements of the ACA that support broad insurance access have proved popular: disallowing denials for pre-existing conditions and allowing children to remain on their parents' plans through age 26.
In addition, even if support for senior citizens is eventually decreased, more Americans are still getting older. As they do, they will need more healthcare, and that will translate into increased healthcare hiring.
That trend has been in place for some time, straight through the vicissitudes of the rest of the U.S. economy. The chart below shows payrolls in two growing industries, with gray regions indicating recessions.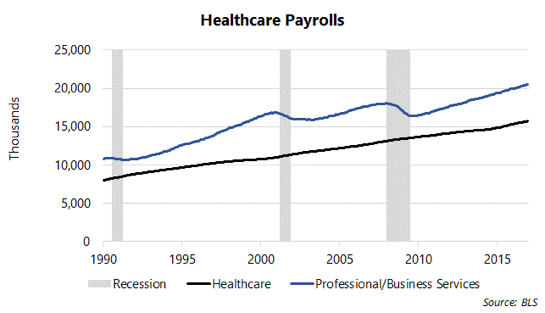 The trends are clear enough when you present the numbers in absolute terms. But a minor tweak to the data emphasizes something even more striking.
As a share of total U.S. non farm payrolls, healthcare has been gaining every time the rest of the U.S. economy pulls back. In contrast, even an up-trending sector like professional and business services turns down with the rest of the economy.
Healthcare Hiring: Size Versus Composition.
For many Americans, the stakes of this debate couldn't get any higher, but they're lower for healthcare recruiters. For the daily life of a recruiter, the challenge remains finding winning strategies and tactics in an ever tighter competition for talent.
And even from what you might call a macro-focused recruiter perspective, the issues are more about education and employment – the marketing to and mentoring of the next generation of healthcare workers – than they are about who has to pay how much for each procedure.
From a truly macro perspective, the debate over healthcare is a complicated knot of several contentious issues: household and government budgets, entitlement programs and the scope of human rights, and the challenges of providing health insurance via employers at a time when the labor market is going through profound change.
How much will we spend on Medicaid? How will we incentivize young people to get health insurance? How much will the young and the wealthy be encouraged – or required – to support the poor and the aged?
It's too soon to say how we will ultimately answer these questions, or how long our government will stick with the latest answers before taking another crack at it. That makes it hard to predict the precise health services and occupations that will be most in demand in the coming years.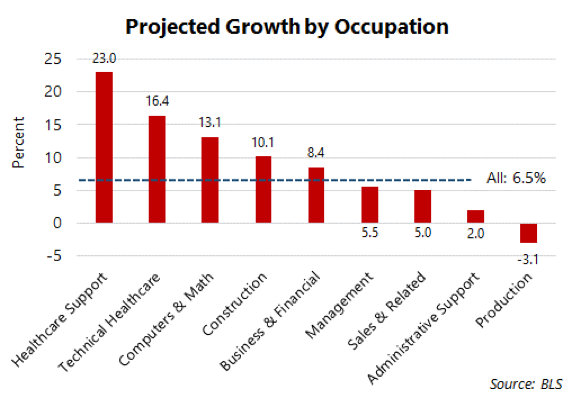 Our best information remains forecasts that the U.S. Bureau of Labor Statistics (BLS) published in 2014, after the ACA survived several legal challenges and seemed to have finally become settled law. According to the BLS, healthcare professions will add the most jobs of any occupation group from 2014 to 2024.
The occupation types expected to grow most rapidly are in "healthcare support" – occupations such as medical assistants who will help carry the administrative burdens associated with coordinating care across specialists.
Older people will require more primary care and support from allied health professionals to manage chronic diseases and help them age in place, so while these forecasts probably need revision, much of the general thrust should remain intact.
Healthcare Hiring: The Long View.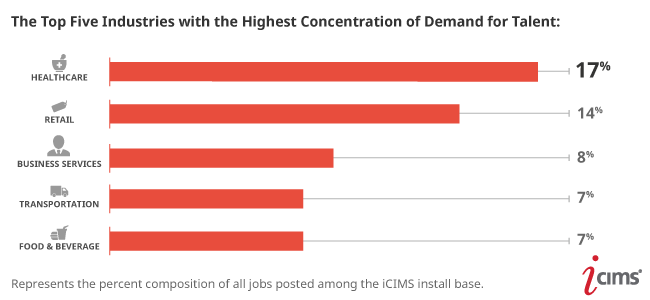 As an economist, it's my job to think about the long term. And as you've probably heard, in the long run we're all dead. But before that, most of us get sick. In fact, more and more of us are living long enough to grow enfeebled and decrepit – and need support.
You can easily enough browse the web for partisan pontifications about how our society is going to deliver and pay for the concomitant services. If you want to find out who exactly might provide those services and how we can ensure we have enough of those people in the right place at the right time, you're going to have to dig through policy papers by think tanks and industry associations.
The broad strokes look clear enough though. One way or another, as America changes, U.S. policies will change in response, and one thing they can't do is turn back the clock.
For more information on the state of hiring in healthcare, please see iCIMS' latest report, Hiring in Healthcare: No Relief in Sight.
About The Author: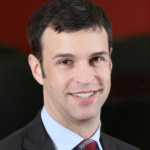 Josh Wright is Chief Economist at iCIMS, and is responsible for analyzing proprietary data in order to produce fresh insights on emerging trends in the U.S. labor market. He contributes to the publishing of quarterly trends reports, as well as semi-annual reports and blog posts on ad hoc labor topics.
In addition, Josh supports in the development of software that allows customers to analyze their own performance relative to industry benchmarks by collaborating with data scientists, software developers, and marketing executives. A former Federal Reserve staffer, Josh helped build the Fed's mortgage-backed securities (MBS) portfolio of more than $1 trillion, among other responses to the global financial crisis.
As a researcher, he has published on labor and housing markets, as well as U.S. monetary policy, and advised policymakers across the legislative and executive branches of government.
Follow Josh on Twitter @JWrightStuff or connect with him on LinkedIn.
---
---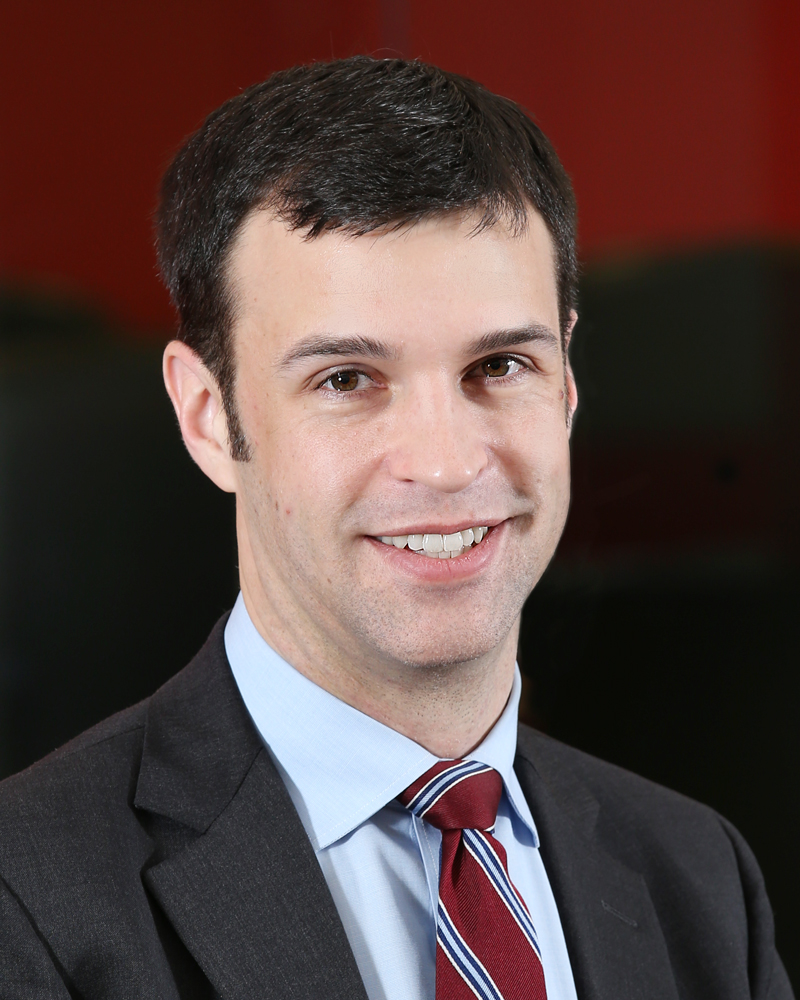 As iCIMS' chief economist, Josh Wright leads a team of data scientists in analyzing U.S. labor market trends. With nearly 15 years of experience, Wright previously served as a U.S. economist with Bloomberg L.P., and was a staff researcher at the Federal Reserve. Wright holds a bachelor's degree from Yale University and a master's degree in public policy from Harvard University. His publications span academic and policy journals, popular blogs, and major media outlets.
Recruit Smarter
Weekly news and industry insights delivered straight to your inbox.