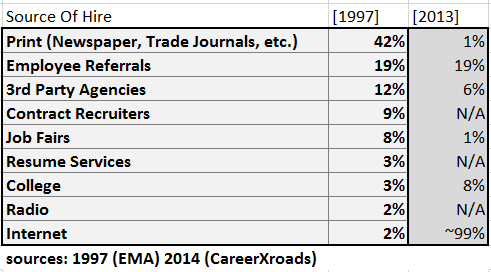 We were asked to predict the future of recruiting. We declined. It is too easy. Everything is possible when you are never held accountable. Instead, we took a brief step backward to see how the results we produce today hold up against the past.
In 1998, Gary Cluff surveyed 4000 Employment Management Association (EMA) members about their Sources of Hire during the previous year (the EMA was swallowed up by SHRM at the end of 1998).
256 companies responded (about ¼ were large firms with 1000+ employees, ½ were midsize firms with 100-1000 employees and approximately ¼ were firms with fewer than 100 employees.)
On average the companies that responded each hired 302 external candidates and filled another 94 openings with internal candidates.
An average of $544,000 was spent by these employers on various 'fees' including Advertising ($147,000), Agencies ($275,000), Employee Referrals ($28,500); Job Fairs ($15,800); and, of course THE Internet- $6,200. Staff Salary Totals averaged $362,000 and "office overhead" (which arguably included some consideration for technology tools) was $77,000.
The average CPH was calculated out at $3,256 for and the 302 external hires. (Smaller companies' CPH was higher- $4,479 for 30 external positions. Large firms averaged only $2,052 per hire for the 750 external candidates they brought onboard.) [Technology costs are notable for their absence.]
One metric seldom used today, the "Staffing Cost Ratio", a relationship of the Total Cost to Acquire (essentially the CPH) to the Total Compensation Paid, was calculated at 11%. Non-exempt hires were estimated at 25% of the total but not separately broken out. Regional and industry differences existed but the respondent numbers were too small to be 'diced' properly.
The Time-To-Start was calculated and defined as the number of days between the date a position was approved and the date when a new employee starts work. (Note: This method could add weeks to other metrics for calculating Time-to-Fill).
Average Time-to-Start ranged from 41 days for the 28 firms responding in the Finance/Insurance category to 54 days for 'IT' employers. Large firms were 59 days. Average for all: 52 days.
Great Scott! Back to the Future of Recruiting
What is different in 2014 from 1997? What will be different in 2015?
Everything on the surface. Not so much when you scratch that shiny covering.
Quality of Hire: Missing in 1998, it is heavily discussed today, but at least back then we weren't deluding ourselves that we could measure it from a proprietary algorithm matching methodology that purported to find people who will fit our firm's culture without following those hires 1 -2- 5 years down-stream.
Only a few employers and service suppliers can talk intelligently about conducting longitudinal concurrent and predictive validation studies without looking foolish.
That won't be changing much in the next year.
Big Data: missing in 1998 (although we know where some is). Even more heavily discussed today but when you get right down to it, the lack of standards defining the differences in practices between firms and those same firms' discipline and willingness to manage the risk required to collect data (and share it) is holding back better decision making. (And it is going to improve slower than the technology to give it meaning.)
Workforce Planning, succession planning, hiring ahead of need, hiring with intent to T&D over extended time-frames before deploying, investing in analytics/ROI for specific sources (colleges, interns, agencies, referrals, etc.) have all moved the recruiting needle some in the last 17 years – certainly enough to predict a revolution, just not enough to experience it.
Shiny objects are enjoyable but distracting if not connected to results that matter. The differences that should count are to be found among the stakeholders – the business leaders, recruiters, hiring managers and candidates.
If, as an employer, you ask each one of your stakeholders whether the hiring process today is better AND whether their own personal and professional results were improved as a result of participating in it compared to years ago (i.e. purchasing power, quality of life, career progression, business accomplishment, etc.) what would each of their answers be? We think any substantive differences that have occurred during the last 17 years are debatable.
They don't have to be.
Out of Time: The Future of Recruiting Begins Today.
What emerging technologies give us and, what we take great pleasure in annually imagining, is the ever-expanding horizon of future possibilities. An extraordinarily interesting and enjoyable (but too often disconnected) exercise that doesn't always match in real life.
Futurist and pundit anecdotes are always entertaining but, "the future," as someone has put it so well, "is already here and it is not very evenly distributed."
For the unique practices we see today to become a common practice tomorrow, practitioners need to step up their game and focus beyond the next shiny object with the discipline to try it, measure it, and share their results.
Rather than predicting the next 10 game changers that might emerge in 2015, maybe it's better to take one of this year's solutions and connect it to an old-fashioned business result: Quality, Time, or Cost. Pick one or two (not all three) and project just how you much you can improve it in a year.
That's what we want to read about. Don't predict your future – create it.
(Full disclosure: We haven't written an article about the future of Recruiting since 2002. It was published in the EMA Reporter, a SHRM quarterly journal, in 2 parts and entitled "Staffing 2012: How Talent and Opportunity Connect: Part 1 and Part 2. Much of what we wrote then did not come true by 2012.We, of course, claim we weren't wrong. We are just off by a couple of years.)
Read More at the Career XRoads Annex.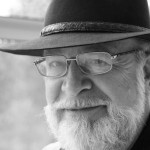 About the Author: Gerry Crispin, SPHR is a life-long student of staffing and co-founder of CareerXroads, a firm devoted to peer-to-peer learning by sharing recruiting practices. An international speaker, author and acknowledged thought leader, Gerry founded a non-profit, Talentboard, with colleagues Elaine Orler and Ed Newman to better define the Candidate Experience, a subject he has been passionate about for 30 years.
Gerry has also co-authored eight books on the evolution of staffing and written more than 100 rticles and whitepapers on similar topics. Gerry's career in Human Resources spans is also quite broad and includes HR leadership positions at Johnson and Johnson; Associate Partner in a boutique Executive Search firm; Career Services Director at the Stevens Institute of Technology, where he received his Engineering and 2 advanced degrees in Organizational/Industrial Behavior.
Follow Gerry on Twitter @GerryCrispin or connect with him on LinkedIn.
---
---
Recruit Smarter
Weekly news and industry insights delivered straight to your inbox.