There are many sources we can use to identify talent, many of which include using platforms such as Twitter, SeekOut, Instagram, Github, personal websites, and more. However, what about leveraging the LinkedIn comment section of a post?
It's a good idea to pay attention to your notifications in LinkedIn from your connections' posts anyhow. A recruiter or sourcer in your network may share a tip that could be useful, especially in the comment section.  
Mikey Weil is a 1st connection of mine, and he is posting a Boolean string a day. JK (Jung Kim) shared a Twitch Boolean X-ray search string of his own in the comment section!
FYI: JK was a 2nd connection for me not 1st, which meant I now have another person I can reach out to and connect with in the sourcing community!
If you look at the string shared from the comment section, there are some formatting issues. So, pay attention to that. Always make sure before adding a string to a search engine, to check for formatting.

Let's break down the string:
The string is x-raying into the Twitch website by using the site command (site:) and website domain in order to target a specific website (in this case, Twitch)
If you were to look at a profile, you will notice that the userid is included within the URL. So, for the purpose of the string, an Asterisk is put in place so that you can pull up multiple users in a result
Next in the URL, you will notice the word about . This is because when viewing a profile, it brings up the about page of the profile. By adding this piece in your string, you are sure to pull in profiles
This is the basis of your string, anything else that comes after it, you can use different kinds of keywords to specify the types of profiles you'd like to see. In this case, software developers or software engineers. The quotations lock in the words.

 

Lastly, you will notice social media included in an OR statement: . (Note: the pipe | can be used as OR in google rather than having to type the operator OR). This will pull in profiles that have links to any or all these social media sites within the profile. Helpful, because now you not only have a way of viewing this person within another channel, but a way of messaging or gaining personal contact information.

 
You can then take the string and put it into the Google search engine.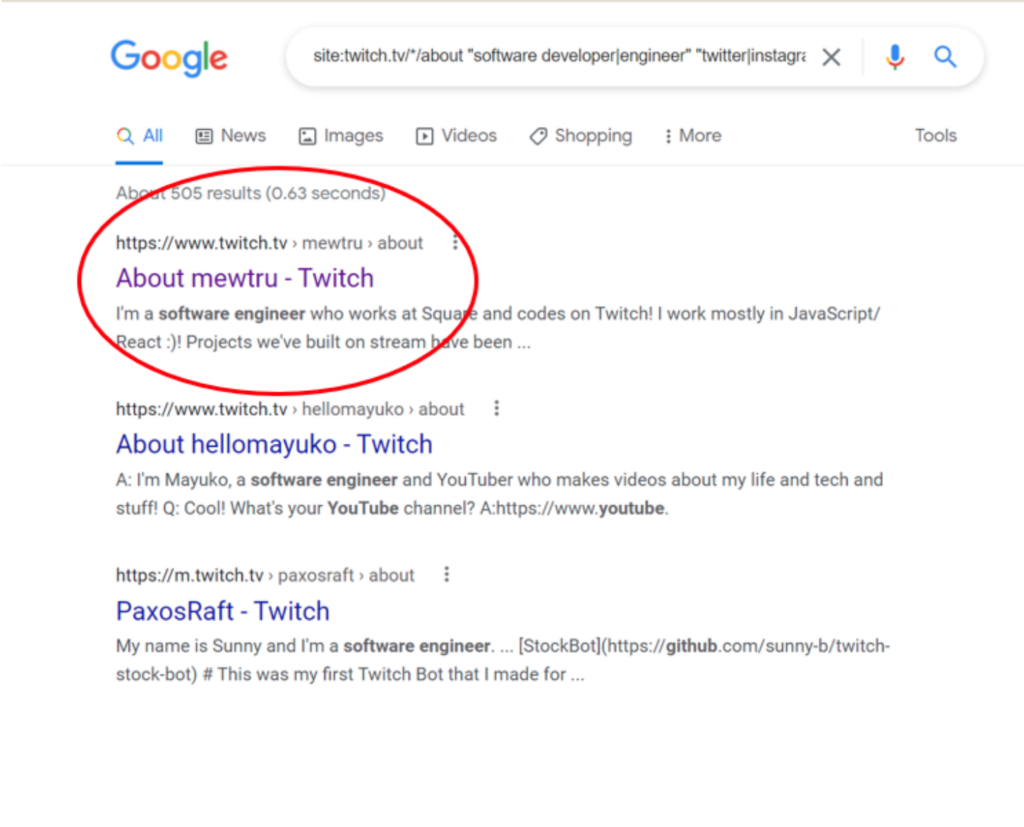 In this first example, you can see that all the results are of profiles. Let's take a look at the first profile.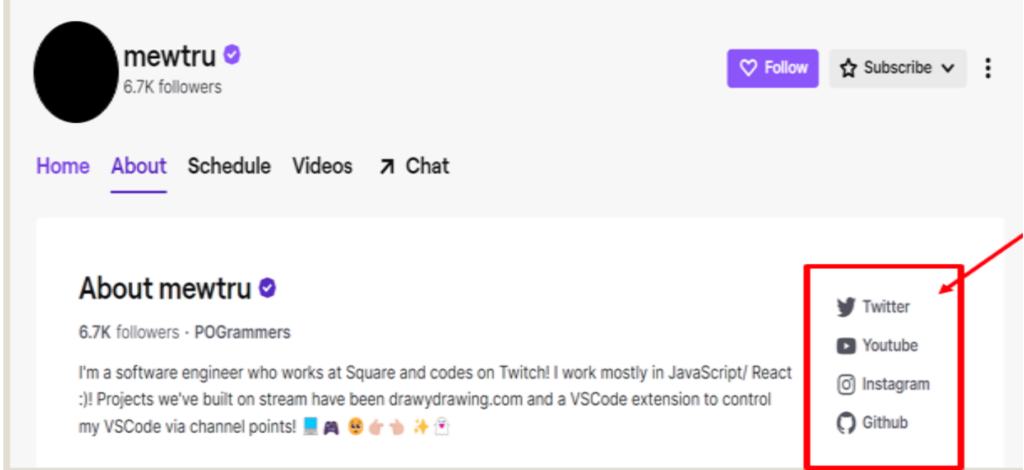 On mewtru's twitch profile, you will notice that the Boolean string pulled in exactly what we were looking for: 
About page (further confirms why using about in the URL was necessary in bringing up profiles)
An engineer

 

Social media profile link
If you have Hikido (email finding tool for Github profiles), you can check if mewtru's Github profile has a personal email using the tool. However, don't forget that some Github profiles will include a personal website.  
In viewing mewtru's Github profile, you can see that there is a link to the personal website. The personal website did not have a personal email but does provide a link to the LinkedIn profile.

In the LinkedIn Profile, go to contact info, and look at the LinkedIn user id. If you put the [email protected] you can test email in Gmail to verify if it is in fact the correct email. When plugging in the email, it does in fact belong to the individual.  

You now have personal contact information for a software engineer, working for a great company, found on Twitch, originally sourced through the LinkedIn comment section, from a notification alert of a 1st  connection's post. 
In this 2nd example, we use the same string, but let's see if in addition to finding personal contact information, if we can pull out anymore information to lead us to other searches.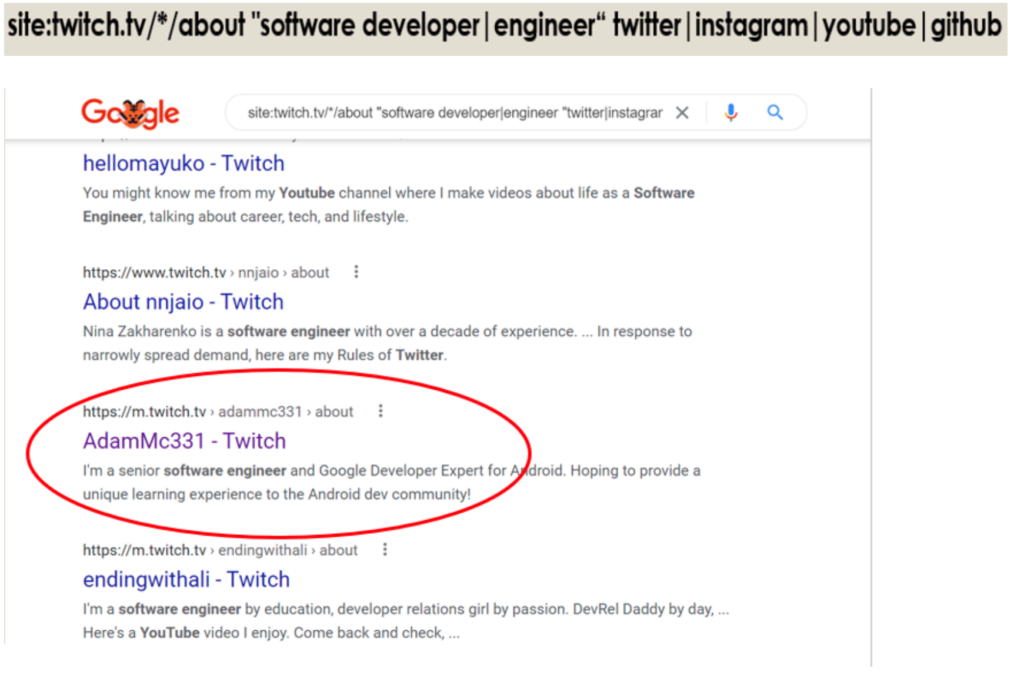 When clicking on the Twitch link for AdamMc331, you are brought to his profile, but he does not have as many social media links as the previous example. However, he does have a link to his Github. The Boolean we used let's us know that there is going to be at least one social media link if not all.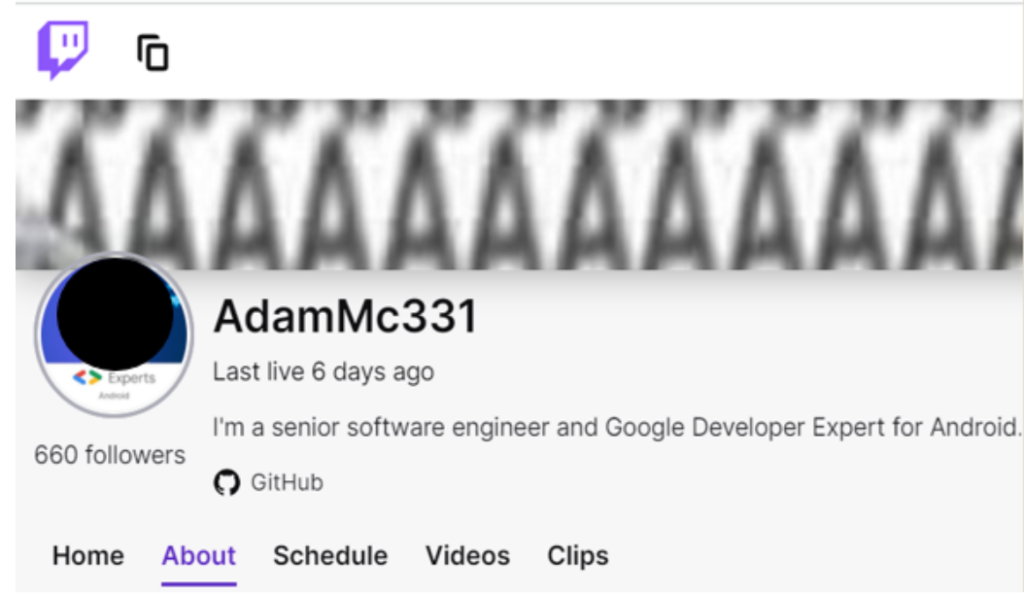 So, from the Github link on the Twitch profile, you can get both a twitter account and personal website link.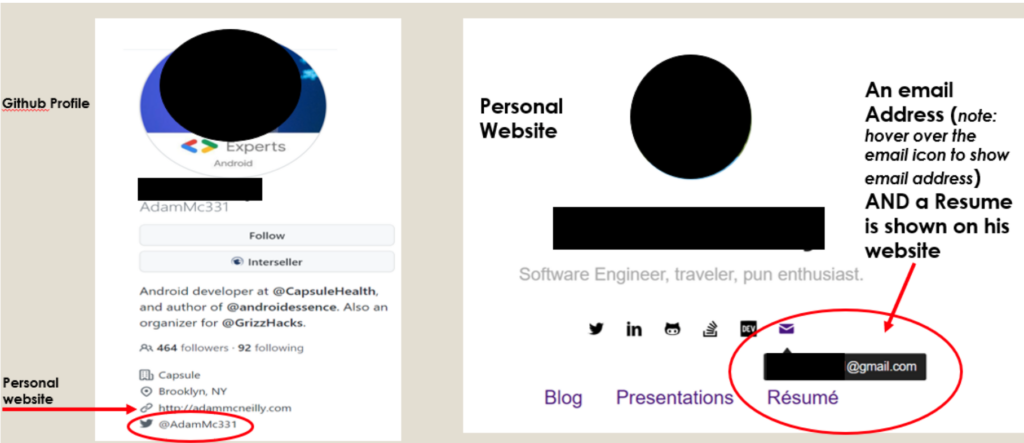 When you click on the link to take you to the personal website, you have now gathered the following additional information: 
LinkedIn profile link

 

Stack Overflow profile link
Dev Community profile link
Personal email address
Resume
FYI: when you click on his dev community profile link, it provides similar information. This could be another source to try and find talent. Always look at the profile to see what you can pull.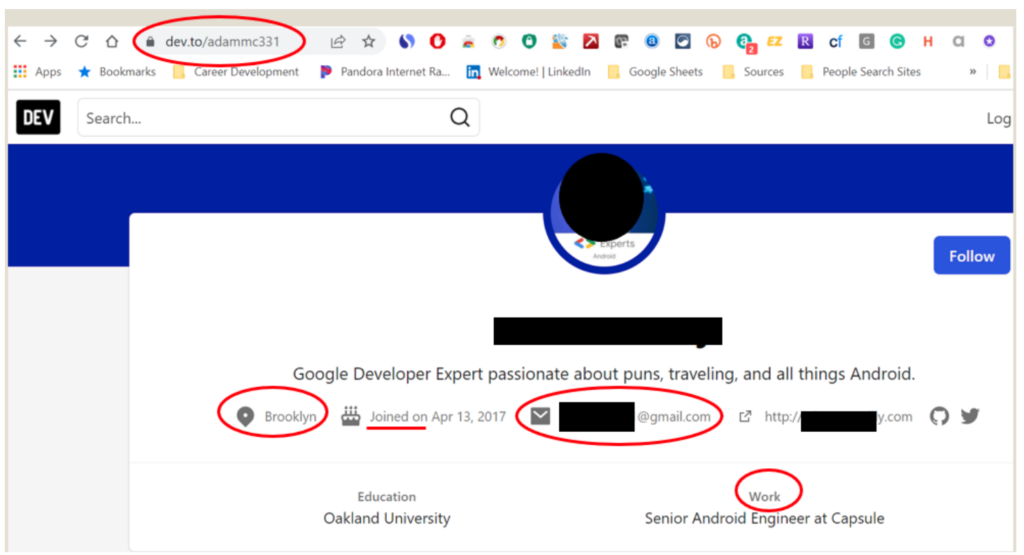 In many cases, if you come across one profile, there may be more just like it that can become another source. On the profile, there is a location, an email, the person can provide where they work, it also provides a time the person joined the site. A Boolean string could be created from this. So, let's test it out by looking at the URL and seeing if we can X-ray to get more profiles.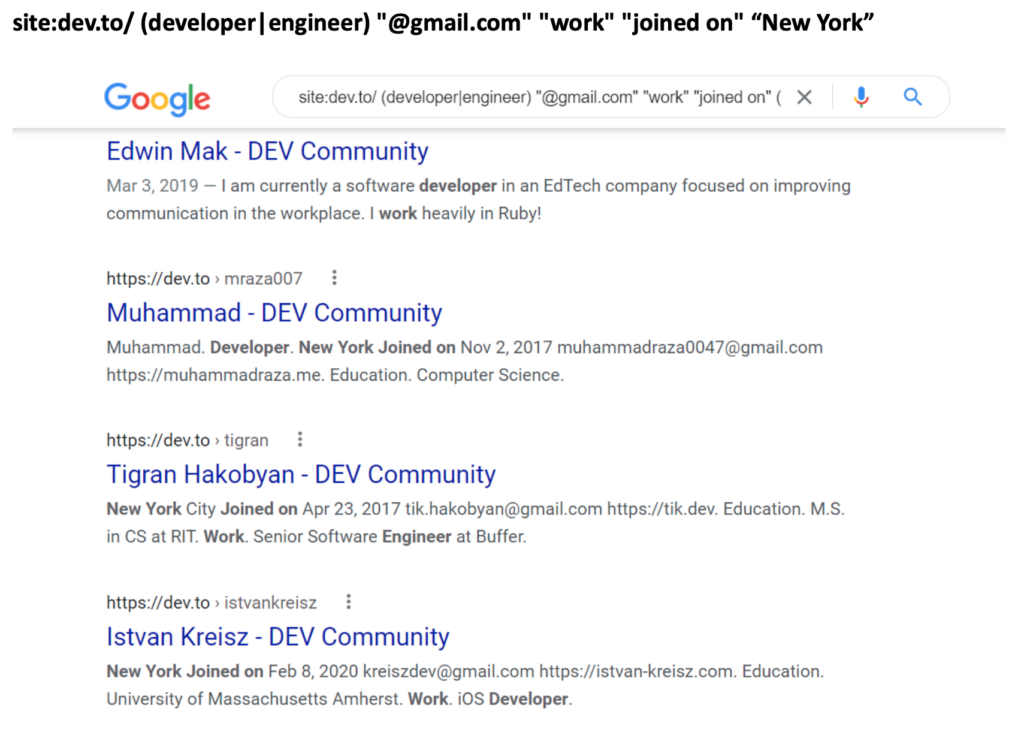 IT WORKS!
Note: you can always try other email domains, location specific (or no location at all, your choice), etc.
To wrap up, notifications from your 1st connections is a great alert/reminder to check out LinkedIn posts as it can provide you with valuable information that may lead you to find even more sources.
Always look at everything around you in profiles, on posts, in LinkedIn comment sections, and be curious.
One lead can lead you to even more leads. Happy Sourcing! 
---
Authors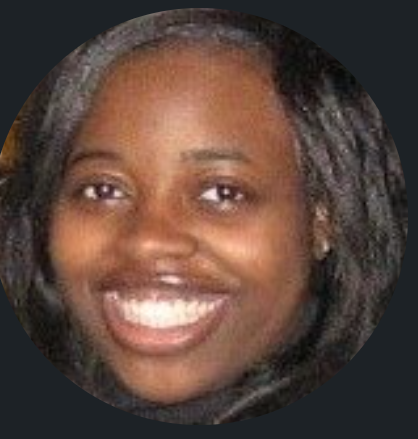 Currently, Managing Partner at Exalt Hire LLC, Sharon is a passionate Sourcer who enjoys the hunt. She has experience sourcing for RPO, Corporate (in-house), Agency, and start-ups, in areas such as Engineering, Product, Gaming, Fin-tech, Sales, Marketing, Veterinary, and more. Sharon enjoys training recruiting/sourcing teams and implementing strategic processes to improve the sourcing function within organizations.
Recruit Smarter
Weekly news and industry insights delivered straight to your inbox.