Call this the "clear the air" opening line for what otherwise is an informative article, at least that is the goal around the judgement that has most likely, and for good reason clouded your thoughts after your read the title but before you clicked in to read this master piece.
Let's get cliché for a moment
Will Recruiters have a job in the next 10 years?
No doubt.
Will machine learning and artificial intelligence replace recruiters?
No, but it will have a huge impact on all areas of business. Do you want to be a Google hacker scripting Boolean searches to make yourself feel like a word class sleuth or do you want to make great placements and land the best talent for your organization?
What role will machine learning and AI have in recruitment?
Process, research, recommendations, repeatable tasks. The recruiter's role will evolve to a relationship manager, a role of persuasion and deal making, but we are safe, for now.
AI Is The New Social Media
The goal of AI and automation in recruitment is to streamline process with the end goal to reduce cost of hire while improving candidate experience. In one sentence, this has been the scramble over the last couple of years as behemoth companies like IBM and Microsoft battle to disrupt industries with the latest "powered by watson" or 365 gadget.
I can remember just a short 10 years ago, companies were "investigating" social and the value that social would or wouldn't bring to their organization. Legal teams blocking social updates and companies launching a Facebook page. We are at that very same place today with AI. Companies are interested, investigating and discussing, but not yet ready to make the investment.
All AI Is Not Created Equal
Chatbots, NLP, machine learning, deep learning – these are the new buzzwords in recruitment but unlike Big Data and a few other gems, artificial intelligence and the like are here to stay.
As with all things technical in our world of recruitment there is the sexy version and then there is the "recruiter's version," in this case Open AI and Programmatic AI
Here's the difference:
Open AI is sexy, futuristic, IBM Watson type of stuff – Cure the world and feed the planet missions, which is why most companies haven't yet grasped the idea around how AI can help scale their recruiting organization. It's not an easy sell.
Programmatic AI on the other hand is where we see the vast majority of startups building amazing products like TextRecruit's Ari or HiringSolved's Rai, X.ai for calendaring and one of my favorites Wade and Wendy. Programmatic AI is set to attack specific tasks, process and gaps. It's a core business process killer that when employed properly will allow a recruiting team to do amazing things.
3 Ways To Prepare To For Chatbots and AI in Your Recruitment Process
Use Chatbots to eliminate calendars
You know how the story goes. You land a great resume and you spend 3 days chasing the applicant down to schedule a 30 minute call, send the calendar invite, confirm the calendar invite and the applicant misses the meeting because they misunderstood your voicemail message.
Schedules are tight and applicants are on the go. How many calls go unanswered simply because the applicant wants to make a great impression and is stuck commuting on the train?
Find a Chatbot that allows your recruiters to connect with applicants on their time.
Use Chatbots to Build a Data Driven Interview Process
30 open requisitions, 50 candidate calls, 8 phone screens, and 5 candidate submittals per day. These are realistic numbers, albeit not the best case scenario to hire the best candidates – one that a recruiter lives every day. How can you be accurate at that volume?
Chatbots can listen, build and assess. They can build complete profiles and make assessments on candidates, rank them accordingly skills both to other applicants as well as internal employees. Bots can output a full comparison of skills with recommendations on how to find better talent.
Head Shakers will disagree and argue that human touch is important, and it is. I just believe that human touch can be better used on non-process / relational aspect of recruitment, items such as phone calls, relationship building, persuasion and facilitation.
Use Chatbots to bolster candidate experience and Messaging
Early stage communication is one of the most important touchpoints during the recruitment process, it can also be time consuming and is often poorly executed. These are the steps that are often removed because they are viewed as "time wasters".
Once removed, your candidate experience is shot, your recruiters become frustrated and your hiring mangers exit stage left.
Think about messaging, tone, response times and putting the right job in front of the right prospect, at the right time. These are part of the recruiter's job that they like, but often fail to complete in timely matter, ultimately losing the candidate and the hiring teams trust.
Picture This
Here is a real scenario that can happen today, and one that will be better as this process gets smarter. Your job is not at risk unless you refuse to grow with technology. Be a recruiter, not a Google hacker.
A Job requisition is created and placed wherever you place your jobs
Your company than targets your key persona (target applicant) on Facebook via ads, video etc.
Candidates once they engage are redirected to Facebook messenger where they immediately interact with your recruitment bot, completes a fast interview and auto applies
If the prospect is scored as qualified the bot begins the scheduling process while they have them there in messenger, pulling both calendars simultaneously and confirming the phone interview.
Enter Recruiter.

---
---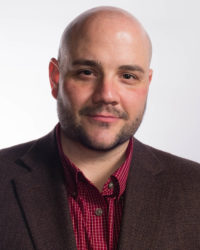 Ryan Leary helps create the processes, ideas and innovation that drives RecruitingDaily. He's our in-house expert for anything related to sourcing, tools or technology. A lead generation and brand buzz building machine, he has built superior funnel systems for some of the industries top HR Tech and Recruitment brands. He is a veteran to the online community and a partner here at RecruitingDaily.
Recruit Smarter
Weekly news and industry insights delivered straight to your inbox.