3 Ways To Deliver 
The candidate experience first begins with a Facebook post from a friend who raves about her new job. Or it can start when a colleague posts news on LinkedIn that your company is hiring. Other places the candidate experience starts include Google searches, your organization's careers site, or a recruiter's private message.
In all of these examples, the candidate experience takes off when the prospective employee first interacts with your Employee Value Proposition (EVP) and determines if they want to apply. Every subsequent touchpoint is important as the candidate experience matters now more than ever.
A recent study from Talent Board, a non-profit organization focused on the elevation and promotion of a quality candidate experience, speaks volumes. Research focused on North America, EMEA, and the APAC region discovered that candidates who described their experience as "negative" overall said they would not consider doing business with the company, would not apply again, and would not refer their friends and colleagues to work there. The news was much brighter for candidates who labeled their experience "great." Those folks were happy to recommend the company to others and would consider doing business with the organization – even if they didn't land the job!
Today's recruiting leaders know that it's vital to create a meaningful and personal experience for the candidates you hope to attract with your job offerings. Here are three ways organizations can create and deliver an effective candidate experience and enhance their EVP to compete in today's job market.
#1 Boost your networking, social media and sharing game
Job candidates are looking for a signal. They want to find clues – or even just a gut instinct – that your company is where they belong. This sense of connection often starts with social and professional networks. Perhaps a video of a team-building day sparks interest. Or maybe a Facebook Live session beckons with a glimpse of an off-the-cuff employee experience.
You might call this an introductory or initial stage, and it can captivate even passive candidates. After all, the AI that drives social network algorithms will most likely continue to serve up content the potential candidate has engaged with before, including company posts or friends' likes and shares about a particular organization.
Consider adding more content – videos, images, blog posts – that shows your brand's culture. Remember that culture is both spoken and non-verbal, and offers an authentic look into your company's deeper vision, so don't shy away from real stories that might inspire a prospective team member.
#2 Creating a personalized pipeline
It's not hard to improve the candidate experience since many job seekers have a poor experience with so many companies. Applying for a job can feel like tossing your resume into a large, online black hole. When we want to reach candidates – especially those whose skills are in demand – we should always strive for personalization.
When we personalize the candidate experience, we first meet the prospective employee's desire to know what's going on with their application process. We can also figure out how they prefer to communicate and what interests they have beyond the basics of the job. In this way, the relationship grows, step by step, between the company and the candidate. Consider new candidate and hiring manager feedback surveys to provide ongoing feedback to make the process even better. Even if you don't hire the candidate, the relationship they've built with you can still leave a favorable impression. Then, make sure to use digital tools (such as machine learning) to surface these candidates for future job roles.
#3 Communicate and then communicate some more
Brandon Hall Group found that an effective candidate experience improves the levels of quality hires, engaged employees, employee retention, and business revenue. One way to improve the candidate experience is thoroughly authentic and timely communication.
One way sure-fire way to deliver a memorable experience: have the hiring manager deliver solid, honest feedback to the candidates. The hiring manager can speak to the parts of the interview process that went well, and even say why another candidate was chosen instead. Let's say a job-winning candidate edged out the competition by having unique experience or specialized training. Most candidates would want to know that information so they could pursue the same career enrichment.
While making the candidate experience great is good business sense, it also makes a good human experience. Everyone on the recruiting team should apply for a job at your company so they can see how it works from the candidate perspective. From the receipt of the application to the phone call or email from the hiring manager informing the candidate that they didn't get the job, the prospective employee should be communicated to with respect and professionalism.
Candidates are indeed a special part of your company's success, from the first time they interact with your social media presence to the moment they walk into a lobby and are warmly welcomed by name. Creating an excellent candidate experience takes effort, but it's worth it to shine a spotlight on why the candidates wants to work at your organization. Start today to create a personalized and meaningful experience for your candidates. Your future employees are eagerly awaiting their chance to join you.
---
Authors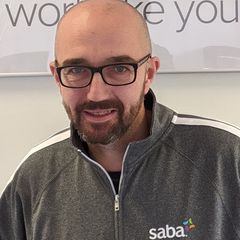 As Saba's Head of Solution Consulting for Talent Acquisition, Nick serves as a true partner to Saba's customers, ensuring he and his team help them design, implement and measure impactful talent acquisition strategies that maximize the value of their technology investment. Nick's background, while extensive, isn't traditional. He worked for many years in the recruitment and sales industries, always overachieving and delivering the best possible results for clients and candidates. Nick considers himself a salesman, marketer, entrepreneur, blogger, social media strategist, and overall technical geek. His specialties include recruiting, training, technology implementation, and project management. In his spare time, he loves to build websites and job boards and also makes a mean omelet!
Recruit Smarter
Weekly news and industry insights delivered straight to your inbox.