How many people do you usually hire in a month? While there may be enough to recruit 1 to 5 candidates, sometimes businesses need to multiply these numbers and opt for high-volume hiring. This term refers to the process of looking for numerous people at a certain period.
When does high-volume hiring come into play? A business may need many candidates due to several reasons, such as:
opening an office in a new location;

seasonal demands, such as the need to find customer service specialists in the online store before Black Friday and Cyber Monday;

the company's growth and the emergence of new departments;

after company restructuring, optimizing processes and big turnover.
Whatever the reason, recruiters and HR professionals need to cope with the increased workloads. This article will outline the right strategies to manage high-volume hiring. These tips will help everyone involved in talent acquisition.
1. Create Applications Around Candidates
Candidate-first approach is essential for high-volume hiring. Why? Because you need to ensure a smooth experience for people to apply. It will streamline the recruitment process with more candidates coming to your company's resources.
Begin with writing a thorough job description. Include the title, requirements, responsibilities and tasks for a person to do daily. You should also look at the piece through the candidates' eyes. Why should people place your business above the competition?
List bonuses and perks, whether you accept remote working, whether the position is temporary or permanent. Candidates should also understand if they will have a fixed work schedule, shifts or even part-time or full day.
2. Explore Various Platforms and Optimize Content
High-volume hiring entails searching for people on various platforms. It may be a corporate website, job boards, social media, etc. Follow your target audience where you expect them to spend their time and offer a job. Chances are they'll come to your website to see your services, team and even blog. That's where website optimization comes to your aid.
Analyze the website's mobile-friendliness and make the needed adjustments. The website should open fast with every part taking the right place. Visitors shouldn't pinch the screen when accessing the website on the go from mobile devices.
The application process should be streamlined without the need to fill in excessive fields. It should take one click to finish the task in less than 20 minutes. According to statistics, 64% of applicants will tell others about their bad application experiences, diverting potential employees from the company.
3. Search Faster by Looking Through Your Database
This section revolves around searching for candidates in your database whom you previously rejected, lost or fired. This practice is known as talent rediscovery and returnship.
There may be several reasons you put some candidates on hold. Maybe you had more options to choose from at the time to take a role. Perhaps they got a job offer from another company and decided to go for it. Or they didn't have enough skills and experience compared to what they possess now.
With this in mind, investigate your spreadsheets with whom you interviewed before. Some may be seeking a job now that fits your business needs. This way, you can speed up high-volume hiring by leveraging existing information.
Another source of candidates is your former and current employees. Returnship is beneficial as employees already know the company's procedures and need less time for onboarding. You can prevent current employees from leaving if they're unsatisfied with their tasks. Offer them another position, ensuring smooth internal mobility.
4. Adopt Recent Technologies to Speed up High Volume Hiring
Active talent acquisition implies reviewing thousands of resumes, inputting data into special software and deciding whether candidates are perfect fits. Recruiters spend their valuable time analyzing typical resumes. This process becomes a heavy burden, leading to fatigue, frustration and human mistakes. How do you tackle these issues?
Try recruitment automation and implement artificial intelligence. It performs repetitive tasks, leaving employees with functions such as interviewing candidates and making decisions. AI-powered tools run through resumes in seconds. By extracting keywords, they determine whether a person has the necessary skills and qualifications. Other techniques for utilizing AI in high-volume hiring include:
using chatbots to find candidates and schedule interviews;

scanning ATS (applicant tracking system) to process large data chunks quickly and identify patterns; 

analyzing body language, reactions, tone of voice, etc. during video interviews;

communicating and sending automatic responses to prospective candidates.
5. Measure the Success of High Volume Hiring
Another key point is performance analysis. How fast do candidates apply for a job? Where do you find relevant specialists who become your employees?
Recruiting KPIs and metrics help you optimize the hiring process by removing weak points and focusing on the working tricks. At the same time, they highlight the company's benefits and weaknesses. You can eliminate them to attract more talents and improve the conditions for existing employees. Consider the following metrics:
Time to hire.

These figures represent how fast candidates become your employees from the moment of applying for a job to the moment of accepting it. The shorter this period is, the more chances to hire the best candidates are. 

Source of hire.

This metric helps you determine the channels bringing you the highest number of talents and return on investment. What acquisition channel drives more candidates? This information lets you reduce costs on underperforming channels and focus on the best ones.

Cost per hire.

It's a metric for showing how much you spend on each person. You can get it by dividing total expenses (everything invested from advertising to onboarding) by the number of hires. You can reduce costs with the help of hiring tools designed to automate processes.

Offer acceptance rate.

This metric demonstrates how many people accept your offer compared to the number of made ones. No one wants to waste their time and get nothing in the end, right? Gather feedback from candidates on why they refuse your offer. Maybe, the reason lies in the proposed compensation or other conditions.
You can enrich this list with other metrics to leverage more data over time. Detailed reports will help you not only with the high-volume hiring but with enhancing your company in general.
Wrapping Up
The need for high-volume hiring is urgent like never before. As the Great Resignation showed, people are less eager to cope with unfavorable working conditions, lower wages and poor work-life balance. The number of resignations skyrockets, with people searching for better options. Your task is to reconsider your approaches, retain employees, boost their loyalty and deal with high turnover rates.
That's why companies should always be prepared to substitute or recruit plenty of workers rapidly. How can you scale your hiring processes quickly and easily? We've analyzed actionable tips to win, including:
optimizing applications and expanding venues where you can reach out to candidates;

resorting to your existing database to rediscover previous candidates and former workers;

leveraging AI to automate resume screening, spot trends and reduce errors;

tracking KPIs to see whether you move in the positive direction.
By following them, you can be sure the right people will come to your business and work towards its stable growth.
---
Authors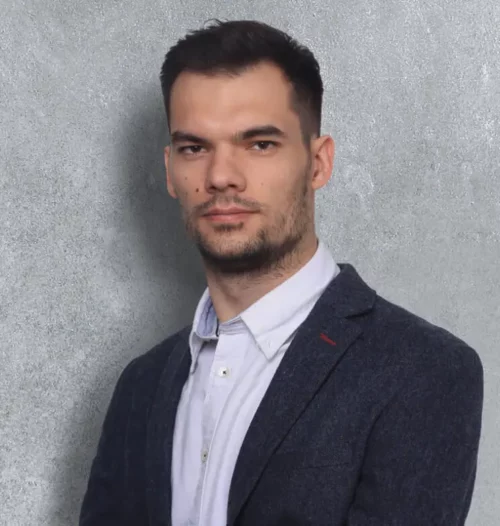 Alex Husar, chief technology officer at Onilab, Magento eCommerce agency. He graduated from the Czech Technical University and obtained a bachelor's degree in Computer Software Engineering. For over 8 years he's been working on Magento migration and development projects as well as building progressive web apps (PWAs).
Recruit Smarter
Weekly news and industry insights delivered straight to your inbox.