I've seen a bunch of cool updates to recruiting and TA tech the last few weeks. In light of this, I've been motivated to curate a list with some of the highlights in recruiting tools for 2023 to help you deliver a better candidate experience while rationalizing your HR tech investment.
The past twelve months have been volatile for the labor market. From the COVID hiring boom to the gradual rationalization of labor demand across industries, you wouldn't be wrong to assume that we're amid a recession.
However, the latest Bureau of Labor Statistics data paints a vastly different picture. The US economy added a whopping 517,000 jobs in January 2023, beating market estimates. The unemployment rate fell to the lowest level since May 1969.
While we witnessed massive layoffs across tech, industries like hospitality and leisure, government, business services, and healthcare, amongst others, added a significant number of jobs.
At a time when organizations are exploring new ways to unlock growth, talent acquisition (TA) can play a pivotal role in enabling businesses to navigate an increasingly unpredictable economic environment.
Focusing on the strategic side of talent acquisition brings enormous benefits to businesses, especially when talent teams are not consumed with tactical hiring activities. With the new talent available for hire, organizations can access a larger pool of qualified candidates. In addition, prioritizing TA during this time can help organizations develop their competitive advantage when it comes to improving the hiring experience – for both candidates and recruiters.
As TA takes on a more strategic role within organizations, it's a great time to assess your recruiting technology stack to determine if your technology, processes, and people are ready to meet your organization's near-future and longer-term talent needs.
From the technology demos and success stories that have been shared with me, here are my takeaways on some of the solutions making an impact in 2023.
The Modern Recruitment Technology Ecosystem
Today's recruiting technology ecosystem is much more diverse, and with good reason. A decade back, it wouldn't be surprising to see an organization relying on a single-suite solution to orchestrate its entire hiring process. Your typical HRIS or HCM would tackle everything from sourcing to offer management, albeit with limited functionalities and customizability.
Fast forward a few years, and we see an explosion of best-of-breed solutions designed to address specific needs at different stages of the recruitment funnel. There has been a massive shift in how organizations think about leveraging and managing such solutions.
So, top-of-the-funnel (TOFU) activities go beyond the capabilities of a traditional ATS. For instance, there's programmatic job advertising, with players like Joveo bringing data science and behavioral advertising to enable organizations to reach a much larger pool of qualified candidates. Similarly, we see players like Qualifi, GoodTime, and Metaview delivering better interview experiences (mid-funnel) for both candidates and recruiters.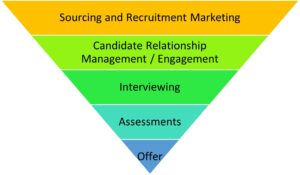 The thought of developing a future-proof recruitment stack can be daunting but it doesn't have to be. Despite the large vendor ecosystem out there, identifying a good fit comes down to clarity in what you seek to achieve with your point solutions.
We've deconstructed the hiring funnel to examine how some vendors in 2023 are addressing a number of the biggest challenges in talent acquisition.
Top-of-the-Funnel (TOFU)
As the skills landscape continues to evolve, sourcing and recruitment marketing remain key priorities for organizations. A new study by Mercer found that 98% of companies still report significant skills gaps. While HR and TA look at new ways to address the growing skills divide, a large section (37%)  believe skills acquisition through hiring is the best way forward.
Here are some of the companies you should have on your radar if you're looking to bolster your TOFU capabilities:
Mid-Funnel (MOFU)
Candidate engagement and interviews typically dominate mid-funnel recruitment efforts. Over the past two years, this segment has witnessed a massive transformation in the way MOFU activities are carried out. The pandemic accelerated the shift to a digital-first interviewing experience and the rise of communication automation. Vendors have been adding intelligent layers to their candidate engagement and CRM platforms to drive personalized messaging. However, CX as a whole is still evolving and many organizations are yet to begin thinking about engagement as a strategic candidate acquisition enabler. A 2022 report found that nearly 53% of candidates abandoned the recruiting process because of poor communication from the employer.
On the interviews and assessment front, there have been interesting developments since the move to digital. Overall, organizations reported a 44% increase in the number of interviews from 2018 to 2021. A part of this spike could be attributed to the fact that organizations added custom interview stages to their recruitment processes (for technical and leadership positions). On the other hand, the total time spent with prospective hires in the interview process fell 14% during the same time period. While organizations are able to operationalize their interview feedback faster, the candidate journey is a lot more non-linear. This signals an ongoing evolution in the way talent teams interact with candidates through the hiring funnel.
Vendors making moves in 2023 include (but are not limited to):
Bottom-of-the-Funnel (BOFU)
As the organizations continue to scrutinize their quality-of-hire, skill assessment platforms have become a staple in the selection stage for organizations. Post pandemic, technical assessments have become more immersive thanks to interactive experiences via problem-solving simulations and conversational intelligence. Vendors in this space are now expanding their capabilities to support more of the recruitment process from sourcing to selection, similar to what we've observed over the last two years in the video interviewing segment.
In addition to skills, behavioral assessment and psychological profiling remain relevant today despite scepticism from a scientific validation standpoint. However, we've observed a marked departure from game-based psychometric assessments to more holistic job simulation assessments that measure both behavioral and domain skills.
Some assessment solutions to watch out for in 2023:
Filtered: A unique approach to technical assessments that does not rely on coding tests or screening. You can instead evaluate candidates with short, comprehensive job simulations that objectively assess the skills you are hiring for. Filtered can help you create real-world simulations tailored to a role and seniority level, while empowering candidates to explain their work.
Why consider it? Make assessments more impactful and objective to predict candidate performance on the job.
Highmatch: Mobile-first assessments that measure the success factors for on-the-job performance. Highmatch offers domain, personality, cognitive aptitude, and situational judgment assessments, making it a 360-degree assessment platform for organizations in all industries and of all sizes.
Why consider it? Personalize assessment to the candidate and their experiences to get a complete view of their ability to succeed in a role.
Conclusion
Slowing growth and a highly competitive labor market make for an interesting paradox. And the recruiting technology ecosystem is rising to the occasion by developing solutions based on deep-domain expertise and leaning on talent intelligence. With more recruiting tools becoming ATS and HCM agnostic, TA teams have an opportunity to tap into a much larger solutions ecosystem with bespoke capabilities for each stage of the hiring funnel.
Going forward, TA teams will need even more education, support, and consulting expertise to navigate candidate expectations and achieve business goals in 2023. As all these challenges take form, we will be here to guide you.
We hope this resource helps you get started re-envisioning how you address your most pressing challenges with technology.
---
Authors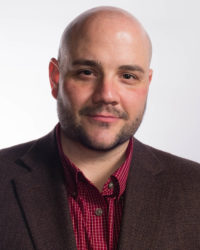 Ryan Leary helps create the processes, ideas and innovation that drives RecruitingDaily. He's our in-house expert for anything related to sourcing, tools or technology. A lead generation and brand buzz building machine, he has built superior funnel systems for some of the industries top HR Tech and Recruitment brands. He is a veteran to the online community and a partner here at RecruitingDaily.
Recruit Smarter
Weekly news and industry insights delivered straight to your inbox.