You might not have heard of fastest growing online US job destination, but as Eric Owski, VP of Corporate Strategy at Bright freely admits that even with 7.5 million unique visitors a month, Bright.com has "flown under the radar." In an overcrowded industry, those numbers – and Bright's growth trajectory – are impressive.  So too is its product, which makes a pretty compelling business case for why big data is such a big deal in HR and recruiting.
Unlike so many HR technology companies offers an innovative, scalable and simplified solution to a real recruiting challenge for practitioners.  But that's probably because Bright, at its core, isn't really an HR technology company, but rather, a technology company which happens to be in HR.
"All of our early employees were data scientists or engineers," Owski said. "As a data science company, we came together to identify that the hiring and job search process were inefficient and broken.  When we looked at the market, we saw that it wasn't good for anyone – employers or candidates."
On one hand, Owski says, it's too easy for candidates to apply for jobs (although ATS vendors have been trying to make this process more difficult for decades), resulting in a resume tsunami which left recruiters unable to review or respond to all applicants. This "vicious cycle" – one that lies at the heart of concepts like candidate experience and employer branding – was one Bright's data science team set its sights on solving.
The Bright Score: Klout for Candidates
The answer is Bright Score, which indicates, on a scale of 0-100, how closely a candidate's resume matches a job description. The result of an 18 month comprehensive study covering millions of job and resume pairing – and insight from real recruiting leaders to add qualitative data and context, Brightscore's matching algorithm provides a powerful tool for candidate sourcing, screening, and self selection.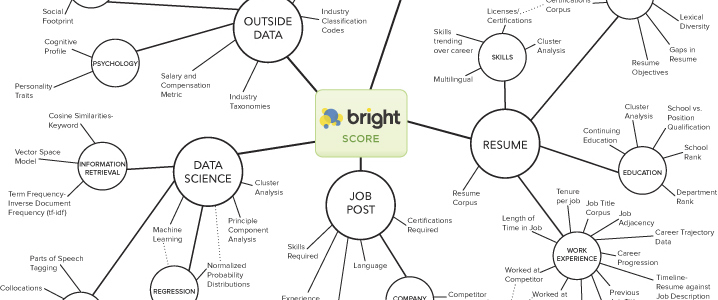 What I like best about Bright is unlike so many companies trying to reinvent recruiting or change deeply embedded processes and company-specific procedures, Bright's technology works with job descriptions and resumes, which remain the ubiquitous, fundamental currency for recruiting and hiring in today's world of work.
The interesting thing is Bright seems to have cracked the code and reinvented (or at least reinvigorated) the utility of both traditional resumes and job descriptions.
And they've crunched enough numbers to have published a peer reviewed study which shows that resumes – not social profiles, "cultural fit" or other subjective hiring criteria – are still the best indicator of a candidate's ability to succeed in any given position. You just have to cut through the fluff.
"We've found that both the resume and job description are advertisements," Owski says, "and both the employer and job seeker are overinflating the requirements or their experience, or else are somehow trying to manipulate existing systems into believing there's a match where one doesn't actually exist."
For recruiters, Bright functions a lot like a job board – only when you post a job, that job description automatically functions as the search query for Bright's resume database, so you don't actually have to enter anything. Bright returns only those candidates whose Brightscore is 70 or higher, so rather than return results which aren't relevant, Bright omits them entirely.
What makes Bright unique, though, is the fact that their matching extends down to the user interface and experience.  The Bright Score for any resume-posting match is visible and consistent for both recruiters and candidates, whose uploaded resumes trigger a similar query for the jobs with the highest Bright Score match. Candidates meeting the minimum threshold for any uploaded job are automatically notified they'd be a fit. This automated vetting and notification, Owski says, results in very high open and apply rates for candidate e-mails compared to the industry average.
While Bright suggests that they're helping reduce the volume of unqualified resumes a recruiter receives, they do offer a premium product for job seekers which allows them to mass apply to jobs with one click, even if they don't meet the minimum threshold. Bright also employs "Talent Advocates" who contact job seekers directly about open positions, which likely isn't a scalable model, even if it likely improves Bright's metrics during its high growth phase.
Another shortcoming of Bright is the fact that their algorithm only supports English and they have yet to establish an international footprint, potentially limiting their ability to serve customers supported by their larger competitors.  But a little over two years since founding, they're getting a lot right that other, more established sources online sources of hire simply aren't – particularly when it comes to candidate matching.
This startup, which according to Comscore is already the #8 online job destination in the US in December 2013, and recently raised $14 million in Series B funding, and unlike many major job boards (aggregators are another story), their traffic and user numbers are actually growing with minimal sales support or marketing budget.
"We can deliver the scale that's close to the big job boards today, but with a kind of precision they can't," Owski says, adding that a vast majority of Bright have traditionally been in the SMB space, which Bright "intentionally targeted" so that they could fine tune the product to deliver the scale and support required to be a "primary resource" for recruiting at Fortune 500 and multinationals, and have been picking up enterprise clients for the past two quarters.
Over the next 12-18 months, Bright plans to continue exploring strategic alliances, integration partnerships and increasing adoption of the open API so that Brightscores will be enabled on third-party career sites. But their short term – and long term – growth rests on their ability to move beyond recruiting.
"We've designed something much larger than just a job desination," Owski said.  "Brightscore is capable of giving companies a lot of intelligence on their existing workforce, too.  We're interested in matching people with the right jobs, and we see helping companies identify internal talent for roles as being part of what our data science delivers. Brightscore will be our engine, but the possibilities will be endless."
RecruitingBlogs is committed to bringing talent acquisition leaders and practitioners objective insights and resources into the recruiting tools and technology landscape.  As such, this post does not constitute an endorsement for Bright Media Networks, and Bright did not pay for this post. If you'd like to be covered in a future RecruitingTools product briefing, e-mail [email protected].
---
---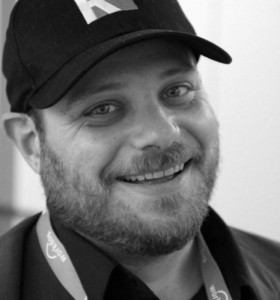 Matt serves as Chief Content Officer and Global Thought Leadership Head for Allegis Global Solutions and is a partner for RecruitingDaily the industry leading online publication for Recruiting and HR Tech. With a unique background that includes HR, blogging and social media, Matt Charney is a key influencer in recruiting and a self-described "kick-butt marketing and communications professional."
Recruit Smarter
Weekly news and industry insights delivered straight to your inbox.