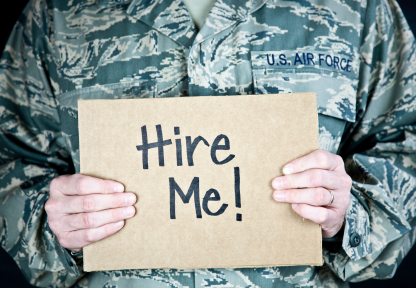 There's a lot of PR going on right now around the topic of veteran hiring.  Private organizations are picking up on the terrific talent pool coming out of the armed forces and many even have specific outreach programs designed to attract recently separated military personnel.
Let's be clear though, no one will hire us because we are veterans, they will hire us because we have something to offer their company.
If you're still on active duty, look around your unit (if you've recently separated think back to your last one).  Do you believe everyone in that group was equally talented?  We as veteran job seekers can be quick to point out things like "NCO's make great managers", which is true.  But can you really say that every NCO you worked for was great? Can you even say that all of them were even adequate?
The same goes with every job and billet in the military. Not every Commanding Officer is an awesome leader. Not every Supply Officer can handle logistics in an exceptional manner. Not every technician is trusted to work on the most critical of equipment.
By definition, everyone in your unit is a veteran.  But not all of them are talented.
In the military we focus on mission accomplishment for the unit, not necessarily the individual. This is why you may see a unit or staff function succeed even despite the obvious inadequacies of certain individuals.  I've seen officers that would never survive without their subordinates going above and beyond their job description. I've also seen officers put in ungodly amounts of extra supervision (and sometimes even hands on work) to make the mission succeed because they were dealt a lousy hand in terms of NCO's.
3 Job Search Tips for Military Veterans
In order to succeed on the job market then, we need to ensure we sell our talents, not our titles. When recruiters are tasked with finding veteran talent, the word veteran is the adjective, not the noun.
The following are some tips on how to do just that.
1. Make sure your resume (and LinkedIn Profile) lists actual accomplishments, and understand that being responsible for something isn't an accomplishment.
2. Learn about industries that you would like to work in after the military to understand what types of metrics they use to define success. Seek to put yourself in positions to do the same type of measurable work while still on active duty.
3. Keep steady and accurate documentation of your success.  If the success metrics for the civilian world don't exactly line up with the success metrics of your current billet in the military, so be it. Just keep parallel documentation.  In the end, your performance evaluations can help you build a civilian resume, but they can't replace it.
The ability to demonstrate our talents is critical to success on the job market.  The best advice is to start early in your career to find ways to put yourself into positions to learn, grow, and ultimately perform, at the tasks valued by private organizations. It's only when we demonstrate the talent that the adjective "Veteran" gets a chance to work it's magic.
Originally Posted on Veteran Transition Diary
About the Author: Bob Wheeler is currently on active duty where he recruits physicians for the US Navy.  He will be retiring from the service in June of 2014 and has been blogging about his transition process at http://veterantransitiondiary.wordpress.com/. You can find Bob on LinkedIn and follow him on Twitter @sailordoc.
---
---
Recruit Smarter
Weekly news and industry insights delivered straight to your inbox.