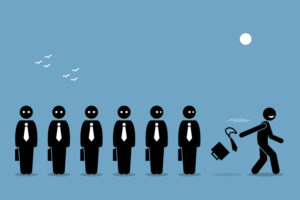 If you're looking for timely turnover and hiring trends, it helps if you have a half billion users interested in turnover and hiring to draw your insights from.
So it goes with LinkedIn, it's 500 million plus users, and the company's latest report on which roles, industries and sectors have the highest turnover rates.
The numbers are either surprising, disappointing, or what you might have expected, depending where you're coming from.
Tech companies (software, not hardware) had the most turnover over the last year with a 13.2 percent rate. This marks the first time in years that tech has taken the "top" spot.

Retail — a historically high-churn sector — follows closely behind at 13.0 percent, while media/entertainment (11.5 percent), professional services (11.5 percent), and government/education/non-profit (11.2 percent) round out the top five. Over the last few years, these sectors have consistently seen the highest turnover rates."
Tech software saw the highest turnover
Excluding the obvious question — why would anyone possibly combine areas as different as government, education and non-profit into a single job category, as LinkedIn does here  — I wonder why this report seems to characterize 13 percent as a high turnover rate, especially for a category like retail which is known for fairly rapid turnover.
Alas, you won't find the answer to THAT in this report.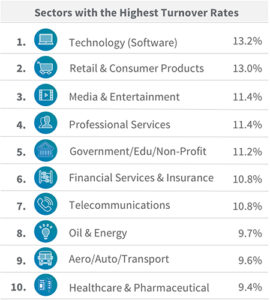 However, there is a lot of interesting information that you will find, and here are the key highlights:
In 2017, the technology software sector saw the highest talent turnover rate, ahead of retail, media and professional services.
Roles such as UX designer (23.3 percent), data analysts (21.7 percent) and software engineers (21.7 percent) lead the industry in terms of turnover in the tech industry.
Employees in the Retail & Consumer sector are turning over at high rates, with industries such as restaurants (17.2 percent), retail (16.2 percent), and sporting goods (14.8 percent) leading the way.
With media and entertainment, newspapers (13.3 percent), online media (13.2 percent), and sports (13.2 percent) are all neck-and-neck in terms of what industries are driving the turnover rates.
I found the more interesting part of the LinkedIn report was the "why," as in why people are leaving their jobs. That cuts to the heart of workplace culture, engagement, and employee satisfaction, and is always a pretty interesting subject to dig into.
Turnover can be "positive" or "negative"
It also speaks to one thing you always have to remember when talking about the turnover rate — it's not really about how many people are leaving, but rather, whether your rate is "positive" (less than stellar performers are departing) or "negative" (when your best people decide to leave).
As my friend Dr. John Sullivan put it in a post on Monster Canada:
The term "turnover rate" is a bad metric, and using it on its own is superfluous. Its major flaw is that it does nothing to tell me whether the turnover is a positive or negative event. If I am losing 20 percent of the people I consider top performers, then the turnover is definitely negative, but if the majority of the people leaving are bottom performers, then a high turnover rate is positive. …

Ultimately, turnover rate for top performers should be as close to zero as you can get it, and turnover among the bottom 25 percent of your organization should be maximized to the extent that replacement is feasible. If you have a well-honed recruiting function that can handle your organizational growth as well as replacing 25 percent of your organization each year, then shoot for 25 percent. However, if like most organizations, that number scares you, shoot for a smaller number no less than 10 percent."
Top reasons that people leave their jobs
The LinkedIn report surveyed over 10,000 people who recently changed jobs to see why they left, and that's a significant sample size. Here are the Top 5 reasons they listed:
I was concerned about the lack of opportunities for advancement — 45 percent;
I was unsatisfied with the leadership of senior management — 41 percent;
I was unsatisfied with the work environment/culture — 36 percent.
I wanted more challenging work — 36 percent;
I was unsatisfied with the compensation/benefits — 34 percent.
Final thoughts
LinkedIn's summary of their report notes that:
Turnover can be from a healthy, increasingly competitive industry, like tech, or one that's rapidly changing, like retail. But even when there's turnover for all the right reasons, attrition poses real challenges to TA and HR teams."
Yes, turnover can have a huge impact on an organization's entire talent acquisition food chain, and it takes an organization-wide approach to manage it properly — even if the turnover is more positive than negative.
And the LinkedIn report makes this final point that's worth considering:
Turnover isn't bad by nature, but it's obviously costly when your most valuable people leave. By paying attention to why employees leave and appealing to what they care about most, HR pros can retain talent more effectively and recruiters can replace those who do leave."
Yes, retaining the best and then recruiting the best for those who do choose to leave is the name of the game. But given the shockingly bad candidate experience numbers we have all become numb to, it's clear that a great many organizations need to do a helluva lot more if they truly want to retain, and recruit, the very best.
Methodology
Turnover rates are drawn from LinkedIn's member data and reflect a 12-month rolling period. It's calculated by taking the number of people who left their company in a given population (e.g., the retail sector, the restaurant industry, or data analysts), then dividing that number by the average amount of people in that given population. We consider people as leaving their jobs if they provide an end-date for their position at a company (not counting people who add a subsequent position within the same company).
We've excluded contractors and other non-full-time-employees (e.g., interns, students, etc.), along with any positions that start and end on the same date. The attrition estimates here may be slightly below actual attrition, due to a possible lag between the time someone leaves a company and when they update their LinkedIn profile to reflect that departure.
---
Authors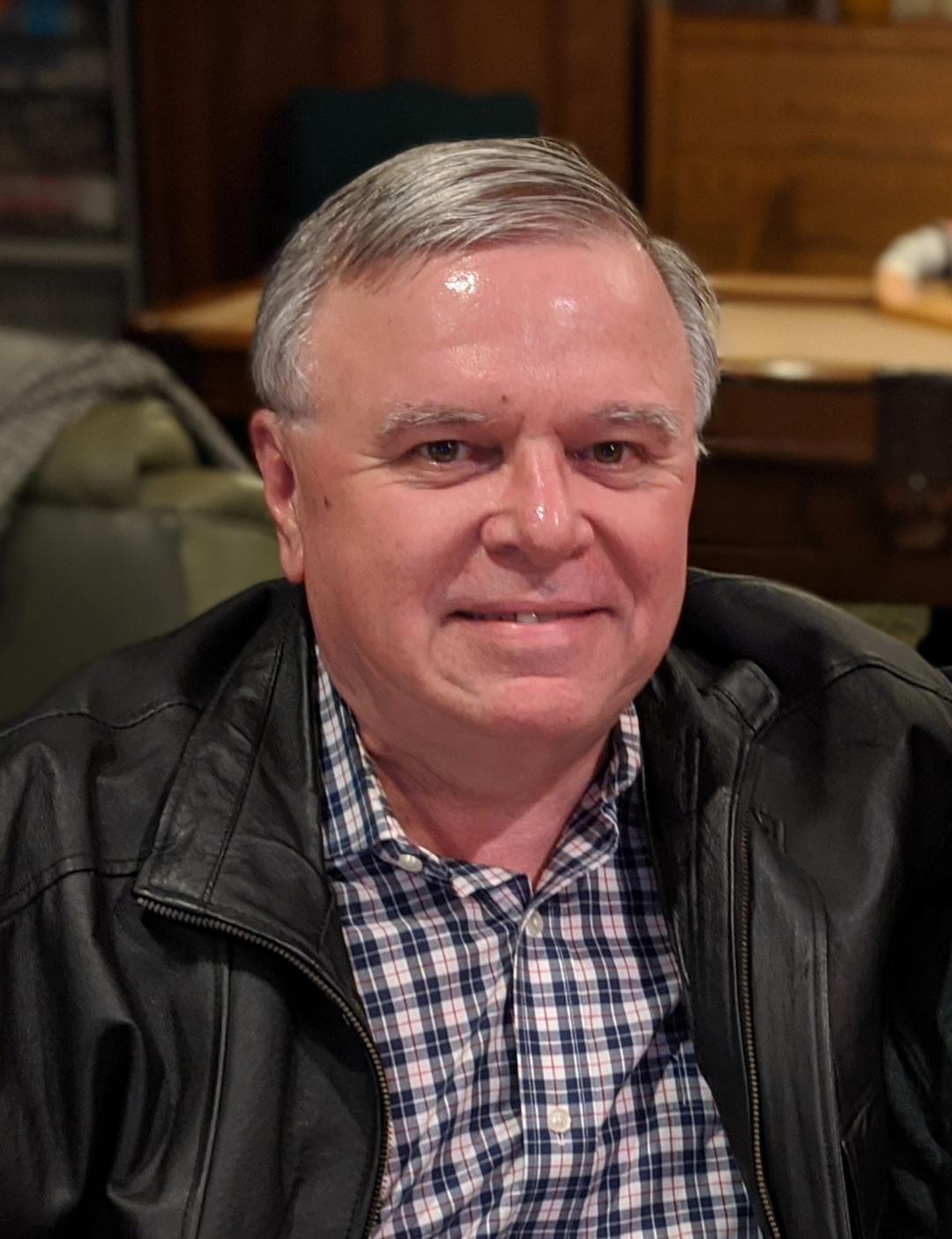 John Hollon is managing editor at Fuel50, an AI Opportunity Marketplace solution that delivers internal talent mobility and workforce reskilling. You can download the research reports in their Global Talent Mobility Best Practice Research series at Fuel50.
Recruit Smarter
Weekly news and industry insights delivered straight to your inbox.