As a recruiter or sourcer, do you ever wonder about ways to get qualified candidates to respond to your email messages? According to Smart Insights, the open rate for emails in the Recruitment & Staffing industry is 20.73%. In today's competitive candidate market and with the rise of AI – aka "the robots" we tend to forget about the human elements of recruiting. With the rise of sourcing tools, finding top talent today is easier than ever. The hard part is getting them to respond. Can we create a compelling enough message that will actually get answered? Many of us have faced this problem. Let's talk about the challenges of sourcing and how we can get candidates to respond. Here are my three tricks:
Tip #1: Personalize Your Message
You have to personalize. You're out there looking to find some people. You want to personalize the message that you're going to send out. Whether it's an email, an InMail, a direct message on Facebook or Twitter, you want to make sure that it's personalized to the candidate. For example, "I see that you play the guitar. We're looking to add a guitar player to our team." Things like that, as opposed to, "I have a really great job opportunity." You're probably wondering where you could find out something like that to hook that candidate. Have you heard of social media? You can go to Twitter. (I'm always roaming the Twitterverse!)! You can go to Facebook. It's amazing where a simple Google search can take you. Or even picking up the phone! Have a conversation with the candidate. Once you get that point, all you have to do is ask. Ask them what they like to do outside of work.
Tip #2: Keep it Entertaining
I think you have to keep it fun – right? You've got to make it fun. Tell a joke. Don't make it be about just the job. Find something interesting to write about. Nobody wants to receive a message with a dull job description. Top talent is constantly getting recruiting related requests and sending another generic message with a long and boring job description will not result in a personalized response. Let's face it; they won't even read the message, let alone the job description. They won't open the message especially if you hit them up with a subject line like – "I have a great job opportunity." Nobody wants to hear that today. Instead, have a compelling subject line that will entice the candidate to read more. After all, that is the first thing the candidate will see. You'll need to be creative to make contact.
Tip #3: Keep it Real
Be transparent about the whole process. Let them know that this process could take a little bit longer due to travel schedules or budget approvals, etc. Again, there are so many tools out there, and we will have to use some of them, but we can still keep it real. We don't need a tool to ask a candidate to grab a cup of coffee. Keep it real, keep it authentic! Be different! Don't do what everybody else is doing. Try it – it works. I think the outcome is so much better when you're human about it.
So what could the potential outcome be by using these three tricks? Perhaps a relationship with the candidate, maybe a friendship? For me, relationships and friendships matter and those are real. Maybe I'm a little old school, but old school works. Candidate engagement is about being creative and getting back to the basics. Many times we have complicated or high volume searches, and we may think that sending mass emails in hopes of getting a response will work. However, at the end of the day, candidates, who are also people, want to be treated like people. They want to believe that you took the time to write a personalized message to them. Although it could be time-consuming to tailor your outreach to candidates, you'd be surprised at how often you will receive a response, whether they are interested in the job or not.
About our Author: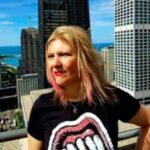 Angie Verros is a passionate, strategic and innovative talent acquisition leader. She has a unique combination of successful recruiting leadership coupled with talent brand and operations experience. Angie has an impeccable work ethic and proven track record of success in identifying, recruiting and hiring outstanding talent. With experience in fast-paced entrepreneurial and start-up environments, she excels at designing and implementing recruiting programs to build social and brand awareness.
In her 12+ year career in the recruiting space, she has been responsible for managing and executing overall company talent acquisition strategy to meet firms' high growth people needs, improve policies, procedures and tools for effective and seamless candidate sourcing. She has also led employment branding and social recruiting efforts to create candidate awareness and engagement. On a personal note, Angie enjoys traveling to Greece and spending time with her beautiful daughter and wonderful husband. You'll also catch her listening to Duran Duran tunes. You can reach here on LinkedIn or follow her on Twitter.
---
Authors
Recruit Smarter
Weekly news and industry insights delivered straight to your inbox.