Recruiting from the Middle of Nowhere: 2020
What's old is new again. I have been thinking that a lot this year. The remote workplace is finally mainstream. Not by choice, but by necessity. Let's look at what's different.
Companies that once fought the trend – some of the largest brands in the world – are finally joining in, spare a few.
What's the fuss, and why did it take a pandemic to right the ship? To give employees what they have been requesting for years? Was it lack of control, lack of trust, lack of technology, losing face-to-face collaboration, or some combination of all these things?
10 years ago, I wrote a two-part article entitled Recruiting from the Middle of Nowhere. It was meant to promote to our industry that recruiters and talent sourcers could work from literally anywhere and still maintain productivity, important relationships with customers, peers, and candidates.
My geographic location was rural northeast Pennsylvania. And my plan worked…at least for a while. 
Two things happened that put the genie back in the bottle.
The first was The Great Recession. That was followed almost immediately by Carly Fiorina, CEO of HP, recalling all remote employees back to the workplace.
That appeared to be the dog whistle that queued other employers to do the same, and many seized the opportunity. It was a "see, I told you so" moment for those who grudgingly went along with remote workforce experimentation.
HP's announcement started a cascade of 'return to the office' announcements from other companies which ultimately threw the brakes on the remote workforce movement. And for the most part, sent it back to the deep freeze for years.
"Virtual Recruiters Achieve Virtually Nothing"
Really? That was one of the first pieces of color commentary I received from my article. I found the ignorance of the statement stunning. I wondered what was driving it, and I soon found out. It turned out to be my brother-in-law. He was a Human Resources VP at a major tech company in APAC at the time, and was also in the early stages of a divorce from my sister. Unbeknownst to me.
In addition to stalking me on social media, he also unleashed some of his acquaintances to provide 'feedback' on my work. How nice. 
Despite that, I learned several things. First was that you cannot take early criticism of your work personally until you understand what is driving it. Unfortunately, I also learned that there were also others out there that genuinely held similar views.
Secondly, some remote workforce managers probably made poor hiring selections for their teams. Or they failed to effectively manage them.
The third lesson was that there were still plenty of managers who were thrilled with the performance of their remote teams, and that was all I needed to validate the premise of my article.
"Location. Location. Location." 

It may be true in real estate, but less so regarding proximity to your present or intended employer's physical location. Many of the companies I have dealt with over the years prefer to have you within driving distance of the site for occasional on-site meetings.
However, if your manager is open-minded and the corporate culture supports it, anywhere is okay with them. If you have the skill-sets they need. In other cases, not being near can make the difference between getting an ideal job or not getting it.
Many will argue this point, but I have lived it for 15+ years now and have been informed several times that I live too far away to be effective "We really need you to at least be on the west coast for this position", etc.
Being de-selected from the hiring process over distance doesn't make sense anymore. On the other hand, when you are chosen for a remote role over all others, and when you bring that much to the table that distance doesn't matter, it's a great feeling.
Nonetheless, I think we will soon see a wave of both people and companies wanting a blend of on-site presence as we return to a new normal.
Socialization is an important workplace component. The "shine" of full-time remote work will begin to fade for many soon if it hasn't already.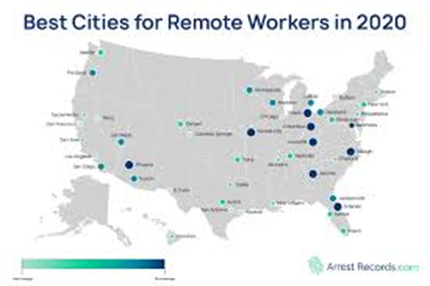 For a deeper look at current remote workforce charts and statistics
, look at a report by
buffer
 on the
'State of Remote 2020'
10 Years and a Pandemic
So, thank you 2020. If for nothing other than shifting the mind-set regarding the remote workforce in an incredibly positive direction.
I never thought it would take 10 years and a pandemic to finally move the needle to where it should have been years ago. It has also taken an evolution in online meetings and collaboration platforms to get people to understand and adapt to the concept.
That perhaps is a larger piece of what was missing in the past. But here we are at long last, stepping out of the tunnel and into the light.
And to set the record straight once and for all…virtual recruiters can accomplish virtually anything! 
---
Authors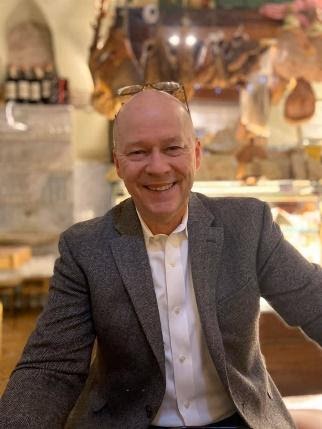 Alan LaRotonda is a Talent Acquisition and Sourcing Professional with extensive experience in the Semiconductor, pharmaceutical, biotech, chemicals/petrochemicals, and medical device space. He has spent over twenty years working with multiple fortune 100 companies in support of their talent acquisition needs. He has participated in or managed the ramp-up hiring or talent sourcing activities at major semiconductor facilities, including Intel Corporation, Motorola Semiconductor, Samsung Austin Semiconductor, GLOBALFOUNDRIES, Micron Technology. He has managed the recruitment function at Samsung Austin Semiconductor, Wyeth (Pfizer) pharmaceuticals, and GLOBALFOUNDRIES. He is a current member of The Association of Talent Acquisition Professionals (ATAPglobal.org), and was a Charter Member on the Board of Directors for the New Jersey Metro Employment Management Association (www.njmetroema.org), and was the 2006 Chapter President for that organization. He earned his Bachelors' Degree in Business/ Human Resources Management from Saint Edward's University in Austin Texas.
Recruit Smarter
Weekly news and industry insights delivered straight to your inbox.