Finding qualified workers, especially for niche positions, is a significant challenge for recruiters. Companies worldwide invest large sums of money in publishing job ads on well-known job boards, paid promotions and many other methods to reach as many candidates as possible. But have you ever wondered what role SEO could play in this? 
This article will tell you how to choose keywords for job postings. Follow our tips and make your ads generate traffic from the search engine.
What Are Keywords And Why Are They important?
Keywords are groups of words that form phrases used to find specific information on search engines.
Keywords are crucial for SEO, as they relate directly to the search terms that internet users type into search engines. They are focused on search intent, which means that they help the search engine to understand what the searcher is looking for.
To rank high in the search engine, you should ensure that your site contains keywords that are popular with searchers and related words that the people you want to reach may also type in.
For example, if you're looking for a Java Developer, you should type in the job title a few times, and not only one keyword. It would be best to consider other recruitment keywords your candidates might type. In the case of Java Developer, it could include a Backend Developer, Software Engineer or Software Developer. 
The same also applies to the job description, including duties and requirements. For instance, if you're hiring a Marketing Specialist, you should emphasize the most crucial job description keywords, such as social media, SEO, advertising, paid ads, graphics, copywriting, content creation, etc.
Why You Should Use
Keywords in Job Description
You already know what keywords are and why they are essential for SEO. But why should you use them in your job descriptions? We've listed the top reasons below:
Increase website traffic

– thanks to job posting optimization for search engines, you can get more traffic and increase your

website's SEO performance

.

Reach candidates directly from the search engine

–

keyword job description will help you reach candidates looking for new job opportunities by typing particular phrases directly into the browser.

Stand out in competitive markets

– SEO practices are not yet popular among HR professionals, so it's a great way to stand out in competitive markets and find more candidates.

A chance to find perfectly matched candidates

— SEO is vital when you are looking for scarce talent. For example, by using so-called long-tail keywords (more extended and specific keyword phrases), you can find candidates looking for jobs in a particular location or offers that meet specific criteria (remote work, temporary work, part-time work, freelance work, etc.). Then, it's a good idea to use long keywords. To do that, you can add the location or other characteristics after the job title (for example

, Account Manager – London

,

Software Developer – a part-time job

,

Copywriter – a freelance job

, etc.)
How to Identify Which Keywords to Use in the Job Description?
As you can see, using recruiter keywords is an essential element that can positively affect the results of the recruitment process. The first step is choosing the right keywords to include in specific job postings. How to do it? Follow the instructions we've listed below.
Keyword Research
To put keywords in the job description, you need to know which ones to use. Therefore, your first step should be keyword research. It will provide you with a list of terms job seekers might use to find positions that match various job descriptions.
For this purpose, you can use the advanced keyword ideas tool. It will help you get additional long-tail keywords and determine which keywords are most popular among your target audience. Moreover, these types of tools will show you phrases with low competition. It is an excellent way to concentrate on keywords, stay at the top of the search engine and get traffic from the search results.
Spy On Competitors
The next thing you can do is check what keywords your competitors are using. If you have a specific list of competitors, you can check their job offers. Another good way is to review job descriptions for similar positions on LinkedIn or job boards. 
For example, if you are looking for a Copywriter, you can check and see how your competitors looking for a person with similar skills referred to the position. They might have used a different name, such as "Content Creator," "Content Manager," or something else.
If you have an SEO tool, then use the competitor analysis feature, which will allow you to see what keywords competitors are using, the results they get, and what other activities they perform. It's a great source of inspiration and a way to be even better than the competition.
Choose Keywords That Are Suitable For Your Job Description
When choosing job search keywords, you should find the golden mean between:
keywords that are relevant to the job posting (job title, alternative job titles, and also terms like "job," "job offer," etc.)

phrases that are very specific and company-specific terms (like your company's name or a specific product you deliver) 

industry-specific terms or locations (specific tools, software suites, or even special certifications)
Next, you need to consider which job posting keywords will work best. You can use the most popular ones, but it's also worth considering those that have great potential, according to the SEO tool.
When choosing keywords, consider whether they meet the search intent of your candidate. Then, you can determine whether the entire job posting will match the intent of the person who types in a particular phrase and clicks on your offer.
For example, if your main keyword is Java Developer Remote Work, you can focus on describing the rules regarding remote work and how it works in your company. Since you recognized that your candidate typed this phrase into the search engine, you can assume that remote work is important to him.
If you want to attract him to your offer, you can set yourself apart from the competition by writing that remote work has been part of your company's culture for many years or include photos of your company's remote workers. Doing so will show readers they have found what they were looking for.
Great Practices of Adding Keywords to the Job Description
Job Title Optimization
Regarding SEO, the title is the most crucial part of a job posting. It is important not only for users who can quickly see what kind of position you are looking for but also for search engine robots. Thanks to certain elements of the page, they can quickly recognize what kind of role your offer is about.
No matter whether you publish an ad on your site or an external job board, the job title is usually included in the title, referred to as <title>, and the header, referred to as <h1> or <h2>. The words in these places are the most meaningful to search engine algorithms and give them the most value. Moreover, the title also appears in search results, so it is essential in attracting people to your offer.
It's a good idea to add the job title several times in different elements of the job description. It helps search engines understand that the word is significant.
Remember that you can use a long-tail keyword in the job title. Depending on your decision, it could be, for example, a Project Manager Job in Paris or Freelance Graphic Designer with French, etc.
Example of using job title and location in job listings.
Job Descriptions Optimization
In the next step, you should include 3-5 keywords in your job description that you chose during keyword research. Ensure they are related to the job title and other industry-specific terms that may be important for your candidates.
For example, if you are looking for a sales professional with English in Rome, your main keyword might be: Sales Specialist with English in Rome, but you should also include other important key phrases there such as sales management, sales business development, account management, customer service, international sales, leads generation, Salesforce, a sales specialist in Italy and more.
Remember to use them naturally and at the proper frequency. According to current SEO standards, the density of main keywords should be between 2% and 3%. When it comes to secondary keywords, it should be between 1% and 2%.
Fortunately, you don't have to count it manually. If you use WordPress, you can install free plugins like Yoast SEO.
Relevant Keywords in an Advertising Campaign
If you promote your job offers, you also need to keep keywords in mind. Choose the main keyword (e.g. Freelance IT Content Writer) that has the most potential according to the SEO tool. You can also try setting up several ads with different recruiter keywords (such as: Freelance IT Copywriter, IT Content Marketing Specialist, etc.) and see which ones work best.
Backlinks With Keywords in Anchors
One of the most effective ways to improve SEO results and build authority is back-linking, which is linking your site to other relevant websites. 
So, if you create guest or sponsored articles, participate in interviews, or have other opportunities to link your job offer, take advantage of this opportunity. To get the best results, focus on anchor text, the clickable text in a hyperlink that links to your site. It shouldn't be a simple URL or text like "click here."
It would be best if you linked to a specific keyword to take full advantage of the potential of backlinks. In your case, it could be a selected main key phrase, taking into account the name of the position and a possible characteristic element, for example, HR Manager Remote WorK
Use Keywords as Hashtags in Social Media
Social media can also help you improve your SEO performance. All you need to do when posting a job on your social media is add hashtags with keywords related to the position, like: #RemoteWork, #JobInHR, #HRManager, #HRjob, #HumanResources, #PartTimeJob, etc.
This way, you will also make your advertisement available on social media search engines and users will be able to find it easily.
Rely on Local SEO
If you are looking for an employee for a specific location, you should focus on giving an exact location. Suppose you're looking for an Office Manager. In that case, your candidate probably won't type the phrase "office manager jobs" into the search engine but will try to specify the search results with specific locations.
​​That's why you should include the city name a few times in the job description (you can also use many variations like: Office Manager job London, Office Administrator job London, job in London, etc.) to make your listing appear high in search results when your location is typed in. However, remember to do it naturally and not overuse the phrase in the job description.
Emphasize Your Job Ad With a Visual Experience
A job offer doesn't have to be just a wall of text. Remember that its primary goal is to encourage people to apply for a job, so you should try to make it attractive. You can do this by adding photos, graphics, or videos that will complement your ad and make it stand out from the competition. 
You can take inspiration from HubSpot and add videos of employees talking about working at your company.
To positively affect SEO, you need to remember to add the so-called alt text. Alt-text is the text that appears in place of an image on a website if it cannot load. It is also vital for search engine robots to better crawl your site's content. Therefore, to improve your SEO performance, you should fill in the alt text with a short image description, including the keyword.
For example, you can add a photo of your team with the image description: Our NYC team is looking for a Data Scientist for full-time work. 
You can take inspiration from HubSpot and add videos of employees talking about working at your company.
Summary
As you can see, adding keywords in the job description dramatically impacts how many people will see your ad. You can follow our recommendations on your own, without technical skills or the help of SEO experts, so it's definitely worth taking the time to do it and optimizing your job ads as soon as possible. We are sure that you will quickly see the first results.
---
Authors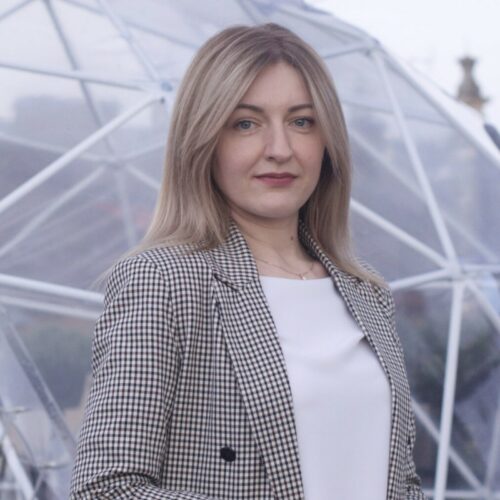 Natalia is a Marketing Specialist at SE Ranking. She really likes to be involved in content creation and promotion. In her spare time, she never misses a chance to have a good conversation with someone over a cup of coffee!
Recruit Smarter
Weekly news and industry insights delivered straight to your inbox.