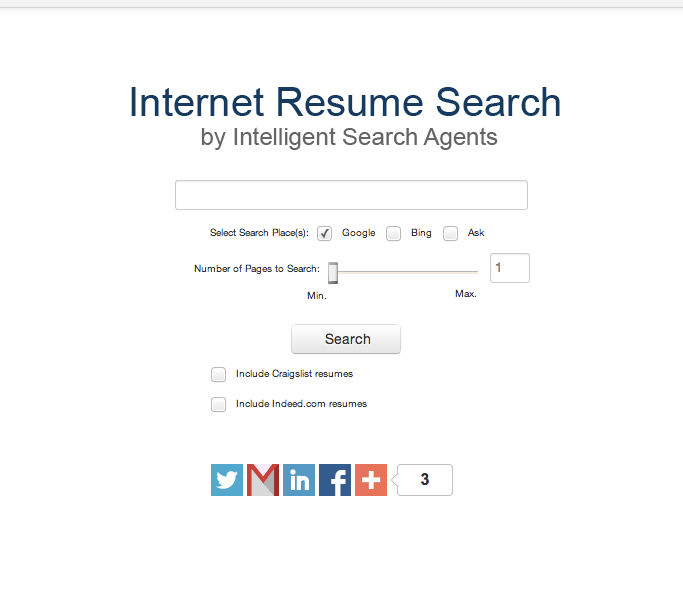 Intelligent Search Agents, a DC based staffing company specializing in combining "easy and affordable tools" with "expert support" for small business staffing, has recently released a new tool called Internet Resume Search. This seemingly simple tool was developed to do pretty much exactly what the name implies: searching and returning resumes from sites like Google, Bing, Ask.com, Craigslist and Indeed, among others.
Like many other tools out there, such as EMailFinder.Io, which I looked at last week, Intelligent Resume Search was built to essentially automate many Boolean basics that even the most novice sourcing professionals should be familiar with, but like most of these tools, there are strings attached to those strings.
In this case, that's a paid subscription model that not only charges between $19 and $69 a month, but also limits the monthly resume views recruiters can access with the tool.And while the basic premise sounds pretty promising, Intelligent Resume Search results are limited to resumes files in Microsoft Word (.doc) and Adobe (.pdf), which is incredibly limiting, given the preponderance of resumes out there written in alternative formats like HTML, TXT, RTF, etc.  That's a whole lot of resumes it's leaving out.
After taking this tool for a test drive, I decided to do a comparison, using the tool to search for a position I often source for: Java developers in Seattle.  Using the paid tool, which purportedly looks across search engines and sites, I was able to find three resumes meeting the basic skill and location parameters I inputted.  Compare that to the basic Boolean string I used – and limited to Google – without even looking at these other sites like Indeed or Craigslist.  The string I used was:
"-resume java "seattle, wa" ext:(PDF | Doc) -job -jobs -example -sample"
The results returned with this free string were significantly larger than the resume set returned with the paid tool.  In fact, the first 10 results returned by Google on the first page alone seemed to fit the bill as far as recruiting goes.  Now, obviously, utilizing this string for sourcing doesn't guarantee that they are currently located in Seattle, as some of these results might be outdated or inaccurate (as in cases where their company is headquartered in Seattle, even if their jobs are located elsewhere).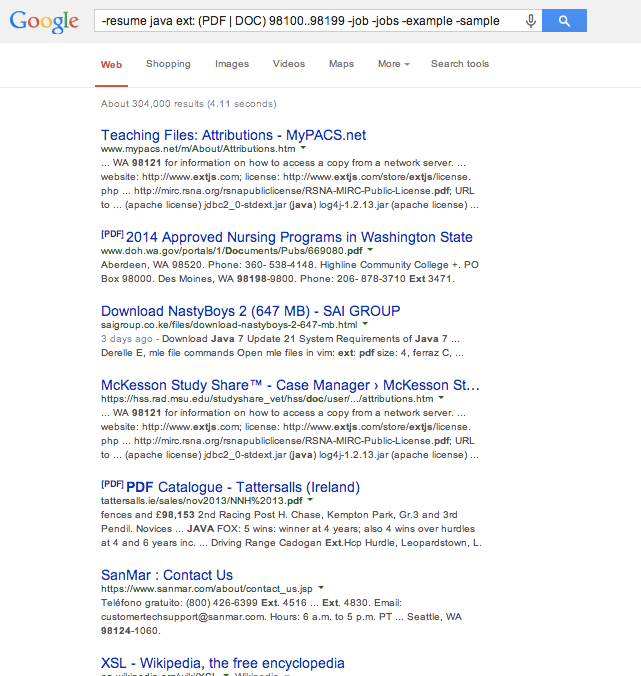 So I took this basic search a step further by using this string:
-resume java ext: (PDF | DOC) 98100..98199 -job -jobs -example -sample

The Boolean string above looks for any resume or related word (e.g. CV; "Work History") and will return only Word documents or .PDF files which fall within the full range of zip codes assigned to the Seattle area, in this case, 98100-98199.  Needless to say, I got way more resume results than just the three returned by Intelligent Resume search.  On Page 1 of Google alone, 8 out of 10 results were viable resumes – and, again, I found these in seconds without paying a cent.
I don't want to say that Intelligent Resume Search isn't a good or effective tool, nor single it out as there are a ton of technologies out there designed to exploit the fact that most recruiters these days have absolutely no knowledge or experience with even the most basic Boolean searches.
But if you're even a competent sourcer or know Google well enough to just find a cheat sheet for basic Boolean strings, you should save your money and not spend your limited sourcing budget on Intelligent Resume Search – at least not until it adds some worthwhile features and functions that can't be easily replicated by basic Boolean.
Which, given the fact that the product is still in beta, will hopefully be coming soon.
They're desperately needed if they expect to actually sell this tool to experienced recruiting and staffing professionals.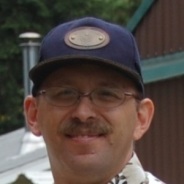 About the Author: Dean Da Costa is a highly experienced and decorated recruiter, sourcer and manager with deep skills and experience in HR, project management, training & process improvement.
Dean is best known for his work in the highly specialized secured clearance and mobile arenas, where he has been a top performing recruiter and sourcer.  Dean's keen insight and creation of innovative tools and processes for enhancing and changing staffing has established Dean as one of the top authorities in sourcing and recruiting.
Connect with Dean at LinkedIn or follow @DeanDaCosta on Twitter.
---
---
Dean Da Costa is a highly experienced and decorated staffing professional, recruiter, sourcer and manager, who also boasts outstanding experience and skills in Human Resources, Project Management, Training, and Process Improvement. He is best known for his work in the highly difficult security and mobile arena's, and the gold star winning numbers he produced. His keen insight and creation of ground breaking tools and processes, to enhance and change staffing as we know it, have proven he is a true "Staffing Thought Leader". Despite all this he remains first and foremost one of the top sourcers, staffing managers and full cycle recruiters in the industry and a true "Search Authority"
Recruit Smarter
Weekly news and industry insights delivered straight to your inbox.