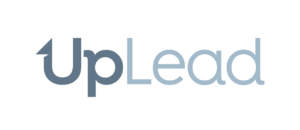 UpLead enriches your data and lists
UpLead is a unique tool that has a variety of features, all tailored to improve your sales or recruiting process. It combines a powerful search feature with options to store and enrich lists.
UpLead's Search feature helps you to search by a variety of criteria, including industry, title, location, and more. From the search results, you can easily view phone numbers, and you are also given the choice to unlock an email address. You can click on each prospect to see more detailed information, as well as other potential prospects from the same company. UpLead also allows you to easily add one or a group of prospects, along with their information, to a CRM for use later.
In the My Lists page, you can upload lists of emails, phone numbers, or other information to then use as a part of your search criteria.
Perhaps most unique is UpLead's Enrich option. Here, you can import a list containing some pieces of information, and UpLead will find a great deal of additional information to add to the list. For example, you can simply add first and last names, and company URLs and the tool will find a variety of titles, phone numbers, social links, and more to add to the list.
The Enrich tool also works for companies. You can simply upload a list of company URLs and the tool will add things like the number of employees, industry, and more.
The interface of UpLead makes it simple and easy to navigate between these features and helps you enhance your sales or recruiting process.
UpLead is a great option for the sales process, but can also very useful for recruiting. In particular, UpLead can be a powerful tool when targeting your recruitment on a specific company. ~ Noel Cocca  
See inside with Dean DaCosta :
---
Authors
Recruit Smarter
Weekly news and industry insights delivered straight to your inbox.