What is an ATS? Really Chris, what's an ATS? Of course we all know that an ATS is an Applicant Tracking System, but what we often fail to realize is that the evolution of the ATS has changed the game in the HR Tech space.
Today's ATS is more than an application processing machine. They've been redesigned to handle your process, your marketing, your automation, hell some systems may even cook you some pot pie (chicken) like our friendly space age
hero's the Jetsons.
HR Tech has evolved. Gone are the days of basic necessity and employers are demanding more. Automation is no longer the shiny new tool, social applies… so 2008. Today's ATS market is about job distribution, true CRM capabilities that allow your team to become instant marketers (well sort of), assessment capabilities and prediction based filtering resulting in a higher quality candidate.
The game has changed; employers are demanding more form their technology and vendors have accepted the challenge.
I have recently spoken with Mitch Solway, VP of Marketing from ClearFit, based in Toronto about this evolution. He says, "As far as the ATS has come, it's still primarily serving the HR Manager as a process tool.  Hiring managers have very different hiring behaviors and needs. They want less software, not more.  For perspective, most hirers have no idea what an ATS is.  Looking ahead, there's a real need for software that is easy to use, designed for the hiring manager and delivers faster, better hiring decisions."
 Here are 2 strong solutions to look at:
ClearFit
ClearFit combines 'ATS like' features with job distribution and personality indicators.  When a user applies for a job the system they are led through a survey process that serves as an assessment tool. They've patented the technology behind the "job success" predictions tool and based on their case studies it's 5 times better at predicting job success than traditional hiring.
The end game here is that a tools like this (and there are others) allows your team to post your job to the masses, filter the lead as it comes into your ATS with an assessment and have an accurate prediction on potential job success.
[youtube url="https://www.youtube.com/watch?v=O8NTJuBujcQ" width="500″ height="300″]
[quote]ClearFit Survey: Applicant fills in 5 pages of these survey questions before they can submit their resume in order to qualify them for fit inside your organization.[/quote]
Looking at tools like ZipRecruiter, which have taken job distribution to a new level, you'll see the advancement in features that have all but piqued the interest of buyers holding them captive to the tool. We've seen advancements with metrics and reporting, predictive analysis, tools that allow recruiters to converse with candidate, even rating systems that allow recruiters to match talent from their external social networks. Vendors have taken charge and have invested in expanding their infrastructure to support their market.
Heck even job boards like Indeed are playing the game. You can post a job on Indeed and they organize and store all the candidate data, you can even email and send a rejection message. One day I predict Indeed will even buy another ATS (or build their own) to offer a more comprehensive hiring suite.
Expect companies like LinkedIn to do the same.
RecruitersMap is another new startup that is trying to redefine the value of an ATS. The system itself is free for recruiters and comes with an amazing amount technology including job board distribution to more than 30 boards, mobile friendly career page, applicant tracking and unlimited resume search.
Note: This is a shared resume ecosystem. This means that you can benefit from viewing resumes that have entered the system from other recruiters. It's an interesting play and I am sure one that will be debated.
It's interesting to see where this new evolution of hiring tools is headed. I for one am excited to watch.
You can see the full list of features here.
Chris Russell is the founder of Career Cloud. CareerCloud is a social recruiting start-up whose mission is to connect job seekers with employers through social and mobile technology. Launched in January 2013 with a Social Resume system that aggregates your online social media accounts into one page.
---
---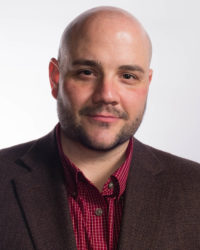 Ryan Leary helps create the processes, ideas and innovation that drives RecruitingDaily. He's our in-house expert for anything related to sourcing, tools or technology. A lead generation and brand buzz building machine, he has built superior funnel systems for some of the industries top HR Tech and Recruitment brands. He is a veteran to the online community and a partner here at RecruitingDaily.
Recruit Smarter
Weekly news and industry insights delivered straight to your inbox.