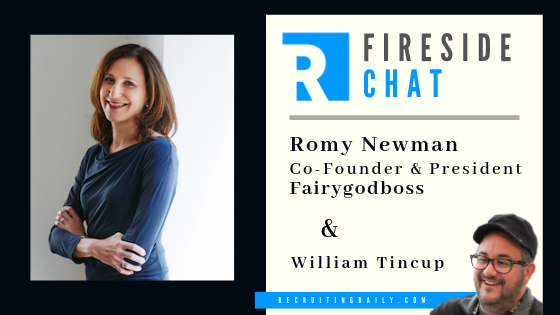 Romy Newman is on a mission to improve the workplace for women by creating greater transparency. She is the Co-Founder and President of Fairygodboss, the largest career community for female professionals. Prior to founding Fairygodboss, Romy spent over ten years at The Wall Street Journal, Google, and Estee Lauder, where she held various leadership roles.
Romy is a frequent speaker, media personality, and contributor for Fortune, Huffington Post, and Inc. She has been featured in dozens of publications including Forbes, The Atlantic, The Washington Post, CNBC, and USA Today. Romy earned her BA from Yale University and her MBA from Northwestern University's Kellogg School of Management. She is a proud mother of two, wife to a very supportive husband, devoted yogi, and lover of crossword puzzles.
Q1: Work-related, what's keeping you up at night these days?
As a growing startup, the number one thing that's keeping me up is how we're scaling our company. It's my hope and dream to establish a great place to work that exceeds expectations from our customers, users and investors. And, to build a company that helps make the world a better place at the same time!
Q2: When people in our industry mention diversity, inclusion and belonging, what does that mean to you?
Diversity and Inclusion means better business results! Study after study shows that more diverse teams are more innovative, make better decisions and increase shareholder value. So D&I should be top of mind for all corporate stakeholders in everything they do, every day.
On an execution level, it means you're actively bringing people into the conversation and creating a work environment where your employees can thrive. It also means listening to your employees and making sure underrepresented voices are heard. In today's world, companies that can't find a path to an inclusive culture will be left behind.
Q3: With your view from the Fairygodboss vista, you glimpse into the talent acquisition of a lot of companies, what is one piece of advice you'd give to TA leaders?
Our proprietary research shows that female jobseekers approach their process differently than men do. They perform extensive research to understand what kind of experience and opportunities they will have. They want to know whether they'll be treated fairly. They want to know whether role models are in place for them at the company. And, they want to know that the company truly values – and invests in – Diversity & Inclusion.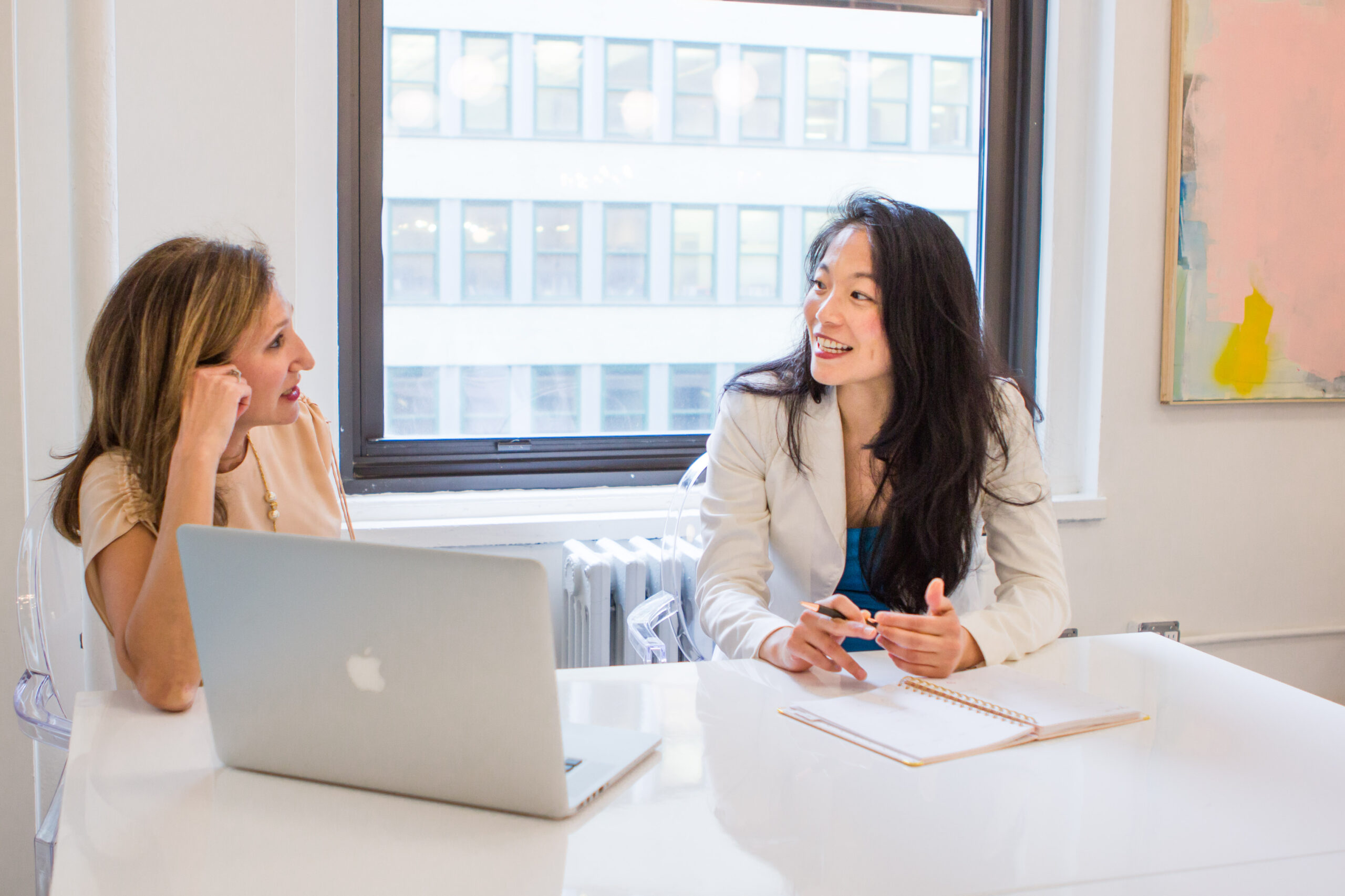 Q4: Do you see yourself as a woman entrepreneur or an entrepreneur who happens to be a woman? Similarly (or maybe not), what advice do you give candidates? Example: Is Leslie a female software engineer or is Leslie is a software engineer who also a female? No right answer, just curious as to the crossroads of identity and the candidate experience.
For a long time after I graduated from college, I genuinely believed that my experience would and should not be differentiated because I am a woman. But then two things happened to me – almost at the exact same time – that changed my mind. First, I got my first major promotion. Once I became a manager, gender dynamics at work became much more pronounced in several ways. And, at the same time, I became a mother. And I found myself struggling with integrating work and life in a very different way from my husband.
So while at the start of my career, I would have told you I am simply an entrepreneur, I think that now I feel like the fact that I am a female entrepreneur is hard for me to ignore.
Q5: My favorite interview question is "We're all misunderstood to a degree, how are you misunderstood." So, the first part, I'd like for you to answer that question and secondly, what's your favorite interview question?
I am really serious about work — and in particular, I'm VERY serious about meeting goals and delivering on results to customers. So sometimes, I think people think I'm a serious person. But then they see me sing Karaoke….and well…
And for that reason alone, my favorite interview question is: "What is your favorite Karaoke song?"
Keep up with the conversation at Fairygodboss and learn more about how you can improve gender equality in your own workplace and keep diversity & inclusion top of mind every day.
---
Authors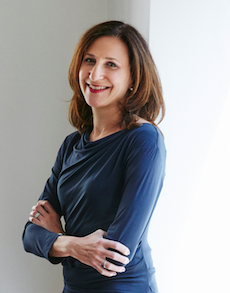 Romy Newman is Co-founder and President of Fairygodboss, a business with the mission is to improve the workplace for women everywhere. Before venturing into the crazy world of entrepreneurship, Romy ran digital advertising sales and operations at The Wall Street Journal, and also worked in marketing at Google and Estee Lauder. Romy studied american studies, literature and art at Yale and many more practical things at the Kellogg School of Management at Northwestern. Romy is a frequent speaker and contributor to Fortune, Huffington Post, and Inc. She is a proud mother of two, wife to a very supportive husband, devoted yogi and crossword puzzle lover. Romy is highly motivated to bring better performance and productivity to our companies and our country by making the workplace work better for women.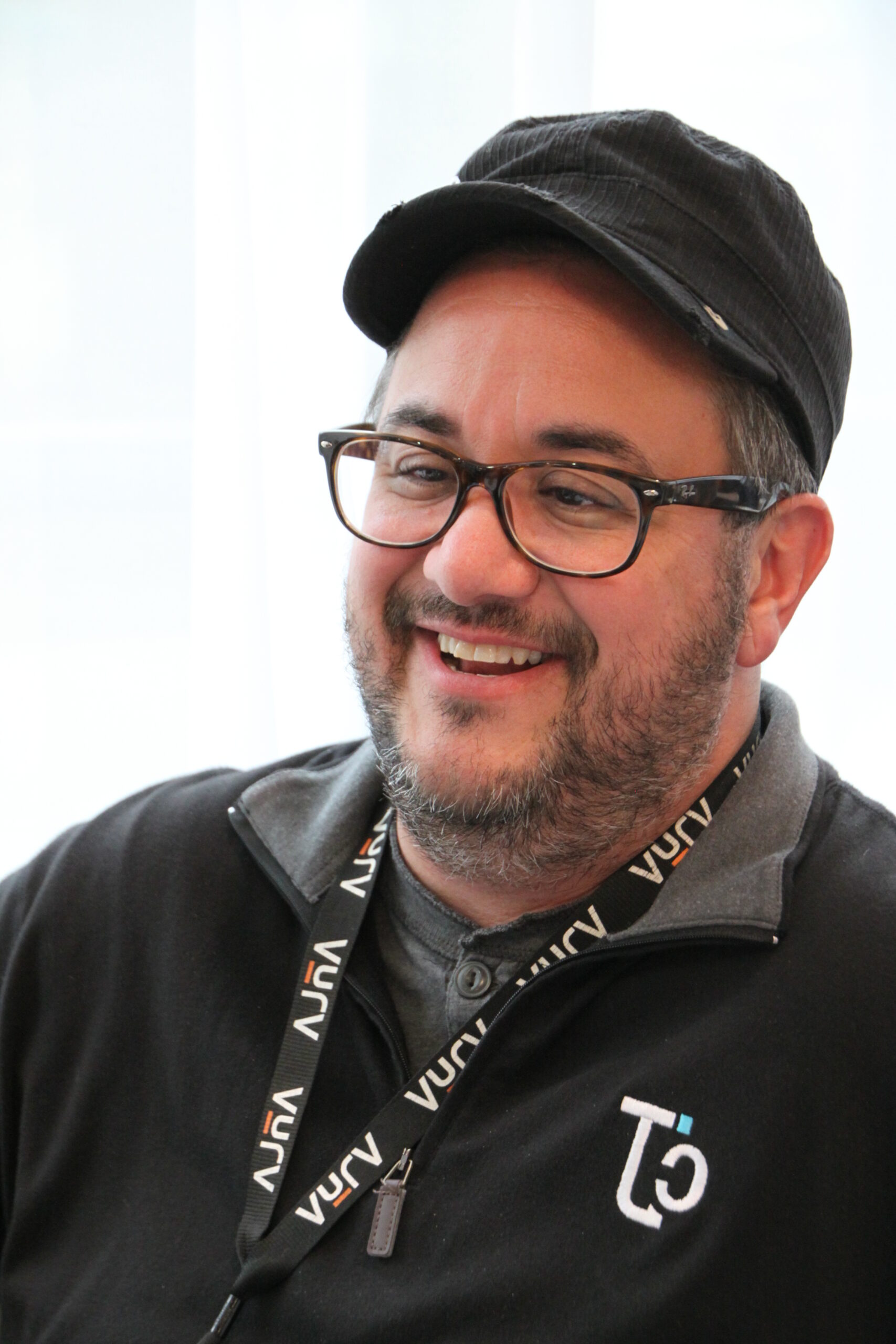 William is the President & Editor-at-Large of RecruitingDaily. At the intersection of HR and technology, he's a writer, speaker, advisor, consultant, investor, storyteller & teacher. He's been writing about HR and Recruiting related issues for longer than he cares to disclose. William serves on the Board of Advisors / Board of Directors for 20+ HR technology startups. William is a graduate of the University of Alabama at Birmingham with a BA in Art History. He also earned an MA in American Indian Studies from the University of Arizona and an MBA from Case Western Reserve University.
Recruit Smarter
Weekly news and industry insights delivered straight to your inbox.