This was originally posted on RecruitingBlogs.com by Paul Petrone of Voice Glance. We loved it so much we've decided to share it here as well.
What should you write here? Here's a hint: think what you can do for your audience, not what your audience can do for you. Credit: Twitter
Today, I spent time looking for companies that have social recruiting – i.e. recruiting via social media – right. I looked at all the big guys, almost all of whom have Twitter pages dedicated just to attracting candidates, and yet, after seeing a few, I quickly became disappointed.
Quite frankly, many of them were bad. They had few followers and little engagement, as in very few re-tweets and favorites. This was surprising, as you'd think these feeds would be popular, simply because who wouldn't want to work at some of the most famous and recognizable companies in America?
And yet, they weren't.
Why were they so bad? Because they committed the cardinal sin of marketing: they only took, they never gave.
The result?
Instead of being a really effective way to attract great people – the number one factor to success in any company – they were unpopular, un-engaging feeds that probably drew very few candidates.
The good news? It's very fixable.
Case Study: Lego
Let me start this section by saying I love Lego. As a child, I played with Legos all the time and now as an uncle I buy my 6-year-old nephew exclusively Legos for Christmas, his birthday and whatever other holidays business-types dream up.
On top of that, Lego is a great turnaround story, which went from nearly going bankrupt 10 years ago to recently being named the most powerful brand in the world. And on top of even that, they have a solid Twitter page, filled of relevant, clever Tweets like this:
So I had high hopes for the Lego Careers Twitter page. And yet, when I went on the page, I saw a paltry 1,400 followers and almost no engagement with any of the Tweets:
Those four Tweets – the four most recent when I went on the page – were indicative of the rest of the stream: almost no Re-tweets, barely any favorites, no images; nothing more really than just job postings with some hashtags.
There's one universal rule to marketing (and the world in general): give, and you shall receive. Lego isn't giving, and therefore, it isn't receiving.
What They Should Be Doing
So what should the Lego Careers Twitter page look like? Obviously, it should have job postings. After all, that is the point of the page.
But there should be a lot more.
There should be images of workers at Lego doing cool stuff, such as volunteer work or engineering the next cool set, which shows off the culture at the company. There should be pictures of really cool Lego sets and Lego structures with words like "How would you like to be part of the team that builds these?" underneath.
Fundamentally, it should have engaging content that draws people to the page beyond just job postings and hashtags. After viewing the page or some of the Tweets, people should think to themselves, "that's a really cool place to work."
Lego needs to give reasons for people to want to work at Lego, not just exclusively ask for resumes. That's the equivalent of a company just asking for a check, without giving any reason why you should write it in the first place.
Even the job postings could use a little Lego flair. For example, if they are looking for engineers, why not add an image in the Tweet with a Lego man working as an engineer?
Those little touches make the page more engaging, which leads to a more popular feed, which ultimately leads to more potential candidates being reached.
The Point
Social recruiting is essentially a form of marketing, and needs to follow the rules of marketing. And, as every marketer knows, for someone to give you something, you have to give them a reason – generally, a compelling story – to want to do it.
So, if you are going to have a Twitter page for your careers, don't just post Tweets asking for resumes. Tell the story of why people should want to work at your company, and the resumes will come organically.
About VoiceGlance
VoiceGlance is a cloud-based hiring tool used by forward-thinking companies to hire smarter, instead of harder. Learn more here.
Paul Petrone is an experienced content creator and solutions architect who works with organizations of all kinds to help them win their war for talent. Paul's writing has appeared in The Huffington Post, Yahoo News, Buzzfeed, Inc, ERE.net and AOL News, to name a few, and his LinkedIn articles generated more than 3.5 million page views in 2014 alone. He believes the secret to great content is providing real value to the reader, in the most engaging way possible.
---
---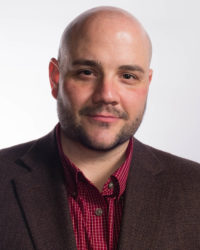 Ryan Leary helps create the processes, ideas and innovation that drives RecruitingDaily. He's our in-house expert for anything related to sourcing, tools or technology. A lead generation and brand buzz building machine, he has built superior funnel systems for some of the industries top HR Tech and Recruitment brands. He is a veteran to the online community and a partner here at RecruitingDaily.
Recruit Smarter
Weekly news and industry insights delivered straight to your inbox.