Email is a trusted toolkit for recruiters but it's an uphill battle to derive strong ROI from it today. The truth is, more companies are emailing candidates than ever and it's hard to stand out in a crowded inbox. The average open rate in the recruitment and staffing industry is 21.14% but only companies that innovate and personalize their email campaigns see encouraging results. 
If you're struggling to get candidates open and reply to your emails, you're likely using the same strategies you did a couple of years back. Job searching has evolved and so have cold recruitment emails. 
Here are 8 ways you can rework your cold recruitment emails to get more opens, better click-through rates (CTRs) and stronger results:
Create an Email Outline
Most recruiters and hiring managers look at emails as a cost-effective and automated channel to reach more candidates. While they're correct in their assumptions, they often ignore the importance of strategy.
Candidates and people, in general, receive too many formulaic emails that are pushed without any effort or consideration. These types of emails not only fail to get a response but also push down email deliverability by increasing bounce rates. Your emails should have specific outlines to cater to candidate needs. 
Instead of including too many things to attract too many candidates, make sure your email outlines answer specific questions:
Who the email is for (example: senior swift developers in New York looking to switch)

The purpose of the email (reaching out for networking vs getting them to set up an interview)

The tone and style of the email depending on the recipient's background and if it's possible to avoid email attachments

The call to action (CTA) to guide them to the next steps

What should the intro and conclusion sound like (use copywriting techniques such as AIDA and PAS)
Once you have an outline, you can use templates to automate outreach while keeping the relevancy intact. 
Work on Subject Lines
47% of recipients open emails based on the subject line alone. The fate of your cold recruitment emails lies in the first few words candidates see and you have to make a strong impression on them.
Here's a checklist to write subject lines that are opened by candidates:
Provide value upfront. Candidates look for reasons to open an email to read more

Don't use misleading or sensational words to lure candidates in. If they feel betrayed they can mark you as spam

Keep your subject line short and precise. Ideally, it should be between 4-6 words

Experiment with question marks and candidate names to evoke curiosity

A/B test subject lines to see what works best for you.
Successful recruiters try to think like candidates to understand what makes them click on an email. Here are a couple of good cold recruitment subject lines to start off:
[Company name] is looking for [relevant job title] in [candidate's city]

[Name], are you looking for [new job opening]?

Just talked to [company name] about you
Find the Relevant Candidate and Do a Background Research
Recruitment today has a lot of touchpoints, one that cannot be solved by one cold recruitment email. If you want to elicit a response, your job starts much earlier. 
Don't email everyone just because you can. Apart from getting GDPR involved, you will also spend a lot of resources on unproductive tasks. Instead, focus on sourcing quality candidates and warming them up softly. LinkedIn is a goldmine for highly active professionals looking to upscale, switch and join companies.
Based on the industry, you might find relevant candidates in GitHub, Stack Overflow, Slack, Reddit and even Discord. Be where your target candidates are and try to initiate interactions. This can be liking, commenting or even getting a mutual connection to break the ice. 
Research their profiles to find relevant events and achievements and combine them with the icebreaker for an effective intro. While prospecting you might also find their contact details. But before you reach out to them, make sure to check their email address to see if it is valid or not. That way, you can avoid email deliverability issues and negative impact on your domain reputation. 
If you don't find email addresses listed under social profiles, an email finders might help you find the email address based on the company they're working in. 
Keep Your Emails Brief
Just like you wouldn't read a long-winded email that doesn't say much, candidates also tend to ignore emails that offer little insight to them. Keep your emails short, to the point, and full of value—remember you're trying to get them to act on the CTA. 
An engaging recruitment email should cover points such as key responsibilities, required experience they need to have in their professional resume, salary range, job location and hiring process. Based on the career stage of the recipient, you can tweak these further. 
Too short an email, the candidates won't have enough data to act on it. Too long and candidates might lose interest in the job. 
Personalize Your Email Copy
I have already talked about the importance of personalization in the email subject line and introduction, but it shouldn't stop there. Emails are easy to ignore when they look like they're sent without human oversight. Have empathy and personalization baked into your cold recruitment emails and see how candidates warm up to them.
While prospecting, you'll get snippets of data to form a profile of the candidate. Use the references to show you care and write your email to align with their needs. A senior backend engineer planning to switch would look for work-life balance and paid leaves while a fresher might look for words such as "learning environment" and "helpful mentors." Most candidates make up their minds seeing the first cold email so you cannot afford to be anything other than genuinely interested. 
Include a CTA
You'd be surprised to know how many candidates give up on a hiring process due to confusing steps. Your email CTA is the first indicator of how organized your hiring process is. Always go with a single reader, a single message and a single ask. 
If you prefer to talk to candidates over Zoom calls, ask about their availability and suggest a few options. If you require a form, make it as organized and lean as possible. Be extremely clear on the next steps should a candidate decide to go ahead. This minimizes the barrier of entry, gives candidates confidence and helps you set up more interviews. 
Use a Professional Email Signature
Cold recruitment email is all about validating the desires of candidates while building trust. Email signatures go a long way in establishing that authenticity.
Email signatures humanize a recruiter's email address. It should include a name and designation candidates can quickly verify, contact and company details to reach out and if possible, the recruiter's profile image. If you want to experiment, you can add a company vision, a footnote or social links to humanize the interactions.
Cold recruitment emails without proper email signatures often look spammy which makes the job of candidates easier in flagging them. 
Automate Follow-Up Sequence
If you're not getting replies from candidates despite tailoring emails to their needs, you might need to look at your follow-up strategy (or lack thereof). 
Candidates today have more recruiters reaching out than ever before and busy professionals may not reply in one go. That's why you need to be persistent without coming off as annoying. Follow-up emails should build on the previous email while adding new value to the recipient. Each email should be short and read like an ongoing conversation that can also convince a candidate on its own. 
Ideally, you'd want to set up a follow-up sequence consisting of 3-4 emails spread over a month. With a campaign automation tool, you can schedule follow-up emails based on triggers and track their performances.
Working Cold Recruitment Templates & Reasons These Work
Now that you have all the knowledge you need to redefine your cold recruitment email strategy, here are three inspiring templates. I'll also discuss why they worked in the first place!
1. Warmed up Recruitment Email: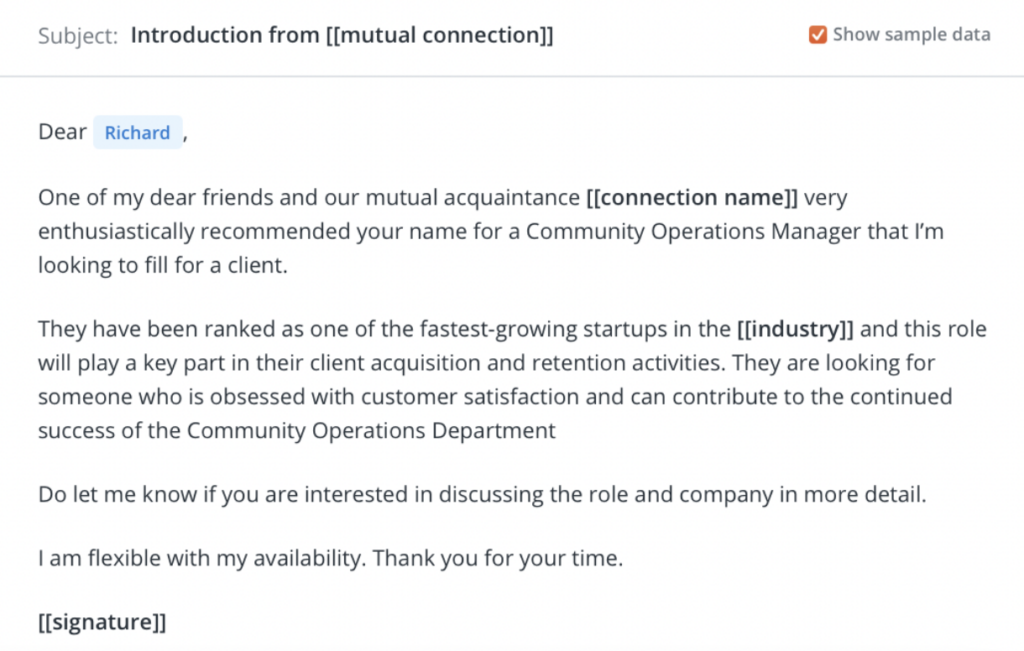 Why this works: Cold recruitment email doesn't have to be freezing cold. You can use a mutual connection for introduction and use their name to build trust and improve email open rate. 
2. Short and Precise Cold Recruitment Email: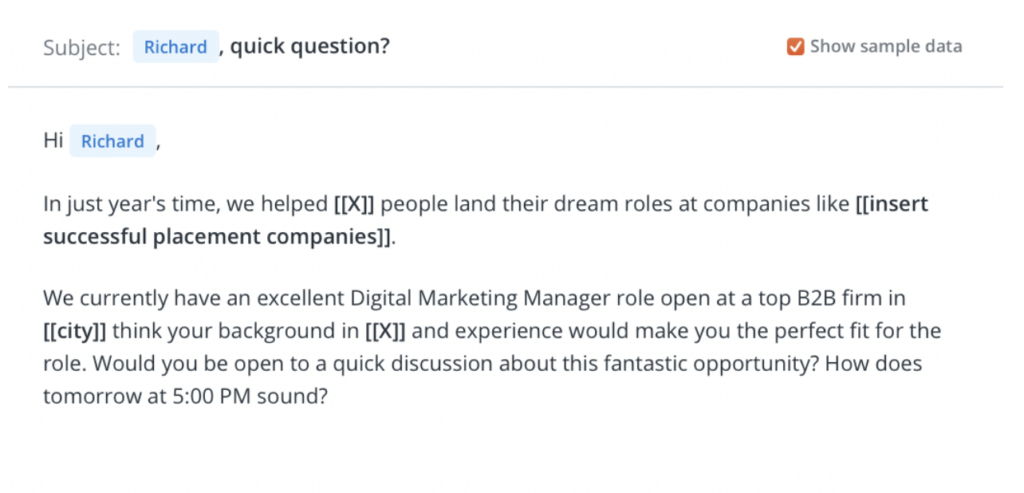 Why this works: This is one of my favorite recruitment emails because it's short, to the point and provides value right upfront. It also has an effective CTA, making the job of candidates a lot easier.
3. Follow-Up Email: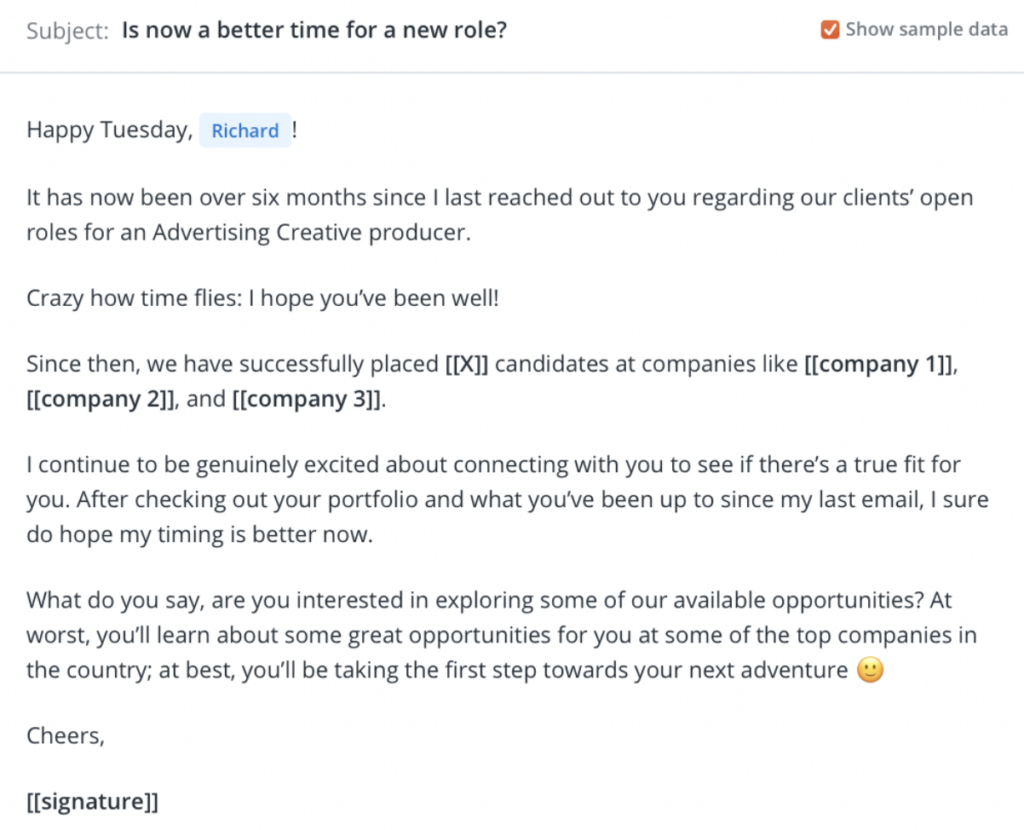 Why this works: This follow-up email is respectfully persistent and the best part is the new value it adds, making it more compelling.
Conclusion
Cold recruitment emails get a bad rep because of the shortcuts hiring managers take to reach more candidates. If you can prioritize the quality of prospects over the quantity of leads, you'll be able to infuse personalization to stand out in the candidate's inbox. 
---
Authors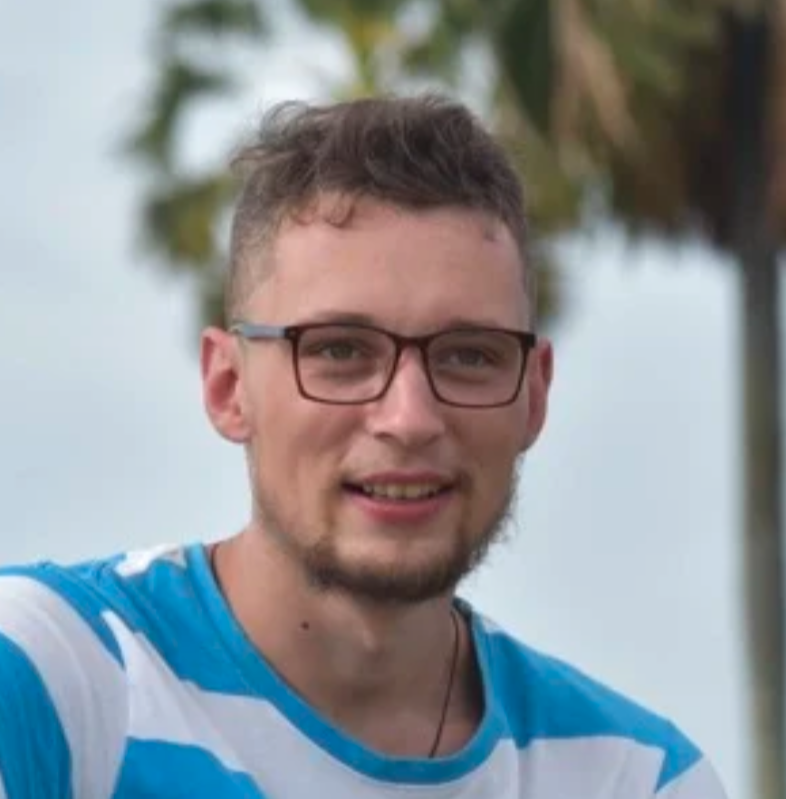 Antonio is an outreach manager at Hunter. He is passionate about testing different outreach tactics and sharing results with the community. When he is not connecting with industry leaders you can find him on his motorbike exploring off-the-beaten paths around the world.
Recruit Smarter
Weekly news and industry insights delivered straight to your inbox.