Hours of hard work is put into your social media efforts. You may not be willing to admit it just yet, but Social Media Tools are an important part of your day. Whether you are blogging, engaging, or simply recruiting it is imperative that you are well equipped to recognize and legitimate return.
There are many freemium social media tools on the market today to help with this process, but at what cost are you investing your time? At what cost are you missing communications, replies, postings that could be generating a fee for your placement?
Some of the tools listed below will be familiar while others may be new to you. All however are great for managing your day to day.
Here is a list of 5 great tools that I either use or have used to maintain sanity in my world:
Hootsuite:
Hootsuite is one of my favorite premium social media tools. Hootsuite is a powerful social media automation tool that makes it very easy to share posts on a variety of social networks such as Facebook, LinkedIn, Google+, Twitter and other social media sites.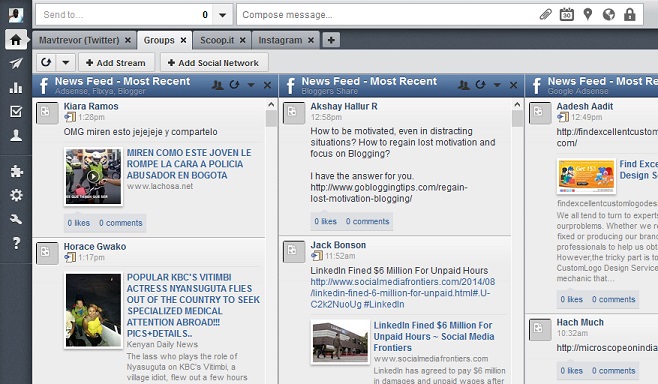 The main features:
Schedule and manage your social outreach. Engage with people across all your accounts on one dashboard.

Listen to your audience and learn to create content they love.

Get all the data about your social media outreach and see it all on easy-to-read reports.

Assign messages, create workflows, and streamline communications with collaborators and clients.
You can also use Hootsuite to manage:
Foursquare

Mixi

Tumblr

Youtube

Google+ pages through RSS feeds.
Buffer:
Buffer is a social media tool that helps you manage multiple social media accounts at once. Quickly schedule content from anywhere on the web, collaborate with team members, and analyze rich statistics on how your posts perform.
I personally found Buffer to be valuable because of the ability to manage up to 12 accounts and communicate with my teams as needed.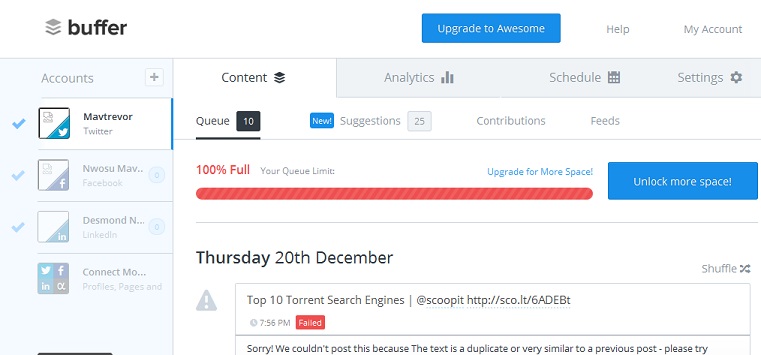 Postplanner:
Postplanner is great tool for Facebook marketing. It's a premium tool that is effective and not too expensive for the return you can see.
Postplanner covers a few key areas:
Viral Content: No need to scour the web for the best content. Post Planner delivers it
right to your app.
Reach: With high-quality status updates posted consistently, your reach numbers
will skyrocket.
Time Saver: Schedule it & forget it. Never waste another evening or weekend adding posts to
your pages.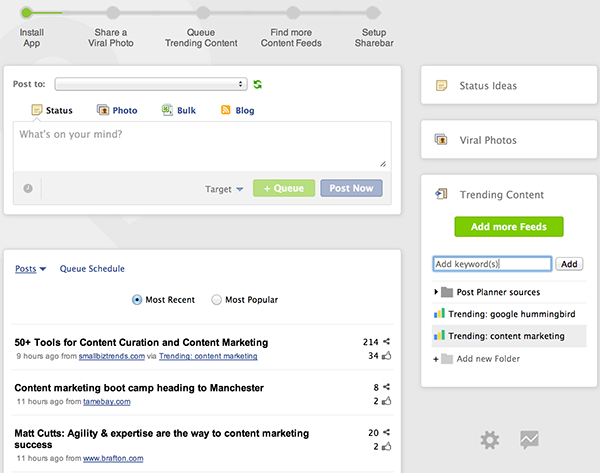 Social Report:
Social Report is a social network analytics solution that allows you to track your social network accounts just the same way you would track the performance of your websites.
The best comparison would be to Google Website Analytics.
Just like you can track visitors, time on site, keywords, geography and many other aspects of web performance there with Social Report you can track membership, demographics, interests, geography, education, employment and many other aspects of your social space.
[vimeo url="http://vimeo.com/53089673″ width="500″ height="300″]
Why do I like Social Report:
Social Report tracks and monitors your social network accounts and gives you tools to manage your marketing initiatives

Social report provides powerful tracking and tools for anyone with a social presence, whether it be a small hobby social network or a giant social enterprise. It's the only social analytics solutions on the market. In addition, the  marketing and reporting tools offer you means to utilize your social data for marketing and research purposes.

Social Report is a social network application. Once you authorize Social Report to access your social accounts and tell us the keywords you are interested in we are able to track and capture your information on a regular basis, subject it to rigorous analysis and offer it to you in a form of visual tools and reports.
ViralWoot:
Viralwoot is a nice tool to help engage your audience and potential audience on Pinterest. It's a unique tool that allows you to a your Pinterest account to their system. Once you add your account your Pinterest profile starts appearing to other tens of thousands of Pinterest users on Viralwoot.
And users who find your account interesting, start following you on Pinterest.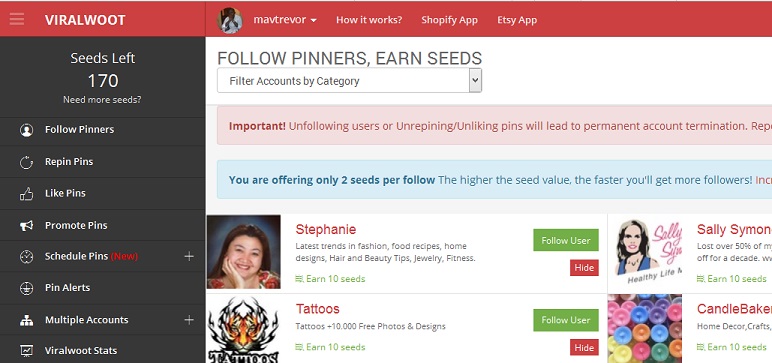 Top 3 reasons I like this tool:
Create Pin Alerts: Pin Alert feature lets you track what are people pinning from your website, who is pinning the most and what images from your website are trending on Pinterest.
Schedule viral pins at the right time: Only 4.8% American users use Pinterest during work hours, so it very important for you to pin at the right times. Use our Pin Scheduler to schedule pins for future dates.
Manage multiple accounts!: Thousands of social media marketers and agencies use Viralwoot for their clients. You can manage & grow multiple Pinterest accounts with a single Viralwoot account.
And for those managing client accouts…..
Pinterest Analytics: Track your or your client's Pinterest presence, virality and reach with our analytics feature. Also, find out your top performing boards, pins and connect with your influencers.
---
---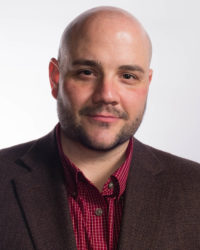 Ryan Leary helps create the processes, ideas and innovation that drives RecruitingDaily. He's our in-house expert for anything related to sourcing, tools or technology. A lead generation and brand buzz building machine, he has built superior funnel systems for some of the industries top HR Tech and Recruitment brands. He is a veteran to the online community and a partner here at RecruitingDaily.
Recruit Smarter
Weekly news and industry insights delivered straight to your inbox.