BUILDING A SUCCESSFUL PARTNERSHP
How Recruiting at Freeman Strategically Aligned with the Business
* This article is published for ERE 
As the world's leading provider of integrated services for face-to-face marketing events, Freeman has long been recognized for our ability to develop winning relationships with our clients that help bring about a customer experience like no other.  Through teamwork and dedication, Freeman consistently leverages all its available resources to provide a one-of-a-kind experience for our customers. That same commitment to partnering became a primary strategy for the recruiting team, one of our most critical support functions. The recruiting function has successfully aligned its efforts and resources to meet the growing demands of the business through a partnership approach including effective communication with hiring managers, process improvements, fully utilizing existing technologies, targeted training and key metric development (see figure 1)
The Freeman Recruiting Team began implementing the partnership strategy by first examining its existing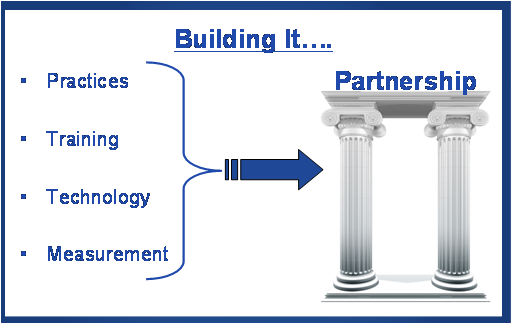 processes.  This evaluation discovered that even though a firm foundation existed, each recruiter managed the recruiting life cycle differently.  With this realization, each recruiter was charged with blueprinting their individual process.  They presented their findings and through a collaborative workshop, developed a uniform recruiting work flow that created standardization at each critical recruiting touch-point. They also focused on increasing and improving dialogue with the hiring managers.
The impact of these changes resulted in the team's ability to deliver a consistent and recognizable recruiting experience, facilitate increased communication opportunities with hiring managers regarding their position/candidate status, deliver a consistent approach from which accurate and objective metrics can be applied, and allow for dynamic job postings which increases candidate interest more than standard static postings.
After streamlining the process, the recruiters began to actively engage hiring managers at the point of requisition creation.  Whether it was a newly created position or a replacement, the recruiter would contact the hiring manager to discuss specifics requirements outside of the existing job description, identify potential candidate leads or desired sourcing areas, and outline a delivery schedule for filling the position.
"We needed to more fully engage and understand the needs of our hiring managers in a way that made them a partner is the success of the recruiting experience" states Pamela Wills-Ward, Vice President, Employee Relations and Recruiting.  These informal service level agreement discussions not only enhanced the recruiters knowledge of the impacted business area, but allowed them to better focus their recruiting efforts (i.e. targeting specific recruiting sites, following up on leads, prioritizing work load, etc.) and engage the hiring manager throughout the recruiting process.  This process of setting expectations created an opportunity for both the recruiter and hiring manager to have ownership throughout the process.
With the process reengineered and hiring managers fully engaged, the recruiting team had a better understanding of the positions they were working and able to more quickly respond to the managers needs.  This positioning allowed for the final phase of the process improvement effort, pipelining talent.  With a better understanding of our business owner's needs and a process that dramatically shortened our time to fill, the recruiters were able to become proactive instead of reactive.
The team leveraged its newly acquired knowledge to begin pipelining efforts to strategically source frequently needed talent.  The pipelining implementation started by targeting critical business areas to such as Sales and Operations.  Pipelining talent required new skills to be developed and utilized by the recruiting team.  Time was sent shifting the current mindset from "filling" to "sourcing", asking probing questions about a candidate's potential versus ability to perform a specific task, and creating relationships versus selling a position (see Figure 2).  Recruiters began to research candidates through various sourcing methods, developed comprehensive search strings and continued to work with our internal business partners to anticipate future opening for these newly sourced individuals.
With the process and sourcing strategy set, the Recruiting Department realized that it needed to maximize its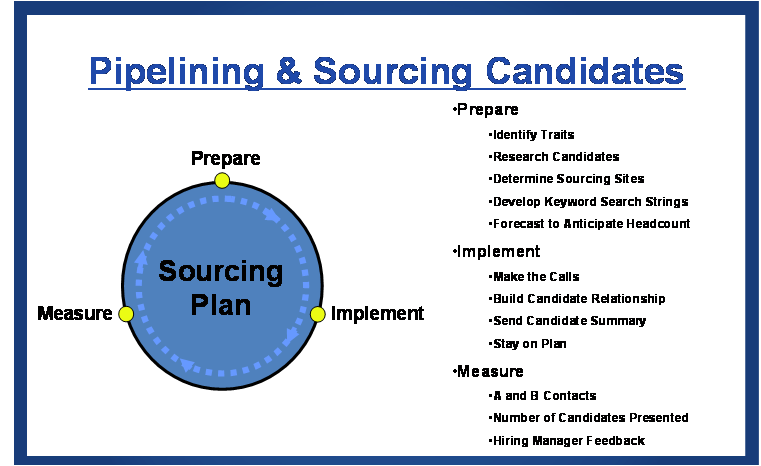 existing technology to support and drive these efforts.  The recruiting team identified that their current Applicant Tracking System (ATS) could be better leveraged to attract and manage candidates through the sourcing and hiring process.
The first action item was to update the posting language to generate increased applicant interest and higher click-through activity.  Many of the jobs posting language had not been reviewed or revised in several years.  Next the team developed reports that analyzed the productivity and efficiency of individual team members, the overall group's performance and how well the recruiting resources (i.e. industry postings, job boards, etc.) were performing.  These metrics were used for trend analysis, performance reviews, and budget modeling.  Finally the ATS was thoroughly overhauled to ensure every resource it provided (pre-screen questionnaires, candidate ranking, compliance reporting, etc) was used to its fullest potential.
After the ATS was buttoned up, the focus shifted to analyzing the effectiveness of other e-tool areas such as job boards, social networking sites, niche industry sites and Freeman's career site.  A campaign was initiated to encourage employees to refer qualified individuals, whether a friend or someone they met at an industry event, by giving them "Recruitment Cards" which directed individuals to our Company's careers website.  This focus on our sourcing efforts resulted in a 30% increase in visits to our Careers site in a one-year period and an increased our applicant pool by 23% in the same period of time.
With the process streamlined and the support systems in alignment with the overall strategy, the next area the Recruiting Team addressed was education and training.  The changes that were made through process improvement and increased utilization of our existing technology created education gaps that were bridged with targeted training.  Training was focused on hiring managers and the first deliverable for this group was the creation of a Hiring Manager Guidelines booklet.
Each hiring manager was provided a readymade reference book that clearly articulated Freeman's hiring process, provided helpful interview techniques and document templates for use throughout the hiring process.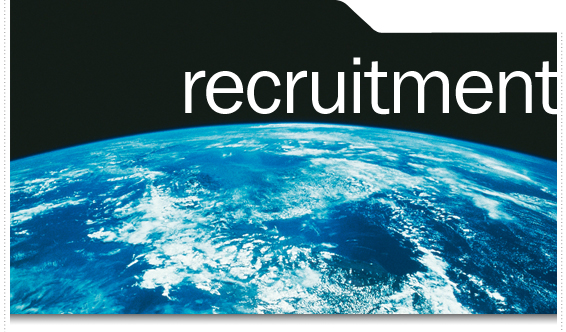 Immediately following the deployment of the hiring guide was a series of recruiting webinars which covered topics on our Company's hiring process, available recruiting resources, interviewing techniques and specialized session such as "The Art of Closing a Candidate".  Our webinars not only provided managers with needed and condensed information, but also demonstrated the team's commitment to partnering throughout the recruiting process.  Each information-packed 20 minute webinar was given numerous times each month to allow for maximum participation.  These sessions were well received because they provided necessary information while avoiding disruption to the daily activities of the management team.
The final of part of the recruiting maturation process was the creation of viable and objective metrics.  Appropriate measurements needed to be developed to ensure continuous improvement in team and individual performance and to justify recruiting related expenditures.
With the goal of improving the partnering relationship, each hiring manager was given a survey to establish a delivery expectation baseline from which recruiting goals would be developed.  A SWOT analysis was also completed. The newly initiated partnering approach resulted in a 94% overall recruiting department satisfaction rate.
The survey allowed the team to establish a goal of decreasing time-to-fill and in the subsequent year the team experienced a 55.3% improvement in this area which translated in 28.2% increase in hires for the year.  These numbers validated the efficiency of the recruiting function and the value it delivers to the overall organization.
This four prong approach transformed the Recruiting Department from a reactive, inconsistent function to a proactive, knowledgeable business partner that specializes in talent acquisition with an emphasis on timely, effective, and desired deliverables. Through process improvements, training, maximizing technology and developing objective metrics, the recruiting team has been able to transform itself into a strategic function and value added department for all levels of the organization.
About Michael: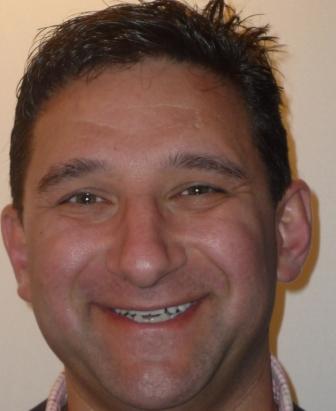 Michael Goldberg is the Recruiting Manager for Freeman, based in Dallas, Texas.  Michael has over 17 years of overall HR experience with the last 10 focused on Talent Acquisition.   He has been with Freeman for the last two and a half years and has been successfully able to build great recruiting partnerships and reduce time to fill by 50% over the last year and a half and maintain a Hiring Manager Satisfaction ratio of 95%.  He spoke at the Kennedy Recruiting Conference in Las Vegas and will be speaking at the Kenexa World Conference this fall.
Contact info:  Michael can be reached at either email address:
[email protected] or [email protected].
---
---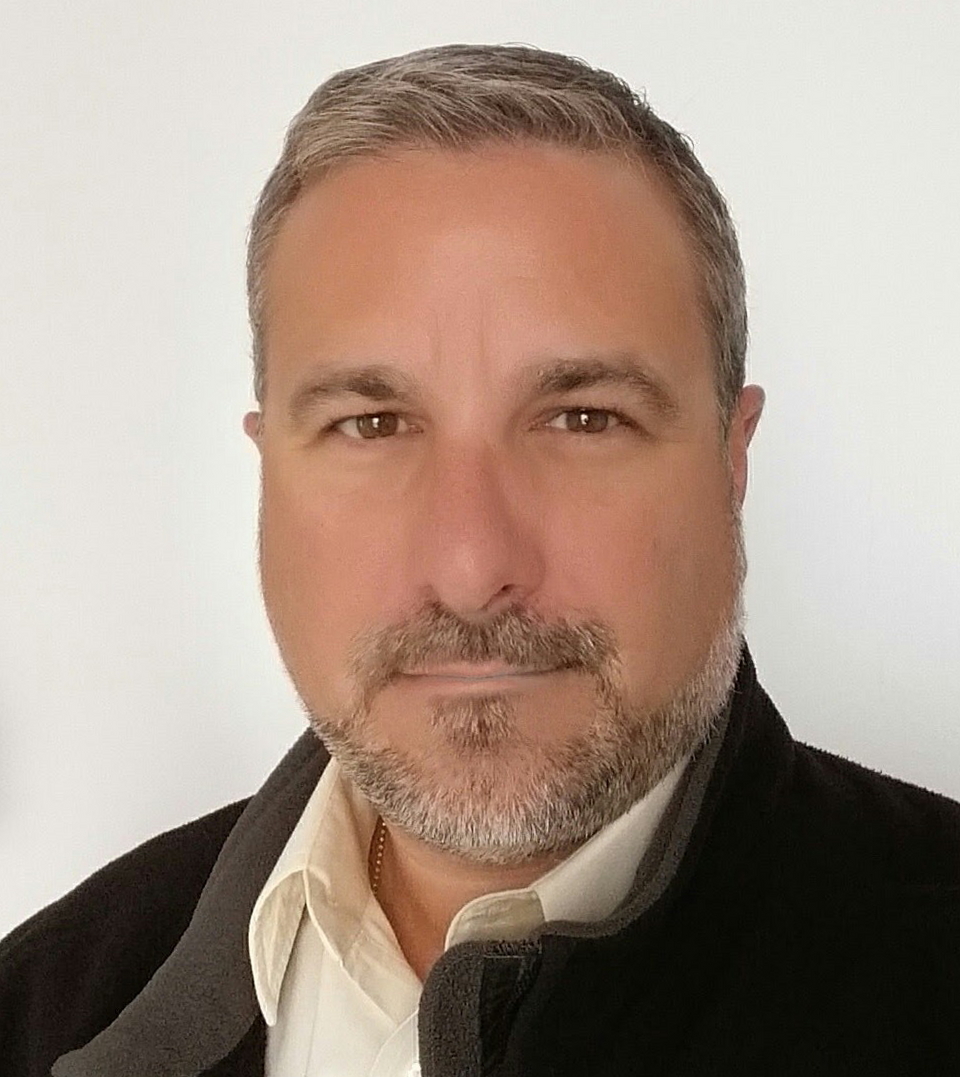 CEO/Founder RecruitingDaily and avid skier, coach and avid father of two trying to keep up with my altruistic wife. Producing at the sweet spot talent acquisition to create great content for the living breathing human beings in recruiting and hiring. I try to ease the biggest to smallest problems from start-ups to enterprise. Founder of RecruitingDaily and our merry band of rabble-rousers.
Recruit Smarter
Weekly news and industry insights delivered straight to your inbox.