Use Image Search to Find "Hidden" Candidates As recruiters, we spend a lot of time constructing our search strings to target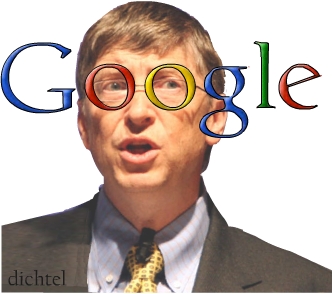 "human capital". It's a people business. For example, running an "intitle:resume" search on Google will find resumes. Or you could add more keywords to your search to find a "curriculum vitae" and even more keywords if you want to find a candidate "Bio".
The Restrictions of Text-Only Based Search When it comes to Boolean searches, they all come with inherent limitations. For each candidate search, there will be candidates that can not be found. In fact, some candidates may not even use any normal permutations; and may simply upload a resume titled "Dave's Experience" or "Dave-Edited Draft1". It could be anything. What makes finding relevant information so challenging is that the web is made up of 100% user-generated content. So, what are some strategies to uncover these additional candidates?
Google Starts to Enhance Its Image Search Google set the stage to search beyond keywords with their 2006 acquisition of Neven Vision, a software company that specializes in image recognition. Since 2006, Google has been rolling out some of that new technology to enhance its Google Advanced Image Search. Now you can filter down results by Color, Type, Image Size, and more.
 New Google Image Search Feature Targets Human Capital One feature that is particularly useful to recruiters is the "Face" Type Filter. As recruiters, so much of our time is spent trying to find information that would pertain to "people" or potential candidates. Recruiters accomplish this by looking for keywords like "bio" or "sales team". With Google's "Face" Type Filter, recruiters can kick back and let Google's advanced facial recognition software do all the heavy lifting. Here's how to use it to uncover "hidden" candidates.
Google Advanced Image Search http://images.google.com/

Step 1:
Put together a string of job keywords (titles, skills, etc.), then run it on Google Images. Geographic keywords work well; state, city, address, zipcode or phone area code. Google NumRange does not work in Image Search.
 In this example, I am searching for a "sales manager" in NY in the Phone Area code 212
Run the search, and as you can see the results won't be very relevant at first.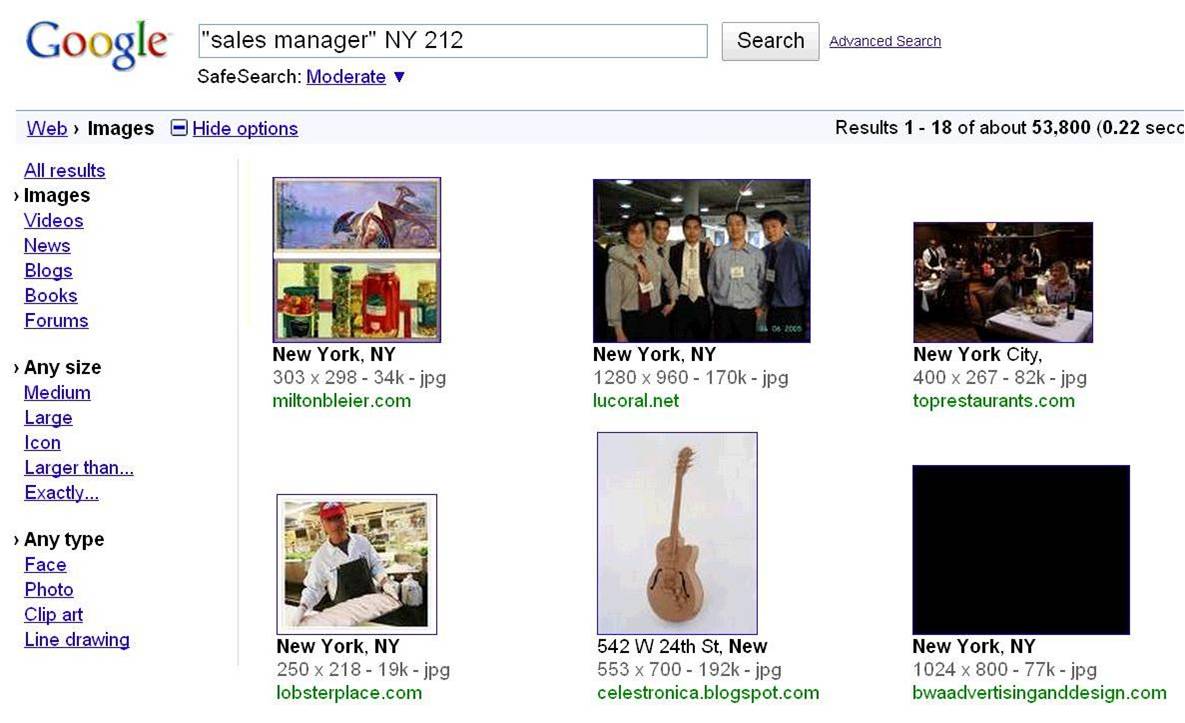 Step 2:
Click "Show Options". Then select the "Face" filter.
The results look like this:
You'll notice that the Face filter usually does a good job of pulling up "people only" so there's no need to use any other commands like "inurl:bio" or anything like that.
 Due Diligence; What Are Some Ways Image Search is Helpful?
I've found that text-only resume searches are great for people with technical backgrounds such as software developers, senior execs, UI architects, etc. But for positions that are not as tech savvy, such as real estate, insurance, and automotive sales, I have found that Image Search is especially helpful.
 I recommend trying out some searches with the "Face" Type Filter on. As you comb through the results, be conscious of the URL's and Text on the page. You'll start to find that there are a lot of candidates that would be near-impossible to find via a traditional text-based search engine.
 Here are some simple strings to try out or Google Images:
  insurance agent chicago (IL OR Illinois)

 "user experience" (CA OR California)

  toyota sales (MN OR Minnesota)

 engineer IBM
About the author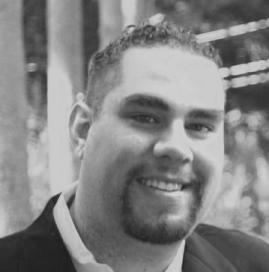 Adam Wiedmer works within the Recruitment Process Outsourcing industry in the Boston area.  He specializes in providing sourcing and recruiting solutions for high-volume recruitment needs. With only two years experience, Adam has placed candidates for Fortune 500 companies in many verticals such as IT, finance, sales, and customer service. Aside from recruiting, Adam is a dedicated musician and spends his time attending concerts, playing bass, and writing music.
 Email:  [email protected]
LinkedIn: http://www.linkedin.com/in/adamwiedmer
---
---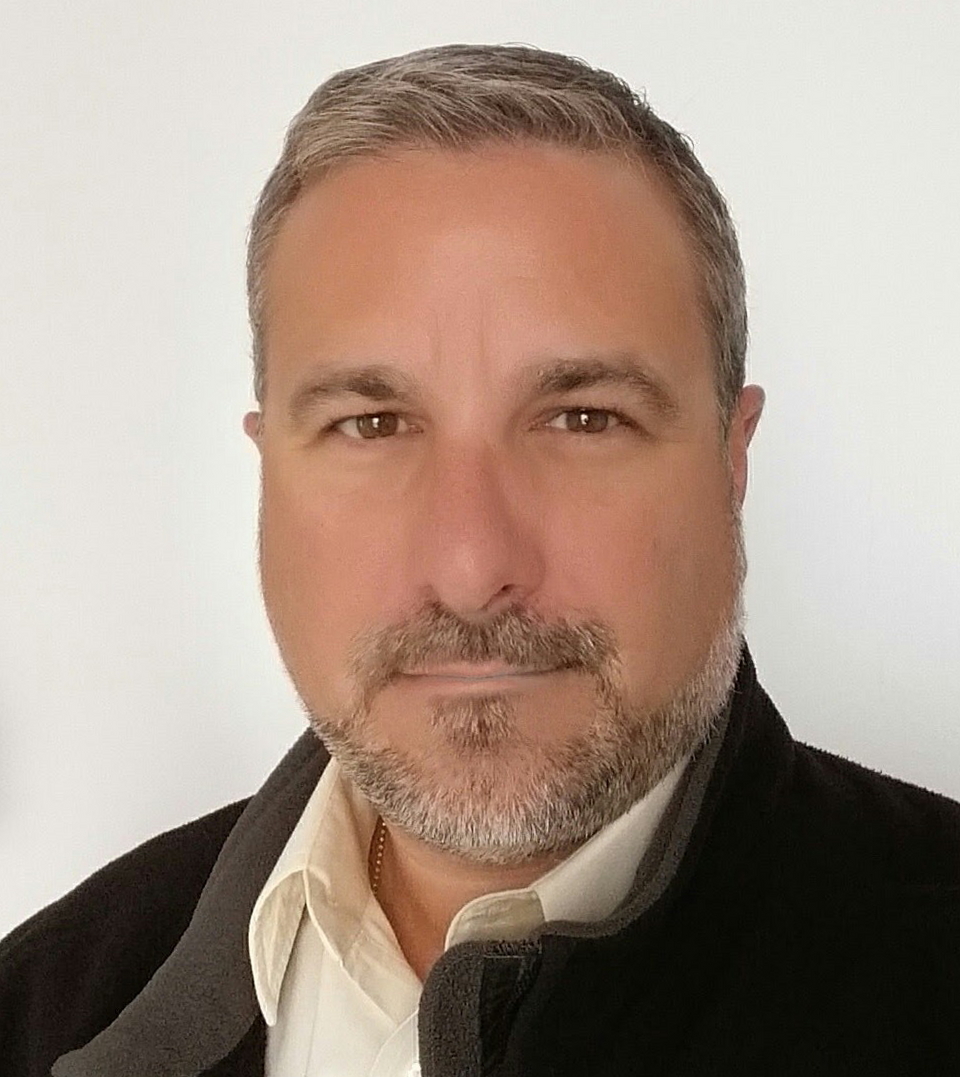 CEO/Founder RecruitingDaily and avid skier, coach and avid father of two trying to keep up with my altruistic wife. Producing at the sweet spot talent acquisition to create great content for the living breathing human beings in recruiting and hiring. I try to ease the biggest to smallest problems from start-ups to enterprise. Founder of RecruitingDaily and our merry band of rabble-rousers.
Recruit Smarter
Weekly news and industry insights delivered straight to your inbox.