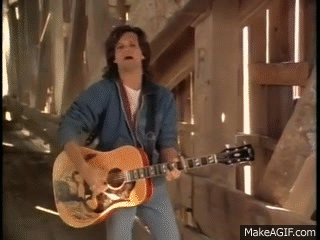 There are so many songs about small towns. Musicians like John Mellencamp, Journey and Tom Petty even have songs all about small town girls and their big aspirations. I don't get it. I mean, who really wants to live in a small town? Who wants to be a small town girl living in a lonely world?
Not me. I watched Andy Griffith. I know what's up. Navigating politics and podunk roads just isn't my thing. I mean, is it too much to ask that we have more than one grocery store or stoplight as the minimum requirement to call it a town in the first place?
I guess if you grew up in one of these towns, you might not feel the same way. When you're in a place where everyone knows your name, it's a lot more heartwarming and helpful. You want to see your kids raised around those good people in a good town. You're curious about the world outside but you know you've got a good thing.
But that's you. I was a newcomer who personally, experienced the biggest cultural shock three years ago when my husband and I moved to our own small town in Pennsylvania. It was like coming out of a time warp.
All My Friends, In A Small Town
My husband and I were both raised in affluent modern towns. Prior to living in Wyomissing, my husband and I lived in Morristown, NJ. Jersey jokes aside, we were living the life. We had great cell service everywhere and options galore when it came to eating and shopping. My kid may never have found out what a cassette or a rotary phone was. I was fine with that.
Going to this town was the opposite. I quickly went into my shell and for two and a half years, I didn't do anything social in the area because my mind wasn't open to it based on a few bad initial experiences. I would even do my grocery shopping in Maryland on the weekend while visiting my parents. I worked from home and hid. It was safer that way.
That worked until March 2016, when I left my remote corporate position to open my own staffing agency. It was an all new ball game and I had to start my marketing strategy local. I had to go out there and make a few friends. I couldn't be a hermit anymore. I had to become a local and become vocal.
I've Seen It All In A Small Town
Let's start with the initial premise here because I'm sure you're thinking I'm crazy. And I might be. I mean, why wouldn't you go to a big city to start a company? Why wouldn't I just go back home, near family and start a business there?
It seems a lot easier, at least on the surface. I have a network that's already set up. I have the personal support network to rely on when things go wrong; moments that are inevitable in entrepreneurship. There's more available talent.
But there are also a series of complications that make life harder, especially when you're coming in as a recruiter. There are a lot of established firms in the area. It cost a lot more to get office space, if you can even find any in your price range. Traffic headaches. Plus, I was with my family and I wanted to make it work. I wanted to see if I could make this small town home base for my idea.
Needless to say at this point, starting my own business in a town where I was still getting my bearings was a lot of work. It took a lot of blood, sweat and tears. But even with the scars, I wouldn't discourage other entrepreneurs from giving it a try. In fact, I'd encourage them.
Now she's small town just like me
If you decide to take the road less traveled and follow me out to the boonies to start a booming business, you should probably know where I stumbled. Always better to start with a little advice, right? Here are a few things I learned that you should know, too, if you decide to start your business in a small town.:
Join the local chamber of commerce. Chambers get a bad wrap but they still exist because people need a place to network with other businesses and keep up with local news. Plus, a lot of local chambers offer co-working space at a low cost. My local chamber has a great joining package that even includes free local advertising.
Be open-minded. I know we all face our recruiting challenges but there's something uniquely challenging about recruiting in a small town. Here, they're using recruiting methods that feel more like 1990. I'm talking print, billboards – hell, even fax machines to advertise jobs. They don't even know about LinkedIn. If you're going to talk to locals, try the local language when it comes to job communication. And remember to be courteous to the local business'; it's not nice to call their technology archaic… even if it is.
Go local: Yes, even though you work from home you have to put on real pants and get out of the house sometimes. Participate in local events.  Since becoming more active in the community, I have met a lot of people from local companies, which has filled my pipeline with local talent I know no one else is finding running a search on LinkedIn. If you're using advertising and sponsorship dollars online, spend them on events in your small town. Where people love their town, you have to actually care to engage talent. They'll know if you're bluffing.
Learn the culture. Towns are known for something. For example, in Reading it is pretzels. You have to talk pretzels to talk shop in this town. Know what the "thing" is and embrace it. Make it part of your lingo and your company's culture.
HQ: Small towns are surprisingly great for startup to headquarters. While suckers are spending millions on offices in places like San Francisco and New York, you can find a lot of office space available at a low cost, great talent to engage and even tax savings.
Tanya Bourque is CEO & Independent Practitioner of OpExpert, a staffing firm based in Wyomissing, PA.  She is a  technology enthusiast who is obsessed with finding the best tools available and methodology for recruiters. She has experience with sourcing, marketing tools, diversity recruiting,CRMs, and applicant tracking systems. You can connect with her on LinkedIn or follow her on Twitter.
---
---
Recruit Smarter
Weekly news and industry insights delivered straight to your inbox.