Is it advertising, or is it generosity? Who cares? It's downright cool and with the ability to win a $50,000 recruitment  

makeover you should take a serious look at what Recruitingmakeover.com has put together. Have you heard of it?
Recently I spoke with the sponsor of the recruiting makeover Jonathan Herrick, VP of sales at Sendouts regarding the contest. "This contest will change the face of a business that would otherwise not have the ability to leverage such great technology."
Sendouts.com is a leader of online recruiting software for third party staffing and recruiting firms, leveraging web 2.0 technologies to help maximize 3rd party e-sourcing efforts. "Today's recruiter has got to be smarter. Recruit smarter. Source smarter. Work smarter."   Sendouts is a fascinating set of tools that couple the ability to source, manage recruitment campaigns and automate workflows allowing the recruiter to eliminate the tedious tasks enabling you to market open opportunities to potential candidates.
The contest launched back in April of 2009 and the winner was decided in June. The contest itself was massive success with over 300 entrants from around the globe. In the end, Juno Search Group was chosen as the inaugural winner of the 2009 Recruitingmakeover. Juno Search Group is a boutique executive search firm that specializes in the financial areas.
"You can't imagine our disbelief and excitement about winning the Recruiting Makeover," said Dailey. "These new resources will allow Juno and our people to grow and achieve ultimate success."Jonathan is a firm believer in dedication and referred to Juno Search Group as "team centric and driven to succeed."
So what will the team at Juno receive that's worth $50K? The new Juno Search Group site has been released. Take a look at it here: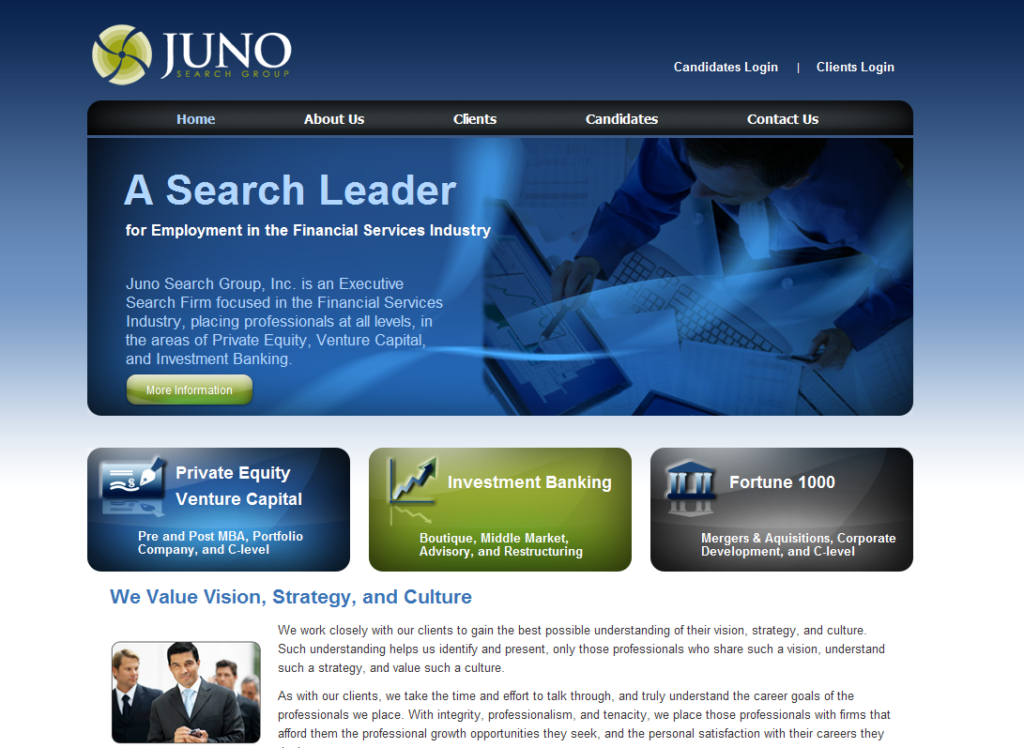 If you are interested in participating in Next year's recruiting makeover – visit –Recruitingmakeover.com
Of course to make this project a success involved a team effort totaling 6 sponsors and a donated $50K in services and product. Juno has and is receiving technology solutions from Broadlook, Buzz Recruiter, Careerbuilder.com, Good as gold training, TFI Resources and Sheila Greco Associates.  From search to ATS, to Training and recruitment strategy JUNO Group has received what could be a company changing gift, affording them the opportunity to compete with much larger and more resourceful firms.
A briefing on all supporting sponsors
Broadlook Technologies is the leader in the development of innovative software and services that empower HR Professionals to leverage the Internet for the identification and acquisition of passive candidate and competitive intelligence necessary to grow revenues and improve productivity. For more about Broadlook, visit their website at www.broadlook.com.
There are plenty of web design agencies out there! Some are even good. But where can recruiters find a design agency that both understands recruiting as well as professional web design, and has the one-on-one recruiter care promise to bring it all together? Visit BuzzRecruiter.com.
CareerBuilder is the global leader in human capital solutions, helping companies target and attract their most important asset – their people. Its online career site, CareerBuilder.com, is the largest in the U.S. with more than 23 million unique visitors, 1 million jobs and 31 million resumes. CareerBuilder works with the world's top employers, providing resources for everything from employment branding and data analysis to talent acquisition. More than 9,000 Web sites, including 140 newspapers and broadband portals such as MSN and AOL, feature CareerBuilder's proprietary job search technology on their career sites. Owned by Gannett Co., Inc. (NYSE:GCI), Tribune Company, The McClatchy Company (NYSE:MNI) and Microsoft Corp. (Nasdaq: MSFT), CareerBuilder and its subsidiaries operate in the U.S., Europe, Canada and Asia. For more information, visit www.careerbuilder.com
Good as Gold Training was established in 1993 and provides comprehensive, cutting-edge training solutions that you can count on to catapult you forward, showing you exactly how to achieve and maintain the higher levels of professional success and financial freedom that you've always wanted, and that you undoubtedly deserve. Leading this highly professional team is Barbara Bruno, CPC, CTS, the CEO of Good as Gold Training, who has devoted her life to increasing the sales, profits and incomes of the individuals she trains. For more information, please visit www.goodasgoldtraining.com.
TFI Resources is a multi-state payroll service providing a full range of services to recruiters in the temporary, contract and permanent placement industry by providing employer of record service, payroll funding and payroll processing. Many independent recruiters utilize TFI to expand their business to include temporary and contract placements while mid-size and large staffing firms use TFI to serve as employer of record for temporary and contract placements in states where they are not registered or licensed to do business. For more information, visit www.tfiresources.com.
---
---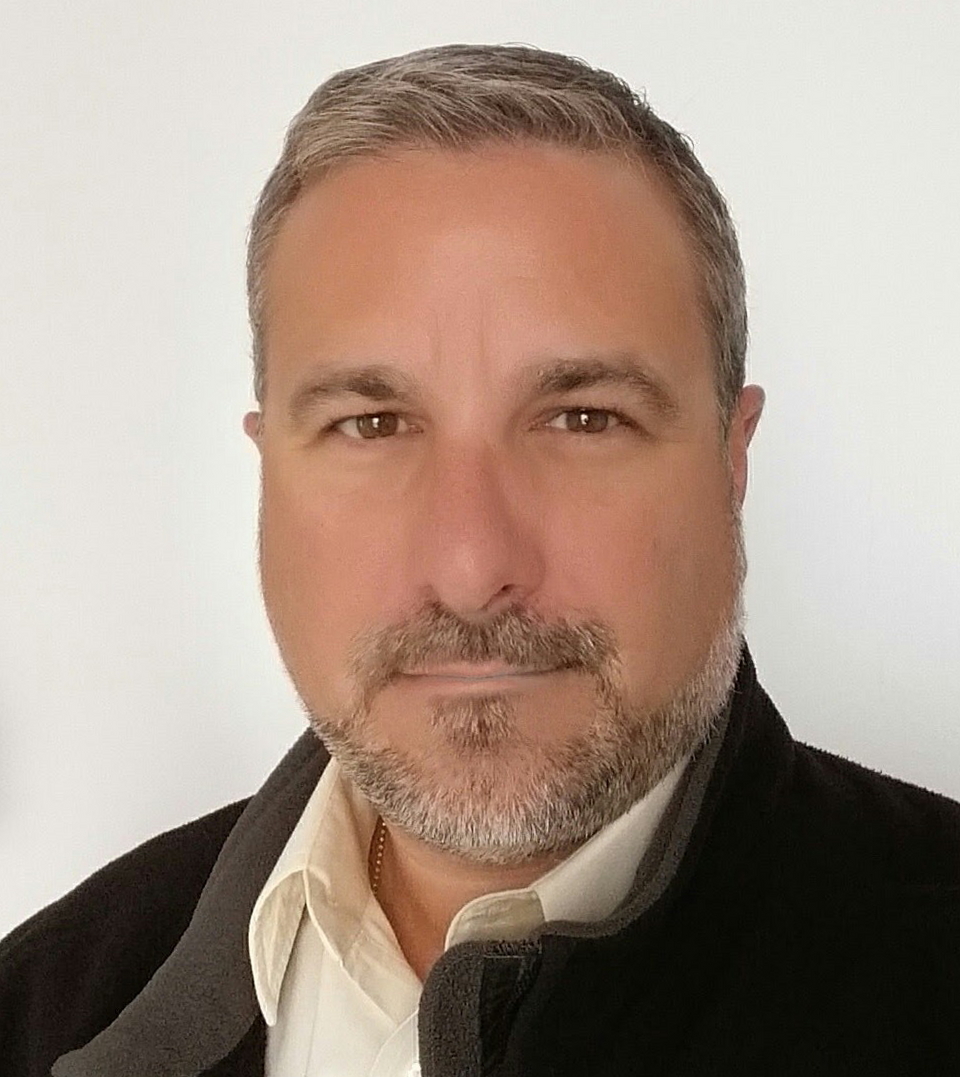 CEO/Founder RecruitingDaily and avid skier, coach and avid father of two trying to keep up with my altruistic wife. Producing at the sweet spot talent acquisition to create great content for the living breathing human beings in recruiting and hiring. I try to ease the biggest to smallest problems from start-ups to enterprise. Founder of RecruitingDaily and our merry band of rabble-rousers.
Recruit Smarter
Weekly news and industry insights delivered straight to your inbox.