If you're in charge of your company's hiring process, chances are you are overwhelmed with potential candidates. The current economic climate means that the job force has a ton of potentially well qualified candidates for almost any position you'd need to fill.  If you find yourself in the situation of having too many candidates for you to manage, it may be time to look into recruiting software.  This type of software can be advantageous if you have a large candidate pool to choose from and to manage.  One of the top recruiting software packages available is iCIMS.
What is iCIMS?
iCIMS is a recruiting software suite. It consists of three levels of recruiting software: Connect, Recruit, and Onboard. Together these three pieces of software bring an entire ecosystem to the recruiting and hiring process. This is an important point. Most software suites do one part of the recruiting process: contact with between the recruiter and the potential candidate. iCIMS does this, but also takes you and the candidate through the hiring process, and stays a factor after the candidate is hired.
Connect – The Connect part of the iCIMS software puts you in touch with potential candidates. This is where candidates come to learn about the company and about potential open positions.  This is also connected to the 'social portal' so that candidates can keep track of future open positions.  SEE THE VIDEO HERE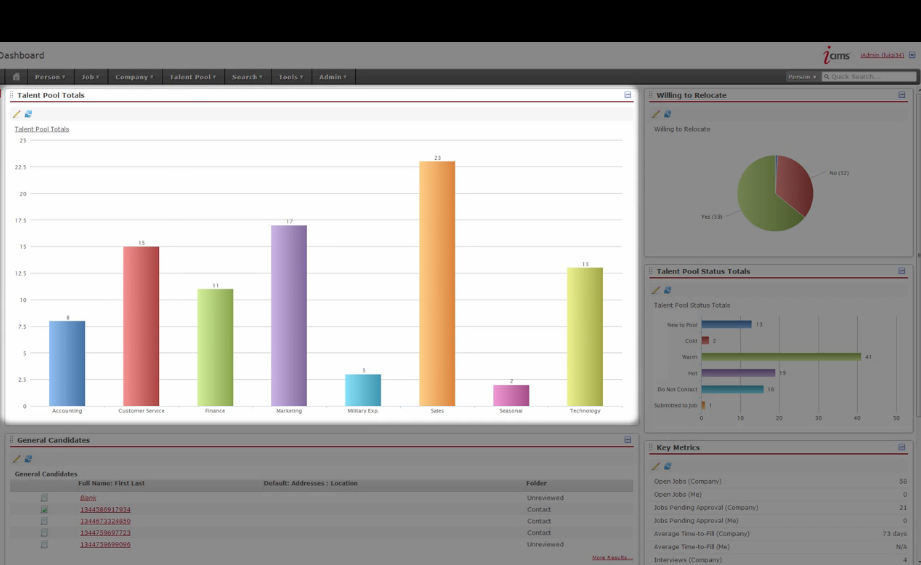 This is where your company shares news about openings, and points potential candidates into the recruiting section to submit an application or résumé.
Recruit – This is where the actual applications are submitted. The Recruit part of the software allows you to seamlessly track, monitor, and expand your talent pool. Instead of having a stack of paper applications that you need to sort though manually, you can use the software to search through applications, job profiles, and résumés.
This will most likely be the most useful piece of the software for your company, as it is the part that most companies need. The extras of both Connect and Onboard supplement the process that happens in Recruit.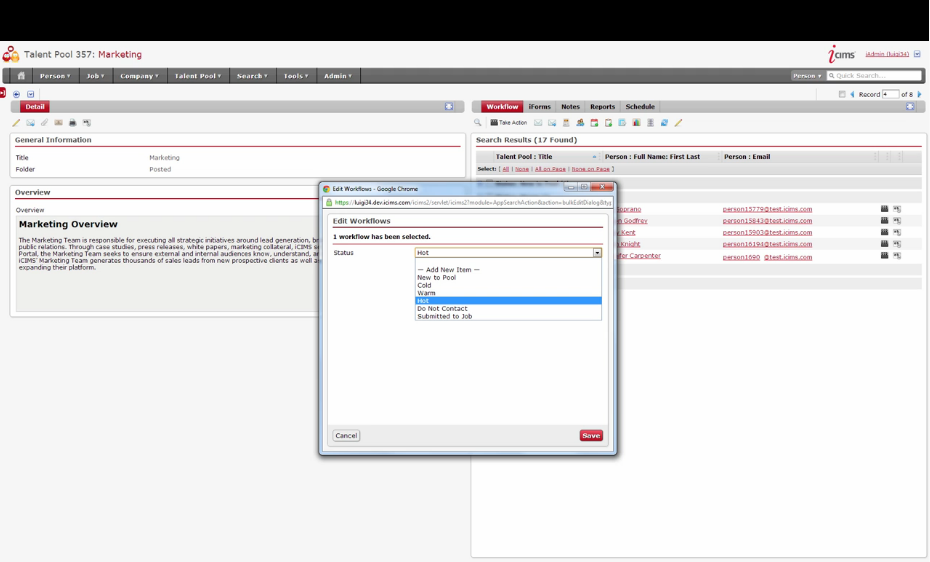 Onboard – Once the recruiting process is over, and you've made the hire, Onboard brings you automated software to help assimilate your new hires into the business. The software allows you to begin communication of job and company goals, regulations, and culture before the employee actually starts work, and allows you to keep this communication going through the new hires start date.  See the video here.
What this means for you is that you can take care of administrative hiring and training tasks online, through the Onboard portal, so that when the employee comes to work for his or her first day, they are more prepared and are ready to actually begin the orientation process.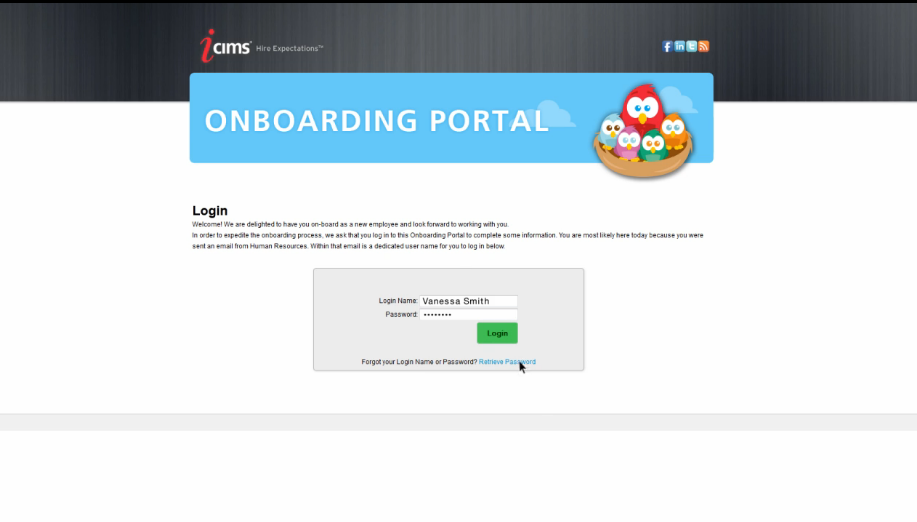 How is it Better than the Competition?
There are vast differences between iCIMS and other recruiting software packages. The best way to describe it is that it is an entire suite of recruiting and hiring tools that takes you and all your candidates through the entire process: applications, hiring, and employment. The software is very focused on reports and organizing applicants so that data can be seen at a glance and be customized in a way that is suitable for your organization.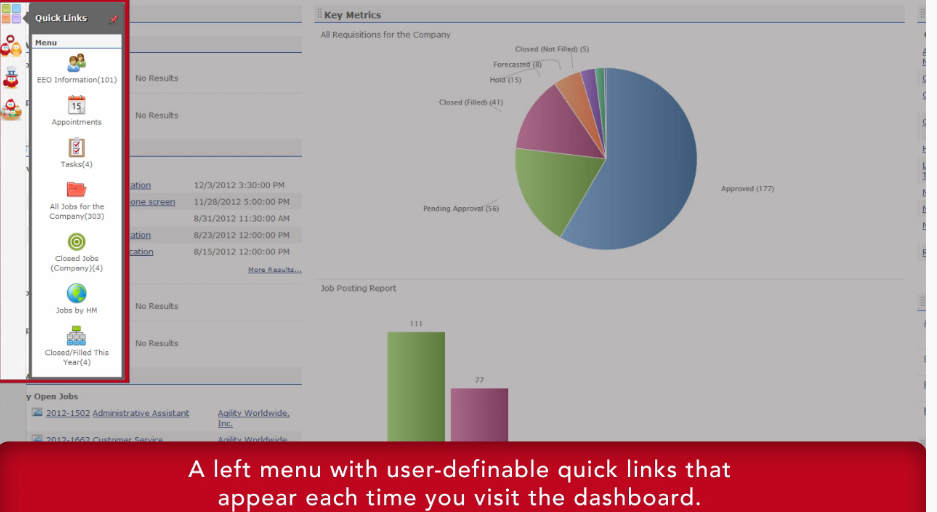 This software works well and is easy to use in most cases. There are vast support systems in place for when you get stuck, which is something that can't be said for some of the other software on the market.
What's even more excellent is that the software allows you to have an entire recruiting staff on board. You can manage tasks of your team, assign different levels of access based on positions within the team, and track the process and workflow of individuals on the network.
The downside to this type of software suite is that it can seem more complicated than a traditional recruiting software or service. In many cases, however, the interface of the software assists you in making the decisions you need to make. There are also extensive support options. If you've had a customer representative assigned to your company, they will be available to help answer any questions and fix any problems you might have.
How Can it Make Your Recruiting Process Better?
Think about your recruiting process now. Chances are it is an organized mess. Companies have hiring and recruiting policies and processes, but without the structure of an always on system like iCIMS, some things go by the way side, and habits that are contrary to policy are formed.
With iCIMS your hiring process gains a structure that everyone in your department can follow and understand. You can institute policies that weren't practical before because everything is done online through the iCIMS system.
Because this software is a complete recruiting ecosystem it will become your daily driver. You'll come into the office in the morning and this will be the first software you use. It will dominate the hiring process, which is exactly what you want. A good piece of recruiting software isn't piecemeal. You want the software to provide the standard structure of the complicated recruiting and hiring process. iCIMS does that.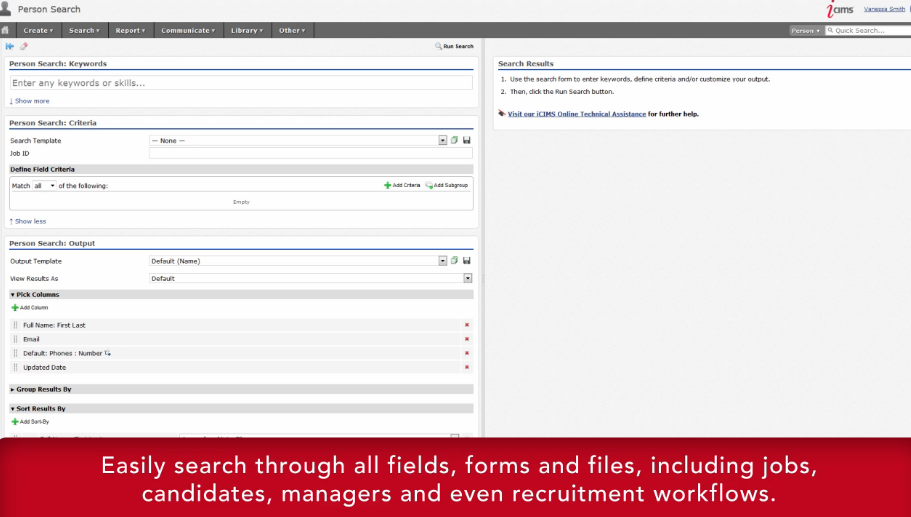 The software literally covers ever aspect of the hiring process from putting you in touch with candidates, maintaining a talent pool, recruiting actual candidates, and taking care of post-hire administrative tasks and some orientation functions. The Recruit part of the recruiting software suite allows you manage, search, and visually get a handle on the entire talent pool. There are literally unlimited number of ways you can customize the search results to suit your talent search.
Hiring is Social
You also want your hiring process to be as open as possible. This will get you the widest possible selection of candidates, which will in turn allow you to fill a large range of positions. Many other recruiting software suites offer some sort of social integration. iCIMS takes it a step further and offers social interaction throughout the entire process.
They have actually built powerful social media tools that tie directly into your job portals (all branded) that allow for your jobs to be posted on social media sites. This allows for your hiring process to be engaged with and explored by a wider audience.
Where the social integration really works well is with other portals where you might want to post your job listings. This software allows you to handle all those places in a direct dashboard, which is very seamless. You also get live looks at candidate's social media profiles if they've chosen to attach them to their applications. They can draw in skills and experience fields from places like LinkedIn and Google+.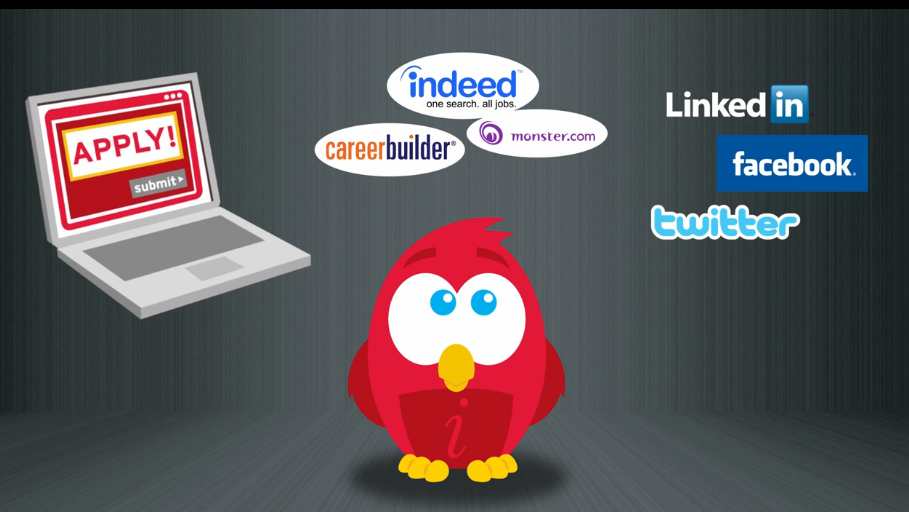 Hiring Internationally
Where recruiting software really shines in when you are trying to manage a talent pool that consists of applicants from across the globe. With iCIMS you have the opportunity too put all of your international applicants under one roof. The software allows you to sort, file, and search through different pools of applicants based on location, as well as skill, experience and more.
Engage Current Employees with Referrals
Unlike other recruiting software suites, iCIMS gets the entirety of your current workforce in on the recruiting action. In the past if you wanted to have a referral program, you probably had to do it with paper applications, and a spot on there for referrals. With this recruiting software, you can assign each of your existing employees a link that they can share with potential candidates.
With this system, you get advanced reports that contain stats on which employees have referred the most candidates, which employees share their links the most, and so on. You could also use this data to reward such behavior to encourage it. This will bring you a wider talent pool, and will bring in more suitable candidates that are known to the employees in your organization.
Potential Issues
There are a few potential issues you might run into using this recruiting software. The most major one that we came across in the demo of the product, was that there are some areas that might be a bit confusing and hard to use. That is expected when you're using a new piece of software and the folks behind iCIMS promise support and help at every stage of the process.
Also if you're looking into getting the iCIMS recruiting software, know that you probably won't get it cheap. Because it is such a staunch ecosystem that takes the entire hiring process over, pricing is on a per employee, per seat basis, which means the larger your HR department, the more the software will cost. That being said, this isn't unusual for a piece of enterprise software, so the price should be commensurate with industry standards.
Conclusions
With any recruiting software suite, there's going to be a learning curve for your HR employees. The goal of any software is to make the manual process that it is replacing more efficient and less excruciating. With iCIMS, you get a full functioning ecosystem of software tools to help you and potential candidates through the entire hiring process. Not only that, but you get a system for supporting your new hires so that they can remain in touch with their recruiter and HR department contacts after they are hired in.
The iCIMS software, while complicated in places, can bring your recruiting process into the 21st century. Because it covers the whole hiring process, it will replace many things you once had to manually. You can manage every career portal that you have job listings on, you can search through the data base of applicants without resorting to paper filing systems, and you can bring social integration both for the candidates and your existing employees. There aren't many recruiting software suites out there that can boast this many features.
You can see demo videos of this recruiting software here.
---
---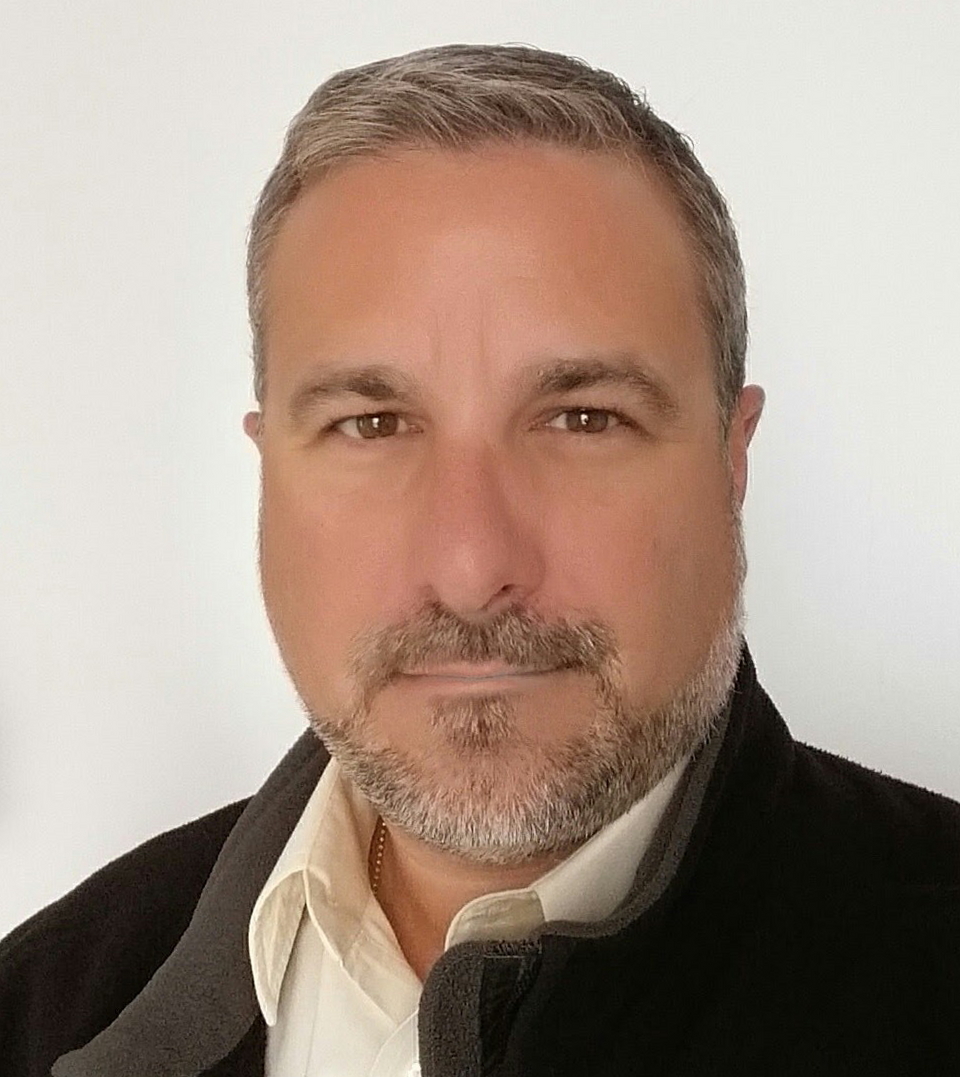 CEO/Founder RecruitingDaily and avid skier, coach and avid father of two trying to keep up with my altruistic wife. Producing at the sweet spot talent acquisition to create great content for the living breathing human beings in recruiting and hiring. I try to ease the biggest to smallest problems from start-ups to enterprise. Founder of RecruitingDaily and our merry band of rabble-rousers.
Recruit Smarter
Weekly news and industry insights delivered straight to your inbox.