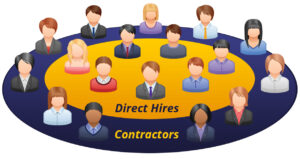 As contract staffing continues to break records every month, most recently hitting a high of 2,859,2000 jobs in May, it's clear that its growth is not a knee-jerk reaction to the recession or the slow recovery.
Rather, companies are building a new blended workforce model around contractors as part of a deliberate, long-term business strategy.
Recruiters who understand this model and learn how to take advantage of it stand to thrive in this new business environment.
The blended workforce model starts with a core of key, direct hire personnel whose experience and longevity drive the success and growth of the organization. High turnover among them tends to be disruptive.  The core is surrounded by a larger outer ring of contractors. Their work is no less important as they handle day-to-day tasks and critical projects, but turnover is not as big of a concern.
Flexibility is the key to this model.  The outer ring can be easily increased or decreased based on business needs.  Companies can bring in contractors to address sudden peaks, projects, critical deadlines, etc., and then end the contracts when the need passes.  This is much less upsetting than the layoffs that typically accompany a reduction in force because contractors know from the get-go that their assignments will end.
As companies struggle with increasing employment regulations, additional taxes, growing professional liability requirements, and more, matching workforce to work load is necessary to maintain costs. One of the biggest costs is benefits. In a contract staffing arrangement, a third party (recruiter or contract staffing back-office) is the legal employer and takes responsibility for all the employment costs and responsibilities, including benefits. Therefore, the third party, NOT the company utilizing the contractors' services, pays the employer share of premiums and takes responsibility for Affordable Care Act (ACA) compliance.
Experts believe this blended workforce model represents a permanent, structural change in employment as contractors are expected to comprise 40-50% of the entire American workforce by 2020. This is creating a huge need for recruiters who provide contact staffing services because more companies have a consistent need for QUALITY contractors.
If you are not already offering contract staffing, the time to start is now. Remember, 80% of contract staffing job orders come from a recruiter's existing direct hire clients, so the business is there for the taking. By utilizing the services of a contract staffing back-office, you can get started with no ramp-up time or upfront financial investment. If you already offer contract staffing services, have you considered expanding into other industries and states? Again, a contract staffing back-office can help you do so with no cash outlay.
In other words, ALL recruiters can cash in on this growing trend by simply offering solutions that provide clients with flexibility.
If you can do that, you will become a true partner, and your clients will come to you with all their staffing needs.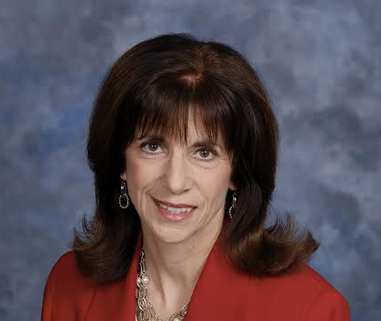 About the Author: Debbie Fledderjohann is president of Top Echelon Contracting, Inc. (TEC), a full-service contractstaffing back-office. Founded in 1992, TEC allows recruiters to establish or expand their contract staffing services with no ramp-up time, no upfront financial investment, and no additional staff.
As the legal employer of the recruiters' contractors, TEC handles all the legal, financial, and administrative details of the contract placements, including employee paperwork, legal contracts, time sheet collection, payroll processing, payroll funding, tax withholding, Workers' Compensation, invoicing, collections, background checks, benefits administration, and ACA compliance. The company places technical, professional, and healthcare contractors in 49 states.
Follow Debbie on Twitter @DFledderjohann or connect with her on LinkedIn.
---
---
Recruit Smarter
Weekly news and industry insights delivered straight to your inbox.