Chicago is home to great pizzas, sports teams, and "Da Auto Show," a renowned annual event advertised broadly. Admittedly, my husband and I trek out yearly to gawk at rows upon rows of "da" gorgeous vehicles. However, we depart with few, if any, plans to purchase a ride, let alone the $4.5M Lamborghini Veneno (pictured above).

Combining our annual salaries, it would take about 137 years to gather funds to purchase one (and sadly, that's in dog years). After all, cost is almost always key to driving big decisions, right?

So does the same apply when using corporate profit or ROI (vs. my family's dog-years income)?
Recruiters and Hiring Managers Study: Overview, Purpose…Pertinence

Chicago is also home to CareerBuilder. As we know, CareerBuilder sponsors/reports on research that drives decision-making across all verticals of TA, and recently they've co-sponsored yet another loaded study.

CareerBuilder, along with Inavero and American Staffing Association, released their sizable 2018 Staffing Buyer Study. This extensive survey instrument research was conducted throughout August 2018, with 859 hiring managers sharing perceptions/attitudes toward staffing firms.
This study's cohort was comprised mainly of lead contacts for their primary staffing firms and corporations exceeding 250 employees (65%), with nearly 1:3 participants bringing 20+ years' experience.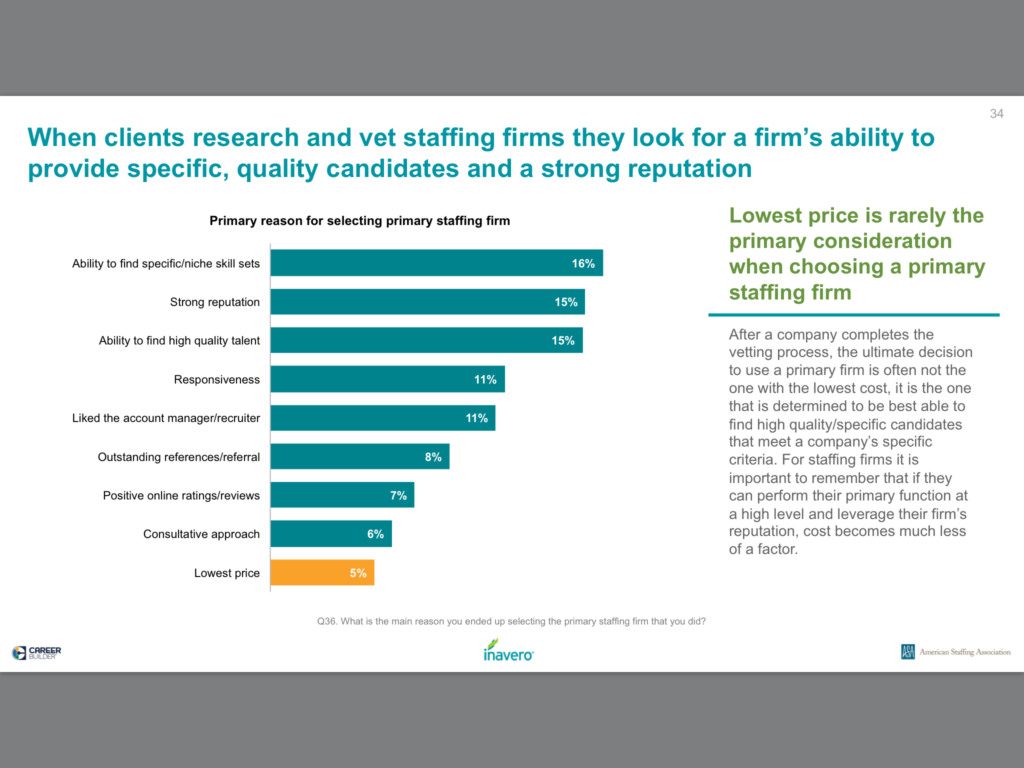 Need for study/Purpose.
Reasons for the study seem transparent: In today's tighter labor market, there is increased struggle for talent. This is heightened by high cost and lengthy hiring processes.

As such, purpose here was framed around these Guiding Questions:
What obstacles are hiring managers facing now?
How can staffing firms address challenges that hiring managers are facing?
How can firms attract hiring manager relationships?
How do hiring managers view and use technology?
To see full study, click here: 2018 Staffing Buyer Study
We report here on major findings of this study, including:
Recruitment obstacles that both hiring managers and staffing firms face, as well as how organizations can attract more managerial relationships.
We also summarize hiring manager perceptions of technology use.
What will our readers gain?
Corporate TA/hiring manager readers can glean great data here about what keeps them awake at night and how staffing firms can be cost savvy. Staffing readers can extract what should be done to attract more hiring manager business, what obstacles might be impeding upon that, and how tech currency is golden.

Ok, um…how does this connect to Auto Shows — $4.5M sports cars? (Think, Wait for it!) Let's peek at Attention-Grabbing segments from this study next.
Pain Points, Tech Utilization…and a Big Surprise

This study reveals hiring managers' main pain points.
Access to quality candidates (50%)
Time to Hire (40%)
Budgets (34%)
Talent Acquisition readers find here what struggles their peers are also experiencing. More importantly, staffing firms find gold nuggets nested in this data: How they can add value to companies by finding candidates with the right skills, within budget and timelines.
Staffing firms should be immediately taken by one significant finding 54% of hiring managers report plans to increase utilization of staffing firms in the next five years. 5
What might this imply? Hiring manager readers who don't utilize firms might sleep less soundly knowing growing numbers of staffing firms might be seeking talent passively from their organizations. Staffing firms may rest better knowing utilization is up-ticking.

Meanwhile, 67% of hiring managers believe it's very/extremely important that staffing firms use up-to-date technology.
Nearly 3:4 hiring managers (74%) believe using up-to-date technology differentiates staffing firms from those who haven't implemented them.

This finding finger-points to firms that don't have up-to-date TA technology. Business will go to competitors more prepared in key areas managers identified as essential:
Matching technology (39%)
Video/online interviewing (32%), or…
Search of multiple 3rd party resume databases within a single search bar (30%).
The Big Surprise?
As 1:3 hiring managers report Budget as a challenge — one of the study's most obvious questions seems a no-brainer. When 54% of hiring managers report their future plans to engage with staffing firms for TA recruiting, cost (think, Lamborghini's) is not primary consideration when choosing staffing firms.

But, it should be close, right?

Hiring managers say, Nope. Let that answer sink in before proceeding, as this study reveals an even bigger surprise.

Astonishingly, price ranked so low in this study that it fell to the absolute bottom of reasons for managers choosing firms after hiring managers vetted which to choose.
More specifically, after a company vets staffing firms (outlined later), the ultimate decision to use a primary firm is often not the one with lowest cost. Instead, it is the staffing firm that's determined to best A) find high quality/specific candidates; B) meet a company's specific criteria for carrying a strong reputation and ability to find high quality talent.
These findings underscore how important it is for staffing firms to perform their primary functions at very high levels and to maintain a pathway for excellence. Think searchable ratings results, cultivating existing relationships, seeking client feedback for public purview, etc.

Hiring Manager Insights for Staffing Firm Growth: Key Findings from the 2018 Staffing Buyer Study
Even more notable is how findings highlight that, while hiring managers cite Budget as one major recruiting pain point, Staffing Firm Pricing is barely significant. Why? Metaphorically speaking, wouldn't they too exit "Da Auto Show" thinking that what they have already is suitable for now?
Let's explore more research to examine their possible reasoning more closely.
How does this relate to one of the world's most expensive cars?

In 2010, Zappos CEO Tony Hsieh estimated how bad hires had cost over $100M. So in 2010 dollars, Zappos bought about 22 of those $4.5M Auto Show Lamborghini's.
In 2014, US Dept of Labor estimated average cost of bad hiring decisions to be 30% of a person's first-year earnings. Using salary of $80,000 here, and factoring in 10% down payment on our Lambo, we need just 5.62 poor hiring decisions to lose our down payment altogether.
Lastly, CareerBuilder's 2013 survey of 6,000 hiring managers worldwide reveals how a single bad hire could cost more than $50k.
Take just 90 of those worldwide bad hires and, collectively, we all just bought a Lamborghini Veneno.

And sadly, we are left only with fluctuating parking spaces in our companies' garages to show for that $4.5M expenditure vs. one of the world's most expensive cars. Unless you're in charge of Talent Acquisition for Uber or Lyft, that's not a very settling consequence.
Extensive Vetting, Technology's Impact, & Remote Worker Utilization

Staffing firms shouldn't get too complacent with this study's major findings. How will the winningest staffing firms continue to best meet hiring manager needs and drive more business relationships?
According to the data, it's not merely use of up-to-date technologies (as noted/specified above). Additionally, it's being ready for 9:10 hiring managers commitment to scrutinize staffing firms over vetting processes that average a daunting 5 hours.
How to prepare?
Referrals
Reputation
Online Resources
Reviews
This means staffing firms can impact buying behavior by managing website and reputation presence online. More specifically, this means excellent client testimonials, third–party awards, website content highlighting service commitments/outcomes, etc.
Further, as previously addressed, staffing firm use of the most current technology, especially matching technology, is pinnacle.
But even further, this study strongly suggests that recruiters face uphill climbs going forward. How so? Many hiring managers, especially in the Millennial subgroup, prefer online job orders/platforms vs speaking to recruiters. Lack of intimate communication is a difficult challenge to face when attempting to meet hiring managers' needs (recruiting niche skills, culture/fit requirements, etc.). This appears to increase staffing firms "Strike" chances when at bat, trying to meet tailored requirements from mainly/only online posting platforms.
Further, while 54% of hiring managers see increasing staffing firm utilization over the next five years, a startling 2:3 conversely suggest that recruiters will play smaller roles afterwards due to improved technology.

However, one saving grace may offset this speculation: remote hiring.
Increasingly, companies report more reliance on finding quality candidates who live and work from anywhere. With 73% of companies currently reporting remote worker utilization, here's a silver lining for staffing firms to start sewing.

Final Thoughts

Here, we examine CareerBuilder, Inavero and American Staffing Association's co-sponsored 2018 Staffing Buyer Study, capturing research conducted throughout August 2018, utilizing 859 hiring managers perceptions/attitudes toward staffing firms.
Through examination of data/findings, we summarize obstacles that both hiring managers and staffing firms face, as well as how staffing firms can attract more hiring manager relationships. We also summarize hiring manager perceptions of technology use.
While we offer broad overview/specific findings from this study, we remain curious as to what our readers consider here, too. How does this information potentially affect you as hiring manager or staffing firm? What aspects/findings do you relate to closely — or not at all? How might technology alter how you work with hiring managers or staffing firms, now? Five years out?
We welcome your insights. What say you?

---
Authors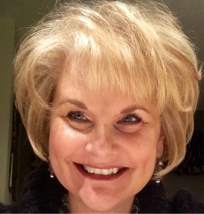 Maribeth Parot Juraska Ed.D. Staff writer for RecruitingDaily who is both a former Training & Development Director and Professor/Director of teacher-candidate preparation. She has conducted research on multiple themes in T&D/Education, writing and presenting in areas of andragogy, performance assessment, candidate training, diversity, inclusion, and social justice. She's now a writer/contributor and spends free time scoffing at cold winters and decaf coffee.
Recruit Smarter
Weekly news and industry insights delivered straight to your inbox.