Today's talent is flooded with event invitations.
Every major corporation — from Deloitte to Snapchat — is throwing recruiting events that go all out in style and activities from in-depth presentations to feel-good Snappy Hours.
When it comes to competing for the best and brightest talent, creating an exceptional experience is not just important — it's necessary for success. As more companies place a greater emphasis on building their brands, there has been a dramatic shift toward in-person, branded experiences.
Want to make sure you drive success with your recruiting events? Here's how:
Get the right people in the room.
Make the first impression positive and memorable.
Be smart with your data after the event.
Have the right systems in place to track performance.
Let's break them down.
1 – Get the right people in the room
Some 40 percent of Millennials say they won't even consider attending an event if the invitations and landing pages aren't visually appealing.
To capture the attention of in-demand professionals, employers need to make their events stand out. And the most effective way to do this is with compelling, beautifully branded digital event assets.
An events page serves as the first step for getting the right people in the room but they can also be used to capture important information about candidates. Technology companies in particular have become well-adept at pre-event data collection, using the event page RSVP form to ask engineers what languages they are proficient in.
Some companies are even asking candidates to submit their resume before RSVP-ing to an event. This pre-event data collection allows the on-site team to prioritize their time and energy on the people that are the right fit.
The most advanced teams get even smarter; they'll use this data to tag VIP candidates so that they can send them a personalized welcome text message as soon as they check-in to the event.
2 – Make the first impression positive and memorable
Sure, those first digital impressions help set the tone for a great candidate experience, but it doesn't stop there. What will really stand out in candidates' minds is the experience of the event itself. And this on-site experience begins with the check-in process.
Checking names off a printed list and handwriting name tags signal to tech-savvy candidates that employers are behind the times, and ultimately lack innovation. The most innovative employers are beating slow adopters to the punch with seamless, digital check-in processes.
Why does it matter?
For one, the door looks infinitely more professional when technology like an iPad (connected to your guest list) is used.
Secondly, the time that it takes to get through the door and into the event is dramatically reduced.
Lastly, by leveraging technology to run a smooth and professional door, employers set themselves up to execute smart, personalized follow ups after the event.
3 – Be smart with your data after the event
Let's say you have five "A+" candidates (out of 50) in the room. With the right technology in place, you'll be well-equipped to deliver a highly personalized touch point after the event. Talent teams can use the check-in technology to make candidate-specific notes that inform their follow up message.
What about the people who said they would attend, but didn't show up? You'll send a follow-up email, of course. The most sophisticated employers will go even further by re-marketing to those candidates and directing them to a post-event recap (videos, pictures, and social, etc.). We've seen this type of re-marketing strategy increase attendance at future events by up to 25 percent among no-shows at previous events.
Check-in data is the key for deploying this type of simple, yet powerful re-marketing strategy. Facebook, for example, uploads images from its events to show just how incredible it was.
4 – Have the right systems in place to track performance
Knowing who attended is great, but the right event marketing software should integrate with your applicant tracking system (ATS) to allow you to understand how your events move the needle from a hiring standpoint.
By integrating your event data with your ATS, you can identify insights to inform and optimize your strategy. For example, are engineering candidates more likely to attend a hackathon vs. a typical happy hour? Did a campus career fair produce no hires, whereas an office open house produced five?
With the right tracking in place, you'll be able to maximize both the efficiency and effectiveness of your event programs, and make decisions based on data rather than assumptions.
Final thoughts
As hiring competition increases, companies face the challenge of building an employer brand that attracts the right talent and creates exceptional candidate experiences that convert to great hires. Events have always been a powerful component of effective recruiting strategies.
The most successful employers will be those that are fastest to adopt technology that enables them to fully capitalize on opportunities to engage talent in person.
---
---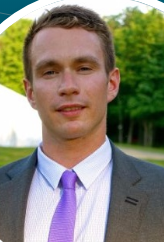 Will Evans is a Brand Strategist for leading event marketing platform, Splash, with a strong background in talent acquisition. He graduated from the University of Wisconsin, Madison, so he is naturally passionate about Wisconsin sports. He also loves to cook and participate in the local food community in New York City.
Recruit Smarter
Weekly news and industry insights delivered straight to your inbox.