Together, We Can Beat This: Indeed Responds to COVID-19
Article originally posted on blog.indeed.com:
A challenge like the coronavirus is unprecedented in modern times. Who would have thought even two weeks ago that we would all be where we are now, with borders closed, city centers in lockdown, and many people facing uncertainty over their jobs and businesses?
Things are changing by the minute, and how long the situation will continue, we don't know. The daily norms of business, government, and education are all being disrupted; there are no precedents or models on which to base decisions. And as the coronavirus spreads, it presents challenges for everyone.
Clearly, it's only together, as a community, that we will be able to find solutions and fight it effectively. In this post, I'm going to share some of the steps we've taken at Indeed, and how we can learn from each other as we make the decisions needed to keep life and work moving as we negotiate this pandemic. More than ever, everyone's contribution matters.
Moving to 100% remote work
We first took steps on February 7th, within several hours of learning that an employee in Singapore was notified that someone in his family might have been exposed to the coronavirus. Out of an abundance of caution, we closed our two Singapore offices and asked all Singapore-based employees to work from home until the 24th. We also shared information about symptoms to look out for and established an email address for communications.
As the situation evolved, so did our response. Knowing that we're a global company and the risk of COVID-19 exposure only grows as people move from office to office, we at first asked specific employees to work from home, put limitations on business travel, and canceled all near-term Indeed-hosted events, then instructed employees in Sydney and Dublin to work from home. By March 3, when the coronavirus had begun to spread across the globe, we took a big step. We emailed all 10,000 employees and told them to work from home.
It was a difficult decision to make. We had no confirmed cases of COVID-19 among employees and recognized that it would be challenging to many teams and individuals who were not accustomed to working from home. It also required us to make quick yet complex decisions so that we could continue to conduct our business, and support job seekers and employers alike.
Yet we believed that it was the right thing to do; the safety and health of our employees was the driving factor in all the decisions we made about COVID-19. And since then, many other companies have joined us in having their employees work from home. In fact, more people are working remotely this week than they ever have before. Together, we are conducting a grand experiment in how to make this work on an enormous scale.
How we're supporting employees during this period 
Like everybody else, we are still learning how to do business in this new environment. Immediately we found ourselves faced with finding solutions to questions we had never considered before; such as how to change our IT support services from a largely in-person service to a completely virtual system overnight? How to make sure we had the infrastructure in place required to support the increase in virtual meetings? And then there were other questions of an incredibly simple but important nature, such as, who will pick up the mail while we're out?
Meanwhile we have put in place key practices to support our workforce. These include providing ongoing, open and transparent email updates on COVID-19 and supplying employees with access to our Employee Assistance Program should they feel anxious or isolated and need to talk to someone about their experience. Recently we have also started to offer reimbursable expenses for employees to use to create a comfortable work from home space.
As we navigate these challenges, Indeed will be sharing resources across our channels to help job seekers find work and employers to keep hiring. We have already launched a resource for job seekers, and we will be sharing many more resources and updates from our own experience in the hope that it can be helpful to other firms. Sure, we'll make mistakes along the way but the crucial thing is that we learn from them, and at a time like this, we can all learn from each other.
Read the full article on blog.indeed.com: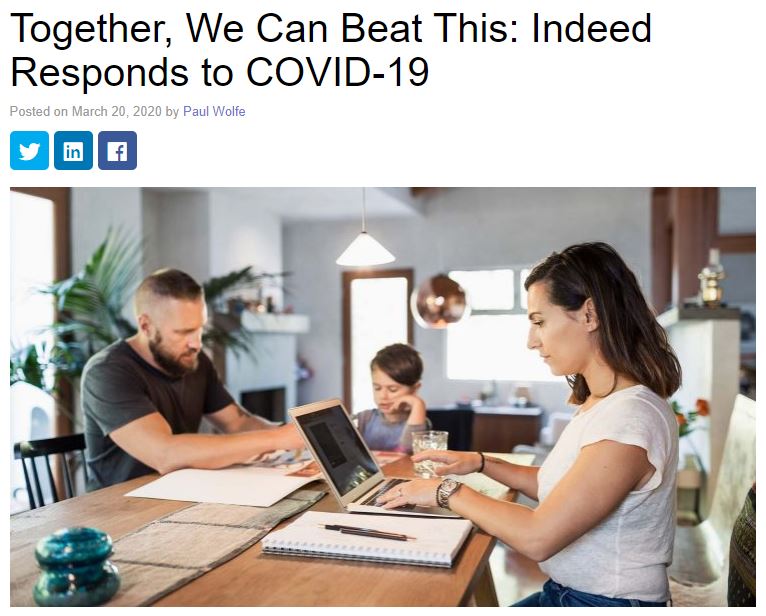 View additional resources for the COVID-19 crisis.
---
Authors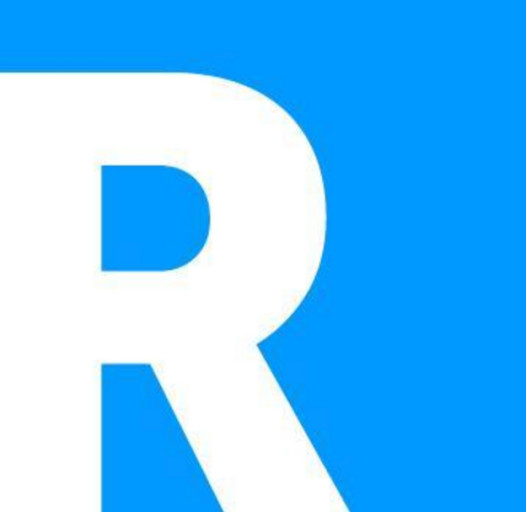 With the global threat of COVID-19, the virus has changed the business landscape. The Recruiting, Hiring, and Talent Acquisition space has changed along with it. In response, many tools and businesses have begun to offer resources that may assist your organization in adapting to these changes. We will be sharing articles, press releases, and resources that we hope you find as helpful as we do. We can all get through this trying time if we help each other. Please feel free to reach out to us at [email protected] with questions, comments, or resources of your own that you'd like to share. View all of our COVID-19 Resource posts    
Recruit Smarter
Weekly news and industry insights delivered straight to your inbox.