Job seeker behavior will continue to reflect the impact of a pandemic, war in Europe, economic whiplash and, well: everything else, according to new iCIMS research.
According to their newly published 2023 Workforce Report, one in three workers plan to look for a new job in 2023, but another third of workers plan to dig in with their current role, taking on more hours and responsibilities. The dichotomy in the workplace, constant upheaval and mixed messages are impacting the way people work and challenging organizations' ability to retain and grow their workforce.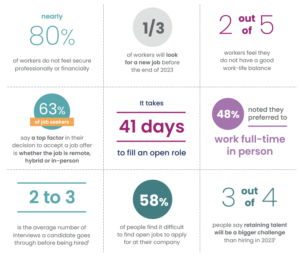 Remote Will Matter
It's important to remember that we're in the midst of major historic change. Economies, governments, coastlines and more are being eroded by multiple forces. This type of shifting makes any sort of forecasting challenging at best. That said: the data in the report makes sense (at least for now).
Elon Musk's "return to office or you will be exterminated by my Daleks" (or something along those lines), one thing is clear – we're not going back to the office the way we did in the past. Too many people are looking for hybrid or full-remote roles, and job seekers are at a significant advantage when it comes to bargaining power. In addition, Gen Z is very interested in hybrid/ virtual work.
Gen Z For The Win
Much of Gen Z has never known a workplace that wasn't flexible, and it looks like hybrid work is here to stay. It's popular overall, but young people are especially attached: workers 18 to 34 years old are 59% more willing to walk than older colleagues if it's taken away. With retention being a significant concern, that matters. And Gen Z hiring, especially recent grads, is clearly on employers' minds.
The National Association of Colleges and Employers (NACE) is reporting that employers plan to hire 14.7% more 2023 graduates compared to the class of 2022. Nearly half of employers surveyed think that the class of 2023 is entering a very good to excellent job market. This is a marked improvement from 2020, when one in four young workers lost their jobs, and graduates found themselves in a wild hiring market.
"Right now, we're seeing a market where there are abundant opportunities," Nicole Hall, director of career and professional development at the University of North Carolina at Greensboro, which works with undergrad and grad students, told Recode. Students, she said, are confident they'll be able to get jobs in the fields they want.
---
Authors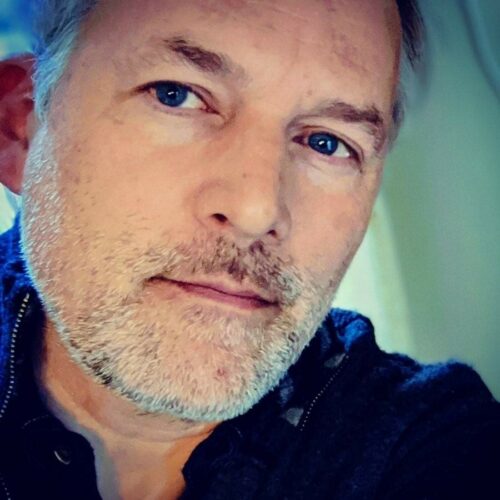 Martin Burns is a Managing Editor & Analyst for RecruitingDaily.com. Referred to as someone who's "kind of done it all in recruiting", Martin Burns is a talent acquisition practitioner as well as commentator. For the past three years, he has been reporting on and analyzing news that impacts the TA industry, first as founding Editor at Recruiting News Network, and now as Managing Editor of RecruitingDaily. Prior to this, his career has included leading, as well as consulting with, talent acquisition organizations for some of the world's most significant brands. He speaks at global conferences on talent acquisition, maintains an active presence in the global recruitment community, and generally has fun mucking around in the conversation the industry has in who it is, and where it's going. His industry-leading Facebook group "Talent Product Plays" is considered a must-join by practitioners and vendors alike.
Recruit Smarter
Weekly news and industry insights delivered straight to your inbox.