---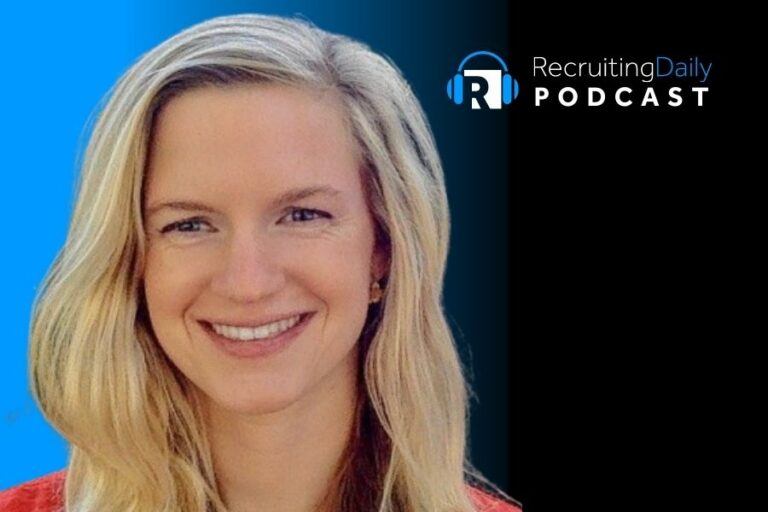 Guild: Using Education As A Game-Changing Recruiting Benefit With Allison Salisbury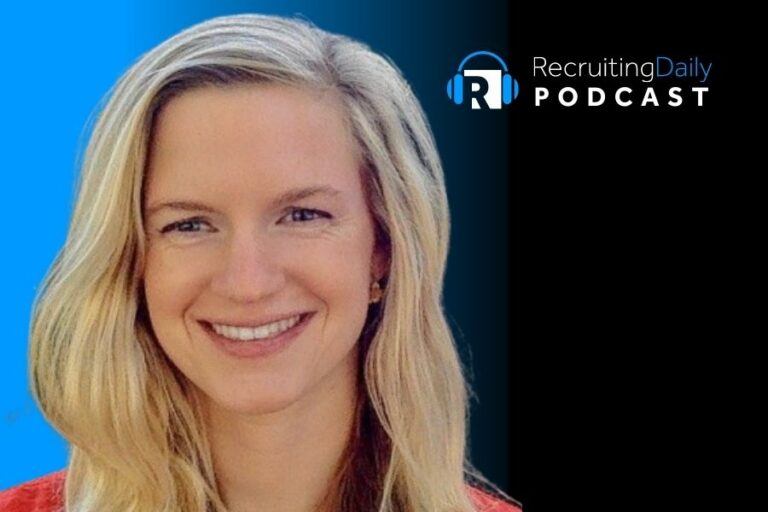 Welcome back to The RecruitingDaily Podcast! Allison Salisbury joins William Tincup to discuss using education as a game-changing recruiting benefit.
Allison is senior vice president at Guild Education, where she leads strategy and solutions teams that help Guild's employer partners reskill their workforce for the future. Tune in and let us know your thoughts in the comments!
Listening Time: 26 minutes
Enjoy the podcast?
Thanks for tuning in to this episode of The RecruitingDaily Podcast with William Tincup. Of course, comments are always welcome. Be sure to subscribe through your favorite platform.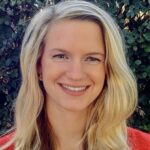 Allison Salisbury
Allison Salisbury has spent her entire career — as an educator, community organizer, entrepreneur, and strategy consultant — at the center of education and the future of work. She is a Senior Vice President at Guild Education, where she leads strategy and solutions teams that help Guild's employer partners reskill their workforce for the future.
Follow
Follow
Music:
This is RecruitingDaily's Recruiting Live podcast, where we look at the strategies behind the world's best talent acquisition teams. We talk recruiting, sourcing, and talent acquisition each week. We take one overcomplicated topic and break it down so that your three year old can understand it. Make sense? Are you ready to take your game to the next level? You're at the right spot. You're now entering the mind of a hustler. Here's your host, William Tincup.
William:
Ladies and gentlemen, this is William Tincup and you're listening to the Recruiting Daily podcast. Today we have Allison on from Guild and we'll be talking about using education as a game changing recruiting benefit. This is awesome. I can see this unfolding in a lot of really, really, really interesting ways. And I can't wait to talk to Allison about it. And so let's get started. Allison, would you do us a favor, the audience a favor and introduce yourself and Guild?
Allison:
Absolutely. Hi everyone. I'm Allison Salisbury. I lead our solutions team at Guild, and what that means is I work with all of our employer partners to help them design education and re-skilling initiatives at scale, in order to attract and retain and up-skill their workforce with a particular focus on their frontline workforce. And I've spent my whole career in education and around education and workforce issues, mostly focused on how do we create more opportunity for working adults through education and through skilling. So it's great to be here.
William:
So first of all, there's a lot of things to unpack. So education you're looking at, and you're thinking about education in really a broad way. Courses, you've used the words re-skilling and up-skilling. And so let's unpack a couple of those things. When you're working with employers and maybe they have, historically like we're going to reimburse you for your college credits or you're going to college, or if you get A's or, some monolithic kind of model, that's not going to get it done in today's market clearly. And that's not what the talent today needs. So kind of how do you, not how but when you're moving them over to kind of the array of things that they should offer to their both candidates to employees, what does that look like?
Allison:
Yeah, great question. I think it's really helpful to start with sort of the story of where this space has been historically, where we are now, what's changed and kind of where I think it's going. And so as you mentioned, the sort of old world way of doing this is tuition reimbursement programs. They typically sat within a benefits arm, they were typically only available or accessible to more of your white collar workforce, used primarily to go back to school to get an MBA or a master's degree. And then you basically pay out of pocket, you get reimbursed later and it's one of the perks of working for your employer. That started to change about five years or so, six years or so ago. We have been really working with a number of incredibly innovative employers to change the game around how we think about education as a benefit.
Allison:
And so that game started to change when we started thinking about how do we make education more accessible, available, and higher quality to our frontline workforce when historically it was only available to the corporate workforce. In order to do that, you have to crack a few things. You have to figure out how do you make sure that that frontline worker doesn't have to pay out of pocket and be reimbursed later, because guess what, most of them can't afford to do that. You also have to think categorically about the new kinds of learning experiences that we need to make available to them. That these are often workers who need English language learning, who haven't finished high school, they've likely not gone to college, or if they have gone to college, they probably have debt and no degree. The rates of dropout for low opportunity populations are pretty darn high.
Allison:
And so it really forces you to completely reimagine the education as a benefits space to be more accessible and more inclusive and more high impact for that frontline population. As a part of that happening, the Walmart's and Chipotle's and Disney's of the world who are really some of the first actors here, started to see how high ROI, that investment was. That for every dollar that they spent on education, especially in their frontline, they got about $2 and 84 cents back in return. And that was primarily because were seeing such a tremendous impact on retention. That people were staying so much longer in role because of this benefit that was offered and also on talent attraction. That people were saying that they were actually coming and joining that employer specifically because they had this benefit, they could take advantage of these education and skilling programs, oftentimes in a debt free way as a way of building their skills and building their career and moving out of that frontline role and into a new role.
Allison:
That brings us into where we are today. And I think the biggest shift that story is that we're also seeing employers starting to say, this isn't just a benefit for talent attraction and talent retention. This is also a strategic investment we're making in the future of our workforce, that we have these critical skill shortages at every level within our organization, particularly roles that start with digital or end in manager. And we can't hire the talent we need to fill these gaps. And so we need to actually start building that talent from within and what better place to look than our frontline workforce who are really hungry for these learning opportunities. And so that brings us into the future where it's not only about retention, it's not only about attraction. It's also about re-skilling our frontline workforce to actually fill those critical talent gaps from within.
William:
So I love that. And I believe that again, five, six years ago, you could post a job at Taco Bell let's say, and a couple thousand people would apply to it. And so you had a surplus. And so you might not need to, you might not be thinking about some of these things. Now you see a "help wanted" sign pretty much everywhere you go. So what you alluded to both in the now and in the future, it becomes a competitive advantage and thusly the investment is in the individual to make them better, yeah for the attraction and retention, which is stated and covered, but also so that essentially you're harvesting your talent instead of casting outward and thinking about how do we attract 5,000 applicants to this job or whatever it looks like, how do we promote from within, how do we do that?
William:
Well, they have to have the skills, you can have the intent or you can have the desire, but the folks have to have skills, which leads me to two questions. One is what are you seeing from candidates in terms of what specifically skills do they desire? That's kind of a big, broad array I get that. But just what are you kind of seeing? And the second question is who owns this internally? Is it the old kind of training and development, learning and development, is it benefits and benefits management. Is it something new, HR operations, who owns up-skilling?
Allison:
Yeah. I'll start with the second one first.
William:
Sure.
Allison:
And that's, it completely depends and often it's not a single individual. We certainly only have seen sort of innovative benefits and total rewards leaders that champion this across the enterprise and say, we have an opportunity to do something categorically better, higher impact for us and higher impact for our workers oftentimes with a similar, or maybe only slightly bigger budget than we're currently spending on reimbursement and not seeing any ROI on it. So it can certainly be sort of an innovative benefits leader. It can also be an L and D leader who has sort of a purview across the enterprise who says, how do we really think about re-skilling into those hard-to-fill roles of internal talent? It can also be talent attraction leaders who are raising the alarm, that they cannot meet the requirements that they've been asked to meet around filling these roles and that they need a different approach. They need a different employee value proposition, employee brand in order to attract the talent that they want into the roles.
Allison:
There's a really interesting Wall Street Journal article around the study that Amazon commissioned Gallup to do that was out last week on sort of how deeply employees value up-skilling and Ardine Williams who's the VP of workforce at Amazon had a great quote that said, "career progression is the new minimum wage." That increasingly the frontline wages are being commoditized. And the way in which an employer differentiates why come work for me is by saying, come and work for us, get a paycheck while you're gaining the skills and the credentials you need to launch your career in a wholy new and different way either with us or at another employer after you're done your education.
Allison:
And I thought that was a really compelling framing that really, I think speaks to some of the things that our talent attraction leaders are thinking about around how they differentiate their employer brand in this sort of incredible war for talent moment. And so that's all to say, it can come from any of those places. We've also seen it come from the business unit leaders themselves, those who run 5,000 people, central services facilities, or stores who are desperately looking for new ways of attracting, retaining and skilling talent who maybe go to their HR business partner and they say, "Please, can you help me think about a new way of doing this?" And then more times than not, we actually work with a coalition of those leaders who come together and say, this challenge is bigger than any one of us. And so how do we actually form a group and go after it together at an enterprise level?
Allison:
And those are the companies that we see be most successful is when you actually have a coalition of cross-functional, very senior leaders all rowing together around how they solve this problem in the near term and how they build capacity to solve it over time in the long term. So that's the second question that you asked, which is who does this live under?
William:
Right.
Allison:
Who does this? Usually there's a catalyzer. Usually there's somebody and you know it when you see it, they have fire in their belly to do something different for their business and do something different from their workers. And then they go and they to get their other senior peers rallied around a common vision and they go do something big. And oftentimes we see this is all the way up to the CEO and board level that when our partners launch with Guild, it's often their CEO on national news talking about it. And so it really is quite a large enterprise commitment.
William:
Yeah. I've seen what, and I'm glad you referenced the study. I've also seen the folks that are historically kind of in workforce planning that look five years out, 10 years out, and they're looking at the skills, they see the skills gap. I've seen those folks, especially over the last couple of years, raise the flag, like, okay, the walls right in front of us.
Allison:
Exactly. Yeah. Their eyeballs get big.
William:
Yeah.
Allison:
The other stakeholder that's become incredibly influential within our work has been the diversity, equity, inclusion leaders.
William:
Yeah.
Allison:
And I think that the ones that we have been working with, what they're saying is we can't just go and basically fight for the same populations that other employers are fighting for because that's a zero sum game. When you actually, and then they start to look at their own workforce and they start to see the incredible diversity within their frontline ranks. And they start to think about what would it actually look like for us to help them gain the new skills and the credentials that they need to advance their career. So we actually build those diverse pipelines from within and create net new opportunity for America's workforce as a result, and really be a part of the systems change effort.
Allison:
And that is a very powerful, powerful approach. And we're seeing it work. And so we're seeing, for example, a Black worker enrolled in a Guild program is two or three X more likely to be promoted than one not. And so it really is a pretty efficacious and pretty quantifiable sort of solution in order to create opportunity for Black and Brown workers. The other thing that we're seeing where we're seeing DEI leaders show up is as they do scans across their benefits and say, how equitable are our benefits to our workers? What they're finding is they often are spending probably more money than they think they're spending on traditional college tuition reimbursement to those master's degrees, those MBAs, et cetera. And they're primarily going to their high earners, because those are the ones that can afford to pay out of pocket and be reimbursed later.
William:
Right.
Allison:
They're primarily going to men and they're primarily going to people who are white. And then they're saying, well, what is it about the design of this benefit that is categorically preventing our lower wage earners, our people of color and our women from participating? And that's what gets them thinking things like how do we make sure that they don't have to pay out of pocket and be reimbursed later? How do we make sure that the learning providers they have access to are built for them? So we're working with a lot of historically Black universities as one example, to make sure that those programs are available to the workforce. And so they're really taking a pretty systemic look at all their benefits and the equitable approach for all their benefits. And then they're seeing that this one really pops as one that's not equitable. And they start to take steps to think about how they make it otherwise.
William:
I love, first of all, I love everything you're saying. It makes sense. So the question that I asked about candidates, really what I'm trying to drive at is, and when I did a bunch of millennial research a few years ago, one of the questions that they asked in the interview process was how are you going to make me better. Phraseology could be a bit different, but they came to the table, in your first interview, they came to the table expecting that the company was going to make them better, which I think was fascinating. And I think it was absolutely appropriate. A lot of recruiters didn't know how to answer the question of course. So fast forward a couple years, what are you seeing that candidates, it's table stakes, they just expect employers to skill them up in these areas?
Allison:
Yeah. And that trend has accelerated faster than I ever thought imaginable.
William:
Yeah. Yeah.
Allison:
And so one of the things that I think is the silver lining of the last year and a half that we went through together with this pandemic is it created this sort of great awakening in society. This great reassessment, I believe, is what some people have called it, where people are really thinking about what matters to them, who do they want to be and how do they get there faster? And so we see record, record interest in returning to education for our adult populations, because they have decided they want to be something different. And you'll even hear on the New York Times daily podcast, for example, they did a one of these sessions a few weeks ago where they have workers saying, "For the first time in my life, I don't have bags under my eyes because I'm not on my feet for 15 hours a day in a hot kitchen. And I've decided I don't want to go back to that again.And so I want to make something, I want to make something different of my life and so I'm going to go back to school, I'm going to figure that out."
Allison:
And so you really do see this great reassessment of work and that's why you see from a talent attraction perspective, these education up-skilling programs being such a differentiator because people say, okay, I can go back to that job and I can go do that job for a few more years. If I know that that job is then going to pay for me to gain the skills and credentials I need to move into something different. So that then gets to your core question which is what is it they want, what are the new skills and credentials they want? What are the jobs that they are looking for?
Allison:
And I think it's a fascinating question. The answer is for the most part, they don't know. And I think this is one of the tragedies of the commons in our society right now is around career navigation and guidance. And so this is, I'm sitting in San Francisco right now. And when I think about there's basically, if I wanted to say, I want a new job, I want to become an IT support specialist. How do I do that? And then I also asked a completely different question, which is like, I'm hungry. I want a great meal. How do I find the best meal based on my preferences and my interests on the second question, there'd be a whole ecosystem of apps and discovery services to help me navigate to and purchase the best meal for exactly my preferences. There is absolutely nothing, no infrastructure, no discovery tools, no review systems to help me find the best educational program to help me change jobs.
Allison:
You go and you put it into Google and what, whoever has paid the most to show up above the fold is the one you click on. And those are mostly for profit predatory colleges that have low quality programs that aren't aligned with careers and that is incredibly tragic. And so a big thing that we're investing in and that I believe many other groups are also thinking about and should be thinking about is how do you actually help, especially your lower opportunity adult populations, those who were born into families where everyone that they know works within frontline jobs. How do you help them even understand what are the jobs that are out there and not just understand what they are, but believe that they can become those things. There's this sort of belief and competence or what I would call occupational identity, what you believe you can be, that's an incredibly important part of this career to navigation journey.
Allison:
Someone doesn't just wake up one day when you're a cashier at Walmart and decide you want to be a pharm tech, right? There's actually this whole process that's deeply human and very emotional that is around discovering what you want to be, and then believing you have what it takes to pursue it. And so that's why our organization, we take an approach where we have close to 400 full-time coaches at this point that will work hand in hand with workers as they're discerning, what do I want to become? What skills and credentials do I need to become that thing? And how long will it take me and then, and support them through that process and being successful.
William:
So you've been around long enough that you've heard kind of the historical argument against training. If we train them and they leave. What if we have invest in them and they leave, what have we gotten for that? Well, fast forward, thank God that those, I think those conversations are minimal if they still exist at all, but you probably still have some people that have some reluctance to make the investment. Let's do two things before we roll out, one is how do you deal with reluctance when you interact with folks that maybe don't see the full picture? And then lastly, your favorite customer story. Without naming names.
Allison:
Yeah. How do I deal with reluctance? So the reality is is every employer in this country today has a critical, critical pain as it relates to human capital, whether it's attracting, retention, whether it's hard-to-fill roles. And so really it's around bringing them back to what is the problem you're trying to solve, and then walking them through what at this point is incredibly robust, third party validated data on the efficacy of investing, not only in education as a benefit, but investing broadly in programs to up-skill and re-skill your workers for the jobs of tomorrow. And so I really like to go back to, while every employer has shared pain, I like to go back to what is the unique challenge that you are facing in the context of your business and your industry and your geography, and then how do we support a data driven case around the value you're going to get by investing in your workforce in the following ways?
Allison:
And I tend to find that that works more oftentimes than not. We like to talk about there's hearts and minds and Guild is a benefit corporation, which means we're here to certainly make money and to grow, but also here to have a big impact on opportunity in this country. And we see those two things as incredibly interlocked. And we like when our employers do as well. We like when they see the business case, we're investing in this because it's high ROI for our business in a very quantitative dollars and cents way. And we're also doing it because it's the right thing for our workers, and it's going to help change the face of opportunity in this country. And so I do think the data driven case is the thing that gets people over the line when they're reluctant. But I also like to make sure that we keep it human and we make sure it's very clear that the lives that they're changing as a result of investing in their business.
William:
Love it. Favorite customer survey, customer story.
Allison:
Favorite customer story
William:
Without naming names. You don't have to do that. Just something that you're really inspired by. I mean, you've already given people so many tidbits and great notes on why this makes sense and how they can actually put it into play. Just something that you really, you look at it and you're like, wow, that's really cool.
Allison:
Yeah. So I have so many, I don't even know where to start, but my whole career has been around creating opportunity for working adults through education. And it is a much harder thing than it sounds, none of our education systems at any level we're really built for lower opportunity learners. And I generally believe we are failing lower opportunity learners at every stage of our education system. And so when I see employers being able to step up and create tension in the system to say, we actually need something categorically different from our colleges and our universities and our training providers. We need you to serve the frontline. We need you to do it with high quality outcomes, and we're going to be watching. If it's not high quality, we're not going to partner with you anymore.
Allison:
And so the sort of the pressure that employers collectively now are putting on the broader education ecosystem to get better, to improve and to improve for low opportunity adults, that's the story that keeps me coming back and doing this work because that doesn't just change then the lives of people who work for these companies, it changes the lives of any learners going to those educational institutions across our country. And so that's not one customer story. It's more a story around how this work is helping drive and incentivize an entire ecosystem of higher education to be more student centric. And I think it's a pretty amazing story to be watching.
William:
Oh yeah, it's changing lives and families and trajectories. And again, I love the way that you tied inclusion and equity, equality back into this. Again, it's the right thing to do, but there's also a bunch of other reasons to do it. So Allison, thank you so much for your time today.
Allison:
Thank you for having me. It was a pleasure.
William:
Absolutely. And thanks for everyone listening to the Recruiting Daily podcast until next time.
Music:
You've been listening to the Recruiting Live podcast by RecruitingDaily. Check out the latest industry podcast, webinars, articles, and news at recruitingdaily.com.
---
Authors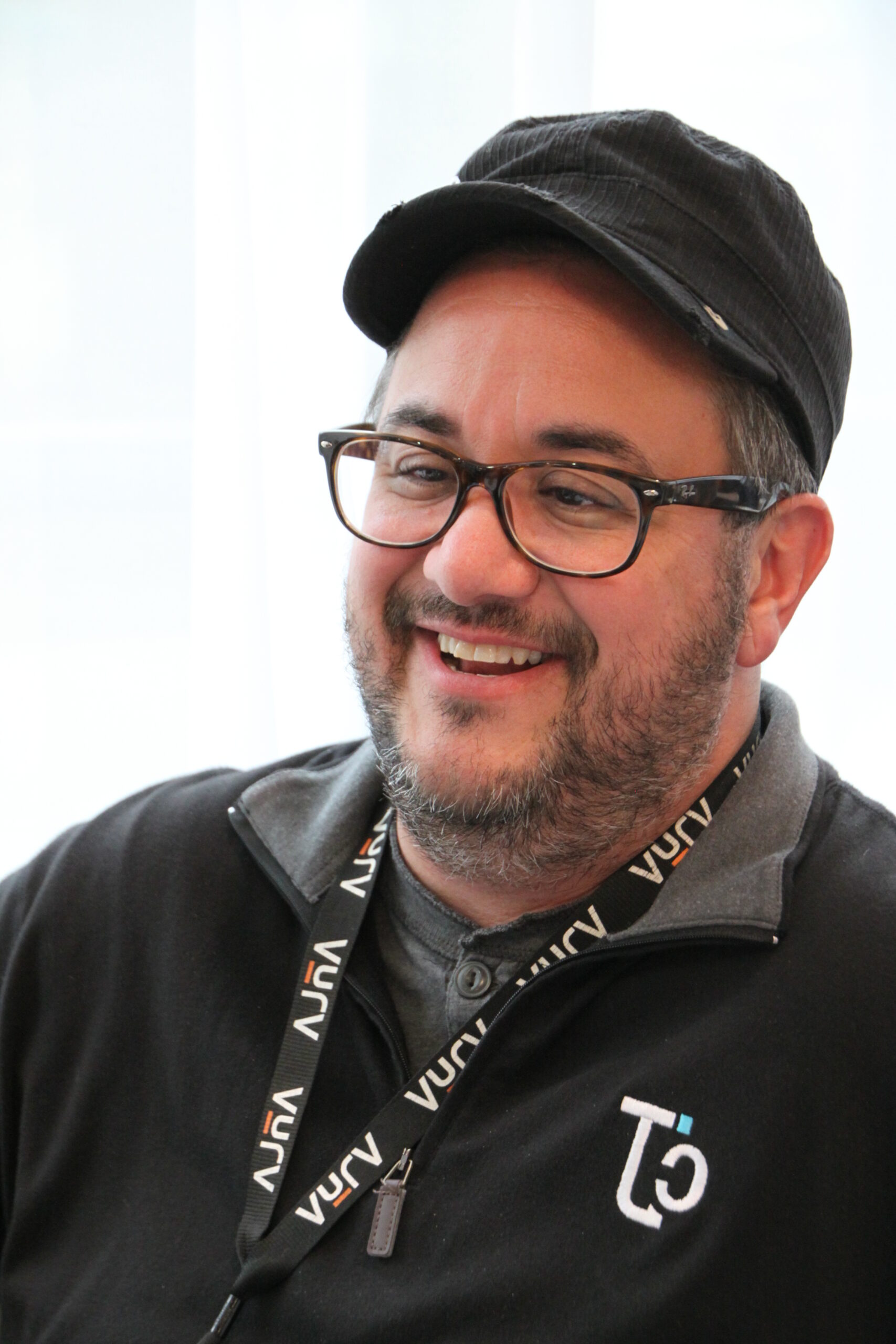 William Tincup
William is the President & Editor-at-Large of RecruitingDaily. At the intersection of HR and technology, he's a writer, speaker, advisor, consultant, investor, storyteller & teacher. He's been writing about HR and Recruiting related issues for longer than he cares to disclose. William serves on the Board of Advisors / Board of Directors for 20+ HR technology startups. William is a graduate of the University of Alabama at Birmingham with a BA in Art History. He also earned an MA in American Indian Studies from the University of Arizona and an MBA from Case Western Reserve University.
---