---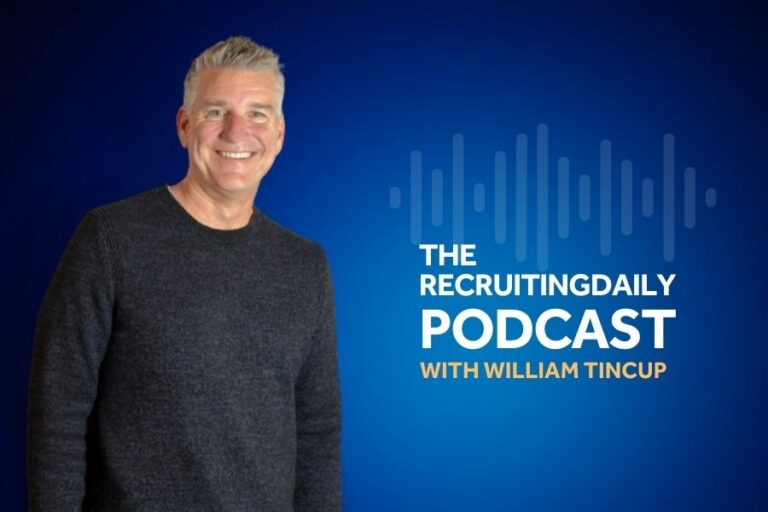 LumApps – Employees Prefer Video to Text-Based Content With Chris McLaughlin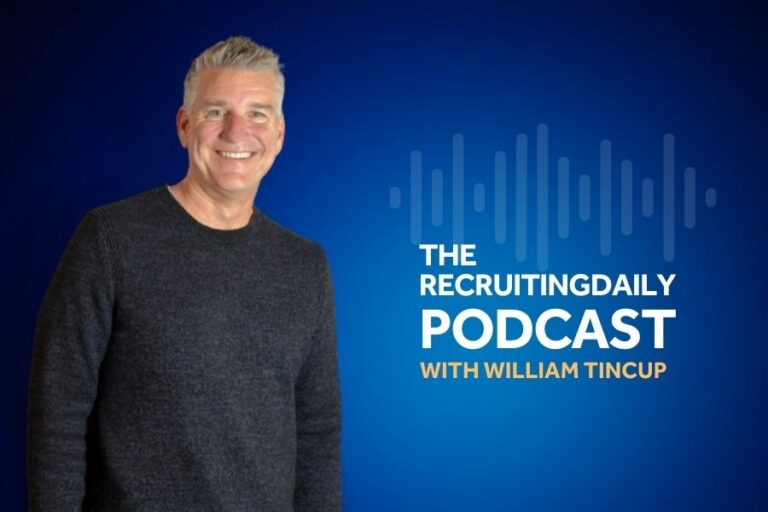 On today's episode of the RecruitingDaily Podcast, William Tincup talks to Chris from LumApps about the difference between video and text-based content and why there's a preference when it comes to employees.
Some Conversation Highlights:
Listening time: 24 minutes
Enjoy the podcast?
Thanks for tuning in to this episode of The RecruitingDaily Podcast with William Tincup. Be sure to subscribe through your favorite platform.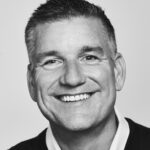 Chris McLaughlin
Chris McLaughlin is LumApps' chief marketing officer and is primarily responsible for defining and executing LumApps' global go-to-market and product strategies. He has over 20 years of experience in enterprise software with both growth-stage and large, global software organizations. Before joining LumApps, Chris served as Nuxeo's Chief Product & Marketing Officer. He was instrumental in helping the company grow its revenues by over 500% during his tenure and accomplishing a successful exit through the acquisition by Hyland Software
Follow
Music: 00:00 This is RecruitingDaily's recruiting live podcast, where we look at the strategies behind the world's best talent acquisition teams. We talk recruiting, sourcing, and talent acquisition. Each week, we take one overcomplicated topic and break it down so that your three year old can understand it. Make sense? Are you ready to take your game to the next level? You're at the right spot. You're now entering the mind of a hustler. Here's your host, William Tincup.
William Tincup: 00:31 Ladies and gentlemen, this William Tincup, and you are listening to RecruitingDaily podcast. Today, we have Chris on from LumApps. And our topic today is employees prefer video to text-based content. So we'll be talking about the difference between the two mediums, if you will, and why there's a preference over one over the other. So Chris, would you do us a favor and introduce both yourself and LumApps?
Chris McLaughli…: 00:57 Sure. Be happy to. So first, thanks for having me here today. And then, second let's start with LumApps. LumApps is an employee experience platform. So what we really focus on is helping organizations with their overall employee experience, how they engage with employees, enable employees and ultimately empower them with the longer term goal of how do we keep employees around, how do we keep them happy and make them as productive as possible. And I think critical to our conversation today, one of the key elements of that is video. And then, for LumApps, I am the chief marketing officer and I wear two hats in the organization. So first, obviously, the marketing piece, but second, also the product management piece. So I like to say I have the best job in the company in terms of being able to drive both product strategy and go to market strategy.
William Tincup: 01:51 First of all, that's brilliant because you get to see it on both sides. You get to see what's working in marketing and sales on that side, what's working with prospects and customers. And then, you get to see with product, you get to see what's working with customers. So it's not unusual, it's just not often done. And I like this setup.
Chris McLaughli…: 02:16 Just super critical to keep your product strategy in sync with what we're seeing from a customer demand perspective, but also making sure that you're staying out in front. So we try to keep it more market facing than just specific to customer demand and really try to stay on the front foot as far as long term strategy for the space and where we really think things are going particularly now, because it's evolving so quickly.
William Tincup: 02:49 And pronounced LumApps. And I did "Lum" like some, but I would assume it comes from a illumination or where does…?
Chris McLaughli…: 02:57 Exactly. Okay. So you nailed it just in terms of bringing greater illumination to the employee experience.
William Tincup: 03:05 Well-branded, well done, well executed. So I love that you're focused on the employee ex, what a lot of folks have now starting to call ex employee experience and with the goal of retention in mind. So some of this is going to be the experience is engagement related. We want people to be engaged. Got it covered. But ultimately, you're probably graded on what is our ability to actually retain our top talent.
Chris McLaughli…: 03:36 Kind of twofold, right? One, retain it. And then, two, attract it.
William Tincup: 03:39 Well, both are difficult in today's current market. I don't think one's worse than the other or one's harder than the other, but they're both pretty tough.
Chris McLaughli…: 03:50 Two sides of the same coin is what we like to look at it. And I think what we're really seeing right now is organizations that are recognizing particularly, if I can't rely on that in office experience to reinforce my culture and drive employee engagement and their sense of belonging at the organization, I've got to think about it digitally. And what we're seeing now is forward thinking organizations, a real focus on how do I make that digitally experience. One that makes me stand out in the marketplace, makes my employees happy, even if they're in remote or hybrid environments. And like we talked about, ultimately, makes the organization more attractive for top talent, both in terms of bringing it to the company and then, keeping it there.
William Tincup: 04:41 I love this. So text-based content, I'm assuming is email and text and slack and things like that. And video is what we think of as video, right?
Chris McLaughli…: 04:57 And really what we're thinking about is multimedia. So it could be a conversation like this as well, too.
William Tincup: 05:02 So what are you seeing in terms of like, we'll deal with the employee side of things first. What are they engaged by if it's video content, is there something that's more engaging than others in terms of what types of video?
Chris McLaughli…: 05:23 So first and foremost, we think about it from the standpoint of a lot of organizations make use of things like YouTube and even email to distribute videos. So one, we want to make it super easy for people to distribute video. And we see it from the standpoint of one, you've got top down corporate communications. We talked about that engagement piece. And the key part of that is just kind of alignment. And organizations really rethinking how they communicate with employees. So yes, email was a part of that. And we think about text-based newsletters, part of that, some of the things we do on our own platform in terms of core content management internet, how do we put up articles and other communications in that environment, but what we're finding and what started our conversation, some of the survey results is that one, you've got a segment of employees who quite frankly, are more likely to engage with video.
They are certainly more likely to retain content that is in video. And that could be top down corporate communications, but also increasingly what are we seeing? We're seeing people using video for training and enablement. We're seeing people using video for knowledge sharing. We're starting to see the same behavior that you see from a social media standpoint, in a corporate setting. So, "Hey, I work in a storefront and maybe I have a new pitch about a new product. How do I share that with other people?" Well, probably the easiest way is to record that on a video and post it up internally and make it easy for other people in other store locations to access that view that and learn from that. So really, if you think about Instagram and TikTok and other ways that a certain generation of employees shares information, same thing in the digital workplace.
William Tincup: 07:30 I love this. So I was going to ask you about generational. Does it track that way that I'll just say younger generations prefer certain type of content, older generations prefer a different type of content or is generations it's just not, as on the corporate side, it just doesn't shake out that way?
Chris McLaughli…: 07:53 I hate categorizing different generations. One thing I can ensure you is that blanket statements are wrong hundred percent. But I think generationally in terms of how millennials and particularly, Gen Z engage with video and use video is fundamentally different. And it is certainly creating workplace trends in terms of how they share information, how they consume information. And so all of this, it's not a statement of saying, "Hey, video replaces text-based communications", because it doesn't. And multimedia isn't necessarily the right tool for every generation or even every employee in a particular generation. I think it's just, as we look at that arsenal of how do we communicate with employees? How do we get information to them? How do we get them to engage with different things? Ultimately, it comes down to, and certainly something that we're thinking about from an employee experience standpoint is how do we treat every employee like an individual and recognize their preferred channel, recognize how they like to receive information, consume information. And perhaps even where we see the greatest degree of retention with regard to that information.
William Tincup: 09:17 [crosstalk 00:09:17].
Chris McLaughli…: 09:16 Sorry. I was just going to say, I also think you can start thinking about on what device do people consume information. And then, is certain types of communications better for certain channels? So if I've got storefront factory floor, healthcare workers, for example, who are primarily mobile, do I really want to send them a long text-based communication on a mobile device? Probably not. In that circumstance, do I want to think about maybe a short video? Probably. So we can also start to associate different communication mediums with different channels as well too.
William Tincup: 09:55 I love this. So what have we learned through the pandemic? Because on Tuesday we all went home and went remote. It felt like that at least. Boom, now everybody's remote. So what did you see from a platform perspective in terms of people's consumption and their needs and their desires? I know we reevaluated life, but did you see different things from a content perspective?
Chris McLaughli…: 10:21 So first thing we learned is that most organizations hadn't really thought out how to engage with their employees digitally. And to begin with, I think for a lot of companies and I'm talking to hear more about in-office workers who are used to coming in many of whom may not even have had mobile devices or laptops. They were used to working on desktops in the office. And so there was a phase of, "Hey, just how do we get these people connected? What equipment do we need to give them on all sorts of stuff long time ago." And then, we began to realize, "Hey, we're really not doing a good job of communicating with these employees." And then, we began to think about things like productivity. And are we giving them the right tools in the right place? And we certainly saw a lot of employees struggling with what we call context switching.
Which is just, "Hey, I got to go here to get this piece of information so I can go there to complete a certain task and activity and then, go back here to communicate with other people about it." And I spend my time switching between so many different applications and it is not a good or productive employee experience. And then, more recently, we were talking earlier about this concept of culture as a competitive differentiator. Again, don't want to make this generational. I just think we've got a segment of employees nowadays that is very interested in topics that aren't directly work-related. And they want to think about how they find purpose at work, what different social initiatives and activities can they get involved with? What communities can they participate in? And back to that sense of belonging as an employee for an organization.
So when we start really thinking about longer term, what does culture mean for employees? It's got to be more than just, "Hey, this is a place where I work", but how do I really get engaged with my peers, with other people inside the organization? And perhaps also, how do I get involved in activities and initiatives that are bigger than just getting work done? So throughout all of that, what we're finding and really core part of the conversation is there are different mediums and different ways of communicating across all of those different things that where we see video, where we see alternative forms of communication, rather than just emails and newsletters being super valuable in building that sense of culture, community, and belonging.
William Tincup: 13:09 Because you're dealing with companies all across the strata, people that are doing work all in the office hybrid or some form of hybrid or all remote forever. Let's just say there's a spectrum of all those different types of work styles, if you will. Where have you seen content being consumed? What I'm trying to unpack is do remote employees prefer certain types of things hybrid employees, or you seeing more employees because there's trying to reestablish culture because culture pre-COVID was the box. It was the office. At least that's what most people thought of as culture. And so a lot of leaders are reexamining that and a lot of employees are helping them reexamine that. So I'm wondering about again, consumption, what you're seeing that works with within those again, polar opposite models of work. So all everybody's in the office. No one's in the office because there is no office or some type of variation in the middle.
Chris McLaughli…: 14:19 And here's the other thing that we don't acknowledge enough. We have this category of employee that we refer to as a frontline employee. And I think it's a tough term particularly because it means something specific here in the U.S. But if you think about in-store employees, you think about shop floor employees, if you think about field technicians. So we had this whole thing where, and a great conversation about, "Hey, we had people who used to come in the office every single day and now they no longer come into the office and how did the world change and how did they go digital and all these different things." But what we kind of forgotten that conversation. And I think it's super critical is during this whole time, maybe for a period of time, we had to shut down storefronts, but healthcare workers, field technicians, there was a whole class of employee that was still going to work, had to be in a storefront location or in a hospital or in a manufacturing plant.
And also, is a group of employees that has never really benefited from if we want to say previous generations of technologies are intranets. Intranets were really designed around office workers and central sources of knowledge and really weren't designed to engage and involve and empower these frontline employees. So here's fundamentally what we see and if we look at the consumer purchase process. And particularly now, we may have in-store experiences, we certainly have online digital experiences. And so on that consumer commercial side, what different retailers and online sellers have really focused on is how do we enable this seamless experience between online and in store and things of that nature and how do we avoid having a fractal experience between two of these things. And I think the same…
William Tincup: 16:30 I was going to ask you about that. It's really interesting, because that's actually where I was going to go next. Just your take on again, we think we have pay equity issues now. We're going to wake up five years from now and see real pay inequity issues, because we're going to be paying people in the office differently than we pay people that are remote. And that's going to be just crazy to think about, but that's already happening in comp and the comp professionals are pulling their hair out because of it, because they're trying to actually lessen the gap, not widen the gap in pay equity. But you get to see it from a different perspective. You get to see it from a content perspective and a consumption because of the platform. You get to see what people are interacting with. So I would assume you're working with HR most of the time or employee communications?
Chris McLaughli…: 17:26 Well, three groups, HR, comms, and IT.
William Tincup: 17:30 Okay. And so, with those groups, we'll just deal with the HR, an employee or comms folks in particular, how are they navigating the different types of employees and what they need? How are they trying to figure out what works? What should they try or experiment with? You're a marketer, so you know what experimentation's like? Right. How do they figure that out? Because it seems math, real hard math. So how do they figuring that out?
Chris McLaughli…: 18:04 Well, it is certainly data and analytics. And what I mean by that is that we really… And what I was hitting on earlier, we need to borrow a couple of pages from how really advanced retailers engage with their customers. And we think about all the technologies there. So what we're seeing is organizations that are starting to think about, "Hey, one, I need data to really be able to segment and understand that I have different groups of employees who have different needs and requirements and perhaps even individuals." So I need to communicate with them in a very personalized fashion. Two, I need to think about communications as more than just one off events. I might have a campaign, I might have on the HR side, we talk all the time with HR professionals about things like journeys.
So not just, how do I communicate with them, share information with them, but how do I enable them in a very seamless and easy way to take action? Because usually from an HR standpoint, I want them to do something. And then, lastly, what we really want to be able to do is then feed data and analytics back to communications professionals, HR professionals, to say, "Hey, look, here's a campaign for example, that you've designed. Here's how people are interacting with it. Here's what they're consuming. Here's what they're not consuming. Here's where you're having an impact." And also look at the outcomes you're driving. Are people doing the things that you want them to do based on the communications and different journeys that you're sending out to them? And I think if we become much more personalized, recognize that employees, aren't just a body of people, much more intelligent about how we communicate to those different segments. And then, if we are constantly testing and improving, we can provide a much better employee experience.
William Tincup: 19:59 I love this, but the last thing I want to unpack with you is what's the reticence? What's holding people back? Because again, you're doing what's to change. And you're asking folks, rightfully so, you're asking them to put content and give employees to put content into a place. And there's vulnerability there. Because some of that's going to be business-related, some it's going to be personal-related and which is good because that's what employees want. But I can see from an HR perspective, I can see them being terrified of this on some level, especially older folks in HR, maybe that are used to the employee assistance program or the internet, something like that, where they just post and then, that's it, there's no interaction. It's just the PDF's there. Good, find it. Look for it and find it yourself. So what do you see from a marketer even on the sales side, what do you see as the objection response part that's there for… And again, you have three folks that you're you're dealing with, so it probably might be different for those different folks.
Chris McLaughli…: 21:10 Well, it is certainly different for those different folks because they have different challenges and responsibilities. And I think fundamentally, first and foremost, it's about getting organizations at a leadership level to recognize that they need to think about their employees differently. They attract and retain them. And I think that market conditions that you referenced earlier, totally helping with that argument. Increased competition for resources, increased cost of resources. And I think it's really driven home the point that it is far more efficient to retain an employee than to replace an employee regardless of what role they play in the organization. So there's some of that. I think the second piece is, we used to do all this stuff through broadcast. It was just, "Hey look, here's the latest update from the CEO. We push it out to everybody and it's pretty simple and straightforward." And maybe we'll work with him or her on how we present that information. Or maybe we even begin to use video and stuff like that. But I think where people get concerned is, "Hey, there's a lot of complexity here."
Same thing on the marketing side when we went from advertising to suddenly doing very personalized campaigns. We've got a segment. We've got to understand different groups differently. We've got to be able to then build different journeys and communications for them and things like that. And so, I think it's a big shift and it requires investment. It requires new skills and a new way of thinking about how we engage with employees and communicate with employees. And so all those things have to come together all under that umbrella of, "Hey, this is really important. Here's why." And by the way, when we go through and we look at ROI, number one is always retention. The downstream firm retention. Avoided cost of higher, avoided cost of onboarding, avoided cost of training skills, development, loss, productivity. The impact is massive just in terms of saving one individual in the organization. And then, when you're dealing with very large retailers who have 20%+, that impact gets multiplied significantly.
William Tincup: 23:34 Drops mic. Walks off stage. Chris, thank you so much. This has been wonderful and eye opening. And I love that you started with leadership and getting their minds to change. And I think you're right, the market is helping them because if the market worked the way the candidate-driven market, employee-driven market, if it weren't that way, they probably wouldn't change as fast. They still change. We'd still see this change no doubt, where we do care more about the candidate experience and the employee experience, but it would just take longer. It would take years. And now I think those conversations are easier because they're seeing people leave and they're also seeing Rex stay open longer because it's harder to fill. So I love that we talked about this. Thank you so much for carving out time for us.
Chris McLaughli…: 24:24 My pleasure. Thanks for having me.
William Tincup: 24:25 Absolutely. And thanks for everyone listening to the RecruitingDaily podcast until next time.
Music: 24:30 You've been listening to the recruiting live podcast by RecruitingDaily. Check out the latest industry podcast, webinars, articles, and news at recruitingdaily.com.
---
Authors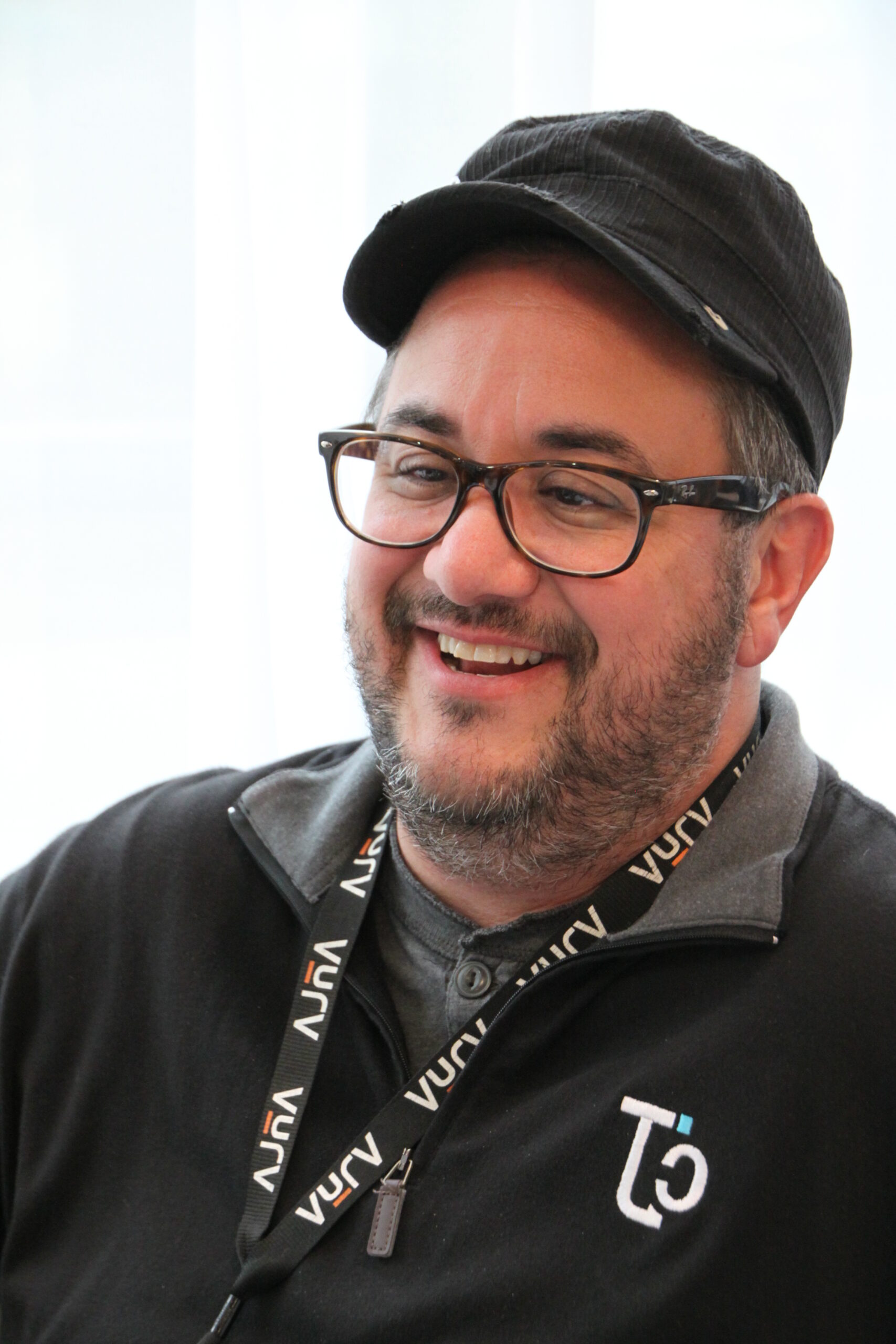 William Tincup
William is the President & Editor-at-Large of RecruitingDaily. At the intersection of HR and technology, he's a writer, speaker, advisor, consultant, investor, storyteller & teacher. He's been writing about HR and Recruiting related issues for longer than he cares to disclose. William serves on the Board of Advisors / Board of Directors for 20+ HR technology startups. William is a graduate of the University of Alabama at Birmingham with a BA in Art History. He also earned an MA in American Indian Studies from the University of Arizona and an MBA from Case Western Reserve University.
---