---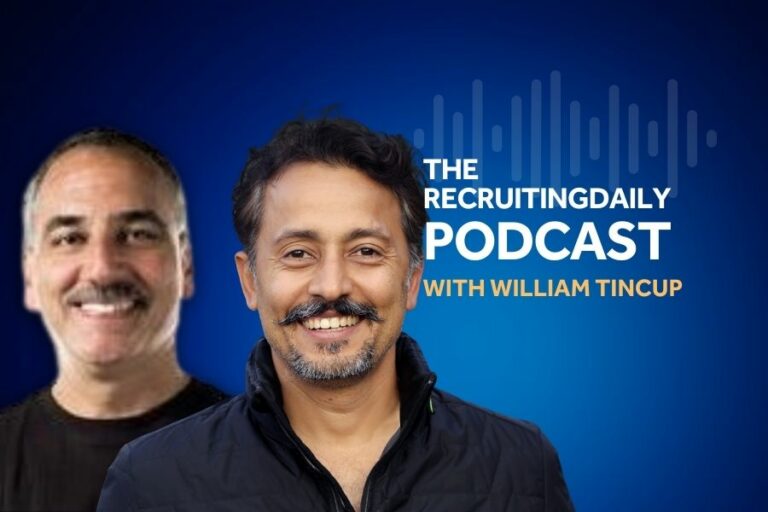 Joveo – Pointing Fingers At Point Solutions With Kshitij Jain And Doug Shonrock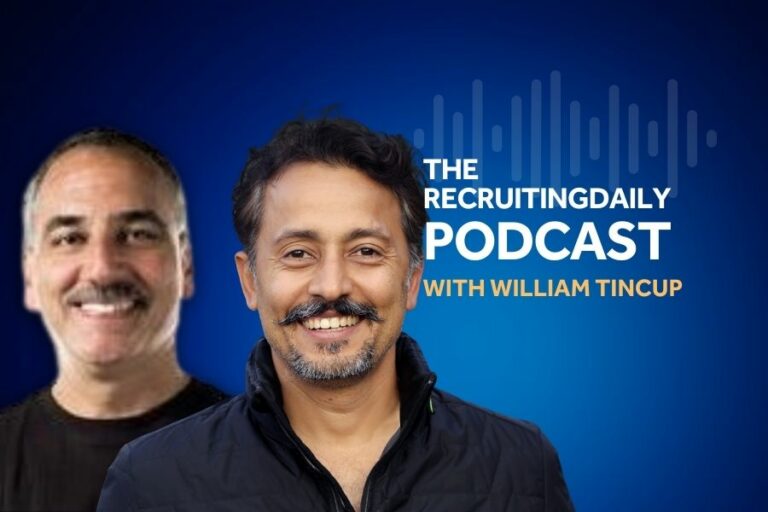 On today's episode of the RecruitingDaily Podcast, William Tincup speaks to Kshitij and Doug from Joveo about pointing fingers at point solutions.
Some Conversation Highlights:
Listening time: 33 minutes
Enjoy the podcast?
Thanks for tuning in to this episode of The RecruitingDaily Podcast with William Tincup. Be sure to subscribe through your favorite platform.
Kshitij Jain & Doug Shonrock
Kshitij (also known as KJ) is a recruitment industry icon, recognized globally for his passion for solving the most difficult problems in the human capital ecosystem with technology. KJ founded Joveo with the mission of delivering the right "job to everyone" (a phrase that translated into the name of the company itself).
Announcer: 00:00 This is RecruitingDaily's RecruitingLive podcast, where we look at the strategies behind the world's best talent acquisition teams. We talk recruiting, sourcing, and talent acquisition. Each week we take one overcomplicated topic and break it down so that your three year old can understand it. Make sense? Are you ready to take your game to the next level? You're at the right spot.
Announcer: 00:26 You're now entering the mind of a hustler. Here's your host, William Tincup.
William Tincup: 00:34 Ladies and gentlemen, this is William Tincup, and you're listening to the RecruitingDaily podcast.
William Tincup: 00:38 Today we have KJ and Doug on from Joveo, and our topic today is fantastic. I say that every time, but this is really fantastic. Pointing fingers at point solutions. And I can't wait to jump into it. And why don't we do some introductions? KJ, would you do us a favor? Introduce yourself. And Doug, and you will also introduce Joveo for the audience.
KJ: 01:02 Thanks, William. Thanks for having us.
William Tincup: 01:04 Sure.
KJ: 01:09 And I am a part of the Joveo team. I basically lead the vision and the mission of Joveo as a product. And I would like to call it as we are in the business of unfinished business. There's a long way to go. And the entire team that is working is driving ourselves to get to a point where we can make a dent in the [inaudible 00:01:30] of talent acquisition.
William Tincup: 01:30 Well, you've got an amazing team. We'll just put the… You've assembled a wonderful team, by the way. Doug, what about yourself? Introductions?
Doug: 01:41 Well, for those out in the, anybody in the listening atmosphere that will hear this, I've been in the business for just about four decades and probably know a lot of people and have seen a lot of things. I mean, going back to the point where you used to, the only thing that got in the way of you getting a job was a stamp and an envelope. The market has changed just so incredibly over those decades. And I think the last 15 years have been in just an unbelievable state of advancement for good and bad.
Doug: 02:18 And before I let KJ go over on Joveo, I would say I'm really excited about our conversation, and maybe we should just redefine point solutions. Frankly, most of them are very good. But the problem, you go to this year's HR technology exposition conference, there are probably 2000 plus exhibitors. And the market is just filled with point solutions that all do something well at a point, but it is that extreme number of points that's created some challenges that I hope we can talk about here today. So I just kind of wanted to reframe that just a little bit.
William Tincup: 03:00 I love that. KJ, tell us a little bit about Joveo.
KJ: 03:04 Sure. So we are on a mission to create an end to end solution under one umbrella, which goes right from a smart… I'll oversimplify it, a smart distribution of jobs. These could be jobs that could get distributed on a paper click, a paper application, a paper duration model, or any of the models that is out there, slot models and the many models that out there. Across the world, across not just job boards, but social and such display.
William Tincup: 03:41 Oh, cool.
KJ: 03:42 … classified and every single possible source you could think of, including a career site for that matter, and give you a very intelligent prediction of exactly what is the outcome you're going to get from clicks to applies to shortlist to hires, even before you decide to spend a dollar and where to spend a dollar. And we are on a journey to make sure that we get this right and then we continue to take this journey forward in making sure that all of these individual solutions that we currently integrate with, we provide a one point solution, or I wouldn't call it one point solution, an integrated one stop shop to make sure that everything, it comes into our platform as a source of [inaudible 00:04:24]. While ATSs remain as a system of record, that's a vision that we are trying to get go.
William Tincup: 04:32 And again, this is what some people would think of as omnichannel or programmatic? Or is it more than that?
KJ: 04:42 Right now in the current avatar, it's omnichannel, it's programmatic, it's global. One of the three things about Joveo is completely transparent. We are the only independent player in the space right now, which is a great thing because we can stay true to the principle of not taking sides. But we want to extend this. Our mission, our vision is to extend this out to solutions which are further out. And Doug has come to lead the entire vision of Joveo from that standpoint. And I'm sure he can talk more about it. Doug, you want to add more to it?
Doug: 05:16 Well, I'll turn this over to William a little bit. It's his podcast, but the answer is yes. I'd love to expand on a lot of that, but why don't you kind of lead the conversation?
William Tincup: 05:27 Sure, sure. So one of the things that I know that I've recognized because you know we've all kind of grown up in this world where people talk about suite, and they talk about point solutions. And I don't remember point solutions being a curse word as they are now. People… There's a reticence, a real reticence in the market from technology vendors to then talk about how they're a great point solution. And I think some of that comes from this overwhelming feeling from TA, or HR, if you're going that direction, of they just want one thing. They want one thing. They want one system, one thing to log in to that solves all their problems. I'm like, yeah. If Oracle SAP had worked, they haven't figured that out? No one else is going to figure it out either. But when did y'all notice that point solutions started to get a kind of a negative wrap?
Doug: 06:25 Well, you covered a lot of ground there, and I'll start kind of going backwards.
William Tincup: 06:29 Sure.
Doug: 06:30 Workday, Taleo, now Oracle, Kenexa, now IBM, which was BrassRing before that. Talemetry, which is now Jobvite. I mean, at a certain point, I think the one thing that is true with all of those, [inaudible 00:06:50], Taleo, SAP, Workday, they are applicant tracking systems. 99 out of 100 people would say, is that an applicant tracking system? You'd go, yeah, yeah. And what's the definitive word in that statement? Applicant. I think what we're talking about is more job seeker/candidate.
William Tincup: 07:13 Right, right, right.
Doug: 07:14 So there are some small… I mean, and people argue definition, that's what cocktail parties were made for.
William Tincup: 07:21 Yeah. But for the compliance folks, someone that has applied, they've got, there is certain things that they got to keep track of. That's fair. It's a 55 year old software category. All right. Done. Got it. That's cool. That isn't going to go away anytime soon unless we get rid of compliance altogether.
William Tincup: 07:41 But you're dealing with the before of that is, especially as KJ explained it, the where you should post and how much you should allot to then drive the traffic, the quality traffic that you're trying, or the volume if you want to do quantity, to drive those things to then apply. And once they apply, yeah, different bid.
Doug: 08:03 Sure. Correct. But, and I totally a hundred percent agree with you there, but again, it's starting to make a differentiation that, okay, there's the front half of this and the back half of this.
William Tincup: 08:16 Right.
Doug: 08:17 And I think therein lies the fact, so going back to your original thing, if I need a new set of tires on my car, I go and get a new set of tires.
William Tincup: 08:27 Right.
Doug: 08:27 Point solution. If I need a new car, I don't go out and buy a set of tires, and then an engine, and then some interior work and a couple of chrome bumpers, for those of us who goes back to when chrome bumpers were really in.
William Tincup: 08:43 Oh yeah, oh yeah.
Doug: 08:44 So that's kind of the analogy I use is that no one goes, if you're buying things part by part, it will cost you more. And there's an old Johnny Cash song that's 1961 Lincoln, and he puts it together with parts from 22 years of Lincoln cars, and it's a-
PART 1 OF 4 ENDS [00:09:04]
Doug: 09:00 He puts it together with parts from 22 years of Lincoln cars, and it's a mess. So that's kind of the analogy.
William Tincup: 09:07 Yeah.
Doug: 09:07 And I think what we're working toward is less a front end half and a back end half.
William Tincup: 09:13 Oh, I like that.
Doug: 09:14 But more that where do we pass people into the ATS, and at what point can we get disposition information back out of the ATS?
William Tincup: 09:25 [inaudible 00:09:25] And the disposition is what's-
Doug: 09:26 So that we are now building-
William Tincup: 09:27 … working or a source of hire, or what type of information are you looking to get?
Doug: 09:33 Source of hire, yes.
William Tincup: 09:35 Yeah.
Doug: 09:35 Not as important. Disposition, and let me give you a quick 30 second analogy.
William Tincup: 09:42 Sure.
Doug: 09:42 My son is… And I use my son all the time. He's a wonderful young man. He's got a degree in chemistry and he got out in the pandemic era. He had a virtual, TV based graduation, and he got his first job. Getting that job, he applied to one major chemical company. And he found eight cities he liked, and he applied to the eight different jobs. That's the first problem, but that's neither here nor there, right?
William Tincup: 10:11 Yeah.
Doug: 10:12 [inaudible 00:10:12]. At which point, at the same time, he joined into their talent acquisitions, so their talent community solution. He didn't hear once back on his eight applications, but he certainly got lots of, "Hey, we've got another job for you in Tulsa," "Hey, we've got another job for you in Austin."
William Tincup: 10:33 Right.
Doug: 10:33 "Hey, we've got another job for you in Boston." And as a millennial, Gen Z-er, he's like, "You've got to be kidding me. I haven't heard about the other eight applications." So that's where I make the differentiation, William, on front half versus back half.
William Tincup: 10:55 Yeah. Yeah, yeah. No, I can see that, because it's a jinky-
Doug: 10:58 The two have to talk to each other when you want to get into candidate engagement.
William Tincup: 11:03 Right.
Doug: 11:04 And that's where we're working for.
William Tincup: 11:06 I got to love that. KJ, do you see any color commentary?
KJ: 11:11 Yes, actually. And while Doug was talking, I was just putting some notes on the whiteboard.
KJ: 11:18 Now, just let's go through a laundry list of some of the point solutions that are there, right, a talent acquisition person has to lead to. And I was actually on a call with two head of talent acquisitions of Fortune 150 companies just over the last couple of weeks. And while they're already dealing with point solutions for aggregation of all the PPC job boards and they're dealing with paper posting job boards and the classifieds and LinkedIn slots are separate, right? Right there are the four solutions out there, but that gets covered in programmatic. And you can say, "Hey, some problem is solved," but then they have a different vendor for data matching. There's a different vendor for data enrichment, the resume enrichment. And there is a different vendor for retargeting. There's a different vendor for candidate engagements and re-engagement. And now within the engagement, they're using something for text and then something they're looking for that can be a chat bot or a messaging platform.
KJ: 12:11 Now, as we go forward, we realize that, oh, they also want to have some apply optimization vendor out there. They also want a vendor which can optimize the job descriptions and make it friendly for diversity and gender. Then they also want a career site vendor. They also want vendor for CRM. And then at the end of it, he was saying, and I was talking to him, he was saying, "But we'd also like to see if someone can have our jobs all optimized for Google for jobs at the same time."
KJ: 12:40 Now, right there, we are perhaps listed about 15 such point solutions out there. And this entire ecosystem has to all interact with each other. If you look at think about it, right? Job description optimization has to go into the job description itself, which has to go into the distribution of the jobs. Then that has to lead to the application of the jobs. That has to be part of the career side. That has to lead to a candidate engagement and application information. That data has to be enriched. Those people have to be re-engaged. The data have to be matched. It stays in CRM. That tool has to be there. It is a maze. It's honestly speaking. The last 10 years as, and Doug was mentioning something about, great innovation has happened. And the innovation has brought to the full the realization of needing to be more sophisticated and candidate focused. In that process, we ended up finding so many of these things that we can do that could improve the candidate experience, but they all came up as one independent point solution.
KJ: 13:42 Now, this whole monster has become so big to manage, right? They have 20 different hands now, and every hand is having its own head, if you kind of think about it, and they're finding it hard to manage. So I think that's where I would like to add is candid. It experiences now. The same problem they were trying to solve has gone for a tops it's out of the window. Right. Because it's become kind of a-
William Tincup: 14:06 Well, it's fascinating because both y'all the lines of thought for all three of us is TA the larger the organization. The more of the toolbox is bigger and they have all these different tools to do different things for them, which is okay. All right. We could talk about that for all day, but the jinky candidate experience that Doug talked about that you've also talked about of, okay, all these tools are great, but what is the customer, i.e, the candidate, what do they get? What's their experience with that texting application or with whatever it is, what is their experience? So again, I'm fascinated by when I talk to TA leaders, just asking like, "How many tools you got? What's in your belt? What do you got?" And I'm always blown away by the number. That's just… It's usually at least double of what I think it is.
Doug: 15:07 Right. And I'll throw away kind of a wrench in that. I, again, 100% agree.
William Tincup: 15:13 Nice metaphor. Yeah.
Doug: 15:15 Yeah, exactly. In the fact that it's like, and then you bring procurement in.
William Tincup: 15:21 Oh, yeah.
KJ: 15:22 Oh, yeah.
William Tincup: 15:22 Oh, yeah.
KJ: 15:22 Oh, yeah.
William Tincup: 15:23 That's horrible. Procurement should never-
Doug: 15:26 That was diplomatic, William.
William Tincup: 15:26 No. Procurement should never be involved because if someone, if you're buying toilet paper, I get it. You can get three columns in Excel and get the cheapest cost and whatever to get it. These things are so unique to that, again, that recruiter experience, the social experience, the hiring manager experience, the candidate experience. We've got to vacillate between four different, at least four different experiences. And that just doesn't fit well on an Excel spreadsheet.
Doug: 15:57 I do want to give our TA partners out there a shout out if I can.
William Tincup: 16:03 Oh, yeah.
Doug: 16:04 KJ and I were talking last week, I don't know. And it was like, "Okay, why is this so difficult?" We were just kind of like brain… It's like, "Okay, procurement, we just talked about that." But then it was kind of a point about, and I'll let KJ expand on this because it was his, but it was more and more TA groups have started to bring their own HR IS internal consulting people onto their teams, outstanding advancement over the last seven or eight years because they're not… Now, when you talk about enterprise wide systems, SAP, Workday, Oracle, you're talking about millions of dollars of enterprise-wide financial, talent acquisition, HR benefits, compliance programs that are coming together, but they bubble up to the higher level IT and our TA partners have very often kind of been the low rung on the ladder. They have started to bring that ability into their teams. And I think it's been a really positive thing, which has probably started a lot of this discussion.
KJ: 17:19 Right.
William Tincup: 17:19 KJ?
KJ: 17:21 And I think Doug is spot on, right? I was talking to one of our customers, Uber, right? That's the largest ride hailing company. They have a data science team. I'm not talking about an individual, a team dedicated to this aspect of the business. They have built their own algorithms and prediction modeling and bidding modeling and Autotrader, I would say Autobidder, which is so far advanced, and I'm looking at and saying, "None of the people in this industry has actually gone down that road," right? And that is an investment they have intentionally made into this side of the house. Now, you kind of extend that logic when bring this HR individuals and they build their own tech stack and talent acquisition fraternity, I think-
PART 2 OF 4 ENDS [00:18:04]
KJ: 18:00 Build their own tech stack and talent acquisition for [inaudible 00:18:03]. I've spoken to some of the talent acquisition leaders who started their career when perhaps it was, I was starting my career and we've seen the journey. We've seen the evolution happen. They're at a point in saying that they've seen the journey, they've seen the trends. They are all coming together at a point where they realize the investment technology is the way to go. They're making it. But the technology teams are finding it hard to integrate these solutions.
William Tincup: 18:30 That's right.
KJ: 18:30 And the there's so many different reasons for that. All these large HR vendors are not built on a sound tech stack.
William Tincup: 18:38 A hundred percent.
KJ: 18:39 And their engineering principles are not really that solid as a result.
William Tincup: 18:43 And some of them, sorry to interrupt KJ, some of them don't want to integrate.
KJ: 18:47 Correct. Yeah, because there's a lot of fear.
William Tincup: 18:50 They purposely made it difficult to integrate.
KJ: 18:52 Exactly. And from the old times, it's fear, that suspicion. But if you go to the [inaudible 00:19:00] tech world, and you go to other worlds, there is just a open culture of having to, and wanting to integrate the technologies that are built around it. Let's just say that these large scale vendors are on web 1.0 stack. Nobody's on a web 2.0 stack. And sadly not all customers know about it. They can't judge the vendors. They mostly try to judge on a look and feel basis. And the kind of questions they should be asking is, with a solution or integrated [inaudible 00:19:30] point solution is, is your product modular? Does every feature in your product suite talk to each other via APIs? And if the answer is yes, ask for API documentation and have your engineering team, the tech stack that you built, the internal technology consulting groups that you have built in your functions, have them look at it and say, do they really have under the hood a sound engine?
KJ: 19:51 Are they selling me a Ferrari with a, I know Toyota a great company, but you expect something from a Ferrari engine. Are you selling a Ferrari with a Toyota engine inside it? And does it really work, the kind of performance I need to have? I think this advancement that we are seeing, if you think about it, all the dots are getting connected and moving to a direction where they're getting technical capabilities, and at this point of time, they're starting to ask right questions and saying, I want to know about this vendor a little bit better. I want to understand that is that the right solution for us from an integration standpoint. Because integrating in our industry is by far, in my entire career, the hardest problem I've come across.
William Tincup: 20:29 Right. Yeah, I think one of the things that I've been seeing, and I'm sure y'all see it when you talk to customers and prospects, is when you talk to them about TA tech stack, because there's a little bit of an eye roll, and then their eyes come back and they're like, we're just trying to figure out how it all fits together. And I've heard this word more frequently in probably the last six months, optimization, around their tech stack, which is fascinating on one level. And I don't know if it's just optimization from a cost perspective or if they're trying to optimize it around the experiences, the candidate experience, hiring manager experience, all those things. Have y'all seen the same things, in terms of the eye roll with there's the Frankenstein TA's tech stack that I've walked into, and oh, by the way, now I need to make it more efficient or optimized, et cetera?
Doug: 21:29 I would say, in fact, that statement, William, deserves can I get an amen? It's like, amen, because that's where they're going. But optimization is a very broad word. Optimization on cost, optimization on recruiter time and productivity, optimization on candidate journey and experience, optimization of time to fill, just base core, TA metrics. I think when we look at optimization, and this is not be all and end all, but it falls into three things. And when I say we, jovial. Is unsiloing data. Don't have three separate, in addition to your ATS, or four separate candidate databases that you're trying to manage. Optimization of data flow is being able, through either APIs or seamless product ability, to say here's every touchpoint down the candidate journey, what they did, did they click on a video? Not just applies and whether they got hired. What we have called for years your silver medalists, what happened to them?
William Tincup: 22:49 Terrible, terrible term. But yes.
Doug: 22:51 Exactly. It's like nobody remembers who came in second, and that's an exact problem with an ATS. And then optimizations from more of just a base business is, does this make, from a procurement and a recruiter productivity, does this make sense? Am I adding value to my talent acquisition process? Because that's what businesses are built on, value. If you add no value to your customer, then you're not of value at all.
William Tincup: 23:26 One of the things I wanted to ask about that, and KJ, bring us back if we need to, is who in the organization, because I always thought of recruiting operations as this person, or maybe team, but who's actually responsible for the optimization of data flow? All those touch points all the way from sourcing all the way to onboarding, if we want to use that wide of a lens, who's mapping that data and those inflection points, and again, those interactions?
KJ: 23:56 That's a great question. There are two people who actually need to share the responsibility in a TA org. One is the tier leader, or the leadership which has to have the vision, the drive. They have to put a meaning behind why they want to do it, why and what they want to do. And then the how comes, the practitioners, the technology people, the engineering talent, that will come in and say, "Okay, let's design this thing out." But the theme at the end of the day is optimization. And I currently see optimization as a theme, not as a feature, if you call it like that. And everything that you'd optimize has to be data driven. You have to be able to prove that changing from X to Y would result into this certain level of optimization, which can you measure it in a certain way?
KJ: 24:45 And if you think about it, the data is a starting point of it. Now, let's just break the data down a little bit further. How many of these organizations have a comprehensive data strategy? We have to sit down and say, "Okay, let's just imagine what does this blue ocean look like of data?" Do we have a data standardization? Does at least all our data flow into one central place where we can actually query and extract that data to make sense of the data? Do you have a data hygiene? Is there a standardized way of capturing the data in a central data lake? And then can the data be used for advanced visualizations? Because giving raw data to end decision makers is not going to work out till you make the insights in such a way that it speaks to the decision makers.
KJ: 25:40 And then you start thinking about, okay, once I have all of this, do I have to now enrich data from worldwide web and every other place to make even more sense of the data? And that's the phase three, or perhaps the cycle that it could be. And when you get into that, then you start thinking about do I need to have a data lake, place where you stored all the data, like a Snowflake? Snowflake is perhaps the fastest growing tech company in the world, and for no reason. It is a strong reason, but how much of [inaudible 00:26:11] have actually adopted place like Snowflake? And then there is a data anonymization platforms like LiveRamp. You can't use PI data anymore, but you still have to be as effective. You still have to be personalized in your messaging.
KJ: 26:25 But you can't know the person. How you creating cohorts of people, segments of people? How do you know what they like, what they dislike? where is that data that has told you that they would like to see a particular kind of messaging? Do you even have a candid data platform? There's not a single one that exists for the HR space. That's an opportunity right there. But there are others in the consumer space, like a treasure data. How do these things come together? And silo data actually, and I would call it out, and by no means small, is more damaging than you can imagine. It's a corporate level risk. With the data security and GDPR compliances, data and multiple-
PART 3 OF 4 ENDS [00:27:04]
KJ: 27:00 …with the data security and GDPR compliances, data in multiple places mean less oversight and basically a volcano waiting to erupt. I know I may have taken the conversation a bit further out, but the way to think about data is to just step back and say, "What is the outcome you want to have?"
KJ: 27:17 Write a manifesto, a talent acquisition auction. Actually take time to write an end-to-end manifesto and say, "Why do we want to do this? What do we want to get at the end of it?" And from there, get into the how and who and the win part of it.
William Tincup: 27:34 Doug, comments?
Doug: 27:37 Yeah. Amen, brother.
William Tincup: 27:40 Can I get an amen?
Doug: 27:42 Exactly. I agree on all of that, and I think probably that could be another two or three podcasts.
William Tincup: 27:51 Oh, yeah.
Doug: 27:51 Just manifestos and visions. And I think one of the things that I would just add is that this is… John F. Kennedy said it. We're not going to the moon because this is easy. We're going because it's hard. And forward looking companies are going to build these manifestos and they're going to look at their data silos and their data structures.
Doug: 28:16 And the fact that in this particular market with 140 million gen Z'ers and millennials in the job seeking market who… Yeah, I'm a boomer. You know? I was easy. It's like, "Yes, sir. I'll do that. No problem." Now it's like even the Indeed commercial where the young woman goes, "I didn't accept my first job. I know what I'm worth."
William Tincup: 28:40 Right.
Doug: 28:41 We are dealing with a new mentality, my son included. Who said, "This is not how it works."
William Tincup: 28:47 Right.
Doug: 28:48 "And this is how I want it to work."
William Tincup: 28:51 They're just not-
Doug: 28:53 Yeah, go ahead. I'm sorry.
William Tincup: 28:54 No, they're just not willing to fight through the same things we fought through.
Doug: 28:59 Right.
William Tincup: 28:59 I told people this. If I saw 4,000 word job description, I'd fight my way through it. I'd read everything. I'd write in a column, all this stuff. You put a 4,000 word job description in front of somebody today, it's dead on arrival. It just doesn't get read.
Doug: 29:17 That's right. And you and I would try then to draft a cover letter that mirrored some of that information.
William Tincup: 29:24 Oh, yeah. A hundred percent. A hundred percent.
Doug: 29:24 And it's like, "No, if I can't do it on my smartphone, I'm not doing it."
William Tincup: 29:30 No.
Doug: 29:30 And then it becomes more of, "Yes, this is not easy. This is hard." On one side, followed by if I'm a fortune 50, I'm turning this Titanic in a bathtub.
William Tincup: 29:44 Oh, yeah.
Doug: 29:44 And that well is hard.
William Tincup: 29:47 It's interesting because a lot of people are writing it off as, "Oh, this is a candidate-centric market. And so these changes are because of COVID or because the candidates feel the sense of power, blah, blah, blah."
William Tincup: 29:58 I don't believe in any of that. I think this is just this generation, both millennials and gen Z. They're just not willing to put up with the same things we put up with.
Doug: 30:08 I agree a hundred percent, and all other generations that are going come behind them.
KJ: 30:13 Yeah. I know you're just so right about it, because I look at some of the things in the old times. And I would say, I really like some of the things, the cover letter, right?
William Tincup: 30:21 Yeah, me to.
KJ: 30:24 I made an effort to actually write why I think I'm the best for that organization, while the company is making the same effort by creating content and reaching out to me through great job descriptions. That level of effort shows your willingness, your intent, your interest.
KJ: 30:39 And right now it's become a lot more commoditized and the personalization is also actually going out of the way. It was very interesting having a conversation with my kids, and I gave them this virtual reality device. The kids were saying, "Papa, why don't you [inaudible 00:30:57]?"
KJ: 30:57 And they have no idea what I do. They know I'm the business of something related to jobs and help getting people jobs. They said, "Why do you do all these things you do on your laptop? Why can't you guys just find a person, talk to the person like this, and hire the person. There should be no resuming or application."
KJ: 31:14 Because they come to my office all the time, since we are working from home and they hear it all. And I was like, "Huh. Funny about gen Z, this generation, which is going to be the marketplace and the workplace in 10 years from now, or five to seven years from now. They're like, the hell with all of this." What kind of world are we looking at?
William Tincup: 31:31 Yeah. Not willing to put up with it. I'm just not willing to put up with it.
KJ: 31:34 Exactly.
William Tincup: 31:34 It's like, wow. I wish I would've been that bold. Y'all, we could talk forever. This has been fantastic. I absolutely loved the discussion. I haven't had this particular discussion, so thank y'all so much for carving out time for us.
KJ: 31:50 Thank you so much again.
William Tincup: 31:52 Absolutely. And thanks for everyone listening to the Recruiting Daily podcast. Until next time!
Announcer: 31:57 You've been listening to the Recruiting Live podcast by Recruiting Daily. Check out the latest industry podcast, webinars, articles, and news at Recruit.
---
Authors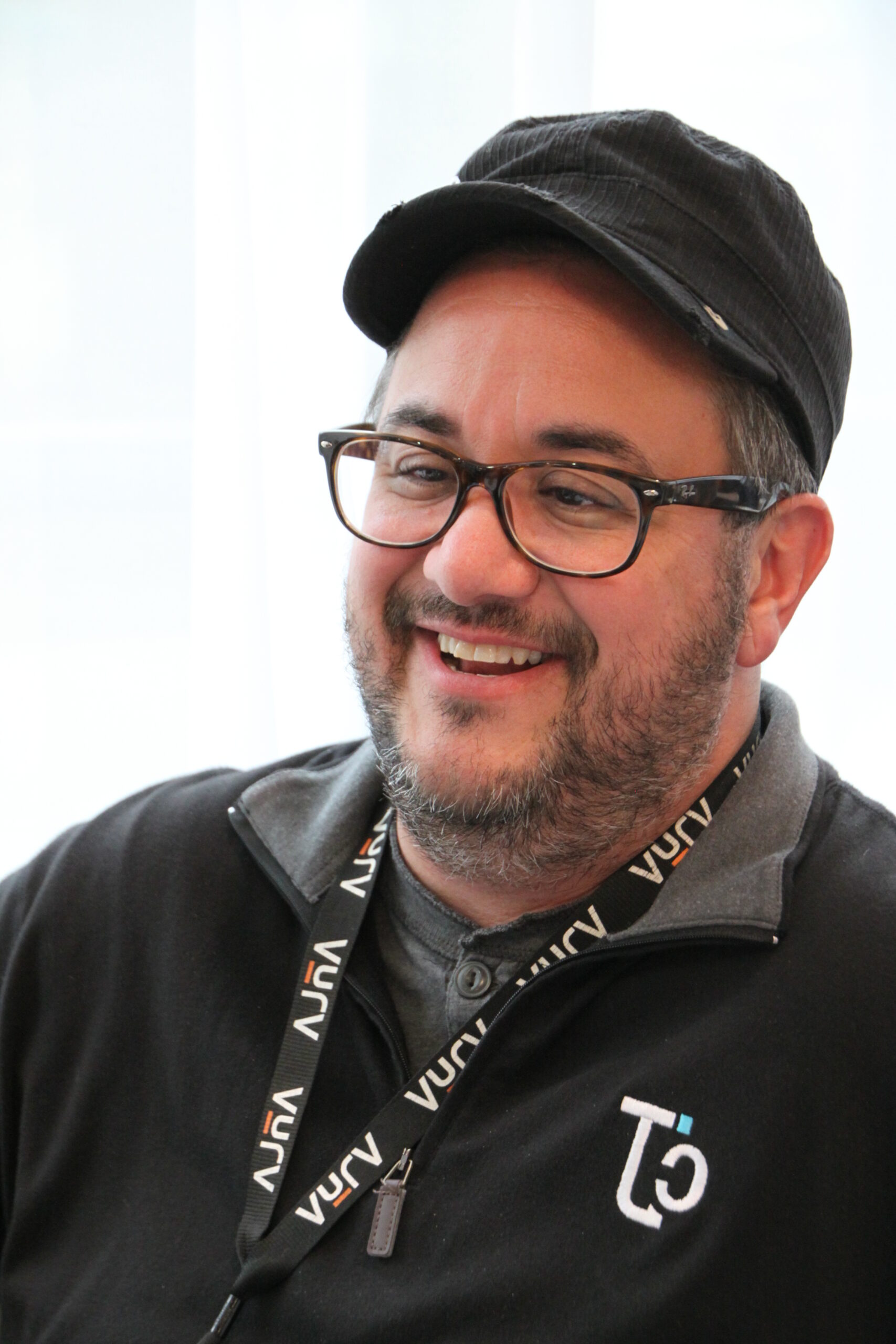 William Tincup
William is the President & Editor-at-Large of RecruitingDaily. At the intersection of HR and technology, he's a writer, speaker, advisor, consultant, investor, storyteller & teacher. He's been writing about HR and Recruiting related issues for longer than he cares to disclose. William serves on the Board of Advisors / Board of Directors for 20+ HR technology startups. William is a graduate of the University of Alabama at Birmingham with a BA in Art History. He also earned an MA in American Indian Studies from the University of Arizona and an MBA from Case Western Reserve University.
---