---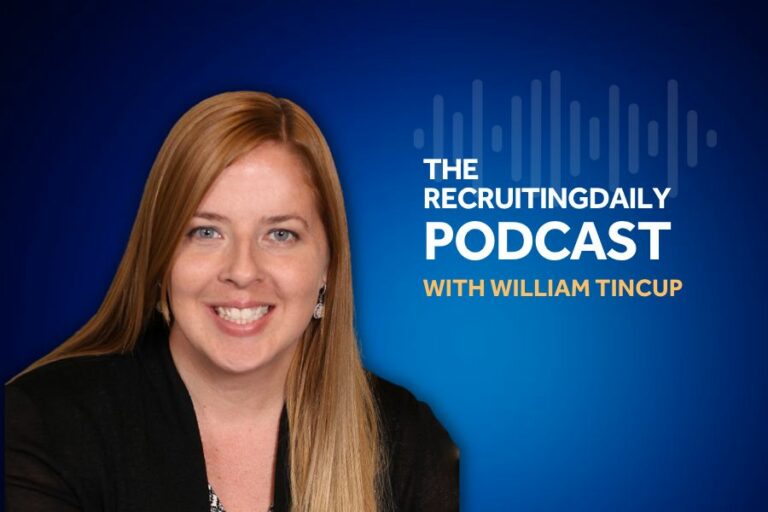 Gryphon.ai – How AI is Helping Jumpstart The Great Rehiring in Sales Tech and Renew the Onboarding Process with Michelle Tilton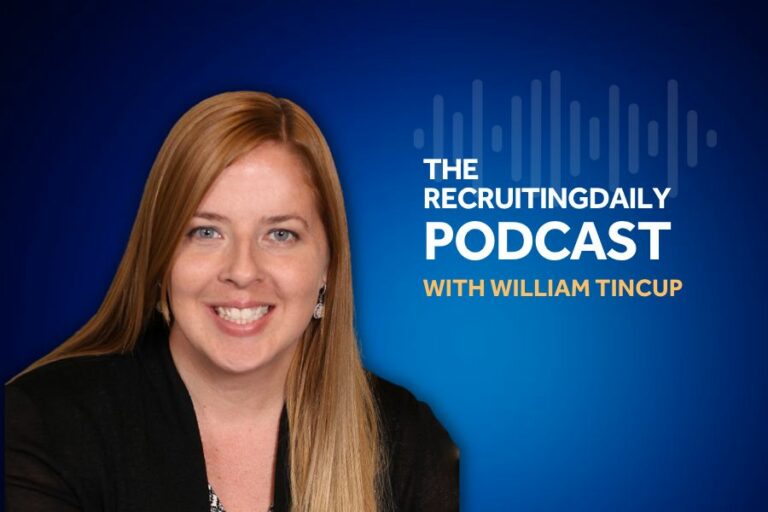 On today's episode of the RecruitingDaily Podcast, William Tincup speaks to Michelle from Gryphon AI about how AI is helping to jumpstart the great rehiring in sales tech and renew the onboarding process.
Some Conversation Highlights:
Tune in for the full conversation.
Listening time: 28 minutes
Enjoy the podcast?
Thanks for tuning in to this episode of The RecruitingDaily Podcast with William Tincup. Be sure to subscribe through your favorite platform.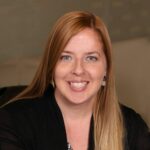 Michelle Tilton
Michelle serves as Vice President of Marketing for Gryphon, focused on demand gen, operations, brand, content, and thought leadership. Her marketing insight comes from 20 years of experience including B2B technology, agency, data, and media marketing expertise.
Follow
Music:
This is Recruiting Daily's Recruiting Live Podcast, where we look at the strategies behind the world's best talent acquisition teams. We talk recruiting, sourcing, and talent acquisition. Each week we take one overcomplicated topic and break it down so that your three year old can understand it. Make sense? Are you ready to take your game to the next level? You're at the right spot. You're now entering the mind of a hustler. Here's your host, William Tincup
William Tincup:
Ladies and gentlemen, this is William Tincup and you're listening to the RecruitingDaily Podcast. Today, we have Michelle on from Gryphon.ai. We've got a wonderful topic to explore. It's how AI is helping to jumpstart the great rehiring in sales tech, and renew the onboarding process. I can't wait to jump into this with Michelle. Michelle, would you do us a favor and introduce both yourself and Gryphon.ai.
Michelle Tilton:
Certainly. Thanks so much for having us today. We really appreciate being able to talk to the audience. My name is Michelle Tilton. I am the Vice President of Marketing for Gryphon.ai. At Gryphon, what we do is we focus on leveraging AI and ML through sales technology to help make a whole lot of functions easier for sales folks, including the onboarding process and in particular, during this great rehiring process. A lot of this intelligence surrounds conversation intelligence, providing real time assistance to sales people while they're on live calls and a whole lot of revenue intelligence on the backend to see how you're gaining value from the tech.
William Tincup:
I love this. One of the things that I love about sales and sales talent is you want them to get up to speed as fast as possible. It's like, well, with every position, I mean, that's true of marketing and true of HR, as well. But with sales in particular, because it's top line, you want them to hit the ground running, especially as we look at the onboarding process, what advice that you give on a pretty much on a daily basis, how do we get them there faster?
Michelle Tilton:
What we like to tell organizations that we work with is, if you can provide them with the right technology to help alleviate some of the stress of the onboarding process, automation, if you will, some of that process, you're going to be able to get them into a position to feel more confident and be more successful much quicker. In some cases, we have candidates come into our own organization, they ask us point blank, "What tech do I have to work with when I come in the door?" Because that's how important it is to new candidates now, understanding the tools that they've got. Where tech can really be helpful is getting them the materials and information they need during the onboarding process. Maybe it's even in the first 30 days to have them confident and on the phone with almost like a sales assistant on their shoulder, helping them answer questions. They may not be quite up to speed with, but they can answer those questions much quicker and be much more productive right off the bat.
William Tincup:
One of the things that's great about that is not just the revenue, which stated and covered, we all care about that, but it's also their feeling of success, their morale. Everyone wants to be successful with sales people in particular. They want to be all successful. I mean, a lot of sales as we well know is rejection management, but if they can feel better about the kind of being set up for success, their morale is higher. Well, their hit rate might not be as high as they want it to be. It's never as high as they want it to be. But they feel better about the job and they feel better about the company setting them up for success.
Michelle Tilton:
That is a huge part of it also is, there are so many statistics out there that talk about the most productive employees having the best onboarding experience, and you can look at retention numbers and how important the onboarding and initial processes coming into a new company. Getting them to confidence quicker, having them feel like they have the support, they're not floundering, they're not in left field. They're not sort of on an island, particularly during COVID, is so important to get them not only onboarded because you want them productive, of course, we want them productive. But they need to feel good about how they've been onboarded, how the company is supporting them. And in turn, they're going to work twice as hard to be successful. It really is a win-win on both sides.
William Tincup:
With sales talent in particular, let's deconstruct the onboarding pre-boarding, I've actually moved to my language is kind of bifurcated to some of the HR administrivia and getting that stuff out of the way in pre-boarding after the offer letter and getting that stuff out of the way and onboarding and then post onboarding. All the things we want them connected to, with learning paths and skills development, things like that. That's just me by the way. And you can destroy all that by the way. No ego attached. Let's build the onboarding process in a way that you want the audience to kind of rethink for sales town in particular, how they should be rethinking onboarding.
Michelle Tilton:
So I think traditionally we've always pictured this massive onboarding process with these meetings every 30 to 45 minutes with a different staff member whose name you won't remember in two days because you can't ingest that much information all at once. We all know the phrase drinking from a fire hose. That's what all new employees do. So instead of having them meet over and over again and over and over again with different people, which is still important, by the way, for them to have human contact. Giving them an opportunity to learn at their own pace, through a couple of different strategies. So the first one is we've all talked a lot about these learning management systems and LMS systems where there's videos and there's learning paths. Those are definitely helpful. If I'm best able to retain information at three o'clock in the afternoon.
Michelle Tilton:
That's when I focus on my learning path or at night after the kids go to bed, maybe I reiterate that information. It gives them flexibility to learn in a way has them retaining that information in the best possible way. But instead of also, the biggest part of this is as a salesperson you start with the onboarding, you learn the product, you learn your pitch, you learn the sales process of that particular org. Then you start shadowing. Now you're sitting on more calls with other people who are talking, but you're hearing it and you're ingesting it, but you're not really trial and erroring your own messaging to see if you're capable of delivering that message. So what's really cool about sales tech is with something like conversation intelligence, you don't have to sit on a sales call with a salesperson.
Michelle Tilton:
What you can do is go back to a list of the top five calls of the day that were successful. And you can hone in just on those calls and listen to them in a recorded way and understand why the sales manager feels like those top five calls were successful. And you learn from that. And again, this is still the onboarding process. You haven't really done anything yet. But with some of the more advanced tech and the AI driven sales tech, it's almost like having a sales assistant with you. So I'll give you an example. I'm making my first sales call. I'm a little nervous because new company I might have done a lot of cold calling in the past, but let's just say, my first dial of this company. The phone gets connected and I'm like, "Oh gosh, they picked up," and you freeze, or you're not quite sure of your pitch all of a sudden.
Michelle Tilton:
AI delivers tips along the way. On a cold call that just sort of gives you prompts. Don't forget to say this. Here's the best opening that we found today that works for this person in this industry. And before you know it, you're having a conversation. You're relaxing. You're able to deliver the message and you're able to truly be productive without that formalized person next to you, or listening longer on another week's worth of calls with a colleague. You're able to start. You're going to make mistakes. Everybody does, but the sooner you get into it and you start seeing success, the more you build on that success.
Michelle Tilton:
So getting people onto the phones quicker or into messaging quicker with a guidance of what has truly worked for their colleagues and letting them do it themselves breeds that success and lets them continue to prospect on their own much sooner than like a 90 day onboarding period would traditionally allow.
William Tincup:
Two things. One is what your all take on kind of objection response training? Getting people to understand the universe of no's and how people can say no and do say no to things. And getting that salesperson to understand what's unique about that particular no from that person in that case and how to turn that no maybe into, or maybe even into a yes. But what your all take on kind of the objection response work?
Michelle Tilton:
So what's really interesting is in that tech I just talked to you about in real time with the AI, we have objection handling built in. And it's not just no, it's not interested. Don't have the budget. Don't have the resources and each individual objection, we have the best in class response for our own organization popping. So that person can say, "Are you not interested because you don't have the budget or are you not the right person? Or is there another reason you might not be interested continuing to push a little bit?" I'm not the right person… I appreciate that. Can you possibly direct me to who the right person might be because I do feel like there's a strong fit?
Michelle Tilton:
So it's not like the no, "Okay. I'm sorry. Hang out. Let's just brush it off." Let's let's give you a path to overcome the no. It still might be no at the end of the day, but at least you're digging in a little bit further to understand the real objection behind it and have that guidance on your shoulder to say, "Okay. I know how to handle this. And I think in more cases than not, I'll achieve a better outcome than simply saying, okay. And hanging up the phone."
William Tincup:
I love that. Love, love, love. How long should onboarding last with sales talent, in a perfect world. I grew up in an era where it would be like a binder or a day or an hour or something very, very, very, very short, but you're an expert. So when you advise clients, how long should that process be?
Michelle Tilton:
So I think a couple of things. I think it depends on the type of organization, the complexity of the sale and whether it's a commercial level or enterprise level sale to have them fully understand what the duration of the sales cycle looks like. But I would say in our own instance, a company similar to our size in a tech space, we've got BDR or the BDR team members are dialing in two to four weeks on the phone starting to actually go to market.
Michelle Tilton:
So we prolong that for, I want to say two to four weeks of a really solid onboarding process with a two month after that ramp period. So they can continue to gain confidence as they build up to a fully ramped position. So in our world, we stage it from initial ramp. When you first come on board and you ingest lots of information, then you start learning on the job. There's continued learning throughout months, two and three. And then of course, enablement takes over at that point and just does the reiteration of trainings and making sure that new features functionality or new messaging is disseminated. So I guess that's a really long answer for… We typically look at it as a fully ramped 90 day period. But with them able to take bites of success starting at two weeks.
William Tincup:
Who decides they're ready for game time? Who decides that the is onboarding a fixed… Okay. Again and depending, I know that. But is there someone that mitigates that says, "Another two weeks, this person will be really, really, really lights out." Or two weeks prior, it's like, "No. This person they're already ready. We can wait another two weeks, keep doing to what we're doing, but they're ready." Who's the arbitrator of that decision in your mind?
Michelle Tilton:
So I believe it's the combination between the manager and who's in charge and the person in charge of sales enablement. So doing role playing and understanding how confident does this person seem to be on the phone? Are they ready? Do they need training in additional areas? So I think it's a joint decision between the manager of that individual and the sales enablement person or people who are working toward getting them fully ramped.
William Tincup:
I love that. When we talk about sales tools and enablement tools around them, what are you seeing currently today? I mean, outside of salesforce.com, got it, check, fair. What other things are people really looking for that will help them? Because it's you join a company and you want to be surrounded with technology and process and people that will help you enable your success. So what are you seeing currently in the marketplace?
Michelle Tilton:
So for tools, the pretty standard package, I would say right now is outside of the obvious Salesforce or a similar CRM. There's going to be a prospecting tool of some kind for them to get in and prospect. So whether that's LinkedIn navigator or a Zoom info type of a tool or some kind of business database for them to prospect. That's going to be a foundation that they'll expect. Some kind of sequence or catering tool, which enables them to personalize at scale. Any of that outbound messaging they're creating for the leaves that they're capturing.
Michelle Tilton:
Conversation intelligence is becoming a big one too. Conversation intelligence is interesting because it has morphed so much in the past 18 months, given so many advancements during stay work from home situation with COVID. Conversation intelligence used to be adopted solely as a note taker for the sales organization. People were like, "If I can get transcripts, I don't have to take notes anymore." This is great. Which has helped marketing out to you. So I'm not complaining because we got a lot of good information.
Michelle Tilton:
But then you start thinking about, "Okay. What else can I do with this recording calls?" Now I'm flagging calls. Now I'm getting insights from these calls. My manager's pointing out areas of improvement or areas where this call release set me up for success. So now I'm learning from these calls. So convo intel is definitely one that's becoming more heavily adopted and reaching a very quick adoption status over the past 12 or 18 months, I would say.
Michelle Tilton:
Then we start getting into revenue insights and intelligence for sales leaders. Ways to tie all of this really unstructured data like phone calls back to revenue. And how does that impact a deal and your ability to correctly forecast your deals? So there's a dashboard of sorts and a business intelligence tool that starts to combine all of these things together. So that's another really big one.
Michelle Tilton:
And then an LMS tool. I think we talked a little bit about earlier, which is just being able to constantly train yourself and getting that reinforced training on your own timeframe, so that you have those tools at your fingertips, if you're feeling shaky on something. Or you've gone through your 90 days and you're like, "I need a refresher on this day two training. Let me go ahead and watch this again."
Michelle Tilton:
But those are some, I think foundational tools that we're definitely seeing real time guided coaching and the ability for companies that are out there that provide it to be able to instantly provide real time feedback while someone can still make a difference on a call. That's a newer tech and certainly an area that we're comfortable in, but that's definitely on the rise as people realize that the great rehiring means we have to give people more tools in the moment to get them up to speed as soon as possible.
William Tincup:
I love that. 150 years ago, I did implementations for of Salesforce. I definitely date myself. But a long time ago I did implementations of marketing tech and sales tech. And one of the things I realized is if the C-suite wasn't bought in it wasn't going to work. I mean, it would work ish, but it wasn't really going to work. So the game became, how do I get the C-suite? How do I get the board? How do I get them to bought into this rollout? Because if they're bought in this thing's going to work. It's going to outshine. So what's the and again, in a perfect world, that's what we're dealing with here. In a perfect world, what do you prescribe that leaders that they get involved or that they're a part of the onboarding process in some way shape or form?
Michelle Tilton:
So I think as we look at organizational structure and what people are looking for in their next role, being connected to leadership is a common thread that we're seeing on a very regular basis. People want to feel like leadership hears them and they care about what they think. So I think leaders getting involved in the onboarding process, even if it's an introduction or a mentorship opportunity, I think that's really important. As far as tech goes, leaders being champions of technology is so critical, but you have to be able to show the ROI. So that's something that most tech companies are getting pretty good at is to show the value of what can be achieved with implementation of new tech.
Michelle Tilton:
The other interesting piece of this though, is it's a push pull though, because we're seeing also one of the biggest indicators of success as adoption of the tech by the users of the tech. So if you can convince leadership of its importance, but you also have the general user group let's call them the BDRs or the reps or the main user group of the tech pushing from the backside and leadership is on the other side, you have a perfect storm there. So I think leaders definitely want to enable their users of the tech and their managers of the tech to be successful. They want to prove ROI, but they want to make sure above all, they're not wasting their money on something nobody's going to use. So user adoption along with leadership championship is the perfect storm.
William Tincup:
I love that. Okay. How do we know that we're getting onboarding right with sales talent? What's our metric dashboard, litmus test, et cetera? How do we know we're getting it right?
Michelle Tilton:
So we look at a couple of things. We look at pipeline creation still, but is it the right pipeline? Is it the pipeline that… Is it real?
William Tincup:
That's good.
Michelle Tilton:
The real pipeline. The pipeline is interesting. Pipeline is such that buzzword. We all look at pipeline, 100%. We have to. It's-
William Tincup:
Not all created equal turns out.
Michelle Tilton:
Correct. Are there key moments within the pipeline being met to prove that it's real pipeline? So for instance, if I'm running my sales motion off of a specific sales methodology, and I'm telling you that I've got stage four pipeline opportunity, that's going to close… Let's just since it's end quarter, March 31st. But I see here that you have not yet met four of the seven criteria for the methodology that we're using. That's an indicator. So I think looking at real pipeline, that's still going to be a very strong indicator. How fast are those deals progressing? Are you following the process that the deals are progressing throughout those stages and in a timely manner, depending on whatever your timeframe might be between stages? Different, again for enterprise and commercial deals.
Michelle Tilton:
How effective are you at closing and negotiating? Are you able to get the deals through the finish line? How fast can you make that happen from the moment of the first meeting to the deal closing? So I think all of those metrics, and again, what are the quality of the appointments that you're taking and you're progressing? Are they with the right persona? Are they with the right type of industry? Is it within the core offering that we have or are we stretching a little bit?
Michelle Tilton:
So I think all of those being considered, if you have a rep that is on top of all of those, you definitely know that you've got a fully onboarded rep who you probably want to keep pretty happy, because sounds like they're going to be a keeper for long term.
William Tincup:
I love that. So another term from 100 years ago, win loss analysis, which is actually great research to do to find out some things that come up through the sales process that are easily fixable or replicable, if it's on the success side. As it relates to onboarding and relates to new talent, getting to a success level, what are customers and prospects, what's their relationship with onboarding and again, we're trying to get sales people to a place of success as fast as we can, but also at a high quality level. What do you advise folks as it relates to how they interact with customers and prospects to find out what their experience is?
Michelle Tilton:
So great question. We actually do look at how the implementation process matches what was sold into the company that we were working with. So that's a really good success indicator for understanding the product that's being sold in and how closely it matches the customer success team's level of implementation. And is it again a stretch? Are there pieces of the puzzle that hadn't been solved yet or do we have all of those facts sort of right up front and wrapping in. As far as customers go, I think listening to customer calls and understanding things and this is something that we do. So it's a little unique to us, but we have sentiment analysis of calls.
Michelle Tilton:
So when we get on calls, we're able to flag whether a customer seems positive. Is the call trending negatively. Things that can indicate, have their expectations been met from what they were promised? How is the temperature of this particular call? Are there a lot of negative comments, is there negative sentiment occurring in the call? So I think as it relates to customers understanding the temperature of those calls, we're able to do that again through tech, but really digging into those customers and seeing how satisfied were you with the implementation process? Were you given exactly what you expected during the sales process? Closing that loop, I think is really important for continual education. If it didn't go right or replication to your point, if it did go well.
William Tincup:
I love that. And what's great about that is you give them a voice too. So you turn the audience and the customers into, "Hey. Was it oversold? Was it undersold? What was your expectations? What was said during the process? What was fulfilled upon?" I absolutely love that.
Michelle Tilton:
I really don't think you can overstress enough talking to customers.
William Tincup:
No. And again they might say some things you might not want to hear. However, it's good to get their feedback all along the way. And this is a great critical point as well. Last question, it's more of a dumb question alert. Should we onboard sales people differently based on, let's say remote versus hybrid? Someone that's international versus domestic. Male versus female, cut it any way you want. It doesn't matter.
William Tincup:
Should onboarding be highly personalized to that particular, not just the industry and the sales, which I think you've covered really well, the different type of sale and the different industry and potential buyer and all that stuff. But should it be a bit more granular in the sense of his person is going to be remote forever and whenever I see them, they need to be onboard in a different way than someone who's going to be in the office four days a week. And those are completely opposite of course, but I'm trying to figure out the way that you think about onboarding and the way the audience should be thinking about onboarding in terms of personalization.
Michelle Tilton:
So it's a fantastic question. I think a couple of things, I have a fully remote staff myself, and to me, the onboarding process is very personal. I think it should always be very personal because you're going to have levels of experience that are different. You want to make sure it's relevant and they're not hearing things that are boring them because they know this, they know things inside and out. I think it should be personal.
Michelle Tilton:
I think it's important and critically important to feel very connected to your remote staff. Because I think in keeping in touch with them, it's not so much of a, I want to watch what you're doing. I need to know what you're doing. There's a little bit of that, of course. But it's also just a, how are you doing? You are off on an island. What support do you need? What can we do to keep you more connected? I think people tend to disconnect easier in a remote environment and keeping them connected is hugely important part of the onboarding process.
Michelle Tilton:
I think it's a little bit different when you come into an office because you do have that face to face contact where you can stop at the coffee machine and have a quick conversation with a new colleague that maybe you didn't get a chance to meet previously. But I do think it's person. I think it's got to be personalized. There has to be a core of consistency of course, but definitely has to be personalized. And I do think a lot of care needs to be paid to onboarding remote employees and making sure that they feel included as part of the team and culture or they will self isolate and eventually isolate out of the company
William Tincup:
Drops mic, walks off stage. Michelle, thank you so much for your time and wisdom. And I love what you're doing at Griffin.ai. Just keep it up. Just thank you so much for your time.
Michelle Tilton:
Hey, thanks so much for having us. We really appreciate it.
William Tincup:
Absolutely. And thanks for everyone listening to the RecruitingDaily Podcast. Until next time.
---
Authors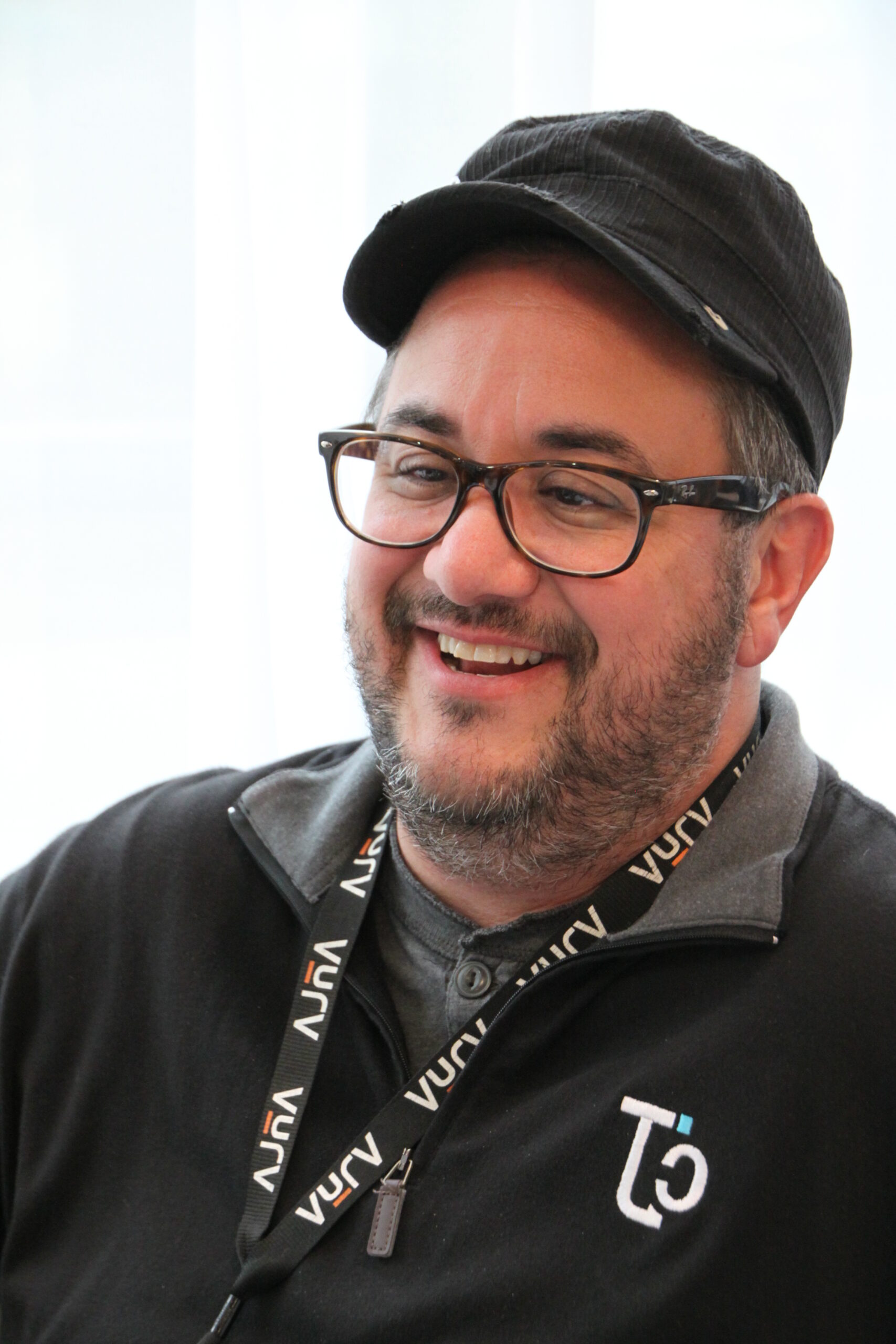 William Tincup
William is the President & Editor-at-Large of RecruitingDaily. At the intersection of HR and technology, he's a writer, speaker, advisor, consultant, investor, storyteller & teacher. He's been writing about HR and Recruiting related issues for longer than he cares to disclose. William serves on the Board of Advisors / Board of Directors for 20+ HR technology startups. William is a graduate of the University of Alabama at Birmingham with a BA in Art History. He also earned an MA in American Indian Studies from the University of Arizona and an MBA from Case Western Reserve University.
---