---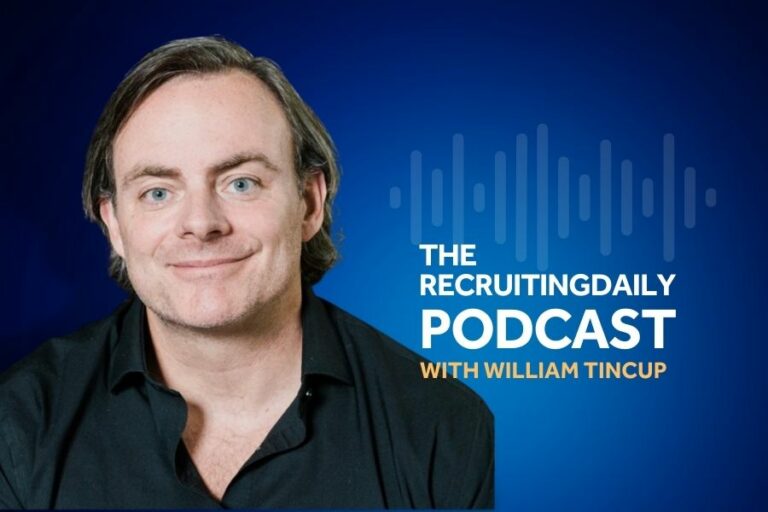 Amplify Academy – How Do You Learn How To Get Better With Lars Schmidt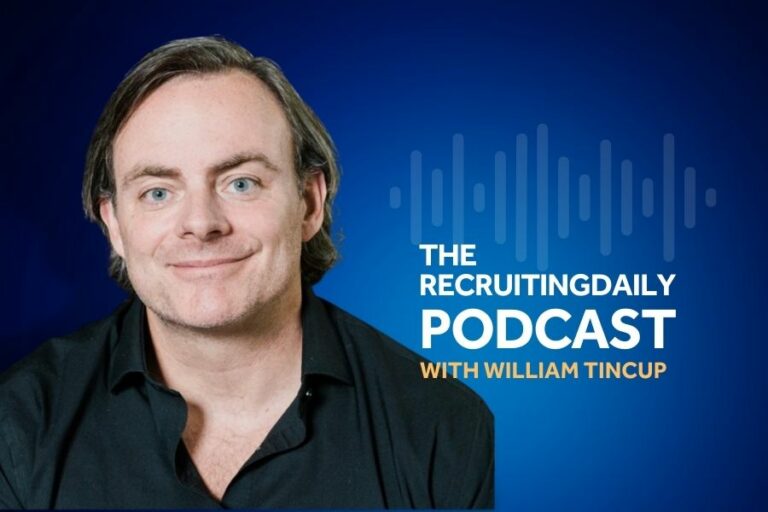 On today's episode of the RecruitingDaily Podcast, William Tincup talks to Lars from Amplify Talent about learning how to get better.
Some Conversation Highlights:
Listening time: 28 minutes
Enjoy the podcast?
Thanks for tuning in to this episode of The RecruitingDaily Podcast with William Tincup. Be sure to subscribe through your favorite platform.
Music: 00:00 This is RecruitingDaily's RecruitingLive podcast, where we look at the strategies behind the world's best talent acquisition teams. We talk recruiting, sourcing and talent acquisition. Each week, we take one overcomplicated topic and break it down so that your three-year-old can understand it. Make sense? Are you ready to take your game to the next level? You're at the right spot. You're now entering the mind of a hustler. Here's your host, William Tincup.
William Tincup: 00:34 Ladies and gentlemen, this is William Tincup, and you are listening to the RecruitingDaily podcast. Today we have Lars on from Amplify, and our topic today is how do you learn how to get better? Which sounds simple, but it is not. When I was in business school, I remember a bunch of people saying this phrase, this phrase was going around like crazy. It was a CEO's dilemma. "How do you know what you don't know?" I'm like, "Well, that's pretty much everyone's dilemma. Not just the CEO's. But yeah, whatever. We'll focus on the CEO, I guess." But this is a derivative or this is something that's actually been on my mind for a long time. So Lars, do us a favor and introduce yourself and Amplify.
Lars: 01:19 William, it's good to be with you again, always good to catch up with you and talk shop. I'm the founder of Amplify. I am a dad, I'm a husband, I'm an entrepreneur. I spent about a little over 20 years in this space, most of that in corporate roles, leading TA teams and innovation teams at NPR and Ticketmaster and Magento. And left corporate to start my own firm, Amplify a little over eight years ago now. So now the business is half HR executive search and half the new Amplify Academy, which is a leadership development platform for HR and people leaders. Then around that, I do some writing for Fast Company, I've written a couple books, host a podcast called Redefining HR, where I get to talk to really smart people doing interesting work and learn from them. And yeah, I get to occasionally go to conferences where I hang out with friends like you.
William Tincup: 02:13 Those are always the better ones. It's one of my litmus tests now, I'm like, "Who's going to be there?"
Lars: 02:19 "Hey, it sounds like a cool party. Who's going?"
William Tincup: 02:21 Yeah, pretty much. That's how it is. Nothing's changed since high school actually. I've come full circle. It's like, "Who's going to be there? Oh yeah, no, I can't go."
Lars: 02:29 Oh, yeah. I'm, "Ooh, I got a thing that I just remembered." Give me that roster.
William Tincup: 02:33 "Oh my God. Work called." Anyhow. So let's peel this onion on basically how you don't get to a certain point and think, "Okay, I've learned enough, or I'm comfortable, there's really no need to learn something new." So how does one, A, on one side, how do you keep that at bay? Because the older you get, the more that creeps into your mind that, "Okay, I've learned a lot, and maybe I don't need to learn anything else. Maybe I can just ride this." Right? Then you've got other people that are always the students of the game, where they're continuously learning new things. So let's bifurcate and deal with both of those things. So on the one side, the folks that maybe feel like they've learned enough, how do we change their mind?
Lars: 03:29 Yeah. I mean, it's funny, the way you framed that, the first person comes to mind is Gerry Crispin, who I think has always framed himself as a lifelong learner and student. And he is. I think you have to have that mindset. I don't think there's any field or topic where you've topped out from a learning perspective. There's always new angles to think about things. There's always new tangential aspects of that thing that might help reframe how you think about whatever it might be that you're learning. So again, I think when you look at, especially as we look at the world we're in today and for recruiting and HR operators practicing within this space, our learning agility is essential. Our ability to quickly pick up new things and research topics and form an opinion on things that maybe we've never had experience with is essential for our ability to be high performing in whatever role we are, right?
Lars: 04:29 I don't think there's any role, I don't think there's any pure widget builders out there. So I don't think there's any roles out there that there's just a certain finite body of knowledge you need to possess, and once you have it, you're golden. Right? And even if there is, I would imagine that if there's new aspects of how you might think about that work, it might make you even more golden. So I think that curiosity, that "growth mindset" has become a buzzword, so I try not to use that often, but really that ability to continually learn, adapt and grow is essential because we're never done until we're dead. I don't think any of us are ever done learning.
William Tincup: 05:12 So you and I grew up in an era where there were LinkedIn groups and Facebook groups and folks, and that would maybe, we learn from peers. So, okay, let's put those two things aside. How do we learn from peers today?
Lars: 05:30 Yeah. I mean, it's so interesting. I think when you mentioned LinkedIn groups and Facebook groups, and those are really valuable, and to some extent they still might be somewhat valuable, but those are closed networks.
William Tincup: 05:45 It's diminishing, diminishing.
Lars: 05:46 Yeah. Diminishing, absolutely diminishing. I think when you look at the era that we're in right now, from a learning perspective, the world is our classroom, right? I mean, I look at a platform like Twitter, right? Everybody views Twitter as a social media platform. I don't. I view it as a learning platform and a networking platform. You have the ability to access the minds of the very best people in their respective fields. What are they reading? What are they talking about? What are they sharing? What don't they agree with that seems to be prevailing wisdom out there? That's all free, right? You have access to all of that.
Lars: 06:28 So to me, I think using platforms like Twitter, leveraging platforms like this, podcasts, peer networks and communities, I think communities are a really robust learning platform these days, and I would say true communities, not like a Facebook group or LinkedIn group that often tends to be pretty transactional, but real communities. I think there's so much learning that happens there, that if you make space for it, and it is increasingly difficult to make space for it as recruiting and HR practitioners, just based on the demands of our job. But if you make space for it, there's an unlimited amount of knowledge and inspiration of wisdom that you can gain through a range of resources that are for the most part free.
William Tincup: 07:21 As you talk about it, I'm thinking about the relationship between learning and vulnerability. Right? So you got to be open. So to some degree, as you said, you've got to make space for it, which is time, which of we don't have enough just to do the things on our list. But you also to some degree got to be vulnerable with yourself about what you do, what you're good at, what you're not good at, so strength and weaknesses, et cetera. Do you see a dot to dot relationship with vulnerability?
Lars: 07:55 I do. Maybe rather than vulnerability, I might reframe that as ego. Right? I think if you've got-
William Tincup: 08:05 Yeah, yeah, exactly.
Lars: 08:05 Yeah. If you're like, "I know it all. What am I going to learn from these people? They're beneath me. I'm a chief whatever at whatever company." I think for those kind of people, good luck to them. Right? And fortunately, I think for both of us, the way that … I kind of carve those people out of my life. I surround myself with more of that other profile of humble and curious, and people who want to be helpful, and people who want to share freely what they know. So I think when you look at those people, there's this voracious curiosity that they possess, not just within their domain but within the world around them.
Lars: 08:49 I mean, I look at someone like Hung Lee, the founder of Recruiting Brainfood newsletter, podcast. He's a force. I love his brain. I love the way he thinks. I love the way that he is so curious about so many different things and has an opinion and a view that is informed on so many different topics and things. Yes, Recruiting Brainfood was created for recruiting, but the content in there has never just been about recruiting. It always includes so many just tangential things and things that even aren't related to whatsoever to recruiting. It's why it's one of my favorite newsletters. So people who think and operate like that, who combine both their curiosity with their generosity in terms of sharing what they know and what they're learning and being able to engage their networks in those ways, I think those are the leaders of today and tomorrow because of how they operate.
William Tincup: 09:51 Yeah. One of the things I love about him as well is that he rarely cites resources that everyone would know, meaning … or let me rephrase that. Something that would be published on SHRM's website or on Fistful of Talent or … and not to disparage any of these things. These are all-
Lars: 10:14 Yeah.
William Tincup: 10:15 Okay. RecruitingDaily or ERE or SourceCon or any of those types of things, he rarely, rarely looks at those. He's looking at articles in Engineering Today, way off the beaten path, which again, bringing those things in, I want to get your take on the inside the echo chamber, and echo chamber can be, it's usually a derogatory term, and we can use it as a derogatory term. It's our show. We can do whatever we want. But the idea is that there's this limited, you can go to HCI, you can go to SHRM, you can go to ERE, you can go to these finite resources and get information, which is great.
William Tincup: 10:55 But this idea of all of these other things that are outside of that, we'll say, echo chamber, just to keep it simple, what's your take on just bringing in the stuff, not looking at the things that everyone else is looking at, and looking at things that are in, I mean, magazines or sources that you'd never think of, Deadspin, I just read an article in Deadspin and it absolutely has something to do with talent retention. What's your take on the inside and outside?
Lars: 11:31 I love it. I think you've got to be plugged into both. Because again, that echo chamber is often reinforcing ideas, talking about the same things that you're talking about, that there's room for learning in that, of course. There's room for growth in that. But when you can get an infusion of perspectives and ideas outside of your area, that is, I think, where the magic happens. Let's just look at the field of HR, for example, right? The field of HR up until maybe 10 years ago was pretty insular, right? You came in as an associate, you worked your way up. All of your experience was in HR. It meant that we had a lot of obstructive views in HR, things that we thought about things a certain way.
Lars: 12:16 If you look at the field of HR today, very different, right? People are coming in and out of the field. You've got people coming in from all different disciplines of the business and engineering and marketing and data science and whatever else. They're bringing their own worldview and perspectives based on where they worked into HR. I think that is one of the biggest catalysts on the evolution of our field is having this influx of new perspectives and new ideas. So I remember distinctly the first time I attended South by Southwest, and prior to that, most of the conferences I'd gone to were HR conferences. Then I went to that, and I'm sitting in on coder talks. I'm a big fan of design, and so I went to as many design sessions as I could.
Lars: 13:01 I'm just like, "Okay, this is, especially with design, I'm now taking what I'm learning in design," and at this time I was very focused on employer brand in my career," and I'm bringing those design principles and marketing principles into my employer brand work. It made it significantly better. So I think having the ability, and again, this comes back to that ego, setting that ego aside, you don't know everything, you're not filled up from a knowledge perspective. Maybe there are other ways to do things and inspiration you can find outside of your bubble that will help you reframe how you think about things and ultimately do things different and better, and occasionally fuck things up. You'll swing and you'll miss and it'll blow up, but hopefully you don't get fired for that. You can learn from that and incorporate what you've learned from that into the next go around.
William Tincup: 13:57 I'll go further in the sense of, if you don't make mistakes, you're not pushing hard enough. Right? I'm one of those people where it's my personality that if you're not breaking glass, then what are you doing? So I want to ask you about right and wrong within the context of learning, but I'll start with culture. Years ago, The New York Times published this article on Amazon's culture. And they kind of framed it up as Amazon's culture is bad. I thought that was really weak sauce from a number of positions. But one is there's really no difference between Amazon's culture and any investment bank on Wall Street. It's shark-infested waters. So it might be bad for you, but it's not bad. Because again, people that go to I banks, they go because they work 100, they want to work 160 hours. They want to work where it is shark-infested, where it's meritocracy, where they get paid a lot. And it is a bit cutthroat.
William Tincup: 15:05 Okay, cool. I would not thrive in that environment. So, not a good place for me. That's why I didn't go to investment banking after business school. So I knew better because I knew I wouldn't thrive there. But they positioned it in a way of there's right and wrong, good and bad. I thought that was weak of them. I'm not poking fun at The New York Times. I love The New York Times. But I thought that particular article was weak. I think it could have been much stronger by really framing up culture differently. So we now move over to right and wrong from a learning perspective. Do you have a mentality around learning? Is there a right way for people to consume content and try things and learn things, or is there a wrong way to learn?
Lars: 16:01 Yeah. I mean, look, I think the only wrong way to learn is not trying to learn. Right? I think the way that we learn is different, right? The way that we absorb information. Particularly, I did a lot of research on adult learning as I was building the new Amplify Academy. I think it's different for different groups. So I think one of the things that I did when I was designing the content is I divided it into long form and short form. That's framed as under 10 minutes or greater than 10 minutes. Because sometimes your learning is more just in time. "I just got out of the meeting. My boss said I need to do X. I've never done X. Is there something out there that will quickly help me understand what the hell is involved in doing X? Because I need to go back to this meeting tomorrow with an opinion on X."
Lars: 16:54 Then there's another scenario where now I'm going to be owning X. I've got to go deeper to really understand the ins and outs of X and how to do it thoughtfully and how to do it correct and how to measure it, all of those different variables. So I think there is not really a wrong way to learn, unless you are not thinking that you need to learn. One of the tips, hacks, whatever you want to call it that I recommend everybody do is everybody, especially your listeners are mostly practitioners. They're busy. I know what that desk looks like. Take at a minimum 30 minutes every week, put it in your calendar, block it, don't let people schedule over it. That's your learning time, right?
Lars: 17:45 At a bare minimum, 30 minutes a week, you can dedicate, everybody can dedicate 30 minutes a week to learning. That's where you're reading those articles your friends have sent you, you're listening to that podcast everybody was saying, "Hey, this is a great way to think about X, Y or Z." As you get resources that everybody's sharing resources, you're seeing things on social media or a newsletter or whatever else, create a platform, a tool, whether it's Notion or whatever else, where you can save all those. Then in that 30 minutes a week, go in and read them and see what they're there.
Lars: 18:19 Because my fear is a lot of people, their lack of learning isn't through an unwillingness to learn. They don't know how to program learning into their schedule, and they don't know how to make time for it. If you don't make time for it, especially in busy roles, it's just not going to happen. So again, at a bare minimum, 30 minutes, put it in your week, it's a recurring meeting, you don't let people schedule over it, and at a bare minimum, do that. You'll be surprised at how much you learn, and how you might take some of those ideas into your work, and how ultimately making that time will make you better at your job, more productive at your job because you're reading and consuming different ideas and different perspectives that can inform your work.
William Tincup: 19:03 What I love about this is we talk about, especially coming out … out, it's not the right phrase, but COVID has really helped us understand mental health and be able to talk more about mental health, which is fantastic. Sucks that it took a catastrophe for us to talk about mental health. However, we're here now, and we're talking and having more open dialogue around me time, time for you to deal with some of the issues you have and programmatically work with companies and work with therapists, et cetera. So I love all of that. But I love the dialogue that you're thinking about in terms of me time, and there's also a mine learning time.
William Tincup: 19:47 Again, I think a lot of folks aspirationally think, "Oh, I'll get to that later at night or on the weekends or at a certain point," and it just never happens. So I think that one of the nuggets that you've given today is you've just got to schedule it. It's like going to the gym. You've actually got to go to the gym. My son came in to me, Henry came into the office one day. He said, "Dad, I want to get bigger." I said, "Well, Henry, that's easy." He's 16. So, well, he was 15 at the time. But I said, "That's easy." He goes, "Really?" I said, "Absolutely. Super easy." He goes, "How do I do it?" I said, "You go to the gym and you lift weights. That's how you get bigger."
Lars: 20:34 The reps. Yep.
William Tincup: 20:35 He goes, "Okay. Alrighty. So I'm going to do that." And he did. It's actually quite fascinating. But the thing about me time, and then what you've expanded on me time is my learning time is if people actually take your advice, now then they can go back through, again, that fire hose of information that's thrown at them from all kinds of different places, great newsletters and articles, things that are being sent to them, et cetera. I think that you mentioned Notion as a way of collecting those things. Then carving out that time that no one else can, that I mean really, you're off the grid compared with everyone in your world, you're off the grid because you're going to just be able to just focus on learning something new.
Lars: 21:21 Yeah. Yeah. Look, I think people may view that as selfish or self-serving. Perhaps it is, if you look at it from one angle, and I think frankly employees need to be a bit more selfish in terms of focusing their attention on their own career growth and development, not just their contributions to their employer. That's another podcast. But getting back to that point, I mean, I think the more you learn, the more diverse perspectives and lenses through which you can think about problems, the chances are the better you'll be able to solve them. That has a direct monetary benefit to your employer, right?
Lars: 22:02 So again, if I was a CEO of a large company, and I'm not, but if I was, of course, it's easy for me to say that because I'm not, but I would look at institutionalizing that in my company. Every employee has an hour a week for learning. Put it in your calendar. Maybe it doesn't have to be a set time across all the company. But why not do that? Because if those employees are more informed, they have deeper perspectives on the world around them, the more impactful they'll be in their role.
William Tincup: 22:36 What do you think about the diversification of sources, the inputs part? Because I'll take this into a news. If you're watching, and again, no offense to anybody, if you're watching MSN and you're getting all your news from MSN and CNN, you're going to see the world a certain way. If you get all your news from Fox and OAN, you're going to see the world a certain way. Right? So, okay, put news aside and all politics and all that stuff aside for a moment. But I want to get your take on the diversification of those inputs.
Lars: 23:06 Yeah. Yeah. I think it's important because you don't want to have a mono view towards all of these different events, and you will if you're a single source learner. So I think you have to diversify your sources, and frankly that also means probably consuming content from content sources that generally you disagree with because maybe it will further you in that view that they don't know what they're talking about. Or maybe there'll be an element there where you're like, "You know what? I don't like a lot of what they have to say, but their perspective on X actually did resonate." Or maybe I don't share that point of view, but because I saw this, listened to this, read this, I have a better understanding as to people who do hold that point of view, why they think that way. Right?
Lars: 23:51 I think that both of those outcomes are valuable. Again, I think that's getting harder and harder to do today. Again, you set politics aside. I'll take it back on the table. I mean, especially in that climate where we are all so bunkered into our views and polarized by them, and that is increasing, not decreasing. I think that's a real macro risk for our country, the fact that we're not just having alternate opinions. We are having, based on our news and media sources, those opinions are framed as facts, and we're not operating off the same set of facts, then we're real trouble.
William Tincup: 24:38 It's interesting, one of my dirty little pleasures has been for 100 years is all my AM presets in my car are all to conservative radio stations. So I'll just, when needed, I'll just listen and go from one to the other, Rush to all the different people. And 98% of the time, I disagree with everything that's coming through the radio. But occasionally it'll be like, well, wait a minute. All right. I hadn't thought of it that way. Okay. Okay. Okay. I find myself going, "Okay." But it's one of those deals I could easily be listening to NPR nonstop and loving it, loving every moment of it. But the problem is I think that diversification of listening to people that you disagree with, for me, I think it actually helps me understand where they're coming from. It won't change my mind, but I do learn and have for a long time. I have learned actually little bitty things here and there. It's sporadic. It's never something I can plan on.
William Tincup: 25:54 Let me, while we have a couple minutes left, let me ask you about learning styles and learning differences. Because learning styles, as defined at least by the people in learning is sometimes, you looked at with the Academy, you said short form and long form, which is beautiful, and the uses of those are beautiful. But other styles where people like to read, people like to touch, people want someone to talk to them, there's all kinds of different ways of learning styles. Then there's another chasm of learning differences that we're dealing with. I'm dealing with both my kids have learning differences. So it's really, it's opened my eyes to understand that not every … there's not just like dyslexia, which it's a really easy one to point to, but there's all kinds of different learning differences. So how do you see that in a professional environment? How do you see learning styles and learning preferences intertwined?
Lars: 26:59 Yeah. I mean, I think trying to create what I frame as multi-modality content I think helps. I mean, it's hard. As a content creator, your goal should be to create content that is as inclusive and usable and meaningful as possible. Despite your best intentions of that, you're always going to be leaving somebody out in terms of a learning style that may not connect with that. I think it's interesting, I've done a lot of work through the Academy and just through a friendship with AJ Thomas. She's the chaos pilot for People in Culture at X, the moonshot factory. I profoundly remember the very first conversation I had with her, and we're talking about design thinking in HR. She had a statement where she said, "If you design for the most marginalized or underrepresented, you design for everyone."
Lars: 28:01 So that should be the persona that you're trying to build for, and if you do that, through doing that, you'll design for everybody. So I think that applies to this as well, as trying to create content and learning resources and offerings that are the most broadly accessible, engaging, appealing, but then also being humble and listen. And if you get called out because you didn't caption a video or you used a particular graphic that had a flash animation that made consuming it difficult, be open to that feedback and learning from it and be willing to make modifications and changes based on that. I think that's, at least for me, that's how I think about creating content in the Academy.
William Tincup: 28:53 Well, and it brings this back to humility. You're not going to get it all right. You're going to make mistakes. You're going to not have captions on something, and somebody's going to say, "Hey, this doesn't have captions." And say, "Okay, fair enough. Let me run it back through and do that. Thank you so much." A, that's willingness to take feedback, so I love that. Lars, I could talk to you forever, but it turns out we both have stuff to do. So thank you so much for carving out time and the RecruitingDaily podcast audience.
Lars: 29:24 Yeah. Thanks for having me out, William. I really enjoyed it.
William Tincup: 29:26 Absolutely. Thanks everyone for listening and continuing to listen to the podcast.
Music: 29:31 You've been listening to the RecruitingLive podcast by RecruitingDaily. Check out the latest industry podcasts, webinars, articles and news at-
---
Authors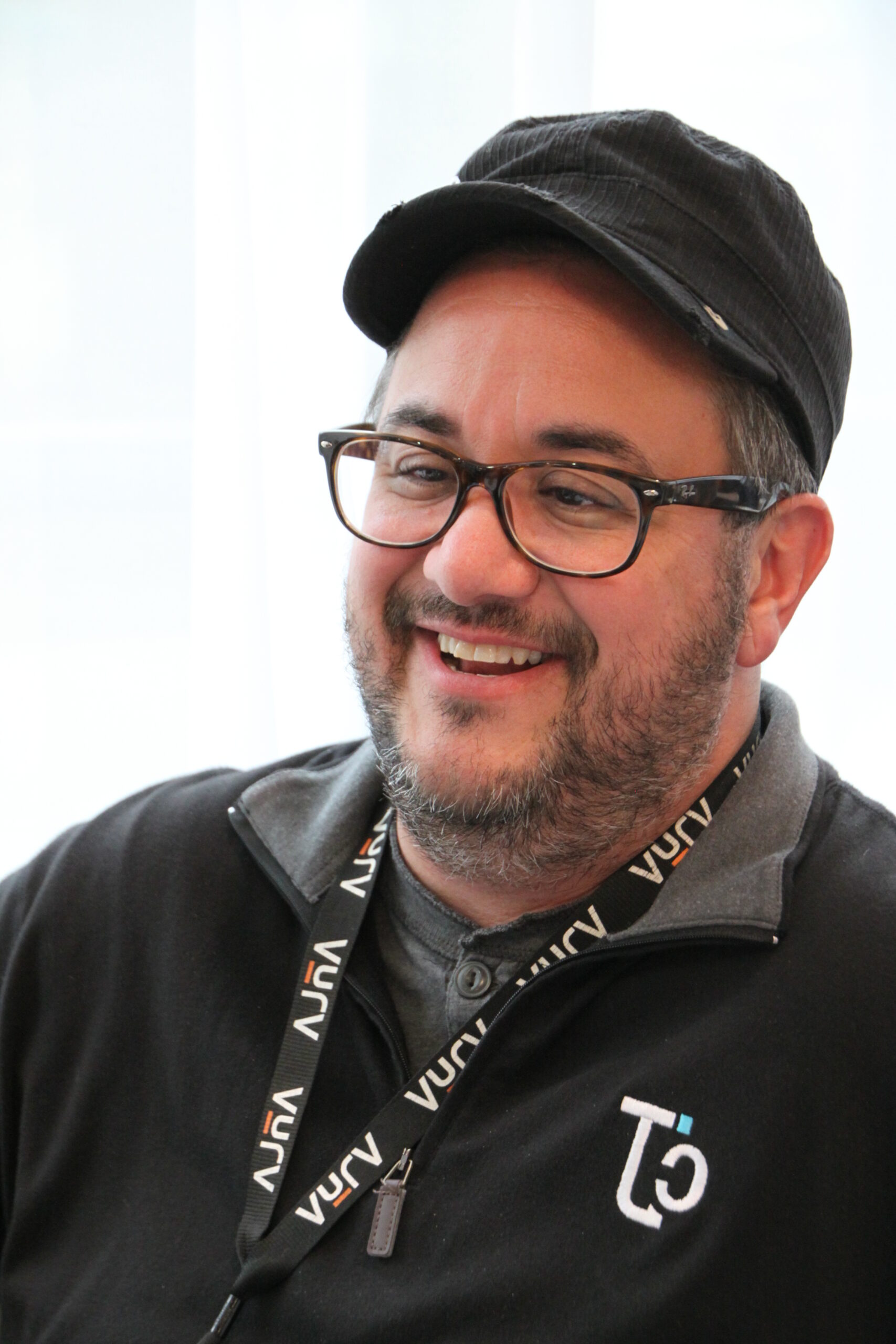 William Tincup
William is the President & Editor-at-Large of RecruitingDaily. At the intersection of HR and technology, he's a writer, speaker, advisor, consultant, investor, storyteller & teacher. He's been writing about HR and Recruiting related issues for longer than he cares to disclose. William serves on the Board of Advisors / Board of Directors for 20+ HR technology startups. William is a graduate of the University of Alabama at Birmingham with a BA in Art History. He also earned an MA in American Indian Studies from the University of Arizona and an MBA from Case Western Reserve University.
---