Get Insider-only access to view this resource content!
We think of any "tech" space, unfortunately, as a "man's world." It's usually not. In fact, in the HR Tech space, women are slaying it. If you walked the halls of Vegas this September at HR Tech, you'd see how female-founded, female-run businesses were through the roof compared to, say, five years ago.
Which women are radically altering the HR tech landscape? Some of the names you probably know and have heard before — and others might be completely new to you. But it could be a great source of potential partnerships, e-mail collaborations, webinars, business development, or more.
About the presenter:
Workplace Filmmaker Elena Valentine spends her days leading the team at Skill Scout to bring jobs and company culture to life on video. Every company has a story to tell about the team, skills, environment, and output. Elena helps tell those stories to attract the right candidates for the job and keep existing employees happily where they are. As CEO, Elena wears many hats, but really geeks out on: new media (360, VR, POV videos, silent storytelling), and building Skill Scout's diverse workforce!
If you want to learn the best, brightest, and baddest-a** females in the HR Tech space, come on down for this webinar. You'll see some truly innovative product suites that might shift the paradigm on how HR and TA work — and females are driving the ship, which has long been a problem in tech. This webinar will give you hope and ideas.
#RDaily
Presented By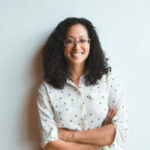 Elena Valentine
Recently named "HR Superhero of the Year" by the DisruptHR Chicago community.
Follow
Follow
---
---
---