Get Insider-only access to view this resource content!
You know as well as we do that the battle for top-notch talent out there is no joke. To win the war, your organization needs to be more than just another name in the game – you've got to be the Employer of Choice. But how do you get there, and how can your talent acquisition team lead the charge?
Well, we've got Lauren Kessler, Regional Talent Acquisition Manager at Slalom, ready to spill the beans in our upcoming session. She's going to break down what being an "Employer of Choice" really means and why it's the secret sauce to successful talent acquisition.
Missed this session? Well, don't sweat it! We've got the replay ready and waiting for you.
Lauren took us on a deep dive into the world of becoming an "Employer of Choice". She unpacked what it means, why it's a big deal, and how you can help your organization join the ranks of those coveted companies that top talent can't resist.
Here's a sneak peek of what you'll discover:
The secret sauce that makes a company irresistible to top talent (Hint: It's more than just competitive salaries and good work-life balance).
How to leverage your current employees and create opportunities that make your company a magnet for the best in the business.
The role of individuals in shaping a positive company culture (Yes, you can make a difference!).
The art of maintaining a positive candidate experience and the power of two-way interviewing.
The importance of diversity and inclusivity in the workplace, and how to make it a reality.
So, if you're ready to revolutionize your approach to sourcing and recruiting, this replay is a must-watch. Grab your favorite beverage, get comfy, and hit that play button!
Presented By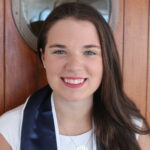 Lauren Kessler
Lauren has always known recruiting was the right home for her- with a degree in HR Management and 5 years of Talent Acquisition experience, she loves helping people find roles where they love coming to work every day. Lauren lives in Boston, MA, and is an avid traveler- she even lived on a ship for 4 months during a Semester at Sea!
Follow
---
---

RecruitingDaily is the #1 online media resource for today's recruiting world, offering a signature mix of content, news, webinars, podcasts, videos, eBooks, educational resources and events that develop professional best practices. RecruitingDaily and its network of sites reach a global audience ranging from entry-level sourcers to strategy-level corporate executives in the human resources, talent acquisition, recruitment marketing, compliance and diversity and inclusion professions worldwide.
---