Get Insider-only access to view this resource content!
Facing Challenges in Assessing Soft Skills?
As recruiters, we know that finding the right candidate goes beyond evaluating technical skills. Soft skills like communication, teamwork, and problem-solving are equally important, but they're not as easy to quantify. How can we accurately assess these skills to ensure we're hiring the best fit for our team?
Here's Your Solution: Learn from the Expert
Our on-demand recording of the "Soft Skills Recruiting 101" session with Larry Anderson is a treasure trove of insights for recruiters. Larry discusses the importance of soft skills in the workplace and shares practical methods for assessing them, including behavioral interviews and role-playing scenarios. He also highlights the need for continuous training programs to enhance these skills.
Larry's goal is to help you get to the root of identifying these skills in your interviews. But this isn't just for an army of one; he'll also show you how to pass this knowledge to your team so you can all spot the candidates that check every box.
This session is a must-watch for recruiters looking to improve their hiring process and foster a positive work environment.
Highlights:
Qualifying questions you can ask to shed some light on their soft skills. 

Breaking down elements of a "good" answer from candidates.

Techniques you can share with your full interview team.
Presented By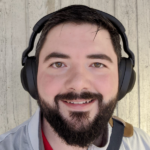 Larry Anderson
I enjoy helping people make the best decisions to grow in their career. Big believer of paying it forward. Let's talk and see how we might be able to help each other!
Follow
---
---

RecruitingDaily is the #1 online media resource for today's recruiting world, offering a signature mix of content, news, webinars, podcasts, videos, eBooks, educational resources and events that develop professional best practices. RecruitingDaily and its network of sites reach a global audience ranging from entry-level sourcers to strategy-level corporate executives in the human resources, talent acquisition, recruitment marketing, compliance and diversity and inclusion professions worldwide.
---