Get Insider-only access to view this resource content!
Emotional Intelligence, Data & People
Recruiters, if you've worked through the pandemic, you've likely noticed a lot of apprehension and uncertainty. It's easy to get wrapped up in outcomes, data tracking, and KPIs. 
But often, we lose sight of the fact that our data points represent people. 
For candidates, a new job is a decision that will impact their daily life. For a hiring manager, the wrong hire can cost time and money, and [set them back on goals].
So how do we engage antsy candidates, work with overwhelmed hiring managers, and help everyone involved avoid fear-based decisions while we're all being mauled by anxiety? 
It's time to put on our counseling hats. 
Using emotional intelligence and data, we must learn to guide them toward their decisions and work through the fear rather than dismiss it. We don't get to sail on denial here in Covid land. Being an effective recruiter right now means knowing how to take on real feels and work with them.
In this session, Laura Mazzullo walks us through recruitment best practices and strategies on how to hire in a pandemic. 
Stock up on tea and Kleenex, connect with your inner child — we're gonna get real with this shit. 
Talking Points:
Guiding hiring managers and candidates to clarity using emotional intelligence and data.

Helping candidates 'stay in their own lane,' work through their fears

Acceptance vs. Resistance: Make room for big feelings, it's your job now

Questions to make everyone think differently

The importance of "Hell yes" vs "Hell no!" during a candidate's job-search journey  
Presented By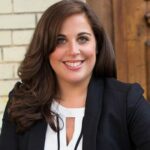 Laura Mazzullo
Laura Mazzullo is the Founder and Owner of East Side Staffing, a boutique recruitment firm focused on the placement of Human Resources professionals. Since 2003, Laura has maintained a successful career in Recruitment working in major markets such as Chicago, Illinois, Stamford, Connecticut and New York, New York.
Follow
Follow
---
---

RecruitingDaily is the #1 online media resource for today's recruiting world, offering a signature mix of content, news, webinars, podcasts, videos, eBooks, educational resources and events that develop professional best practices. RecruitingDaily and its network of sites reach a global audience ranging from entry-level sourcers to strategy-level corporate executives in the human resources, talent acquisition, recruitment marketing, compliance and diversity and inclusion professions worldwide.
---