Get Insider-only access to view this resource content!
DE&I Strategy: Transparency is Always Key
In this session, Keirsten Greggs, Founder at TRAP Recruiter, guides us through how to effectively, honestly, and openly talk to your candidates about your organization's DE&I strategy.
She'll also dive into your role as a recruiter – you are pivotal in the design and implementation of your company's efforts.
People want to see action. Not just promises.
Candidates are demanding understanding, knowledgeable insight, and to believe that the company they are considering is proactively improving their DE&I strategy for the long-haul.
Answering your candidate's questions mindfully and with proof-positive data (talk the talk & walk the walk) is integral to aligning values and building relationships.
During this session, Keirsten covers:
Transparency: the key to establishing trust
Relationship Building: underrepresented, historically excluded talent communities
Accountability: using data to support your strategy
Proactive Approach: Recruiters/TA involved in developing strategy (not just given to them)
Presented By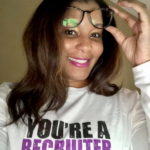 Keirsten Greggs
Keirsten Greggs is the Founder and CEO of TRAP Recruiter, LLC, a Recruiting Consulting and Career Coaching firm. With over 20 years of experience in Talent Acquisition, she's passionate about helping organizations attract, select and retain the best people, including underrepresented candidates, as well as helping job seekers find their voice in the hiring process. She does this through consulting, facilitating workshops, hosting training sessions and webinars, coaching job seekers and more.
Follow
Follow
---
---

RecruitingDaily is the #1 online media resource for today's recruiting world, offering a signature mix of content, news, webinars, podcasts, videos, eBooks, educational resources and events that develop professional best practices. RecruitingDaily and its network of sites reach a global audience ranging from entry-level sourcers to strategy-level corporate executives in the human resources, talent acquisition, recruitment marketing, compliance and diversity and inclusion professions worldwide.
---