Get Insider-only access to view this resource content!
Five Tactics to Perfect Your Employee Generated Content
If you're like most employers, there's a good chance that you're already investing in employer branding by now.
In fact, a recent study showed that fully 74% of all recruiters responding are already involved in some form of proactive recruitment marketing.
Another recent study suggests almost half of in-house recruiters actually plan on increasing their employer brand.
Have you heard that 90%* of Glassdoor users find the employer perspective useful when learning about jobs? These days, with so much competition for superstar talent, a great employer brand counts big time. But upgrading yours doesn't need to break your HR or recruiting budget.
Join us for "Five Tactics to Perfect Your Employee Generated Content " on March 1, 2016 to learn how you can obtain and leverage employee generated content. Remember who is in charge at the end of the day.
You'll Learn:
Employee engagement positively influences company culture and reputation
Weave company core values, mission and culture into all your messaging
How to turn employees into brand ambassadors to tell ideal-fit job seekers why your company is a great place to work
How to monitor ongoing performance and distill the takeaways for management
Presented By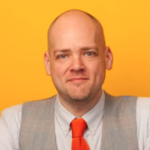 James Ellis
James Ellis is content extraordinaire, and Inbound Marketing leader for TMP Worldwide, a global leader in talent acquisition technologies. For over 40 years TMP has revolutionized the way companies and candidates connect.
Follow
Follow
---
---
---