Get Insider-only access to view this resource content!
Join Mateo Cavasotto & RecruitingDaily for an exclusive look at Emi Labs.
Emi is 100% designed to improve high-volume hiring processes by automating communication and hiring processes from the moment candidates show interest in a position until they're hired, and beyond.  In essence, you hire better frontline workers, faster.
Emi at a glance.
No candidates left behind.
Meet candidates where they are: on chat-based applications. Designed for frontline applicants of distribution, production, or retail positions, Emi engages instantly with them, increasing your sourcing efficiency and unlocking new channels to attract more candidates.
Identify the best candidates and schedule interviews immediately.
While engaging candidates in a meaningful and rich conversation, screen candidates automatically use Machine Learning algorithms and schedule multiple interviews immediately.
Improve your output by making data-driven decisions.
Don't know how well hiring processes are working on each of your facilities nationwide? Or what is the ROI of the candidate sources your Team is using? Or how much are candidates liking the hiring experience? With Emi, you will.
Designed for candidates.
Our focus on frontline positions allows us to design a truly differentiated, accessible, and diverse experience where the candidate is the center. If you've been struggling with implementing technology in high-volume processes, Emi can be a game-changer.
Integrates seamlessly with your current setup.
Your team won't need to handle multiple tools. It all works integrated. You will finally have a platform designed to boost your hiring process from end to end.
Sound Amazing?  We thought so.
Register for a live demo and Q&A to learn more about Emi.
Presented By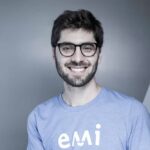 Mateo Cavasotto
Mateo Cavasotto holds a Bachelor's degree in Industrial Engineering.
He now serves as CEO of Emi Labs and is seeking to revolutionize the way we engage with and hire blue-collar workers across the globe.
Follow
Follow
---
---
---