Event Details
| | |
| --- | --- |
| Date | July 11, 2023 2:00 pm ET |
| Duration | 60 minutes |
| Location | Zoom - Check your email for your login details! |
Linked Resource
Event registration is closed. Click below to view the resource.
You know as well as we do that the battle for top-notch talent out there is no joke. To win the war, your organization needs to be more than just another name in the game – you've got to be the Employer of Choice. But how do you get there, and how can your talent acquisition team lead the charge?
Well, we've got Lauren Kessler, Regional Talent Acquisition Manager at Slalom, ready to spill the beans in our upcoming session. She's going to break down what being an "Employer of Choice" really means and why it's the secret sauce to successful talent acquisition.
Here's what you'll take away from this session:
A clear understanding of the Employer of Choice concept and why it's a game-changer in today's talent market.

Tips on how your talent acquisition team can take the wheel in shaping your organization's reputation and employer brand.

A toolkit of strategies to make the candidate experience more like a welcome party and less like an interrogation from the moment job seekers find your postings.

Guidance on how to flaunt your employer brand, showcasing your company's values, culture, and benefits like they're going out of style.

Insights on the role of diversity and inclusion in your hiring strategies and how they can boost your reputation as an Employer of Choice.

Ideas on how to build solid relationships with candidates and keep the lines of communication wide open.

The lowdown on how employee testimonials can be your secret weapon to boost your company's reputation.
Let's make one thing clear: becoming an Employer of Choice isn't just about the folks at the top; it's a team effort.
Every single employee has a role in shaping the company culture and reputation. This session is your key to unlock the knowledge and strategies you need to make a serious dent in your company's Employer of Choice status.
So, don't sit this one out. Grab this chance to revamp your talent acquisition strategy and become the company that top talent is lining up to work for. Save your spot now!
Presented By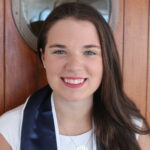 Lauren Kessler
Lauren has always known recruiting was the right home for her- with a degree in HR Management and 5 years of Talent Acquisition experience, she loves helping people find roles where they love coming to work every day. Lauren lives in Boston, MA, and is an avid traveler- she even lived on a ship for 4 months during a Semester at Sea!
Follow
---