Event Details
| | |
| --- | --- |
| Date | May 12, 2022 2:00 pm ET |
| Duration | 60 minutes |
| Location | Zoom |
Linked Resource
Event registration is closed. Click below to view the resource.
Let's Findem
If you're having trouble attracting world-class, hard-to-find, must-have talent to grow your company, you're not alone.
Pretty much every company is struggling right now to build a high-quality and diverse talent pipeline.
If your recruiters spend more time rejecting talent than closing candidates, then you need a better way. 
So how do you find the talent you're missing and no one else is sourcing?
Findem helps companies like RingCentral, Google, and Booster find and hire talent in a whole new way. 
Join Findem CEO and Co-founder Hari Kolam for an exclusive, low pressure demo and learn how Findem transforms workforce planning, sourcing, engagement and recruitment analytics with people intelligence and automation.
You'll learn how to:
Search for talent no one else can find
Increase diversity in your talent pipeline by 5x
Boost recruiter productivity from search to hire by 9x
The typical recruiter spends almost a third of their workweek sourcing candidates. Let's take a quick hour to check out an awesome tool that could honestly help save you time and money.
Save your spot now!
Presented By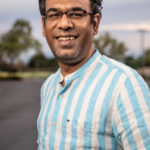 Hari Kolam
As the CEO and co-founder of Findem, Hari is responsible for driving the company's overall direction and strategic growth, as well as overseeing its day-to-day operations. He's a serial entrepreneur and accomplished technologist, with nearly two decades of experience building companies and creating trailblazing technology solutions. Hari holds a master's degree in computer science from Stony Brook University and a bachelor's degree in Computer Science from NIT Nagpur, India.
Follow
Follow
Event sponsored by:

---