Event Details
| | |
| --- | --- |
| Date | August 31, 2023 2:00 pm ET |
| Duration | 60 minutes |
| Location | Zoom |
Linked Resource
Event registration is closed. Click below to view the resource.
This live Q&A webinar with Dean Da Costa features 17 (mostly) free tools, techniques and hacks for recruiters and sourcers.  Sourcing hacks that find those candidates in minutes instead of hours.
While most of us find a handful of favorite tools or techniques and stick with what we know, Dean is constantly testing and trying out new options for sourcing hidden talent. He's optimizing and organizing, making him everyone's go-to resource for what's new and next in sourcing technology.
So, set your phasers to "source"! In this session, Dean Da Costa will chart a course to the deepest reaches of the candidate galaxy to demonstrate proven sourcing techniques for finding high-potential talent.
You'll get insider tips from a true Federation expert for finding the hidden gems in a vast universe of candidates.
Don't miss Dean as he shares the latest strategies from the final recruiting frontier.
In 60 Minutes, You'll Learn Hacks Like:
The technique Dean takes to source your toughest searches, live
Free online research and sourcing tools that will streamline your efforts
Tactical secrets that will make you go hmmm…..
Presented By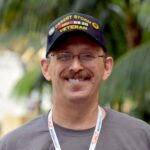 Dean Da Costa
Dean Da Costa ( The Search Authority) is a decorated veteran and recognized sourcing expert with more than 30 years of experience. He writes The Search Authority, one of the most influential blogs in the business.
Dean began his career while in the military, connecting the dots from resume writing to making employer contacts for fellow service members who were entering civilian life.
Dean is a recognized leader in the areas of recruiting hacking, research and find what can't be found, possessing certifications in OSINT, Ethical Hacking, PM, Programming and more.
He has spoken at numerous conferences to include Sourcecon, Talent42, And Recruiting trends. Author of "The Book of recruiting; Da Costa Style" and "OSINT for the Staffing World". Producer of "the Search Authority" Podcast and the Dean Da Costa YouTube Channel.
Follow
Follow
---