Event Details
| | |
| --- | --- |
| Date | June 6, 2023 2:00 pm ET |
| Duration | 60 minutes |
| Location | Zoom - Check your email for your login details! |
Linked Resource
Event registration is closed. Click below to view the resource.
Why Does Unconscious Bias Exist in Our Hiring?
Let's face it, we all hold inherent biases that subtly influence our decisions and actions, even when it comes to hiring. Often, these biases are so deeply ingrained that we don't even realize they're there. They manifest themselves in the systems and processes we build, inadvertently creating barriers for diverse talent. We often find ourselves wondering why we aren't attracting the talent we seek.
How Can You Overcome Hiring Biases?
Dani Herrera has the answers. In this session on June 6th at 2 pm ET, we'll uncover the hidden biases in our hiring processes and learn effective strategies to minimize them. We'll dive deep into manual, tech, and experiential ways to remove bias and create an inclusive, equitable, and accessible hiring environment.
In this 1-hour interactive session, you'll:
Learn to attract "Diverse Talent" by creating systems and processes that support and elevate the talent you wish to hire.
Recognize your inherent biases and understand how you've been unknowingly embedding them into your work.
Identify un-inclusive practices in your current hiring processes and redesign those systems with equity, accessibility, and inclusion at the forefront.
Gain easy-to-follow and implementable Inclusive Hiring tips and strategies.
Plus, all registrants will receive a downloadable guide to keep on hand for future reference.
Join us in this essential conversation, and let's make our hiring practices more fair, inclusive, and effective together.
Presented By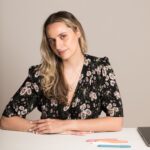 Daniela Herrera
Daniela Herrera, is an award-winning ED&I Professional with 17+ years of global experience in Talent Operations, Recruitment, Leadership, and People Management. Dani helps organizations analyze, deconstruct, and create processes that achieve more Equitable Workplaces.
Among other things, she's a DEI Consultant, a Speaker, the Awareness & Advocacy Founding Partner at Allies in Recruiting, a Co-Chair at The Talent Alliance, and one of the DEI panelists for the NASA Astrophysics IDEA Practitioners Database.
Her experience and POV have been previously featured in Forbes, Business Insider, Refinery 29, LinkedIn News, and HR Brew, among many others. She's also had the privilege of speaking at local and international events, including SXSW, Global Tech Network Conference, Lesbians Who Tech, In Good Company, Manifest Equity, and so many more! Multiple awards have recognized Dani's contributions to ED&I and Inclusive Workplaces! She has been named one of Mogul's Top 100 DEI Leaders in 2021 & 2022 and was also recognized as one of NYC Latinos 40 under 40 in 2022.
Follow
Follow
Event sponsored by:

---