Event Details
| | |
| --- | --- |
| Date | December 13, 2022 2:00 pm ET |
| Duration | 60 minutes |
| Location | Zoom Webinars |
Linked Resource
Event registration is closed. Click below to view the resource.
It's a Passive Candidate's World
According to LinkedIn, about 70% of the workforce is considered passive. In case you're new here, that means they're employed but potentially looking for a job change.
The kicker is you won't find passive candidates in your applications. They have no idea who you are, probably don't know anything about your company, and they don't want the job you're offering.
Well…they don't want it yet. 
You Just Live in It
This is where you step in.
Engaging passive candidates takes a specialized level of communication, mindset, and proactive nurturing that doesn't necessarily apply to their active peers. But it's not impossible.
Lauren Kessler, Regional Talent Acquisition Manager at Slalom and Passive Candidate Whisperer, has offered us 60 minutes of in-depth training on December 13th.
Lauren will outline six proven steps to help move your most sought-after passive candidates to active opportunities.
What You'll Learn:
Where to Find Passive Candidates
Messaging: Get them excited about the company, not the role
Offer the Networking Call
Ask! And respect if they aren't interested
A Casual Process: offer casual next steps that benefit the candidate
Keep in Touch
Patience Is the Process
But it's worth it.
Staying sharp with nearly 70% of the active workforce makes sense – whether for the role you have open now or one they'll (more than likely) be looking for later.
Dust off your passive contact list, give it a big ole hug, and see you at the webinar.
Can't make the live event? No worries! Register now, and we'll send you a copy of the video and slide deck after the session. 
Presented By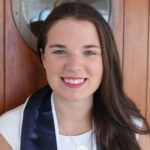 Lauren Kessler
Lauren has always known recruiting was the right home for her- with a degree in HR Management and 5 years of Talent Acquisition experience, she loves helping people find roles where they love coming to work every day. Lauren lives in Boston, MA, and is an avid traveler- she even lived on a ship for 4 months during a Semester at Sea!
Follow
Event sponsored by:

---