We must accept that today's job search and recruiting process happens exclusively online, for every position, for every candidate, for every sector (save the oddest of outliers). Paper applications are pretty much dead. Period.
In fact, in the few searches where a pipeline candidate or referral is already identified prior to opening the requisition for the requisite time period to the public (suckers), those hand-picked candidates still have to go through the online application process at some point.
Following this same logic, if candidates are rightly seen primarily as online consumers, then this mostly digital interaction, through landing pages, microsites or systems, inherently means that there's no discernible difference between candidates and online consumers, as both are ultimately being driven towards a purchasing decision, albeit with differentiated calls to action.
The difference online is negligible – and the strong, persistent correlation proven repeatedly in studies and surveys between candidates and customers ultimately suggests that the logical conclusion to hacking the candidate experience is to ignore all the recruiting stuff and realize that there's already a framework for what works.
It's important for recruiters to understand that the following truths should be self-evident:
Candidate Experience isn't a talent acquisition function. It's a design discipline.
 More specifically, when we talk about candidate experience – and it seems like we don't talk about much else in recruiting these days (shudder), what we're really talking about is UX.
Don't believe me? Let me break it down…
UX & Candidate Experience: 9 Key Design Principles Every Employer Should Know.
If you're looking for a meaningful framework for actually making candidate experience actionable, you've got to consider this not as a recruiting exercise, but as a design one.
Therefore, when approaching any design initiative, it's imperative to remember the accepted framework underlying that entire discipline.
According to Usability.gov, an NGO dedicated to UX funded by the US Department of Health and Human Services:
"User experience (UX) focuses on having a deep understanding of users, what they need, what they value, their abilities, and also their limitations. It also takes into account the goals and objectives of the group managing the project. UX best practices promote improving the quality of the user's interaction with and perceptions of your product and any related services."
If you follow that users are candidates, the aforementioned group is your hiring team and that the product responsible for shaping those interactions are your online employer branding, recruitment marketing and application experience, then you're catching on to the fact that what works for candidate experience really has very little to do with recruiting at all.
Even the government says so, so must be the truth, right?
The Candidate Experience Belongs To the Candidate. Ultimately, while software engineers and designers are responsible for delivering the best possible user interface, whether or not the candidate has a positive experience is up to the candidate. This is because, of course, the entire concept of "experience" is inherently subjective, meaning that it's up to HR and recruiting technologies to provide a framework that's as streamlined and simple as possible – and one that's consistently designed with the end user in mind. With the necessary infrastructure of the right processes, people and platforms in place, great candidate experiences should become the rule rather than the exception.
Great Candidate Experiences Are Invisible. I've often said that being a recruiter is a bit like being an offensive lineman in football – you only get noticed when you make a mistake. The same goes for great candidate experiences, too. When you've got the right framework in place, all the hard work behind the scenes, all the process design and employer branding choices you've inevitably made, should be invisible – done right, they'll just work. With studies suggesting candidates are much more likely to share a negative experience publically than a positive one, when it comes to candidate experience, the only way we'll ever know we've truly won is when nobody talks about candidate experience anymore.
Candidate Experience Isn't Just About Recruiting. The candidate experience isn't just about the hiring cycle these days. With a strong correlation between customers and candidates, as well as the many touch points required to move a passive candidate into an active applicant, candidate experience is part of a larger system. This system not only touches your employer brand, but your consumer brand as well. Things like customer service, word of mouth marketing and company reputation will all impact candidate experience – which is why it's imperative to make this a holistic process rather than one that sits in a silo, like so many other externally facing HR functions.
Candidate Experience is A Marathon, Not A Sprint. According to a recent Talent Board survey, fully 77% of job seekers reported to having had a "less than satisfactory" search experience, with most candidates surveyed citing time to apply and lack of personalized feedback or status updates as their two most common recruiting-related frustrations. Given the fact that so many candidates have historically had such negative experiences with employers, recruiters have to understand that change isn't going to happen overnight, even if their tools and technology happen to. Rebuilding candidate trust is going to take time, which is why providing them with consistently world class experiences is such an imperative for winning the top talent of today – and tomorrow.
Context Counts for Candidate Experience. In the age of cloud computing and SaaS, where products are updated in real time and the estimated 21k HR and recruiting technology companies out there are waging a cutthroat war for market and mind share, it's easy to get bogged down in extraneous features, specious functionalities and the bells and whistles which often bog down the real conversation about improving candidate experience. As fast as the pace of recruiting technology seems to be moving, it's important to remember to continually ensure that the end user – the candidate – is never forgotten, and that every feature or function on a product roadmap is explicitly created to make their lives easier. While content might be king, for most candidates and applicants, it's context that counts the most when it comes to world class candidate experiences.
Candidate Experience Is A Conversation. We talk a lot about "engagement" in recruiting, but the truth is what, exactly, this buzzword is supposed to mean remains somewhat nebulous. The fact of the matter is, as recruiters, it's our goal to create an open dialogue with current and future candidates, and providing a scalable, sustainable experience is unquestionably not only the best way to achieve "engagement" but also, a conversation focused on truly helping our candidates.
Great Candidate Experiences Are About Control. If a candidate doesn't feel like they're in control in the process, relegated to the role of passive possibility even after they become active applicants, put simply, their experience is going to suck. Make sure you clearly communicate up front exactly how long the process is going to take, what they can expect throughout every stage of the hiring process, and how every candidate can better control whether or not they move forward in the process – or feel like they know enough to know when to bow out, alternatively. Either way, moving ahead in the hiring process shouldn't be entirely the employer's decision – giving candidates control, even when you can't give them jobs, will almost always lead to improved experiences and better long term recruiting outcomes.
Keep It Simple, Stupid. In design, one of the most recurring mantras is the concept that "less is more," that the easier it is for users to understand how to use your product, that simplicity will lead not only to clarity, but also, to improved experiences.The goal of all candidate experience, similarly, is to allow candidates to get through the application process with minimum difficulty and maximum efficiency.
Of course, as every UX professional already knows, great experiences only happen by design. And designing that world class experience for every candidate is every recruiter's job – because it's those experiences today that will determine whether or not our employers can successfully attract tomorrow's talent.
Because every employers' competitive edge is only as strong as their human capital. It's really that simple, stupid.
If you'd like to learn more about building a great candidate experience by design, don't miss our exclusive Recruiting Daily Webinar, Hacking the Candidate Experience, presented in partnership with our friends over at Lever.
We'll go beyond theory to look at what candidate experience is about, why recruiters should care and how employers can leverage proven UX best practices to improve the candidate experience while achieving better recruiting ROI – and bottom line results.
Seats are limited, so register now and join me as I cut out the buzzwords and BS and show recruiters real, actionable stuff they can start doing right now to improve the candidate experience instead of just talking about it.
It's going to be off the chain, so click here and reserve your spot today!
---
---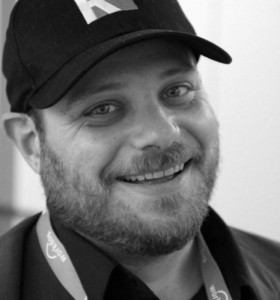 Matt serves as Chief Content Officer and Global Thought Leadership Head for Allegis Global Solutions and is a partner for RecruitingDaily the industry leading online publication for Recruiting and HR Tech. With a unique background that includes HR, blogging and social media, Matt Charney is a key influencer in recruiting and a self-described "kick-butt marketing and communications professional."
Recruit Smarter
Weekly news and industry insights delivered straight to your inbox.